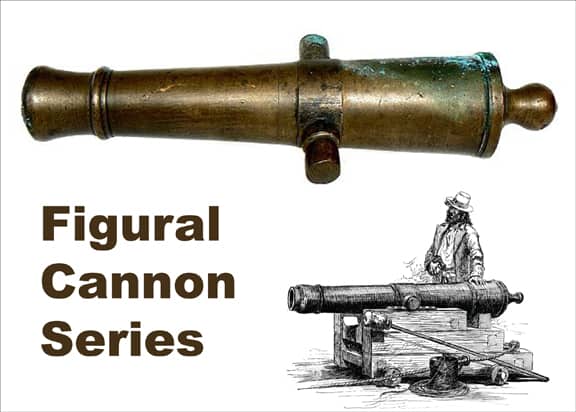 Brown's Castilian Bitters

– 

Transitional Cannon Barrel Figural
14 March 2012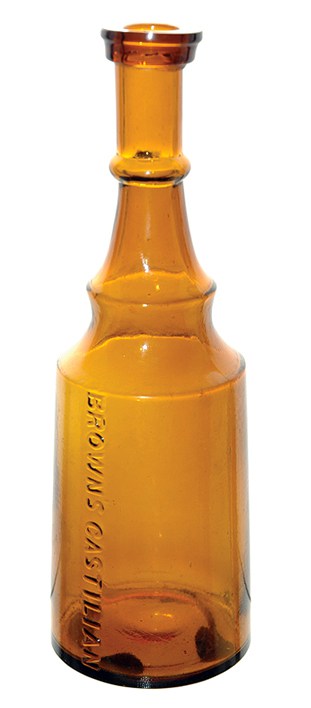 The Carlyn Ring and W.C. Ham listing in Bitters Bottles is as follows:
B 221.6

 BROWN'S CASTILIAN BITTERS
BROWN'S CASTILIAN // c //
Wm. H. & Jerome B. Brown, Baltimore, Maryland
11 1/4 x 3 1/2 (5 1/4)
Bell-shaped, Amber, LTC Similar in shape of Globe Bitters (New York)

First, let us look at the definition of Castilian which is noted as meaning Cannon in some Bitters books. I can not find anything to support this. Castilian is most likely Spanish (Spanish: español) and is a Romance language named for its origins as the native tongue of a large proportion of the inhabitants of Spain. Castilian (Spanish: castellano) after the Spanish region of Castile where it originated.
Some Bitters collectors like myself, do consider this to be a transitional cannon barrel figural Bitters (to coin the efficient 'transitional' descriptive term used by Bitters collector Jeff Burkhardt, who feels that this bottle may be a transitional lighthouse shape. If you look at the cannon barrels in the two (2) pictures above, you will see 'rings' on the barrels similar to the subject bottle. This leads me to think cannon rather than lighthouse. As Jeff notes in his comment at the bottom of the page, we need to find labeled examples and more advertising.
Previous cannon figural posts are more exacting in the cannon barrel shape such as the A.M. BININGER, J.T. GAYEN and the R & G. A. WRIGHT. In this next segment in the Figural Cannon Series there will be new posts including the Globe Bitters, Warsaw Stomach Bitters, Castilian Bitters and Sol Franks Panacea Bitters, all with similar bottle forms. Interesting enough, Ring and Ham uses "bell shaped" for the Brown's Castilian Bitters description, "lighthouse form" for the Sol Franks Panacea Bitters and references a Cannon on the Castilian Bitters. Who knows…when I look at my grouping positioned on a shelf in a window, I call them cannon figurals. I do see the lighthouse form in the Sol Franks though.
The Brown's names is very interesting on this bottle. It is conjecture that the Brown's Castilian is a Bitters and that it is a Baltimore bottle. There is however the Wm. H. & Jerome B. Brown, Baltimore, Maryland note in Carlyn Ring and W.C. Ham Bitters Bottle book. When searching Baltimore archives on-line, I can not find any supporting information confirming that this is a Baltimore bottle.
There is also a rather well know Brown's Iron Bitters (Brown Chemical Company) from Baltimore (pictured below) that confuses the issue. I can not imagine Brown Chemical Company making the Brown's Castilian Bitters. Of course there are other prominent names for Brown in the Bitters world such as the Brown & Lyon Bitters, Brown's Aromatic Bitters, Brown's Herb Bitters and the Brown's Celebrated Indian Herb Bitters (Indian Queen) to name a few that reside in my collection.
Where it gets confusing to me, is that there is an exact shape Bitters called the Castilian Bitters (pictured below) with a note for Brown & Embree Proprietors, Office & General Depot at Sackett & Belcher Co., 28 & 30 Reade St., New York with a label reading…Prepared…pure juice of Isabella grapes. Combination of Extracts distilled from the products of the south of France and Italy and the Province of Castile (Old Spain) from which latter section they derive their name the Patent Elixir to which our ancestors were indebted for their vigorous health and manly stamina a fragrant females and children for all their disarrangements of the stomach it is unrivaled a certain cure for fever, ague, dyspepsia, flatulency and etc. – a never failing preventative and cure for seasickness – one who travel by land or water should not be without the Castilian Bitters. The Globe Bitters, also a similar shape as noted in Ring & Ham is also a New York bottle. I have pictured both the BROWN'S CASTILIAN Bitters and the CASTILIAN BITTERS side by side. They are both 11 1/4″ tall. Looks like the same mold, typography and applied tops!
Another tantalizing bit of information showed up in the Norman C. Heckler Auction 92 in May 2011. This was for the surprising similar, and possibly unique VINO CASTELLANO / DE BROWN (pictured below). Heckler states " Possibly associated with the same company as the Castilian Bitters" and also notes "Probably made for the Western Market". Not sure where this Western part comes from but there are present day vineyards that are named Vino Castellano in Auburn, California.
"Possibly associated with the same company as the Castilian Bitters"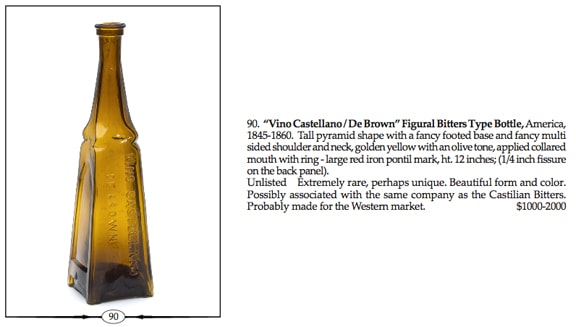 ---
BROWN'S CATALINA