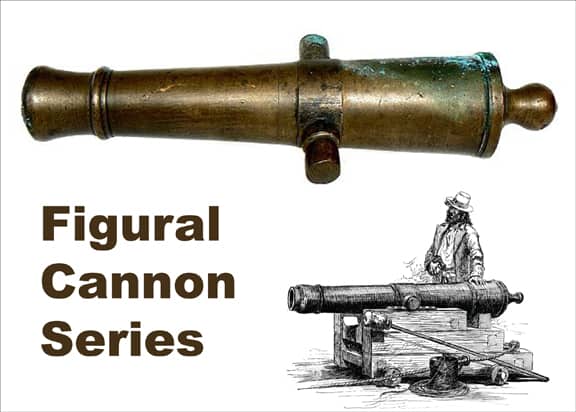 Figural Cannon Bottles – J T GAYEN / ALTONA
12 March 2012

I wanted to start a new series on Figural Cannon Bottles. These wonderful and powerful shapes bring back all of the imagery and weaponry of the early American artillery in our Revolutionary War, War of 1812, Mexican-American War and Civil War. With names like General Scott's Artillery Bitters, Barto's Great Gun Bitters, Cannon's Dyspeptic Bitters and McKeever's Army Bitters just to name a few, we are going to have fun and see some great bottles.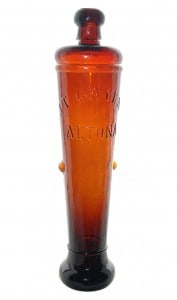 The first example that I would like to talk about and provide example pictures is the J T GAYEN / ALTONA Figural Cannon. This bottle is amber and typically around 14″ tall with an applied blob top. My example is pictured below and is extremely heavy glass with good glass character and whittle.
Most dealers and auction houses attribute this bottle as a whiskey or spirit bottle made in America circa 1860 – 1870. I have heard rumours that this bottle could be Canadian too. Please help me with more information as there is very little (none that I can find) available. I am also very much interested in where the bottle was made.
26 May 2013: Read updated post Looking at some J.T. Gayen Bottles showing this to be a German bottle by Jan Tecker Gayen, Altona, Hamburg, Germany.
[from Wikipedia] A cannon is any piece of artillery that uses gunpowder or other usually explosive-based propellents to launch a projectile. Cannons vary in caliber, range, mobility, rate of fire, angle of fire, and firepower; different forms of cannon combine and balance these attributes in varying degrees, depending on their intended use on the battlefield.
First used in China, cannons were among the earliest forms of gunpowder artillery, and over time replaced siege engines—among other forms of aging weaponry—on the battlefield. In the Middle East, the first use of the hand cannon is argued to be during the 1260 Battle of Ain Jalut between the Mamluks and Mongols. The first cannon in Europe were probably used in Iberia in the 11 and 12th centuries, and English cannon were first deployed in the Hundred Years' War, at the Battle of Crécy, in 1346. On the African continent, the cannon was first used by the Somali Imam Ahmad ibn Ibrihim al-Ghazi of the Adal Sultanate in his conquest of Ethiopia in 1529. It was during this period, the Middle Ages, that cannon became standardized, and more effective in both the anti-infantry and siege roles. After the Middle Ages most large cannon were abandoned in favor of greater numbers of lighter, more maneuverable pieces. In addition, new technologies and tactics were developed, making most defences obsolete; this led to the construction of star forts, specifically designed to withstand artillery bombardment though these too (along with the Martello Tower) would find themselves rendered obsolete when explosive and armour piercing rounds made even these types of fortifications vulnerable.
Cannon also transformed naval warfare in the early modern period, as European navies took advantage of their firepower. As rifling became commonplace, the accuracy and destructive power of cannon was significantly increased, and they became deadlier than ever, both to infantry who belatedly had to adopt different tactics, and to ships, which had to be armoured. In World War I, the majority of combat fatalities were caused by artillery; they were also used widely in World War II. Most modern cannon are similar to those used in the Second World War, although the importance of the larger caliber weapons has declined with the development of missiles.
In addition to their widespread use in warfare, cannons have found peaceful applications, notably in avalanche control.
---
Back in late October 2011 I did a post about the "R & G. A. Wright / Philada" Miniature Figural Bottle from the Heckler McCandless Auction. This smaller bottle is almost the same form! Also look at the color! Read: "R & G. A. Wright / Philada" Miniature Figural Bottle.
Lot #85 "R & G. A. Wright / Philada" Miniature Figural Bottle, America, 1860-1880. In the form of a cannon barrel, plum amethyst, tooled mouth – smooth base, ht. 6 7/8 inches. Great condition. Only one other known example, that being the blue barrel in the Dr. Charles Aprill collection. Ex Gordon Bass collection auction, 1971. $37,000($43,290 with 17% buyers premium)
Read More on Cannon Figurals
R. & G. A. Wright – Great Gun Cologne
General Scotts Artillery Bitters – The Ultimate Cannon Barrel Figural
Tobias Barto and his Great Gun Bitters – Reading, PA
Figural Cannon Bottles – J T GAYEN / ALTONA
A. M. Bininger & Co. Figural Cannon
Sol Frank's Panacea Bitters – Great Form
Thad Waterman "Warsaw" Stomach Bitters – Figural Cannon Barrel, Lighthouse or House Roof?
Brown's Castilian Bitters – Transitional Cannon Barrel Figural
Castilian Bitters – Brown & Embree Proprietors – New York