PRG: Folks, this has been hard to keep under my hat as this new web site and book could change everything! I am not even going to tell you who is behind this ground-breaking endeavor, as you can find out for yourselves at the FOHBC Reno Expo when you visit their table. The email below came in yesterday requesting a post on the Peachridge site.
AUCTION PRICE RESULTS 
For Dealers & Collectors of Bitters, Flasks, Medicines, Poisons, Sodas & Whiskeys
AVAILABLE NOW!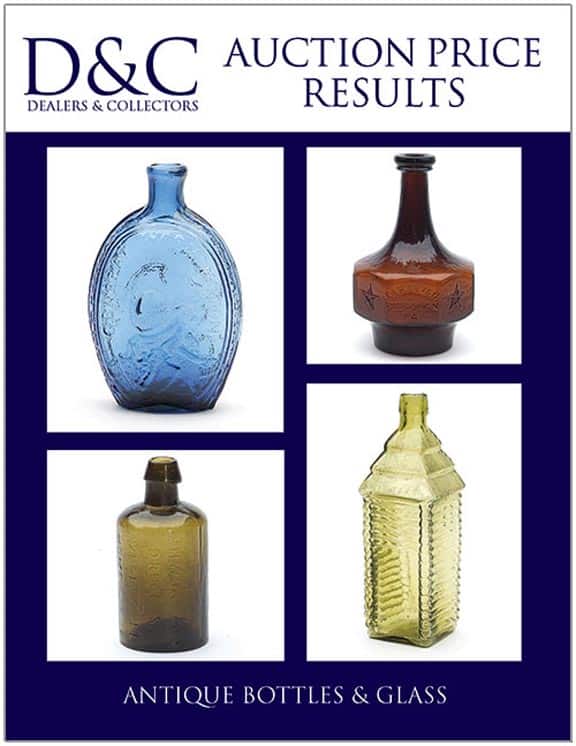 D&C | Dealers & Collectors Antique Bottle and Glass Auction Price Results represents thousands of hours of effort over the past year. We referred to hundreds of auctions held by 19 auction houses over the past 27 years. Typically this was about 1,500 listings per year. All this data was meticulously screened and formatted into a consistent style for ease of reading and presentation.
We have organized this resource to make it as easy as possible to find what you are looking for quickly – listings are organized by category and within category by reference number or common name. There are headers on each page to make it easy to scan through the sections to locate a given listing.
This publication represents only half of the value of this new resource – this companion website is an even more powerful part of this package. On the website, you can do simple or complex searches by reference number, keywords, auction house name and much more. Both old and new auction results will be continually added to the website for a perpetually current, yet historically grounded, auction results resource.
Be sure and stop by our table at the FOHBC Reno Expo where you can purchase the book.
A few sample pages..