Thomas Wriggins Stanger and John Marshall 1832-1839
Part 2
by Stephen Atkinson
13 October 2013
Part 1: Frederick Stanger and John Marshall 1831-1832
Part 3: The Isabella Glass Works of Thomas Stanger 1841 to 1856
Thomas Wriggins Stanger was born on December 10, 1811 and died on February 23, 1892. He married Elizabeth Marshall, the widow of his second cousin, on March 11, 1835 in Philadelphia, Pennsylvania. She was born in 1796, and died in 1877. Thomas a single man, saw the strife his cousins widow went through after the untimely death of Frederick Stanger. The factory was now his to operate and with John Marshall's advancing years, the factory's survival was set on the shoulders of Thomas.
The Stanger family was a tough, resilient one, that had weathered many storms in their 70 years in the United States. No one glass family influenced the styles of the outputs of many of the early American glass factories spread out over the entire eastern United States like the Stangers did. Thomas with good glass blowing genes imbedded in him, set out to make his glass factory very successful.
At just 21 years of age and married to a woman 15 years older then he, and raising his nieces as now his daughters, was about to mature into a good business man and father to a large family including a young girl named Isabella who would one day have her fathers second glass factory named after her.
Thomas was going to become the most successful Stanger up to this point, having these works to maintain and would be building a new one just 1 mile south of this factory. The business did well for the seven years Stanger and his father-in-law ran the works. The output of this factory was the same as when his cousin Frederick ran the operation with production of vials, demi-johns, porters, whiskeys and window glass. In 1839, John Marshall would retire due to declining health. Thomas was now forced to carry more of the financial burden of the factory losing his father-in-law as a partner.
Shown below is a finger bowl which I picked up which was said to have been blown at the works in the year 1837. This bowl has a rough pontil mark and has 12 ribs very indicative of the German influence on early South Jersey glass. The top is folded over and tooled with a flat rolled lip.
Shown below are shards found at the factory site.
Tableware was being made as evidenced by this footed glass fragment.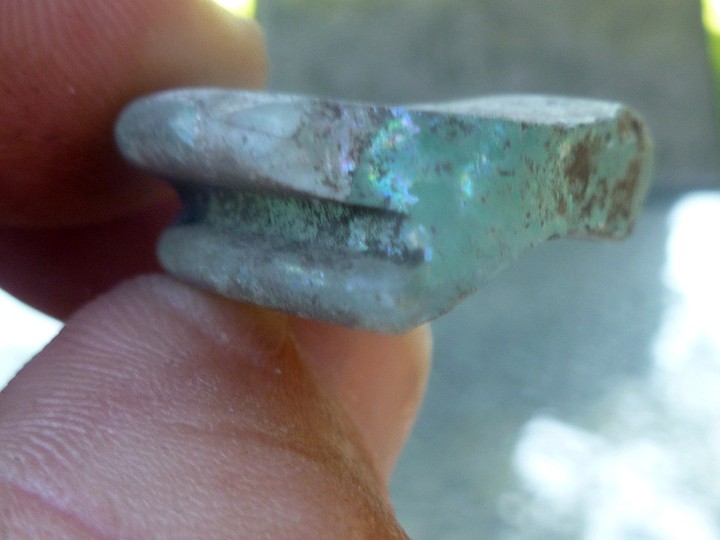 Tube shaped handles and the same piece as above. The Stangers are well known for their end of day glass pieces.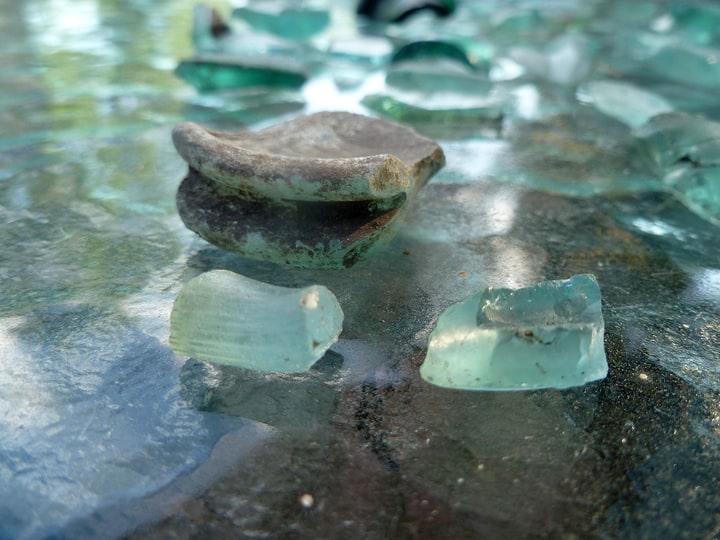 These glass works were located next to the saw and grain mills at the head end of the lake. Shown below in the red area is an old map showing these works and Thomas Stangers second works at the left hand side.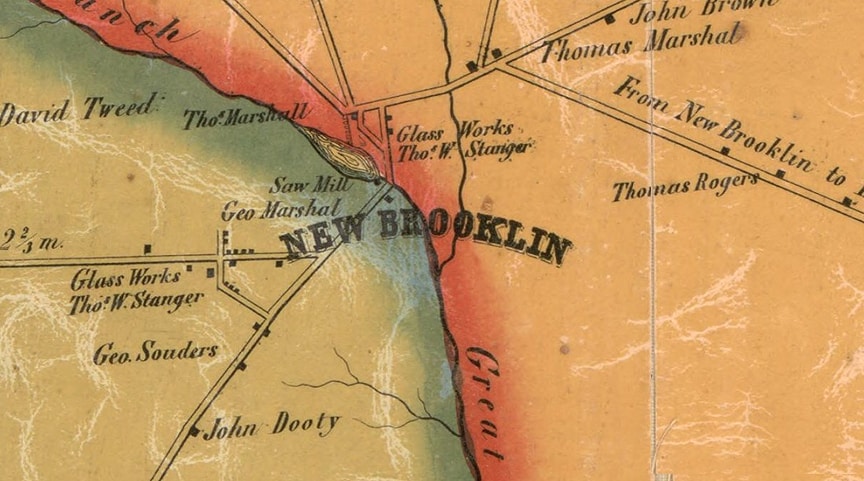 Read more from Stephen Atkinson:
Hilltown Glass Works site in Bucks County, Pennsylvania 1753-1784
The Providence Flint Glass Company 1831-1834
Caspar Wistar and The Red Rose Rent
The United Glass Company located at Wistarburgh
The Dowesburgh/Albany Glass House 1785-1815
Newburgh (Glass House Co.) 1751-1759
Glass House Farm (Glass House Co) 1758 – 1772
Brooklyn (Glass House Co.) 1754-1758
Check these T. W. Dyott bottles out!
Henry Bolingers Maysville Glass-Works 1814-1825