Henry Bolingers Maysville Glass-Works
1814-1825
by Stephen Atkinson
08 September 2013
The Kentucky glass industry begins with a gentleman with a colorfull past named John Henry Bolinger (known as Henry). Henry was born in 1761 in Lancaster County, Pennsylvania. In 1803, he was married in the First Reformed Church in Lancaster, Pennsylvania to Susan Anna Wigman who was born 1780. She was the daughter of Joachim Wigman. By 1805, the couple had moved west over the Alleghenies. They settled in Pittsburgh and Henry began to work for Colonel O'Hara at the glass works south of Pittsburgh. Soon Henry became involved in politics and he was elected as the High Constable of the city of Pittsburgh in the general election on March 15, 1806.
Things did not go so well for him as a few years later Henry found himself in debtors prison begging his creditors to be released. Henry's reputation was tarnished now in Pittsburgh and it was time to move on.
In the autumn of 1813, Henry moved his family to Maysville, Mason County, Kentucky. It was here that Henry, now a middle aged man of 51 years of age, began to farm and sell tobacco and hemp. He became quite successful and invested his money wisely this time unlike back in Pittsburgh. As part of the town of Maysville hierarchy, he heard the concerns from the business owners and local residents. One common complaint was the high prices paid for glass imported from Pittsburgh. Henry saw the sandy silica beaches on the banks of the Ohio River in Maysville. Yet it was another very key ingredient in glass manufacture that made Maysville the perfect place for a glass works. Limestone was also present, and there was plenty of it as the town of Maysville was formerly called Limestone in the year 1799.
Henry saw first-hand the glass factories of Colonel Ohara and Albert Gallatin and how successful they were. He also remembered in his youth how Henry Stiegel, the glass mogul, had amassed a fortune making glass back in Lancaster County, Pennsylvania. There were no glass factories yet in Ohio either and with Pittsburgh being the only glass center even remotely close he decided to set up his own glass works in town. His first business partners were John & Joseph Sumrall & Company. They were also the agents to sell the glass. They had a store front in Maysville.
In the next year, the Summrals got into financial difficulty and disolved their business with the partners they had, Scott, Trotter and Tilford. Bolinger soon realized running a glass works not only needed good experienced workers but also needed a constant supply of cash. Henry then enlisted the help of William Porter. Porter was a very influential business man and Henry saw this and immeadiatley made him a partner and agent. Mr. Porter promised the public that a much better grade of items would be being manufactured then the prior owners and agents had done.
Business was good for over a year.
It was obvious who supplied this brewery with glass bottles.
Glass bottles were now being purchased from a great distance.
Then suddenly the works were put up for sale.
An unknown buyer was found and the works continued until the spring of 1825 when the fire would go out for the final time. In the end, the easier transportation from Pittsburgh and the many factories that existed created a flooded market where the wares were only worth half of what they were just three short years prior.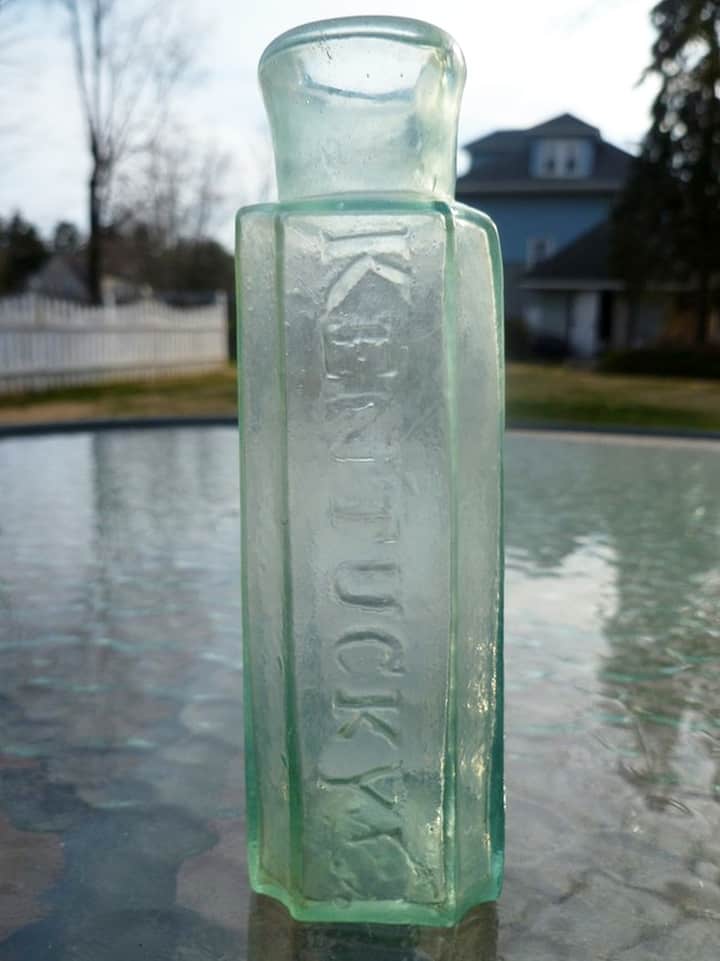 I believe the London Mustard styled bottle with the lettered embossing KENTUCKY, with a blow pipe pontil mark and rolled lip, were in fact an early product of this factory. The bottle has the beveled corners and wide mouth suggesting either Mustard or Chocolate as the content in the bottle.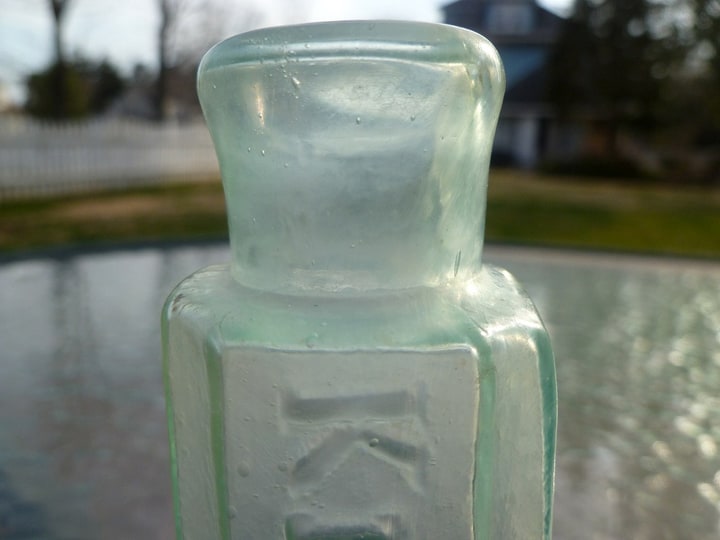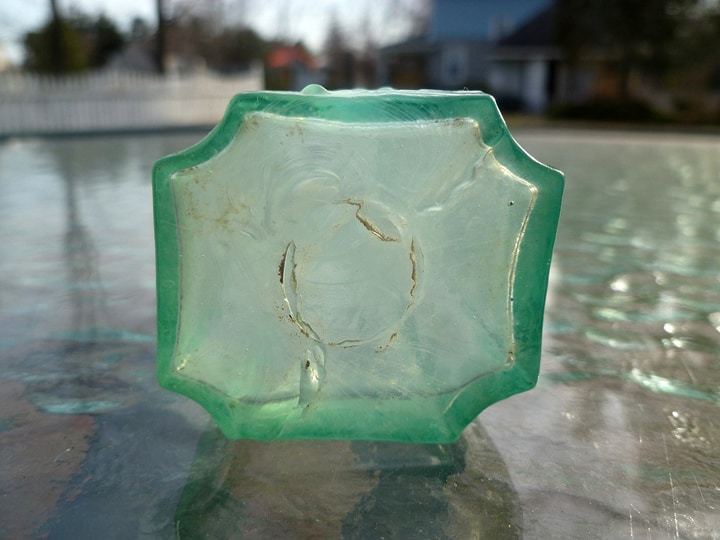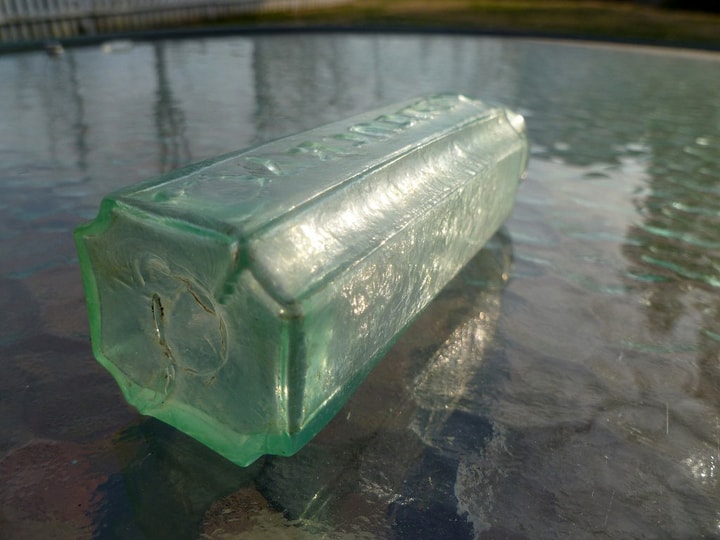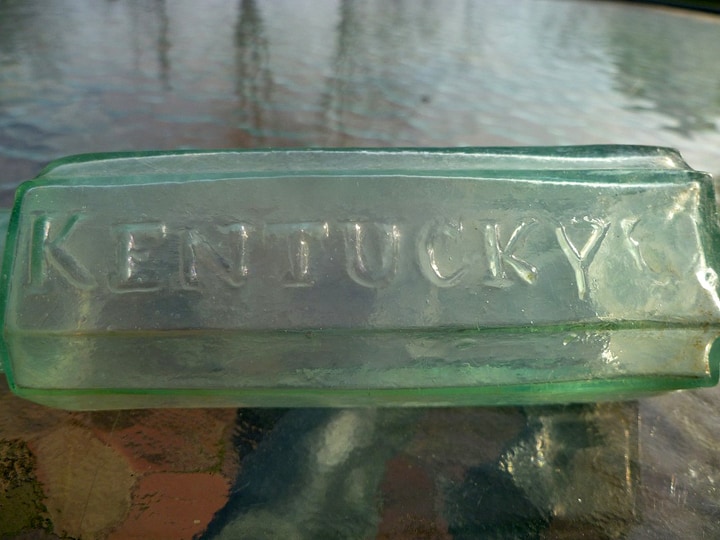 About Stephen Atkinson
Stephen Atkinson, from Sewell, New Jersey has been collecting bottles and glass since he was 12 years old. He once dug an original EG Booz figural cabin bottle on Norris Street in Mantua, New Jersey in 1972 at 12 years old and traded it for six bitters bottles. Fast forward to 2012 and Stephen bought the exact bottle back at an estate auction in New Jersey!
His passion is for pre-1880 glass, as the majority of his collection consists of historical flasks, colonial era chestnut bottles, and whimsical end of day pieces of glass. He also has three rare T.W. Dyott bottles, an original Dr. Robertson's family medicine; one of the rarest collectable American bottles, a T.W. Dyott vial bottle dug by Chris Rowell and a paper labeled T.W. Dyott bottle. He has researched many southern New Jersey glass works first hand by locating the original factory sites. The best piece in his collection is the Wistarburgh Glass Company ledger showing monies paid out to Caspar Wistar's Children and their husbands and wives.
Read More by Stephen Atkinson:
The New York State Glass Factories
Brooklyn (Glass House Co.) 1754-1758
Glass House Farm (Glass House Co) 1758 – 1772