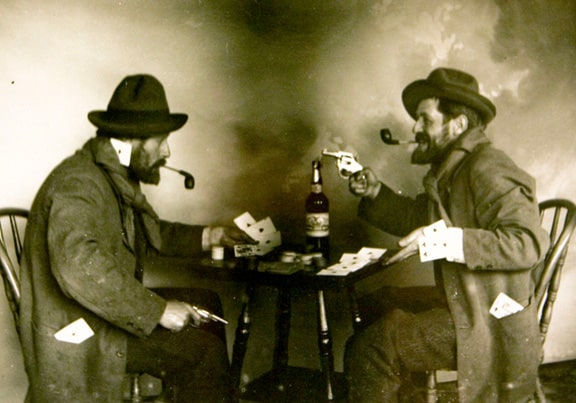 UTAH in the WILD WEST DAYS
Some great Utah Saloon and Bar scene photographs from the Utah Historical Society. Post inspired by Tom Doligale.
The Combination 
Main Street in Bingham, Utah
Staged Gambling
Salt Palace Bar
Sam DeAngelas Saloon
U.P. Saloon
Alta Bar
Forbes and Melich Saloon
White Elephant Saloon
The California Bar and Italian Boarding House
The Balkan Bar and Restaurant
Stewart and Osborne Saloon
Soldier Summit Saloon
Harry Longbaugh (The Sundance Kid) and Butch Cassidy.
Huntington Saloon
Horseshoe Liquor Company
Jacob Alt's Saloon
Salt Lake Brewing Company
Fisher Brewery
Wagener Truck
Wagener Trucks
Lagoon Resort
Read More: Glass Works and Glass Factories – Hell on Earth?
Read More: Boys in Glass Houses – Taking on the Mannerisms of Men
Read More: Photographs of People Drinking
Read More: Photographs and Images of People Drinking – Part II
Read More: Photographs and Images of People Drinking – Part III
Read More: Photographs and Images of People Drinking – Part IV (Brewing)
Read More: United States in the 1800′s and early 1900′s
Read More: How we Transported our Goods, Beer and Liquor Back Then
Read More: Saloons and Establishments from Yesteryear