A lot of todays "experts" say Teakettles date from the 1870's to 1890's. 
I have put together a number of inkwell posts this past year and have had one specific post on Teakettle Inkwells in a draft mode waiting for material to complete. I also wanted to visit two major Teakettle collections and have not had the chance. An email from Joe Matthews (see below) prompted this post now, as there is some good new information moving the date up to the 1830's on these specific inkwells.
Ferdinand,
Lucy Faulkner and I have worked together on researching teakettle inks. It has been definitely confirmed that Teakettle inks are some of the oldest inks and definitely date to the 1830's. Your readers might be interested in seeing beautiful teakettles posted on their web site and the London newspaper ad of 1835 with the proof. "Teakettles demand age respect". Not the 1870 to 1895 dates most auction houses declare as the age.
Regards Joe 
PS: Thanks for what you do in keeping collectors informed.
Ed and Lucy Faulkner have the following description on their web site (visit Antique Bottles & Inks) for Teakettle inks under the picture at the top of this post.
Teakettle inkwells can be found in many beautiful colors and shapes, as well as clear, ceramic and pottery. Embossed glass ones are rare. Some of the pottery will have an advertising name on them. Occasionally one can be found with the English ink company name on a brass top fitted to the bottle. The embossed American one we see most often, is the aqua one with pen ledges and a patent date. Also pictured in this group is an aqua Butler's ink, which is considered hard to find. The barrel inks are thought to be American, whereas the others are of unknown maker for the most part. The figural ones such as snail, turtle, etc. are thought to be European. The problem with identifying the maker is that without embossing of any kind, the only way to know would be pictures from a glassmaker's catalog. I haven't seen any pictured in a catalog.
The only old picture I have seen is a ladies fashion plate picture dated 1839 in William Covill's ink book.
Dates are unknown with a lot of disagreement. The ladies' fashion picture in Covill's book is from 1839 and shows a teakettle ink. A lot of todays "experts" say Teakettles date from the 1870's to 1890's. My thought is earlier because of Covill's picture.
It looks like this design was made for at least 50 or more years from early 1830's until 1885 or so
UPDATE: An avid teakettle collector, Joe Mathews, saw this post and sent me confirming information that teakettle inks were indeed made as early as the 1830's in England by S. Mordan & Co. There are a number of ads by this company promoting the newly designed inkstand called the Fountain Inkstand. One from 1835 shows a picture and it is clearly what we call a teakettle. So with this new information, it looks like this design was made for at least 50 or more years from early 1830's until 1885 or so. The ad is pictured below. No doubt other companies used similar inkstands, but this is the only ad I have found so far, other than in Covill's book. This is from a publication printed in 1835 London.
[Wikipedia] Sampson Mordan (1790 – 9 Apr 1843) was a British silversmith and a co-inventor of the first patented mechanical pencil. During his youth, he was an apprentice of the inventor and locksmith Joseph Bramah, who patented the first elastic ink reservoir for a fountain pen.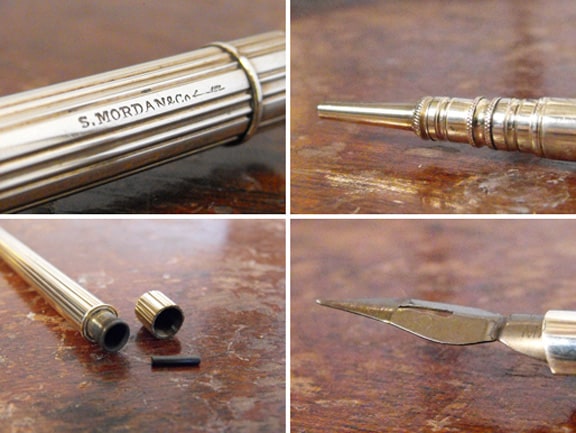 In 1822, Mordan and his co-inventor John Isaac Hawkins filed the first patent in Great Britain for a metal pencil with an internal mechanism for propelling the graphite "lead" shaft forward during use, as an improvement on the less complex leadholders that merely clutched the pencil lead to hold it into a single position.
Mordan bought out Hawkins and entered into a business partnership with Gabriel Riddle, an established stationer. From 1823 to 1837, they manufactured and sold silver mechanical pencils with the marking "SMGR". After the partnership with Riddle dissolved, Mordan continued to sell his silver pencils as "S. Mordan & Co.", adding many other types of silver and gold items to his product line. Mordan often made his pencils in whimsical "figural" shapes that resembled animals, Egyptian mummies, or other objects; like his other silverware and goldware, these pencils are now highly collectible. Upon Mordan's death in 1843, his sons Sampson (junior) and Augustus inherited the firm. "S. Mordan & Co." continued to make silverware until 1941, when their factory was destroyed by bombs during the London Blitz.
Teakettle Inkwell Gallery
Read More: Looking at Labeled Carter's Cone Inks
Read More: Small Inkwell Bottles Page
Read More: Umbrella Inks in the News
Read More: Hinks Inks – Post 1 "This Guy collects Labeled Inks"
Read More: Hinks Inks – Post 3 "Carter's Ink Company"
Read More: Hinks Inks – Post 2 "John hINKel"
Read More: The "Star of Baltimore"