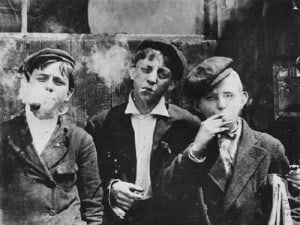 Boys in Glass Houses – Taking on the Mannerisms of Men
07 February 2012 (R•090115)

As I sometimes contently watch my grandson Nicholas (9 years old this month) playing his video games, riding his ATV and taking on the challenges of school and growing up, I remember that our country has made great strides in child labor laws and it wasn't too long ago that children had many more responsibilities than they do today.
"boys taking on the mannerisms of men"
In researching glass houses and factories, I am astounded by the working conditions that these young lads and lasses had to endure. I also smile inwardly, but with trepidation, that most children don't even understand the concept of working. Even Nicholas tires after 15 minutes of yard work!
I've posted some pictures and information to support my point.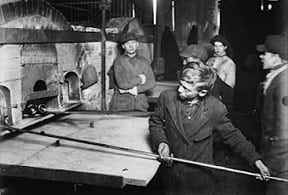 As the US industrialized, factory owners hired young workers for a variety of tasks. Especially in textile mills, mines and glass factories, children were often hired together with their parents. Many families depended on the children's labor to make enough money for necessities.
Like other developed countries, the United States has labor laws that protect children from being exploited in the workplace. But this has not always been the case.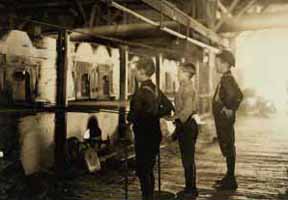 In the 19th and early 20th centuries, children were seen as a cheap labor source, and to help out their families financially, many children were forced to work in factories, mines, and elsewhere, under dirty and dangerous conditions, for very low wages.
The National Child Labor Committee, an organization dedicated to the abolition of all child labor, was formed in 1904. By publishing information on the lives and working conditions of young workers, it helped to mobilize popular support for state-level child labor laws. These laws were often paired with compulsory education laws which were designed to keep children in school and out of the paid labor market until a specified age (usually 12, 14, or 16 years.)
"these are not GAP Kids"
In 1914 the Arkansas State Federation of Labor placed a child welfare initiative on the ballot prohibiting child labor, which the voters passed.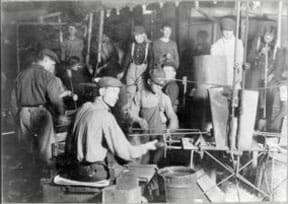 In 1916, the NCLC and the National Consumers League successfully pressured the US Congress to pass the Keating-Owen Act, the first federal child labor law. However, the US Supreme Court struck down the law two years later in Hammer v. Dagenhart (1918), declaring that the law violated a child's right to contract his or her own labor. In 1924, Congress attempted to pass a constitutional amendment that would authorize a national child labor law. This measure was blocked, and the bill was eventually dropped.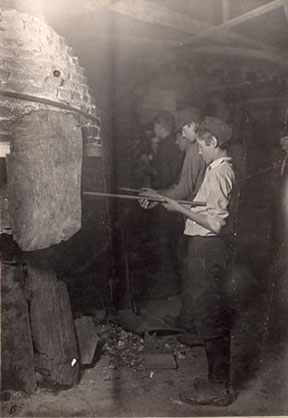 It took the Great Depression to end child labor nationwide; adults had become so desperate for jobs that they would work for the same wage as children In 1938, President Franklin D. Roosevelt signed the Fair Labor Standards Act, which, among other things, placed limits on many forms of child labor.
Even my design studio in downtown Houston, was at one time the Texas and then Eller Wagon Works. The companies originally occupying our building built Transport Tank Wagons and Carriages prior to the automobile and truck industry. The completed wagons would be loaded on rail cars in from of our building on Commerce Street and shipped to their final order destination. The working conditions in our building were crude at best. Some of our historic pictures of our space are amazing. See FMG Studio Tour
"I've posted somer pictures and information to support my point"