To a little sand, a little alkali, and a little limestone, add considerable heat and a still greater amount of skill, might be taken as a brief recipe for the manufacture of a glass bottle.
Popular Science Monthly/Volume 36/December 1889/Glass-Making III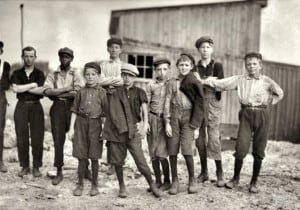 Glass Works and Glass Factories – Hell on Earth?
08 February 2012

Yesterday I did a post titled "Boys in Glass Houses – Taking on the Mannerisms of Men" that left me wondering about the factories and glass works that the lads worked in. There are a surprisingly few pictures and resources of these dark, hot and dirty environments. I suppose that taking pictures of factories were not consider vogue or as architectural wonders worthy of documentation. Anyway, here are some pictures that I found.
As we see and identify the iconic cooling towers of a Nuclear Power Plant from afar we can surely suspect that persons approaching the vicinity of a glass factory could identify the smokestacks and oven towers of the glass works, even without the smoke that must have been constant.
"Am afraid that it makes me a little sad, if not a tad guilty, elevating these orbs of ours to such an elevated position when so many were "born" of such dark, hot, filthy, unhappy circumstances, conditions."
Jeff (Froggy) Burkhardt