Zu Zu Bitters –

Zu Zu Medicine Company,

Baltimore, Maryland
18 April 2015 (R•041915) (R•062219)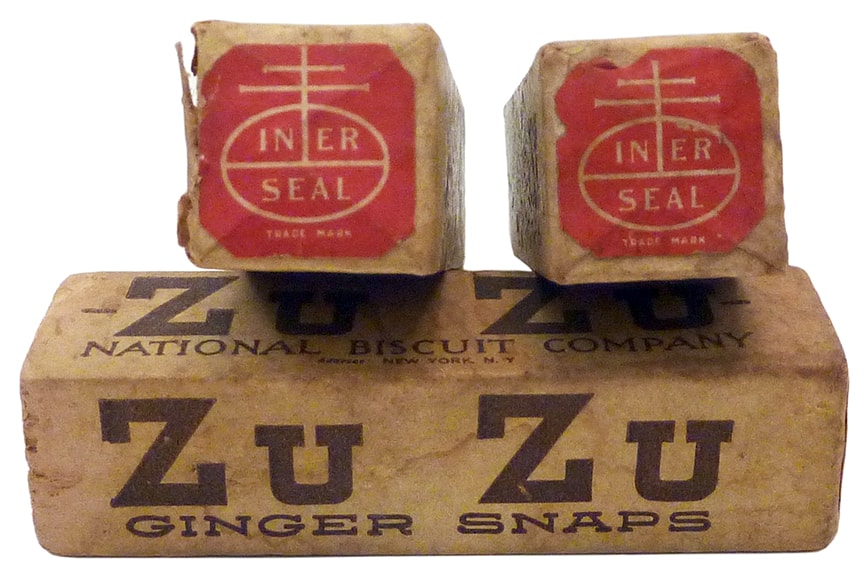 Bob Ford, with the Baltimore Antique Bottle Club, posted these fine pictures below of a labeled  Zu Zu Bitters on the Facebook bitters bottles page. This is a tough bottle to obtain and certainly the label makes it almost unique. Fortunately, I have an example, though unlabeled, in my collection that I picked up on eBay a few years back. It is pictured further below. So what does Zu Zu mean?
The Carlyn Ring and W.C. Ham listing in Bitters Bottles Supplement 2 for the Zu Zu Bitters is as follows: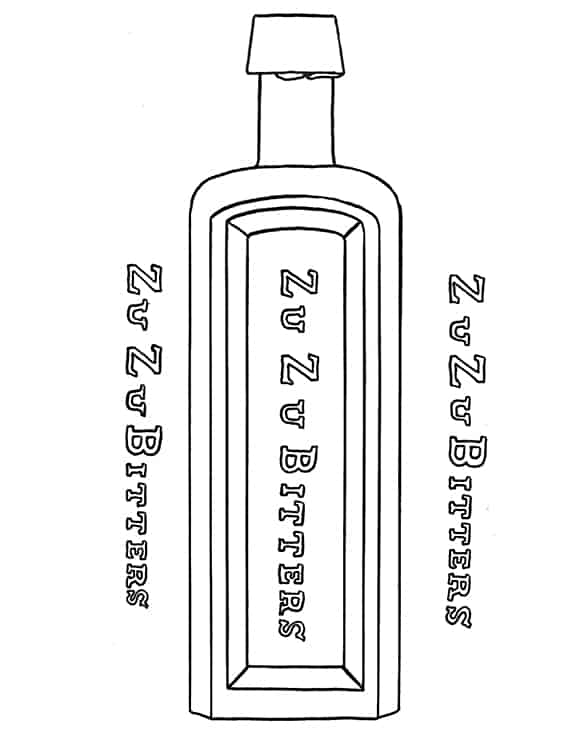 Z 9 ZU ZU BITTERS // ZU ZU BITTERS // ZU ZU BITTERS // f //
L … Zu Zu Bitters, Zu Zu Medicine Company, Sole Manufacturer, Vogeler, Meyer & Co., Baltimore, Maryland
8 3/8 x 2 3/8 (6 1/8) 3/8
Square, Amber, NSC and LTC, Applied mouth, 3 sp, Very Scarce
Variation in typography
Zu Zu was an early name for Ginger Snaps.
Trade cards known.
Zu Zu Bitters was made by Vogeler, Meyer & Company in Baltimore, Maryland. We have posted about August Vogeler and Adolph Meyer before.
Read: A. Vogeler & Company, Baltimore, Md. – March 1881 Scientific American Illustrations
I think Vogeler and Meyer are getting mixed up here with the Zulu people as they picture a native or 'Injun' in their advertising. Zu Zu was actually an early name for Ginger Snaps. The Zu Zu Ginger Snaps by National Biscuit Company (later Nabisco) advertisement below is from The Fort Wayne News in 1902. Some Zu Zu Ginger Snaps biscuit boxes are pictured at the top of the post.
The Zulu however are a Bantu ethnic group of Southern Africa and the largest ethnic group in South Africa, with an estimated 10-11 million people living mainly in the province of KwaZulu-Natal.
Some of us might remember the epic war film Zulu in 1964, depicting the Battle of Rorke's Drift between the British Army and the Zulus in January 1879, during the Anglo-Zulu War. It depicts 150 British soldiers, many of whom were sick and wounded patients in a field hospital, who successfully held off a force of 4,000 Zulu warriors.
This bad Zu Zu Injun will never get wild, If you treat him gently, just like a child; But he is affected by Cold and by Heat, Just BLOW ON HIS NOSE, it turns

red like a beet

. If you WARM HIM UP, you will soon behold…
Here is a trade card from bitters trade card and ephemera authority, Joe Gourd. Joe adds, "Based on the instructions on this card, I suspect that it reacts to heat. I have not tested the possibility.  However, I have done so on some others. Good way to burn up your collection!"
The Zu Zu bitters sold for 50 cents a bottle and would cure just about anything, or so they said.
Read more about Baltimore bitters:
Maryland Tonic Bitters – Henry Litz
Schroeder's German Bitters – Baltimore
Dr. William S. Love's Vegetable Elixir – Baltimore
Gouley's Vegetable Bitters – Baltimore
The Robinson & Lord Figural Barrel – Baltimore
J. M. Laroque's Liquid Anti Bilious Bitters – Baltimore
Granger Bitters – Baltimore – Boykin Carmer & Co.
Wheeler's Berlin Bitters – Baltimore
Looking at the Morning Star Bitters – Baltimore
Baltimore's Iron Bitters – Brown Chemical Company