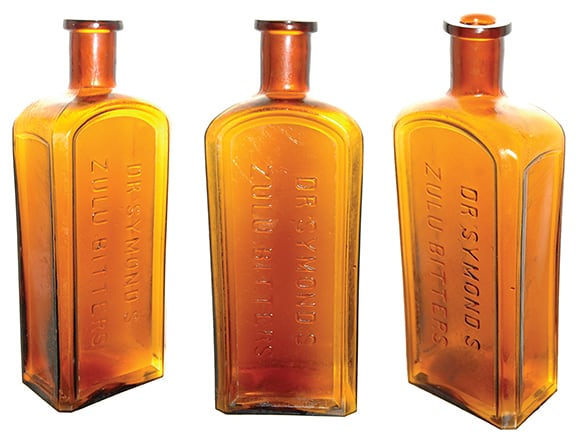 Dr. Symond's Zulu Bitters
19 April 2015

The Dr. Symond's Zulu Bitters is a bitters that I have tried researching and writing about before but have stopped short for one reason or another. Today I will try again as yesterday I wrote about the Zu Zu Bitters which might get confused. Zu Zu was a term for Ginger. The Zulu are a Bantu ethnic group of Southern Africa. There are bitters products with both Zu Zu and Zulu in their names. Here is an advertisement below that uses both references. Philadelphia Zu Zu in Zulu-Land! National Biscuit Company actually made a Ginger Snap cookie called Zu Zu. Reference Zu Zu Bitters post.
The Zulu
The Zulu formed a powerful state in 1818 under the leader Shaka. Shaka, as the Zulu King, gained a large amount of power over the tribe. As commander in the army of the powerful Mthethwa Empire, he became leader of his mentor Dingiswayo's paramouncy and united what was once a confederation of tribes into an imposing empire under Zulu hegemony.
On 11 December 1878, agents of the British delivered an ultimatum to 11 chiefs representing Cetshwayo. The terms forced upon Cetshwayo required him to disband his army and accept British authority. Cetshwayo refused, and war followed January 12, 1879. During the war, the Zulus defeated the British at the Battle of Isandlwana on 22 January. The British managed to get the upper hand after the battle at Rorke's Drift, and subsequently win the war with the Zulu being defeated at the Battle of Ulundi on 4 July.
The example in this post is from my collection. I picked it up in Glass Works Auctions, Auction 83 in June 2008. Their description:
DR. SYMOND'S ZULU BITTERS, 9 1/4″h, "W.T. & CO." on smooth base, tooled mouth. Overall inside and outside stain with accompanying ground lines, but no form of damage. Extremely rare, First GW has sold! Dr. James Carter Collection.
A second example actually sold on eBay in February 2015. EXTREMELY RARE / POSSIBLY UNIQUE!! ANTIQUE DR SYMONDS ZULU BITTERS BOTTLE
The Carlyn Ring and W.C. Ham listing in Bitters Bottles is as follows. There is no available drawing. Actually this listing below has been modified for Bitters Bottles Supplement 2.
S 244

DR. SYMOND'S ZULU BITTERS
DR. SYMOND'S / ZULU BITTERS // sp // f // sp // b // W.T.& CO.
9 ¼ x 3 ½ x 2 1/8
Rectangular, Amber, NSC, Tooled Lip, Extremely rare
Dr. Symond
Well, this is really what stopped me before. I can not find ANY information on Dr. Symond or his bitters. Time to call in the Doctor. Marianne?
The W.T. & Co. on the base is a clue.
This stands for the The Whitall Tatum Company, or Whitall Tatum, which  was one of the first glass factories in America. Located in Millville, New Jersey, it was in operation from 1806 through 1938. The location was ideal for making glass because silica-based sand is plentiful in southern New Jersey, the Maurice River flowing through Millville provided a source of water, and plentiful forests provided energy for industrial processes. The Millville glass works was founded by James Lee and went through several changes of ownership. In 1838, John M Whitall became a partner in the business. He lived in Philadelphia and worked at the company's headquarters there. In 1845 after his brother Israel Franklin Whitall joined, the firm became Whitall, Brother & Company. Later, Edward Tatum also joined the partnership and in 1857 the name was again changed to Whitall Tatum & Company and later in 1901 to Whitall Tatum Company. I.F. Whitall and Edward Tatum headed the company after John M Whitall retired in 1865, and the ownership was passed to their descendants. [Wikipedia]
MD. Looking for a Symond around 1900 in New Jersey or Philadelphia.