Schroeder's German Bitters – Baltimore
03 March 2015

Bob Ford with the Baltimore Antique Bottle Club posted the picture below of the extremely rare, and very uniquely designed Schroeder's German Bitters from Baltimore, Maryland recently on the Bitters Bottles Facebook page. It reminded me of my example which is pictured at the top of the post. This bottle walked into the Baltimore Show in 2007. I followed the bottle and was able to add it to my collection the following year via a Glass Works Auction. My example is near mint though it has been slightly cleaned.
The Carlyn Ring and W.C. Ham listing in Bitters Bottles is as follows: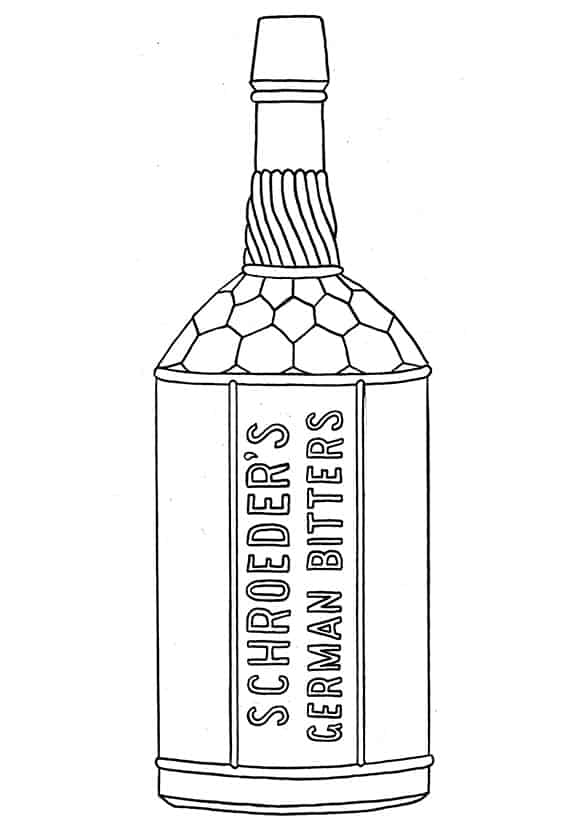 S 73

 SCHROEDER'S GERMAN BITTERS
SCHROEDER'S / GERMAN BITTERS // c //
// b / VA. S.W.C.W.CO. / BALTIMORE / MD.
10 1/2 x 3 3/4 x 2 1/4 (5 1/2)
Oval, Amber, LTCR, Tooled lip, Extremely rare
3 rows of hexagons on shoulder
Note: Ring at base of shoulder which has swirled flutes. Top and bottom of lettered panel has a ring. Lettering reads from base to shoulder. Base lettering stamped twice N&O.
You will notice three other pictures of the Schroeder's German Bitters in this post besides mine. There is the Bob Ford picture, the Bitters Bottles Supplement picture and a later Glass Works Auctions example. Actually if you look closely, these are the same bottle.
Read: Leading up to Baltimore Glass Works
There is scant information on this bottle. No Schroeder's Bitters newspaper advertising, trade cards or a tell-tale labeled example. There are dozens of "Schroeder" directory listings in Baltimore City in the 1880s and 1890s including multiple listings for grocers, saloon keepers and merchants. There is even a Ferdinand Schroeder. Probably one of them is our Schroeder.
The only clue comes from an embossing on the base, which reads, "VA. S.W.C.W.CO. / BALTIMORE / MD.". This stands for Virginia Seal Wild Cherry Wine Company. Interestingly enough, there is also a concern with the same name in Winchester, Virginia, Cincinnati, Ohio and New York city in 1900. Must have been franchised. Look at the stoneware jug below. The Wild Cherry Wine Co. was chartered in Winchester, VA on August 4, 1897.