Dr. DeGurley's Herb Bitters in the news again…
06 April 2015

I reported a few months back of a new example of the extremely rare, Dr. DeGurley's Herb Bitters. This bottle is a killer and has a motif of a five-story house embossed on the side, just like an Edward Wilder Bitters. You see, I had been contacted about a recent find.
The subject bottle is pictured at the top of the post. Here is the original e-mail:
Was trying to research a bottle I wish to sell and found your website. Would like to contact John Panella or any other collectors of DeGurley's Bitters bottles. The bottle my family has is a DeGurley's Herb Bitters bottle. It was found on property we once owned in West Virginia. It appears to be a dark brown in color (would guess it's dark amber) and is intact and in great shape except for a small chip (hole) in one of the bottom corners. I have enclosed two pictures of it, and can send you more if you are interested. One side says "DeGurley's Herb Bitters", one side has "Manufactured Baltimore MD" one side has windows on it and one side is plain. Any help would be appreciated. Robert
I have actually written about this bottle before. Read: John Panella and his special Dr. DeGurley's Herb Bitters.
After discussions with the owner, I suggested that he sell the bottle at auction, even with the damage. It is now with John Pastor with American Glass Gallery for an upcoming auction.
The Carlyn Ring and W. C. Ham listing in Bitters Bottles is as follows: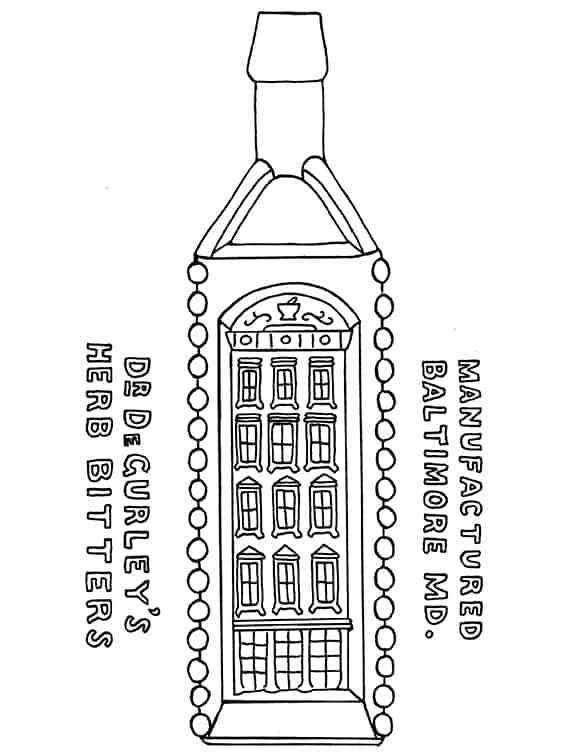 D 39

  DR. DEGURLEY'S HERB BITTERS
DR DEGURLEY'S / HERB BITTERS // sp // MANUFACTURED / BALTIMORE MD. // motif 5 story house //
10 1/4 x 2 3/5 (6 3/4) 1/4 (with 16 dots)
Square, Yellow olive, LTC, Applied mouth, Extremely rare
Resembles Edward Wilder Bottle
Here is the best possible example of this bottle pictured in Bitters Bottles Supplement.
Also in the DeGurley's news is a square, labeled example of this bitters that recently showed up online at the recent Glass Works Auctions, "Winter Classic" auction. Quite a surprise. Notice that the embossing says. "DR DE CURLEY'S" with a "C" instead of a "G". Some glass maker really muffed that up! The label reads, "DeGurley's Herb Bitters, etc. For Sale by Geo. W. Johnson & Co., A. Vogler (another misspelling, should be Vogeler) & Co., Wholesale Druggist, Baltimore, Md." An example also sold on eBay back in 2003.
Read: A. Vogeler & Company, Baltimore, Md. – March 1881 Scientific American Illustrations
The Carlyn Ring and W. C. Ham listing in Bitters Bottles is as follows: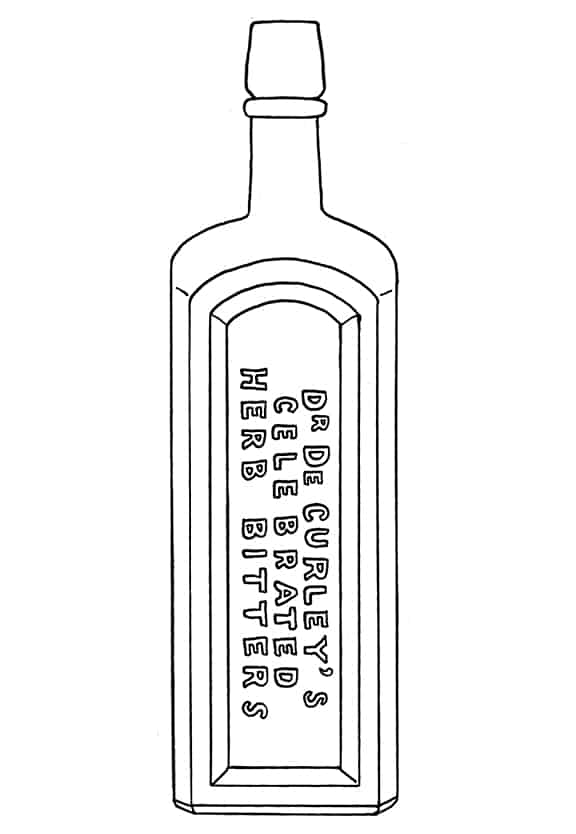 D 39

 DR DE CURLEY'S HERB BITTERS
DR DE CURLEY'S / CELEBRATED / HERB BITTERS // f // CURES INDIGESTION / AND / LIVER COMPLAINT // f //
9 3/4 x 2 1/2 (6 3/4) 3/8
Square, Amber, LTCR, 2 sp, Rare
Select Listings:
1867-1868: Caldwell & Parker (H. W. Caldwell & John Parker) (manufcs. DeGurley's herb bitters,) 30 n Paca – Baltimore City Directory