WHEELER'S BERLIN BITTERS
B A L T I M O R E
18 December 2012 (R•051414) (R•030915)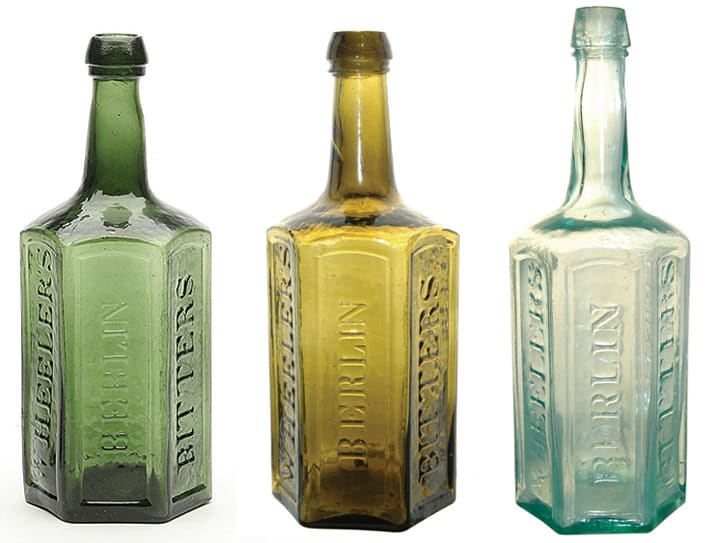 Hi Ferd,
I was aware of your pictures on Peachridge recently of your three "Wheeler's" (see above) and was amazed of how close the colors were to three that I have (see below). The emerald green one is especially rare and I'm wondering if you didn't nab this one from Jeff Wichmann's "Pacific Glass Auctions" back In October of 2001? I was fortunate to obtain mine from Norm Heckler Auction about three years ago, with the Aqua one coming from the "Great John Feldmann's Bitters Collection", and the yellow, slight olive one, coming from Jim Mitchell. I'm not sure if you want to put this on "Peachridge", I'll leave this up to you. I continue to be amazed at all you accomplish pertaining to our hobby, and my morning coffee always goes along with my viewing of "Peachridge"!! Thanks Ferd for all you do and hope to meet up in

Manchester

In July. Take Good Care.
Dave (Kyle) – Thousand Oaks, California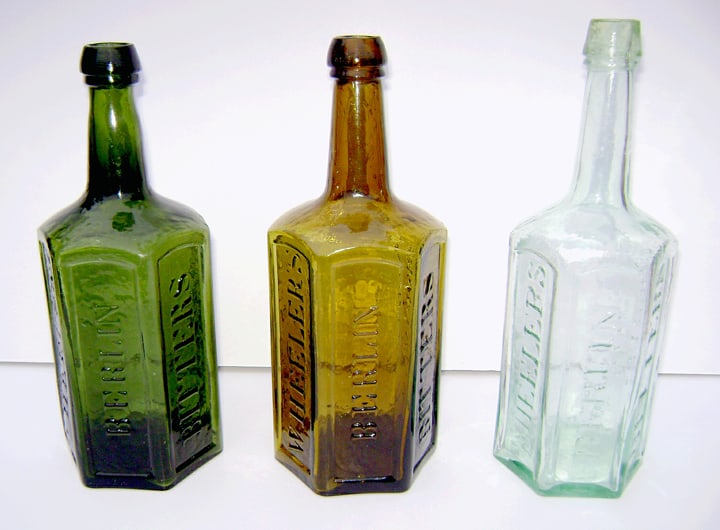 The Wheeler's Berlin Bitters is without a doubt, one of my favorite Bitters bottles. Being a native Baltimorean also influences this comment. Unfortunately, I do not know much about the bottle or brand other than what is documented in Ring & Ham (see below) and what has been reported over the years. This hexagonal, pontiled (iron and open pontil) bottle comes in two primary molds and some killer colors. I think most would easily say that this is a Baltimore Glass Works product from around 1850 to 1865.
Usually I look for advertising, labeled examples and genealogy information for the name. In this cast I can find nothing. This is really a puzzler. I am glad the bottle has 'Baltimore' prominently embossed on it or I would really be in the dark.
This post represents what is out there now. Hopefully somebody is holding some information so we can unlock the doors and figure out more about the Wheeler's Berlin Bitters.
Read More: Leading up to Baltimore Glass Works

Previously Unknown Pair of Whale Oil Lamps Ignite Bidders in Virginia:
A lucky auction staff find from a local estate was a bitters bottle that earned $9,900.
Embossed "Wheeler's Berlin Bitters Baltimore," it was a brilliant deep yellow-green, hexagonal form with two blank panels, applied lip and large rough pontil. With a nicely whittled surface, it stood 9 3/4 inches high. – Antiques and the Arts
"

Wheeler's Berliner Bitters,"

he says, quietly. "It's a Baltimore bottle. Every year, I hope some out-of-state dealer will bring one, even though it'll be beyond my reach." Without cracks, chips or stains, a Wheeler's Berliner goes for, oh, $7,000 or so." – Ferdinand Meyer IV (my father) in an interview with the Baltimore Sun in 1995
The Carlyn Ring and W.C. Ham listing in Bitters Bottles is as follows:
W 82.5

 WHEELERS BERLIN BITTERS, Circa 1850 – 1865
WHEELER'S // BERLIN // BITTERS // BALTIMORE // sp // sp //
10 x 3 (5 1/2)
Hexagonal, Aqua, DLTC, Rough pontil mark, Extremely rare
1 sp. One double sunken panel for label
W 83

 WHEELERS BERLIN BITTERS, Circa 1850 – 1865
WHEELER'S // BERLIN // BITTERS // BALTIMORE // sp // sp //
9 1/2 x 3 1/2 (6 1/2) 2 1/4
Hexagonal, DLTC, Applied mouth, Aqua, pontil mark, Extremely rare
Hexagonal, DLTC, Applied mouth, Puce, Yellow olive and Green, Metallic pontil mark, Very rare
Lettering reads reversed and base to shoulder
Ferd, I just saw your article on The Wheelers Berlin Bitters. I thought I'd send you the little bit of information I have found about it. Here are two advertisements (see below) placed in the (Baltimore) Sun paper in 1850. The first on November 13th is the dissolution of the co-partnership of Wheeler & Spriggs. They were importers of various dry good and liquors. The second advertisement was placed in the Sun on November 16th and states that haveing sold his interest in the late business of Wheeler & Sprigg that he would continue on business in his own name then goes to list different products he has on hand. One of which is Berlin Bitter. M. Wheeler is listed in the 1851 Baltimore directory as Importer of wines, brandies, cigars, indigo, &c. 42 W. Lombads St, dw Exchange Hotel. After this directory listing and the couple late 1850 advertisements in the Sun paper I can not find anything else about M. Wheeler. So its very likely his business must have been very short lived.
Chris (Rowell)