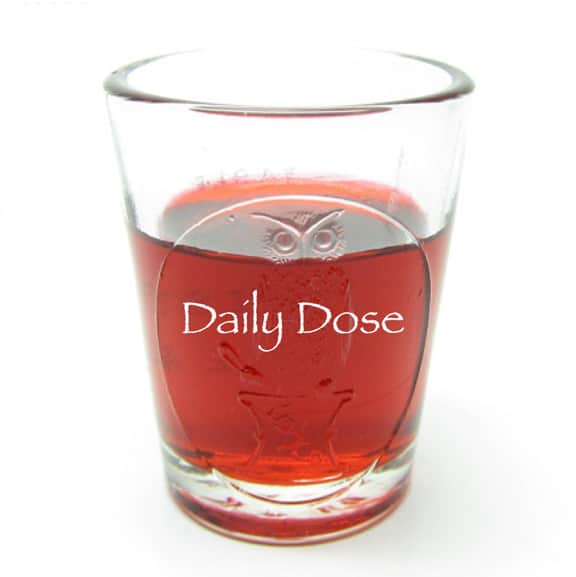 F E B R U A R Y   2 0 1 3
Section dedicated to daily thoughts and interests
Thursday, 28 February 2013
Last day of the short month of February. Makes the Baltimore Show sooner right! Have a flight out of Houston mid day. Bottles in transit.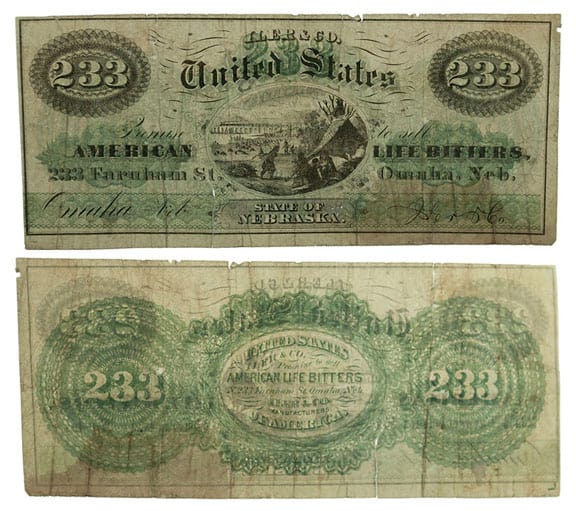 Make sure you check out the fabulous G.W. Aimar collection that Jim Schmidy wrote about. Also the Glass Works Auction #97 is pretty decent too! Love the American Life Bitters note pictured above.
Read More: Log Cabin Series – American Life Bitters
Wednesday, 27 February 2013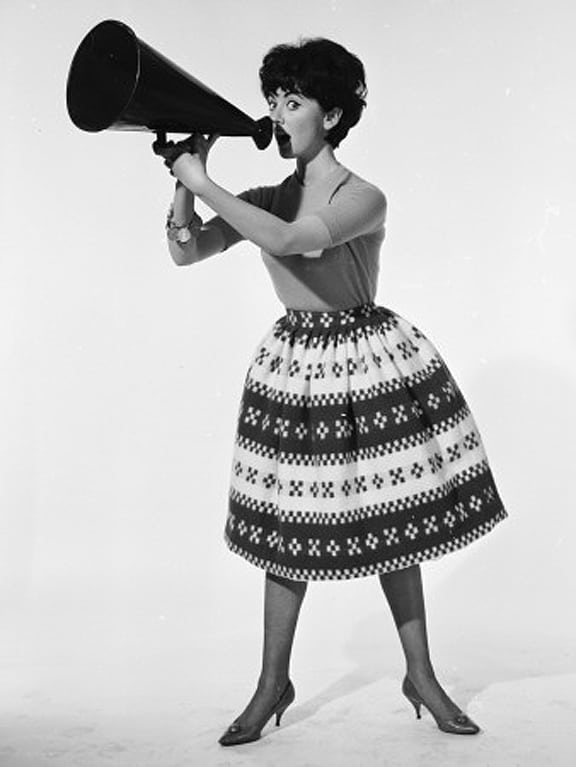 Can you hear me now? Wake up all you bottle collectors. 4:40 am here at Peachridge. Got up a little earlier at 3:00 am. So much on my mind. Anyway, just finalized a post on megaphone bottles. Most from the Feldmann collection. Packing to leave town. All the dogs get sad when I do this. Looking forward to the mega Baltimore show this weekend. Meeting up with some of the west coast crow Friday am to do some Baltimore site-seeing.
From Warren Friedrich in reference to the Granger question from yesterday:
Ferdinand,
That (Granger) name was also used on a fruit jar that was invented by Carlton Newman before he moved out to California from Pittsburg, PA. Good luck in your search!
Warren
Tuesday, 26 February 2013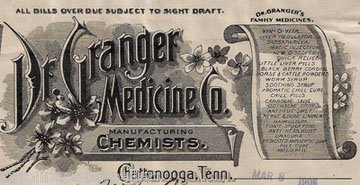 Today I am trying to find out what 'Granger' means in Granger Bitters. Is there any relationship to Dr. Grangers Medicine Company of Chattanooga?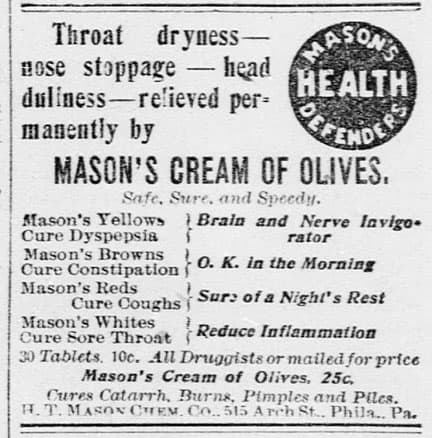 Have any of you tried Mason's Cream of Olives? Bet that made you smell real good!
Monday, 25 February 2013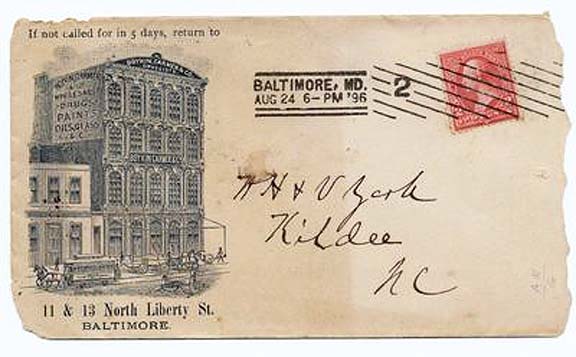 Just amazed at all of the XR bitters squares that have been showing up the past few months. At auction houses, ebay, private finds…you name it. Kind of exciting. Look for continued posts down the road.
Sunday, 24 February 2013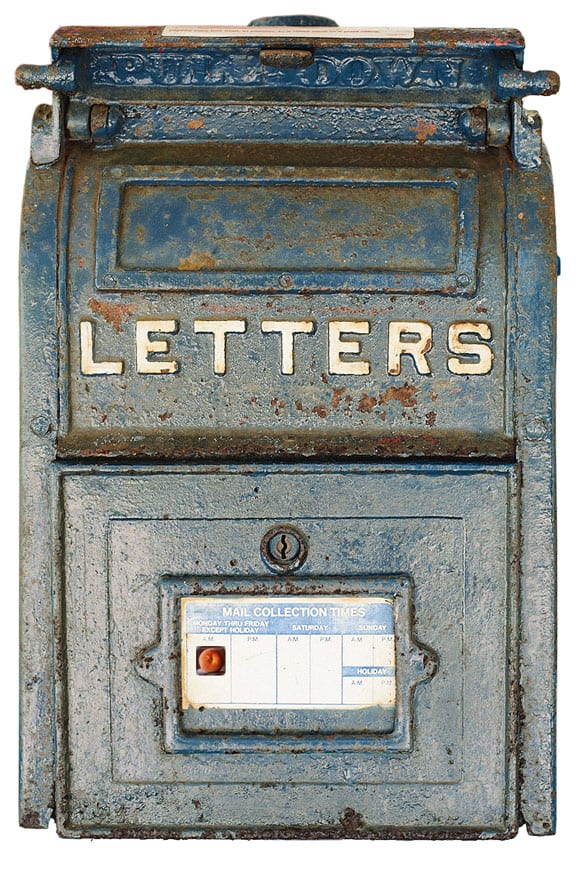 Started a new section called Mailbox Letters. I am getting so much regarding glass that I could use an assistant 🙂
[regarding the Martha Stewart Carlyn Ring interview]
Ferdinand: I think the interview was about 2000, but could have been as late as 2002. It was well before the SUPPLEMENT was published. Carlyn had called me and told me that Martha had wanted to do an interview about the book and I told her that that was great and she was the correct person to do it. Jim took a couple of cases of bitters bottles up to Martha'a studio so they could use them for props. We gave her a copy
of BITTERS BOTTLES that was signed by both of us.
See you at Baltimore – Bill
Saturday, 23 February 2013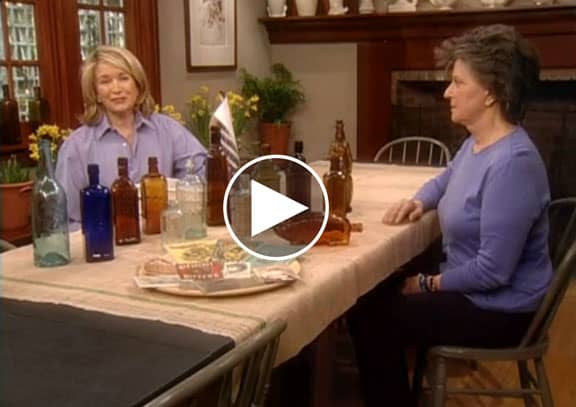 Wow, the big Baltimore Antique Bottle Show is just 1 week away. This weekend I pack up my bottles which is always a task. Unfortunately Elizabeth will not be making this trip so I am flying solo.
I want to thank Jeff Burkhardt who always contributes much to this site and our hobby. Today it is for the Martha Stewart video he "stumbled" upon where Martha interview the legendary Carlyn Ring of bitters bottles fame.
Friday, 22 February 2013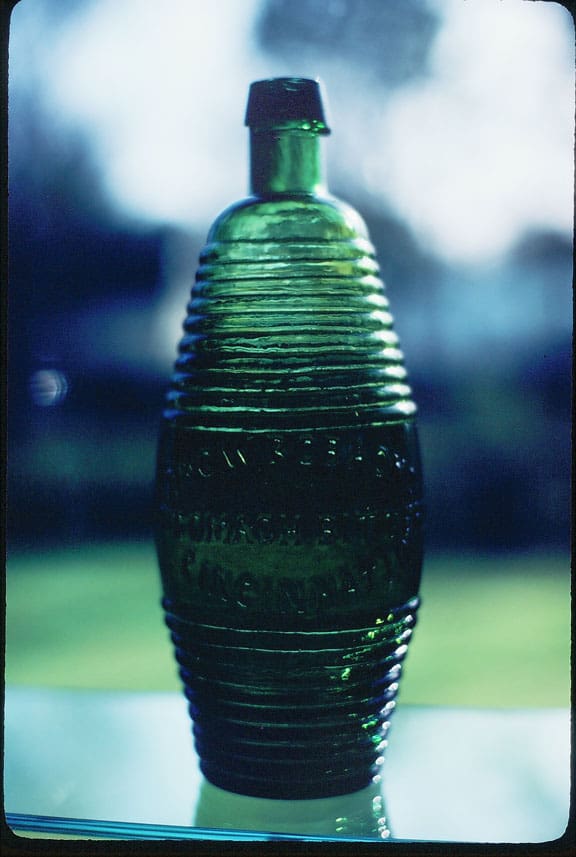 Well, how about those really cool 35 mm slide conversions from the Tony Shank collection! I like Brad Seiglers comment "Amazing shots. Them being in 35mm just add to the feeling in the pictures. Absolutely stunning. This made my week to see so much amazing glass. The root bitters barrel is over the top. Thanks so much for sharing."
Tuesday, 19 February 2013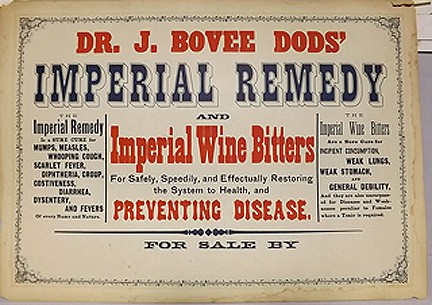 [email to my business partner Mary] I got your name from the FMG web site but I'm trying to reach Ferdinand Meyer V regarding antique bottles. Sorry to impose on you, but could you ask your partner to contact me? I have posted a message to him on his facebook page that apparently will only show up in the "other" inbox not the regular inbox, so I'm guessing he'll likely never see that. The reason I'm trying to connect him is because I saw an article he posted regarding a bottle for Dr. Dods' Imperlal Wine Bitters. I've just acquired an original broadsheet advertising this 'cure all' that I thought would be of interest to him. And I'm very interested in learning more about his Dr. Dods' bottle. I am related by marriage to Dr. Dods' family — too bad we don't have the recipe for this miracle tonic! Thanks for passing on this message.
Read: Dr. J. Boveedods Imperial Wine Bitters
Monday, 18 February 2013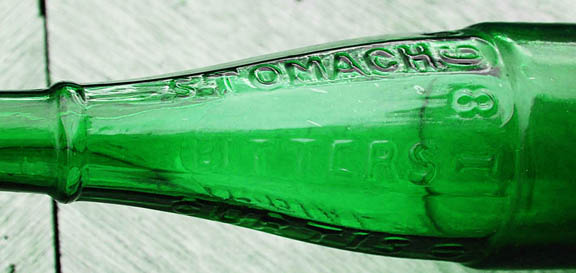 From Mark Warne: Hi Ferdinand. Hope all is well. Just checked my favorite site and I see my Curtis in a much brighter green than it is. I won mine off ebay and that is positively the (same) bottle. Everything matches perfectly and it has a killer tube in the neck or bubble that sages down 4 inches. Kind of like a 4 inch cocoon with open ends inside the neck. Glass is extremely thin in this area and is very cool. Have never seen anything like it. I see the tail end of it in your photo. Mine happens to be pure green (lucked out for sure ) but certainly not like the green in your photo. Someone doctored the colors that you have for sure. I'll send photos to you soon.
A real paradox here. With ebay it is a bit easier to get the word out about scams where with private offers we all, including myself, get caught up in the excitement of a new find. Had I posted this info sooner about the Curtis Cordial scam, I believe we could have deterred some from paying the buyer. What do we do here?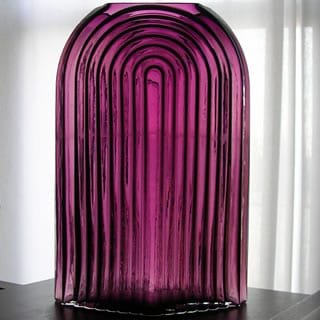 Look for a post later today on The Color Purple. If you want any of your glass included please forward via email ASAP.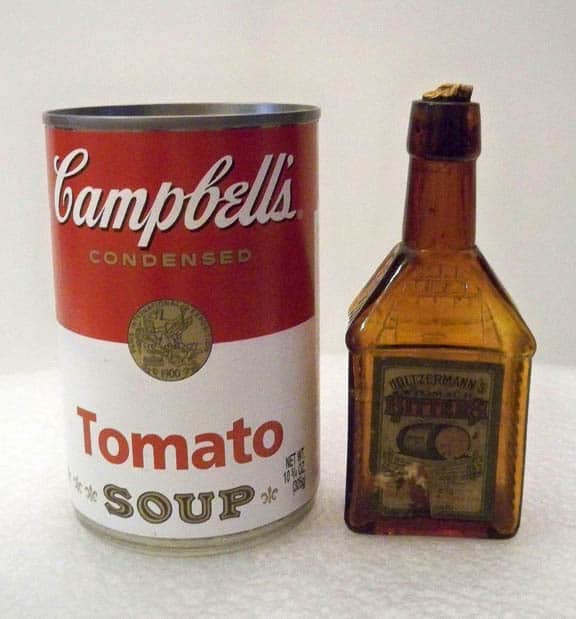 ANDY WARHOL Painting? on ebay now… http://www.ebay.com/itm/Sample-Holtzermanns-Bitters-Amber-Bottle-Log-Cabin-Label-/181079029763?pt=LH_DefaultDomain_0&hash=item2a2926b803
Read More: Log Cabin Series – Holtzermann's Patent Stomach Bitters Compound (4 Roof)
Saturday, 16 February 2013
Cold morning again after a surprisingly mild first part of February. Still have not had a hard freeze to kill the bugs. Fire in the fireplace. Sun will be up soon.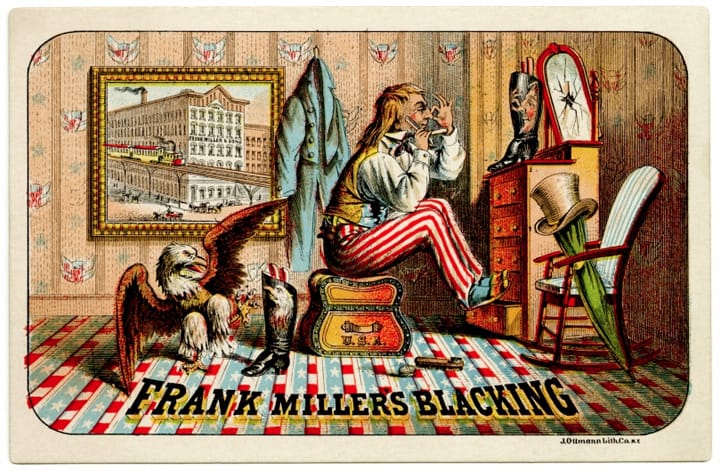 Had some fun yesterday looking at all the Blacking material I could find online. Love this trade card above of Uncle Sam shaving with an eagle and his boots. The boys and girls over on Early American Glass and Bottle Collecting on facebook really put up some neat pictures. Read: Blacking Bottles & a little more.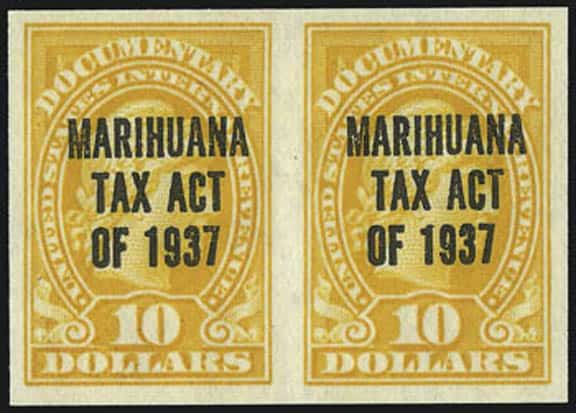 Working on a Post now on Marijuana or Cannabis bottles and related material leading to the Marihuana (sic) Tax Act of 1937.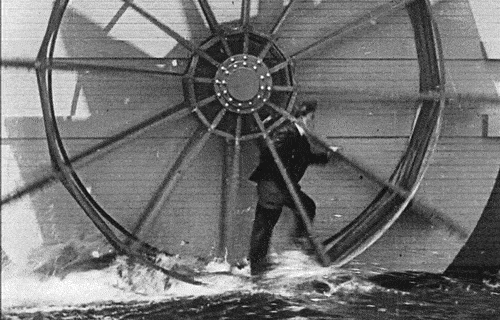 I posted this picture over on the PRG face book page and said, "This is how I feel sometimes."
Thursday, 14 February 2013 (Valentines Day)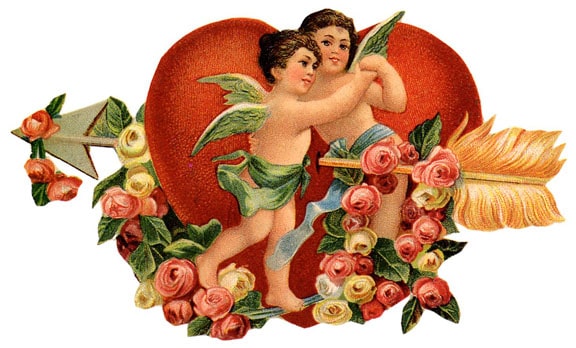 Make sure you read the update on Uncle Marb's Old Bourbon Bitters. Thanks to Marianne Dow for info and more leads.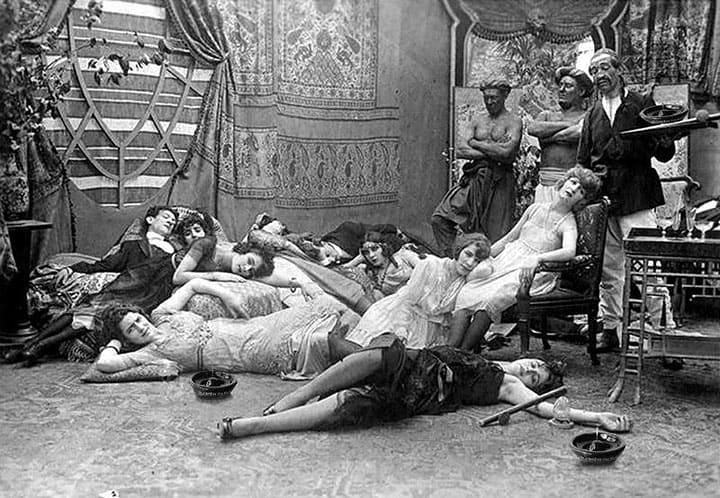 Working on a OPIUM post in the flavor of the recent Heroin and Cocaine posts. This 1918 Opium Party pic is so cool. Read: To Smoke Opium is to get out of the Train (while it is still moving)
Wednesday, 13 February 2013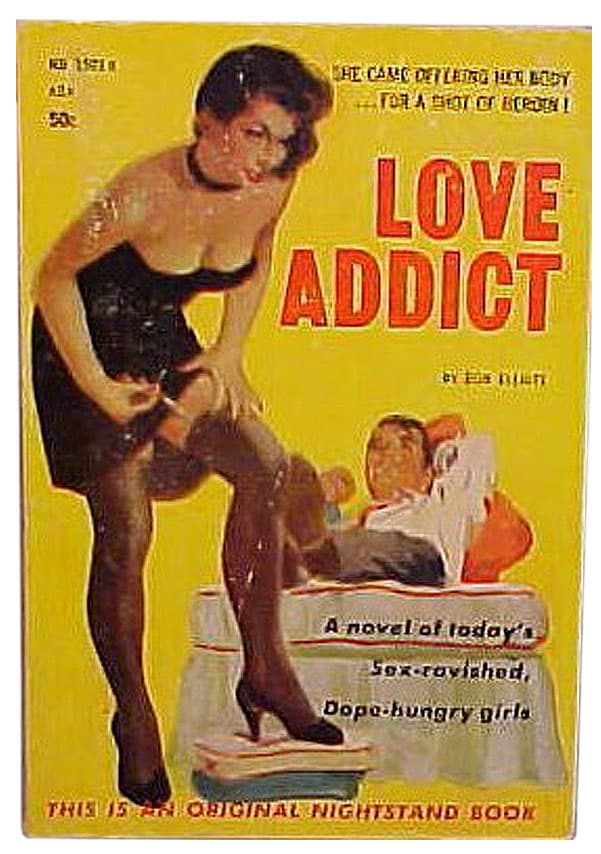 In keeping with the HEROIN theme from yesterday, we have "LOVE ADDICT"…"A Novel of today's sex-ravished, dope hungry girls". circa 1959. Reminds me of Reefer Madness. Remember that Movie? Read: Heroin – Purest and Best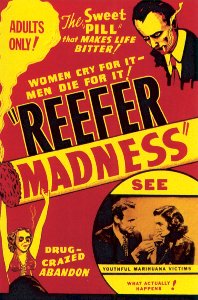 [Wikipedia] Reefer Madness (originally released as Tell Your Children and sometimes titled as The Burning Question, Dope Addict, Doped Youth and Love Madness) is a 1936 American propaganda exploitation film revolving around the melodramatic events that ensue when high school students are lured by pushers to try marijuana — from a hit and run accident, to manslaughter, suicide, attempted rape, and descent into madness. The film was directed by Louis Gasnier and starred a cast composed of mostly unknown bit actors.
Tuesday, 12 February 2013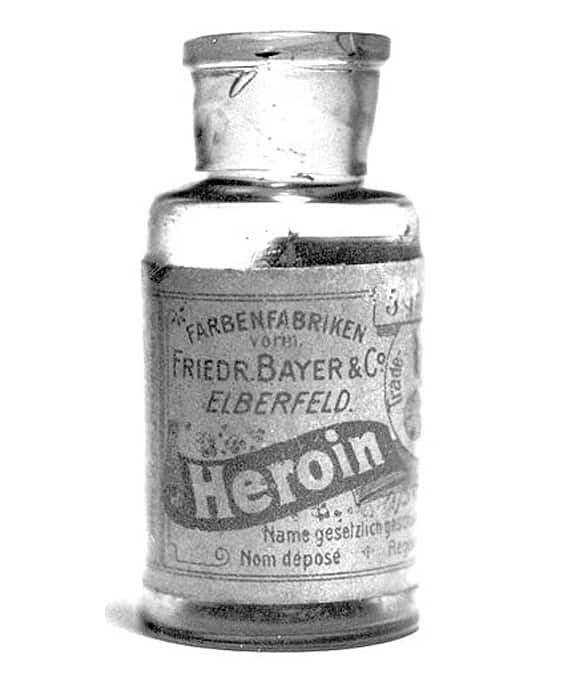 I like this 1901 "Tension Easer" from Bayer. Maybe I should use it for new art for "Daily Dose"? Anyone follow that XR 4 IN 1 BITTERS from Pinconning, Michigan that closed last night on ebay? I'll try to put something up on it. Anybody have any pics of the smaller anchor variant on a Dr. Dunlap's Anchor Bitters?
Monday, 11 February 2013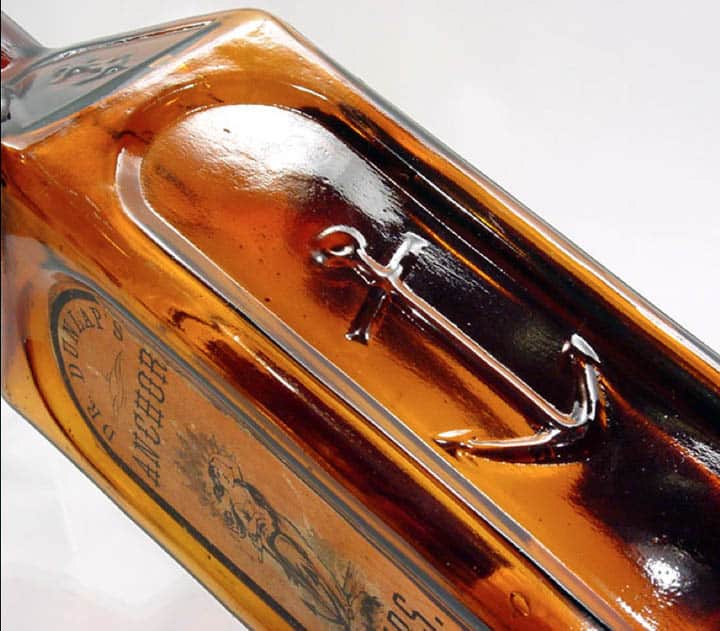 Another Monday…weekends are sure fun! Look for posts today on Dunlap's Anchor Bitters and Uncle Marb. The March | April issue for Bottles and Extras should go to the printer today. Boy that is a lot of work. Collective prayers requested from fellow collectors for Tom Doligale (of Adolpho Wolfes fame)
Friday, 08 February 2013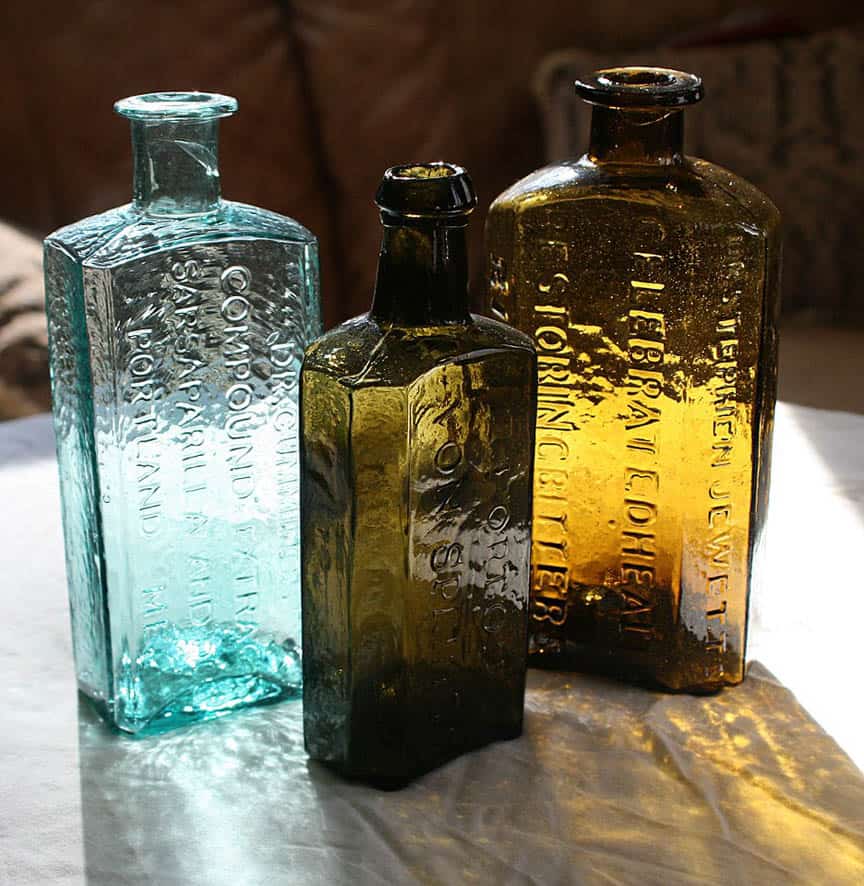 Flew out of that weather mess moving up the east coast yesterday. Glad I am back. Looks like New England is a target. Look at this great picture of whittled bottles posted by Michael George.
Thursday, 07 February 2013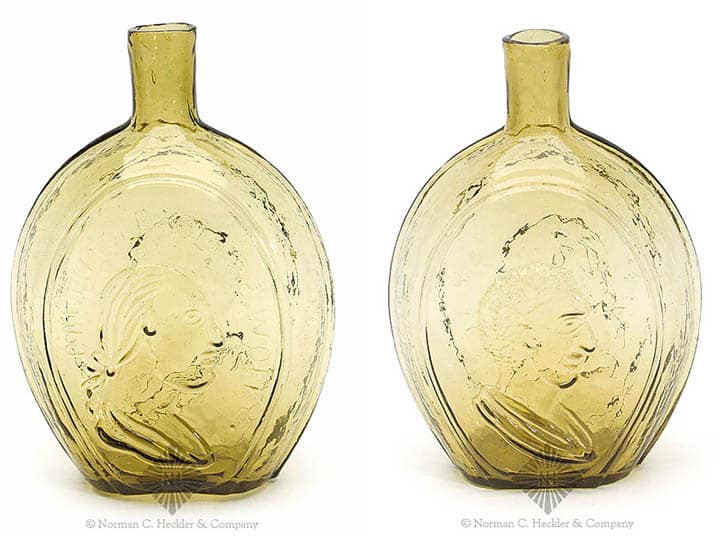 This flask is too cool…Washington – Classical Bust And "Baltimore X Glass. Works." Portrait Flask, Baltimore Glass Works, Baltimore, Maryland, 1840-1860. Screaming yellow, sheared mouth – pontil scar, quart. GI-22 Strong embossing. Big, beautiful, colorful portrait flask in an unbelievable and rare color. Classical bust probably of Henry Clay. The Dr. Gary and Arlette Johnson collection. Heckler Auction 102. Now at $42k in call backs. Really impressed with the great pieces in this auction.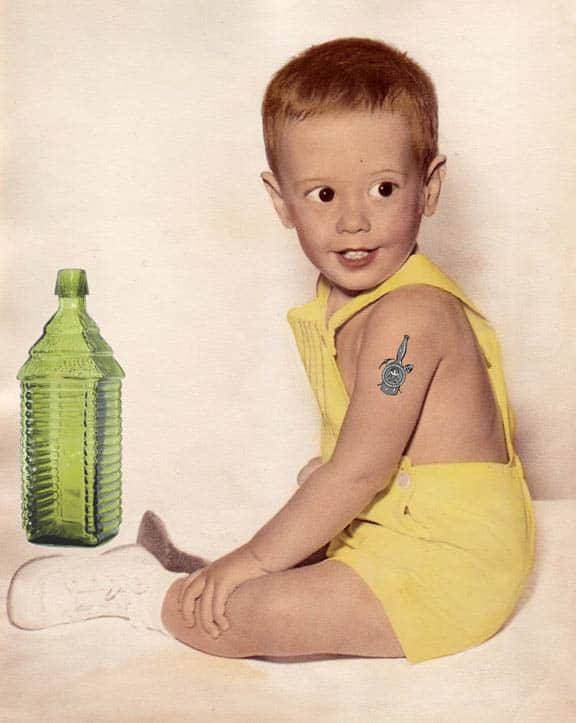 My new PLEASE JOIN THE FOHBC poster.
Tuesday, 05 February 2013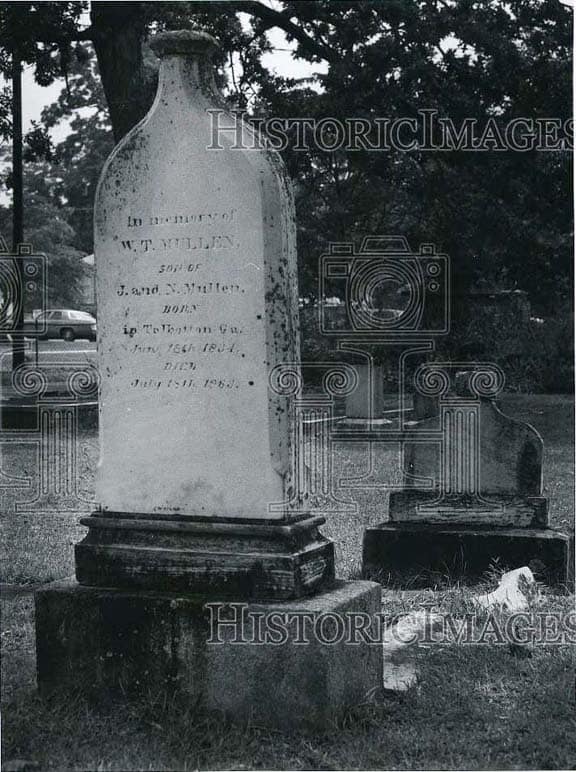 Look at this interesting tombstone sent in by Dennis Humphrey. Dennis adds, "I was looking on Ebay for Alabama bottles and came across this photo image of a tombstone in the shape of a bottle in Clayton, Alabama and thought it was very unusual. A Clark's Sherry Wine Bitters is what it reminds me of." Need some help o the Bloch's German Bitters post. Anybody familiar with a Dr. M. Bloch?
Monday, 04 February 2013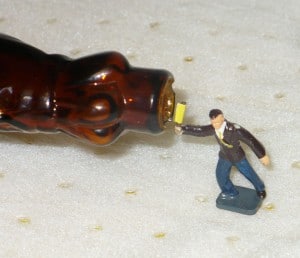 I like this persons Method of YELLOW FLAGGING two lip chips on this Indian Queen on ebay. Caught my eye.
Sunday (Super Bowl), 03 February 2013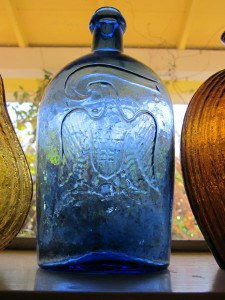 Hi Ferd,
Just wanted to say I just got done wondering around Peach Ridge. Such great articles and pictures, and info. We in Ohio have no doubt what so ever that the Eagle Flask with no oval below is Zanesville. Read: Gorgeous blue GII-118 Double Eagle Historical Flask on ebay. Our reason is that several broken and whole examples over the years have either been found in Ohio or dug there. The late great Paul Balentine had reason to zero it in to the White Glass Works Zanesville?. When I was younger I use to dig Zanesville with Adam Koch, Don Dzuro and others. I was in a privy where we dug two broken aqua Eagles. Others have dug whole ones including a yellow one. There are other flasks from Zanesville & Ravenna that Norm is reluctant to call Ohio. Not bad mouthing him (He is a friend) that's just the way it is. The Cobalt one on your web site is gorgeous. I have always defined gorgeous as a step beyond beautiful. Did you ever clean that Morning Call Bitters?
Best Regards,
Gary (Beatty)
Saturday, 02 February 2013
Updated the Bininger post with a pic of the BININGER'S TRAVELER'S GUIDE flask and the BININGER'S DAY DREAM. Liking these Bininger names so much. Put up a Baltimore post with my article last year from the show. The Baltimore guys say it is "their way or the highway" with trying to let the big names in on Saturday with all of the action. Bill Taylor, Bob Ferraro and Sandor Fuss had the usual dificult time latching on to a table. Did get the following: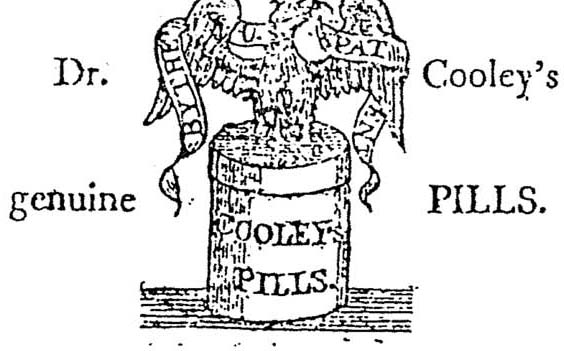 This is Rex Todd Rogers and I am a direct descendant of Dr. Samuel Cooley, MD through his son Dr. Horatio Cooley, MD who was a brother of Dr. Abiel Abbott Cooley, druggist and inventor.
I do have some information about Dr. Samuel Cooley, MD and Dr. Abiel Abbott Cooley. Would you like to have a copy of Dr. Samuel Cooley's 18th century advertisement? I will be happy to email you one. He was quite a famous physician during that time. Also he published book about cow pox in 1802.
There is some interesting information on Samuel Abbott Cooley at the Connecticut Historical Society, it has some mention about Cooley's Bitters. Samuel's sister Mary who was unmarried and ran the manufacture of Cooley's Bitters in Hartford, Connecticut. She died in 1899.
Read More: Is the Cooley's Anti Dispeptic Bitters our oldest Bitters?
Friday, 01 February 2013
"La Fish Bitters" Email from my bud Sandor….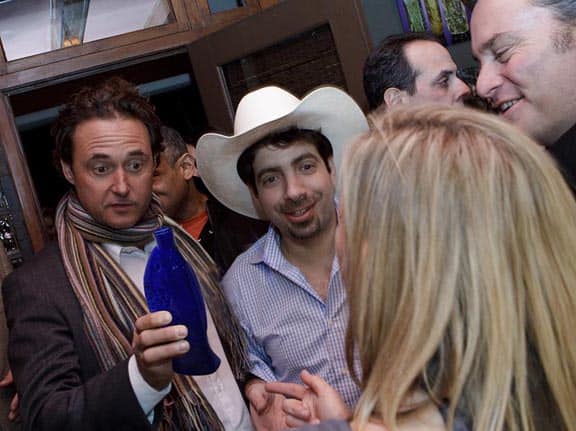 Hi Ferdinand, So I was at this party last night in Tucson, during my annual Gem and Mineral Show and this dealer I know from France brings me a blue fish bitter's, straight from a little antique store in France. WTF!!!!…dude, it is better than yours!!! Sandor Click Here and look closely