"

What is the earliest embossed American Bitters Bottle?
Is the Cooley's Anti Dispeptic Bitters our oldest Bitters?
25 February 2014 (R•083014)

There has been some dialogue this past week regarding a Rick Ciralli question as to "What is the oldest Bitters?" I thought I would pull together some information, pictures and posts that seem to suggest the Cooley's Anti Dispeptic Bitters.
Rick's initial post this week: "When I saw Ferd last fall before Keene, we spoke about the earliest Bitters Bottle and we both thought it could be the Moffat's Phoenix Bitters, 2 dollars, blown at Coventry…here's a pic…Feedback anyone? Let the debate start, this is a good one!"
Read More: Jack Stecher and his John Moffat Phoenix Bitters
Read More: John Moffat Phoenix Bitters Support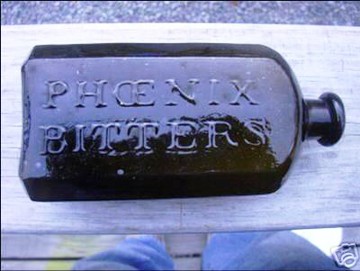 From Brian Wolff: "I beleive the JNo. MOFFAT is the earliest variant. Cooley passed away in 1858 and his bitters probably did precede Moffat. Cooley is the same guy that produced the A.A. Cooley blacking."
From Michael George: "Dr. Stephen Jewett (Health Restoring Bitters) was purchasing bottles from the Keene glass factory. The bitters bottles may date to the early 1840s. Yes, same Cooley, and I believe that is early 1840s as well."
From Chris Rowell: "Though not embossed Bitters the Gouley's Fountain of health bottles from Baltimore Likely contained Gouley's Vegetable Bitters. This was the main product he advertised. His advertisements state under the sign of the "Fountain of health". There are three versions of this bottle known with different addresses; one marked 21 1/2 Baltimore Street is his earliest and dates 1837-42. He then moved to number 26 Baltimore Street from 1842-44. No bottles with this address are known but I would bet they did exist as all the other addresses he is listed at have marked bottles. He then moved to 38 Baltimore Street in 1845 until 1860 which is the most common address version of his bottles and then finally to 60 Baltimore Street from 1861-65 the second most common address. this last one is usually found smooth based but there are known pontiled examples."
From Brian Wolff (after initial post): "Fine example you have there Ferd…of course we neglected to specify "American" and "embossed" for surely Stoughton bitters (England, circa 1712) is older." [PRG] Amended post header.
PRG: Look at the advertisement below and the dates. One line in the ad says "Cooley's Bitters were invented in 1767 by Dr. Samuel Cooley, of Bolton, and have been in use since that time until the present". Not conclusive at all but interesting to me in that this product was most likely put in another bottle prior to the Cooley's concoction that we suspect was made and bottled around 1840.
C 228

  COOLEY'S ANTI DISPEPTIC BITTERS, Circa 1840 – 1860
COOLEY'S ( au ) / ANTI – / DISPEPTIC / OR / JAUNDICE / BITTERS ( au ) // c //
Connecticut
6 1/4 x 2 3/4 x 1 3/4 (4 1/2)
Oval, Aqua, STC, Applied mouth, Rough pontil mark, Extremely rare
The pictures posted below represent my example which was purchased in the Glass Works Auction 75  and is Ex: Carlyn Ring.