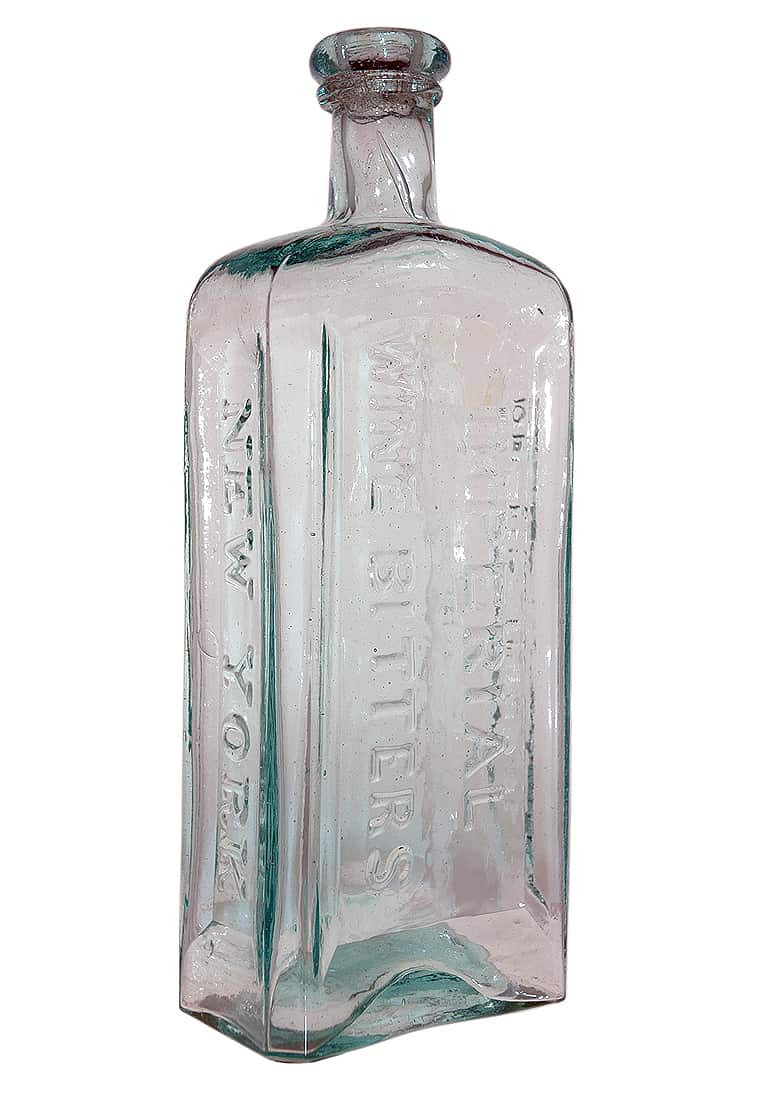 Dr. J. Bovee Dods' Imperial Wine Bitters
25 April 2012 (R•072014) (R•122314)

John Bovee Dods (1795 – 1872) was a spiritualist and former clergyman. He settled in Brooklyn, New York in 1850, and remained there until his death. His Imperial Wine Bitters were advertised in newspapers around the country from 1859 to 1861, first making an appearance for sale in December 1858. They sold for a $1 dollar a bottle or 6 bottles for $5 dollars.
From Civil War authority Jim Schmidt (Spring, Texas) (see Civil war Medicine (and Writing):
was "mining" some 1861 Galveston papers this evening and came across some bitters ads…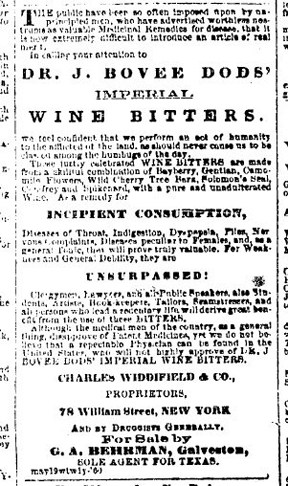 Wow, what was this New York bitters doing in a Galveston, Texas newspaper? The Dr. Bovee Dod's is a great big, gorgeous aqua bottle that gets lost in Carlyn Ring and W.C. Hams Bitters Bottles and Supplement books because it was incorrectly given a 'D' designation for Doctor, I suppose. Some think it is unlisted. It is however a D 80 index.
I like when I get information like this because it allows me to connect it with a bottle and hopefully an example I own (see pictures below). Notice how the advertisement spells Bovee Dods'. It is also neat that the advertisement confirms the Ring and Ham Charles Widdifield & Co. NY address but also includes a G.A. Behrman, Galveston as Sole Agent for Texas.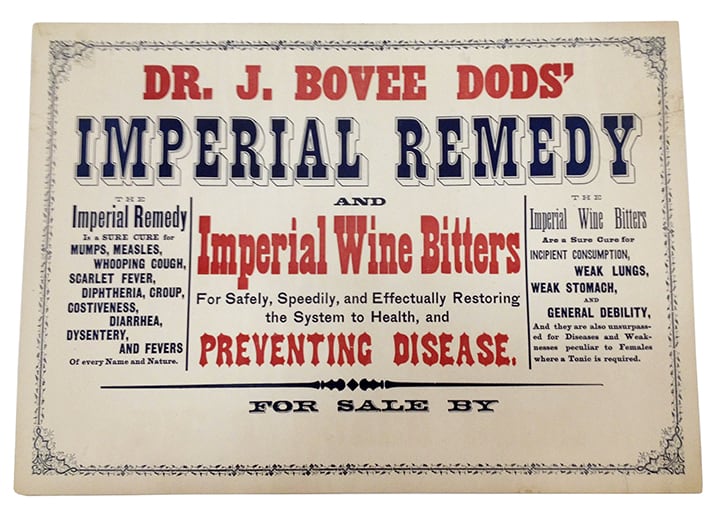 Dr. John Bovee Dods
D 80

 DR. BOVEE DODS' IMPERIAL WINE BITTERS, Circa 1855 – 1865,
DR. J. BOVEEDODS // IMPERIAL / WINE BITTERS // NEW YORK // sp //
Charles Widdifield & Co.   Proprietors   78 William Street
10 x 3 3/4 x 2 1/4 (8) 3/8
Rectilinear, Aqua, DC, Applied mouth, 4 sp, Rare
New York Daily Times 1859, A delicious beverage and cures sore throat, consumption, paralysis, indigestion and pyles. Works like a charm!
"A delicious beverage and cures sore throat, consumption, paralysis, indigestion and pyles. Works like a charm!"
"Dr. J. Bovee Dods' Imperial Remedy and Imperial Wine Bitters for safety, speedily, and effectually restoring the system to health, and preventing disease."
Credit: Dr. J. Bovee Dod's Sign from Henry Tankersley