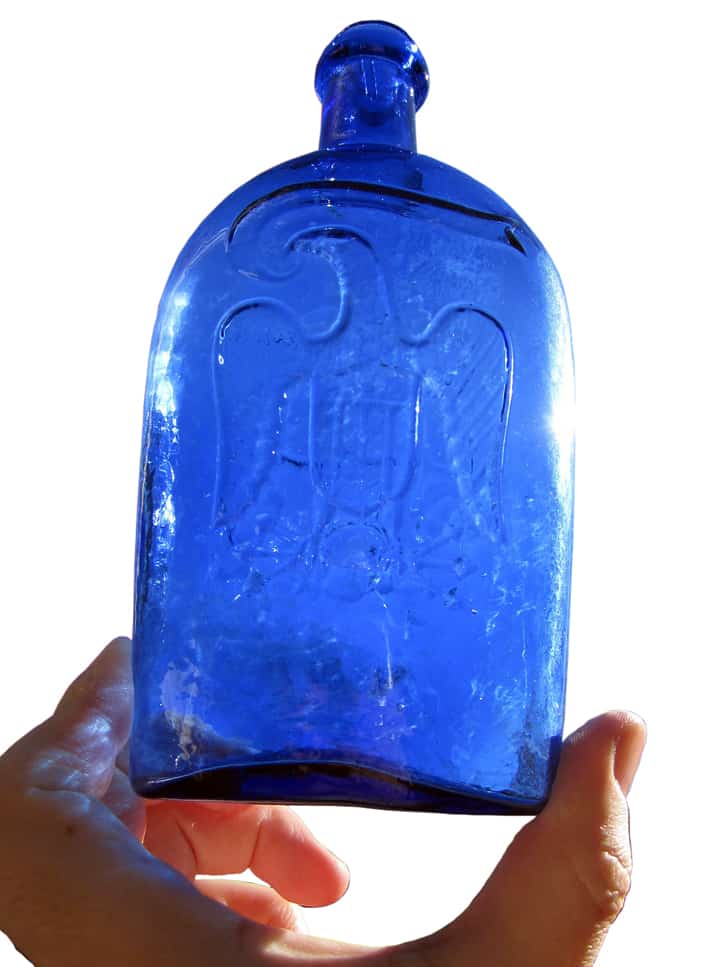 There are a few stunning blue bottles on ebay right now of high calibre; one being the blue double eagle historical flask which is reported on in this post. The pictures are real nice and the color is drop-dead gorgeous. Not sure I would call it cobalt blue, but who cares, huh? I see that Norman C. Heckler has sold one previously (see small picture below). I wonder if it is the same flask? Norm suggests a Pittsburgh glass house while the ebay listing suggests Zanesville, Ohio.
The ebay listing reads:
Cobalt Blue Double Eagle/Crude Applied Ring Top/Highly Whittled/C.1860's/GII-118
Up for your consideration is a beautiful cobalt blue banner double eagle with a crude applied ring top and smooth base. The bottle is in mint condition, no, cracks, chips, dings, nicks, flea bites, repairs, etc. The bottle has some very light staining on the inside as well as some high point wear on both eagles. I thought about cleaning the stains out but I chose not to for obvious reasons. The bottle is highly whittled throughout, with a bold strike on both sides. It is 7.5″ tall by just under 4″ at it's widest point. For further reference, you can find this same flask under, (GII-118) in numerous bottle price guides. Out of all the double eagles (out) there, there may only be two or three without the embossed circle below. For that reason and the color of this flask, makes this bottle exceedingly rare. I will be posting more bottles soon. Thanks for looking.
No reserve
shawnds129
On Jan-23-13 at 08:07:07 PST, seller added the following information:
From what I've been told by numerous collectors, this flask was most likely blown (at) White Glass Works in Zanesville, Ohio. There are only around 6 of the cobalt, "Zanesville" and 4 in citron.
WHITE GLASS WORKS: This factory was started in 1815 at Zanesville, Ohio, by Isaac Van Horn, and continued under various managers until 1851. They made bottles, flasks and domestic hollow ware, turning out much of the fine early glass which is to be found in Ohio. Of their production, the best known are the Masonic and reverse Eagle flasks, and their bulbous bottles in various colors. (Encyclopedia of Antiques)