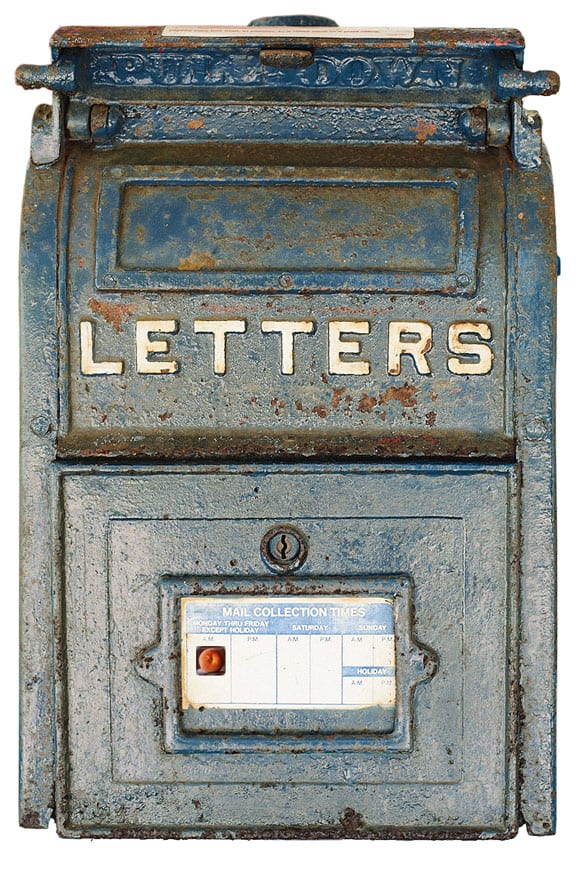 Haven't emptied out the mailbox until this morning. Here are a few incoming pieces. Let me know if you have any info or are interested.
---
5-Log Drake's Find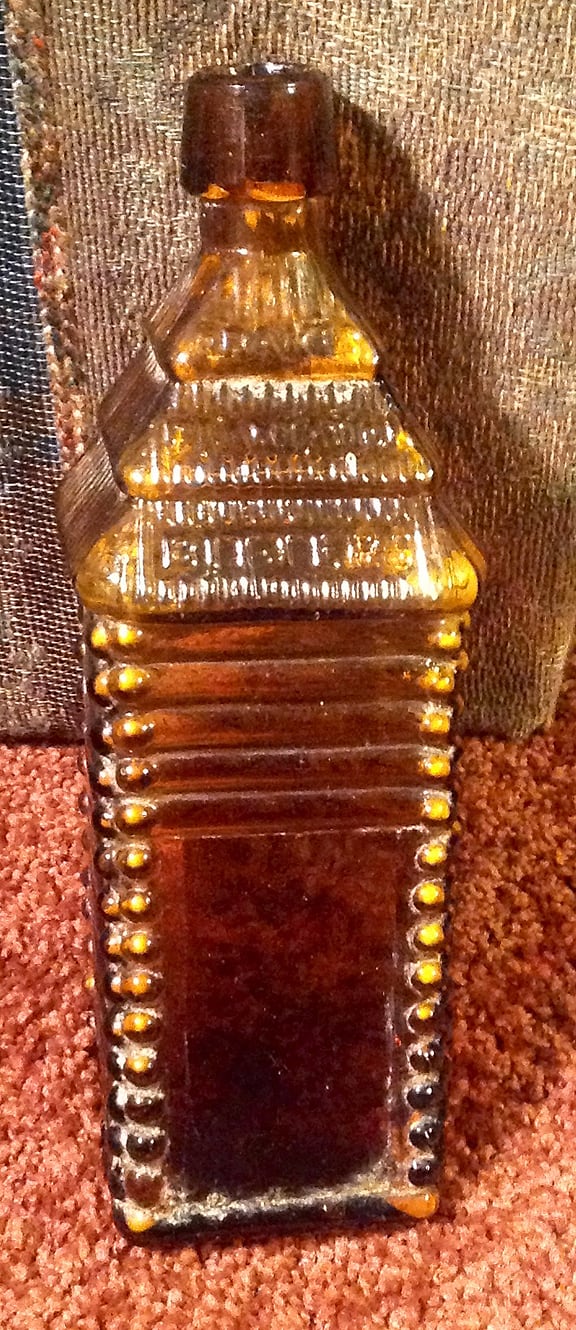 Hello Ferdinand,
On Thursday, myself and a few buddies were relic hunting a 1862-63 civil war winter encampment, and I was fortunate or unfortunate according to how you look at it to dig a Drakes plantation bitters bottle. Unfortunately while it looks good in the picture half of the bottom is broken and a massive piece out of the back is broken. That back break was just one piece and inside the bottle itself. I am trying to get an understanding of how common or rare this bottle is. So here is the basic info on it, the embossing is "drakes" "plantation" "bitters" on the one side and "patented 1862″. The 2 in the patent date is a weird style to me ( FYI I know practically nothing about bottles) the top of the 2 loops around like a nine but has the bottom horizontal line like a 2. It is a five log version, and the color is a yellow green amber like color. The photo is a bit dark. The dimensions are 9 7/8″ by 2 7/8". Any additional info you can give me on the bottle would be greatly appreciated. You have a fantastic site, and at least what I saw of the drakes bottle info by far the best and most info on the web. Thanks – Jason
[PRG] Wow, what a story and find. The 5-log examples are rather tough to get. This bottle in great shape would be worth some nice money. Unfortunate the damage you note is very problematic. It looks like it shows well. You should keep it and display it proudly.
---
Sneaky ebay Plug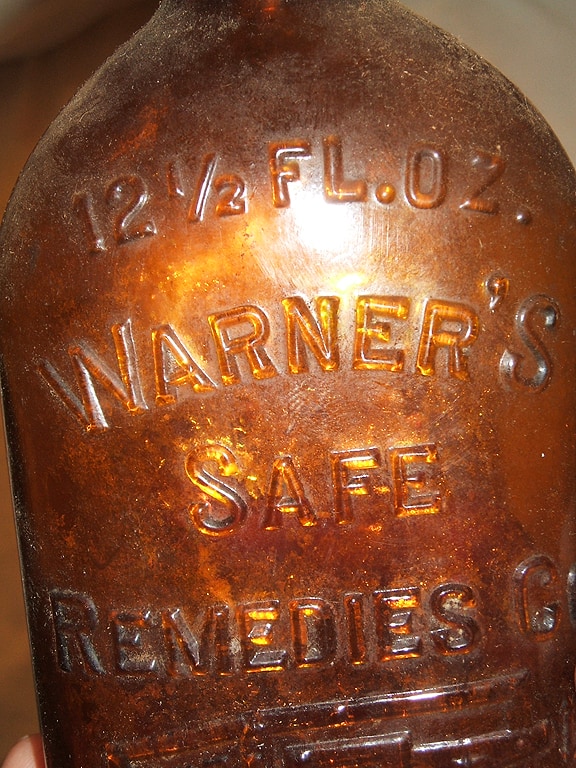 "Antique Warner's Safe Bottle mint condition never cleaned (scratches perhaps but I doubt it, maybe.) I have not cleaned the bottle since I dug it up in a dump in Maryland 1976) no defects, chips, no slivers, TO TOUCH EVEN. REGARDING HINGE: WHEN LOOKING AT THE BOTTLE, AS IN PICTURE, THE HINGE IS TO THE RIGHT SIDE OF THE EMBOSSED MEDICINE CABINET. Reads, "12 1/2 FL. OZ. WARNER'S SAFE REMEDIES CO. ROCHESTER.N.Y.U.S.A." BOTTOM:"MADE IN THE U.S.A." "4 8″" http://www.ebay.com/itm/170993029749?ssPageName=STRK:MESELX:IT&_trksid=p3984.m1555.l2649
---
Blown Vase Question

Hello Mr Meyer,
I came across your web-site, which is very impressive, whilst trying to research a Blown Vase I have. It's been in my family according to my father for a long time. I wondered if you would like to take a look at a picture of it & maybe you may recognize its style or possibly the maker? I would be very grateful for your time. Thank you, kind regards – Darren
[PRG] Darren: this is not my area but I will relay any comments. It does not look familiar to me which can mean it is European or Mexican. I am just guessing here.
---
Barron, Moxham & Company
Dear Ferdinand,
I came across your website after searching for information regarding my great great grandfather, William James Moxham, who had a business in New South Wales, Australia, called 'Barron, Moxham & Company' .
I was thrilled to view a leaflet shown on your website listing W. J. Moxham's company and wondered if it would be possible for your to email me a copy of this image (or any others concerning this company) for my family tree research?
Many thanks, Kind regards, Jane – Melbourne, Australia
[PRG] Subject image posted above from Michael Dolcini (RIP).
---
Plennert Milk Bottle?
Hi, I am looking for a milk bottle with the name on it "Plennert". My father in law's father had a milking farm in Flemington, N.J.
Thank YOU, Mindy
[PRG] Mindy, suggest you contact the National Association of Milk Bottle Collectors.
---
August Helmken
Hallo Mr. Meyer,
I found under "Singchi" an offer about an Old Bootle,  Aug. Helmken,  Brooklyn, N.Y., Plob Top Beere, Rare – 9.99 Dollar.
Can you help me to buy someone (an example). August Helmken was a family member of mine, Heinz – Bremen, Germany
---
Drake's Plantation Bitters Variant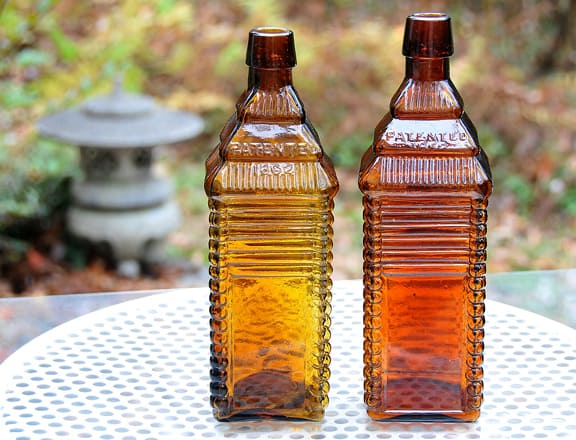 I was browsing your Peach Ridge Glass site to find out more about a rare Drake's Plantation Bitters that I presently own, and discovered that it is the rare one with four slug-plates. It is in a particularly rich orange-amber color and in perfect-mint condition. I have been tied up with family concerns for months, but returned today to research the bottle some more. I am submitting the pictures for your website. Shown with it is another example I own. It is the lighter honey amber Drake's in a more common mold. I may be interested in selling them to a serious collector.
Photos Courtesy: Peter B. Nielsen
[PRG] This example is for sale. Great pictures don't you think?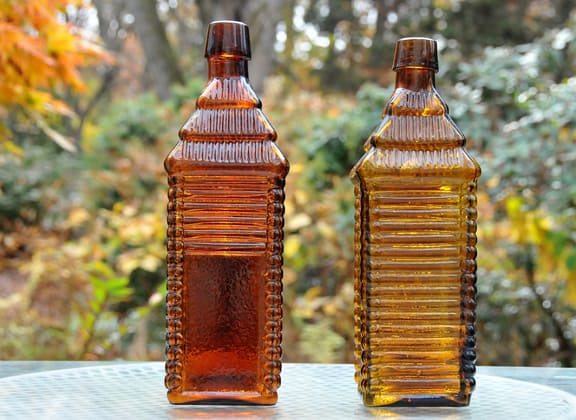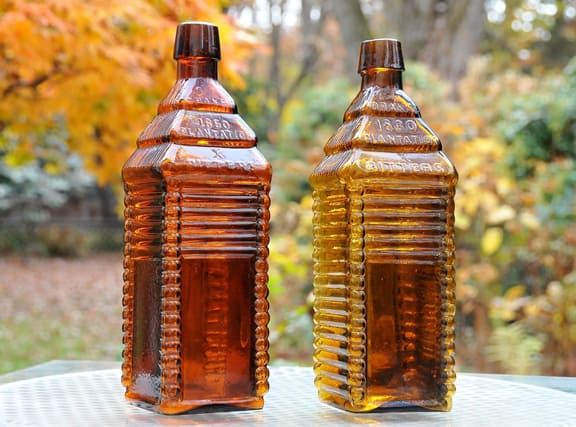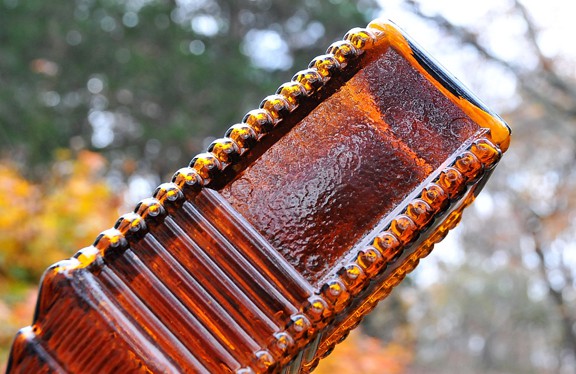 ---
Tippecanoe Whiskey Question

Dear Elizabeth: I don't seem to be able to find anything on the internet for this old whiskey bottle. Ferdinand suggested I send pictures to website…..Thanks for your help! Gene
[PRG] – Suggest you contact Jeff Wichmann at American Bottle Auctions. In his current auction he has some similar bottles. 
---
Pitcher Question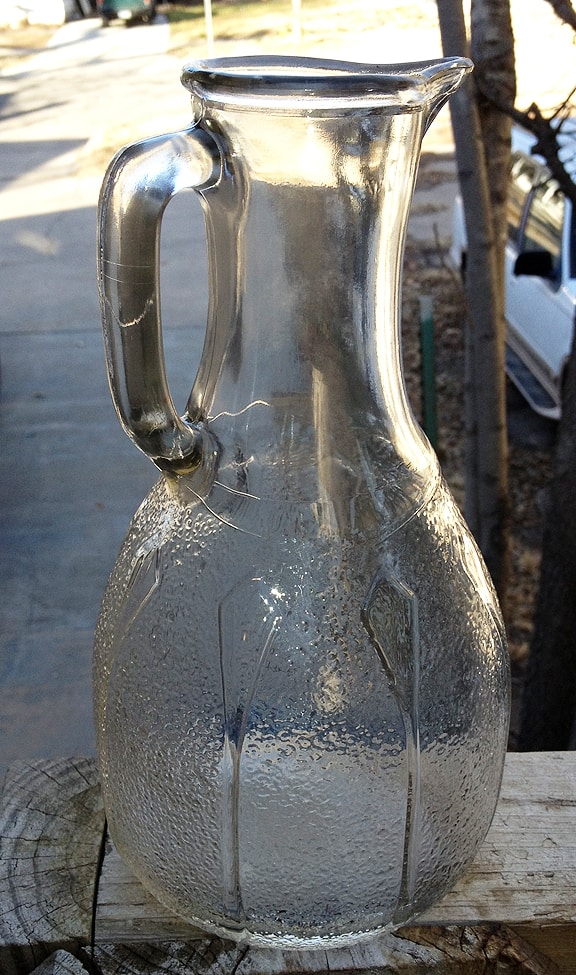 I have this pitcher I can't identify. There are tiny raised hairline seams where the mold sections were joined and a slight displacement. The bottom reads PATENTED 665 with a 5 in the middle, the numbers 76545. I you can help me with any information I would deeply appreciate it. Thank for your time reading this, Rick
[PRG] I will ask the readers as I am unfamilar. This is a later, 20th century piece.
---
Hello, was wondering if you ever cross any glass fishing floats from any of the members? i collect glass floats and am looking to find some other resources. thought maybe a couple might show up in the glass bottle world every now and then. any help would be great. thanks. nic
---
Dyottvillle O'Kane Bottles?
Hi Ferdinand
I am interested in purchasing any good condition Dyottville bottles that have the O`Kane name on them. If you own any, or know others that have any, I would appreciate your consideration. Thanks, Jim O`Kane
---
About Soda Fountains
Hello, My name is Gia Giasullo. I am writing a book to be published by Ten Speed Press, about Soda Fountains. I am the owner of a working soda fountain in Brooklyn, NY called Brooklyn Pharmacy & Soda Fountain. There is an image (top and below) that I found in my research that has led me to you. I am wondering if someone could contact me regarding both these image, and perhaps others, that are in the public domain and that would be appropriate for this project. You can reach me via email, brooklynfarmacycookbook.com. I am attaching the images that I am interested in finding the usage rights to, but again, think that you may be a valuable resource with some others I have in mind. I thank you kindly in advance for your time and consideration, Gia – Brooklyn Farmacy & Soda Fountain
---
For Sale
Hello, I have a collection of old antique bottles, vases, etc. I would like to sell. large, small, special shapes, designs, etc. the majority or emerald green in color. if you know of anyone that may be interested in seeing them please contact me at (blocked).com . I am located near tomball, texas. thank you, Rick
---
Bethesda Water Company Question
Hi Mr. Ferdinand, I was just speaking with Mr. Rocky, a design supervisor at Waukesha Motor Company and he mentioned in 1834 a NY man came and set up shop since he got cured from his illness, when he came to drink water at the Bethesda springs. Loved my conversation with Mr. Rocky, but I wanted to see how things were, now that I read your note you sent up on 12/23. How are things with the Bethesda Water Company and what can I do to help? Let me know if you have time to talk. Kind regards, Anand
---
Highland Bitters and Scotch Tonic barrel shaped bottle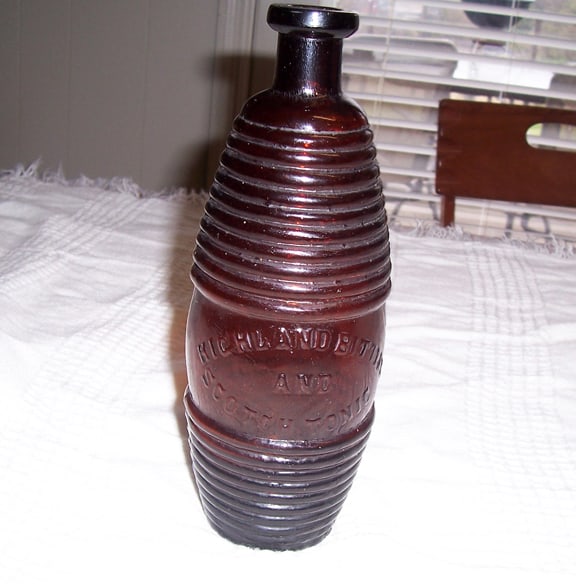 Hello, I am not a bottle collector, but have inherited from my father in law's estate a Highland Bitters and Scotch Tonic barrel shaped bottle. It is in the dark amber color like one that you have pictured in your collection. Since I am not a collector, I am not educated in pontils and other things to look for on the bottle to help date it. It appears to be in excellent condition. I decided to do a little research on it and your website contains some wonderful information on the bottle and the history of the drug company. I do not live in the Memphis area, but rather in southeast Tennessee. I would appreciate any information that you could give me as to the rarity or value of the bottle. I do not believe that this bottle has been dug, but rather has been in the family for a long time. My father in law is deceased and would be 95 if living, and he always referred to it as his Uncle John's whiskey bottle. Thank you so much for your time and any information is appreciated. Thanks again. – Susan
[PRG] You have a classic figural bitters barrel that is pretty rare in a great color. Be safe.
---
I.W.Harper Whiskey Decanter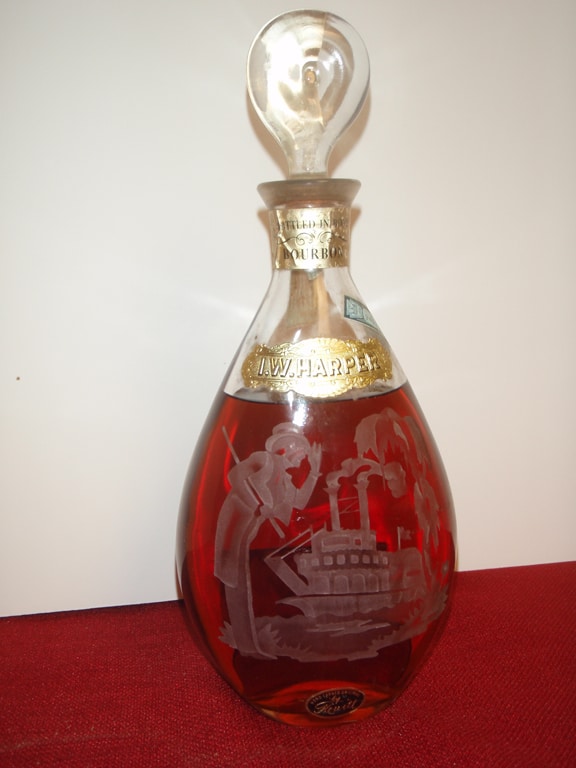 Hello, I came across your site on Facebook a few days ago and thought maybe you could help me find some info on a an old whiskey decanter I found behind a wall in my house several years ago along with 20 other different whiskeys, mostly old Schenley and some O.F.C. It's a hand engraved bottle by A. Hewit. I have searched the internet for him but have come up empty. The whiskey is still in the bottle (I.W. Harper) which they don't make anymore. Last August I attended an Antique's Road Show in Pittsburgh and took the bottle with me, however no one could tell me the value. I have searched on ebay and a few other sites to no avail as to price either and I have never seen it anywhere. I sure hope you can point me in the right direction. I am attaching some pics of the bottle, hoping this will help. Thank you, – Michael
---
I have an unopened bottle of Morning Bitters 5869 with a metal foil around the top. Perhaps an inch or two of the liquid has evaporated. Are there many unopened examples out there? – Bob
---