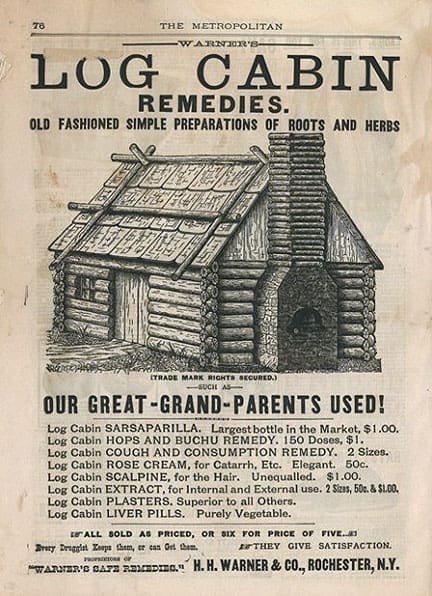 A very nice example of a Warner's Log Cabin Scalpine came up on eBay the other day. The pictures were rather nice and are posted below. The description on eBay was as follows:
Here's the one all Warner's & Hair bottle collectors are looking for. Warner's Log Cabin Scalpine with complete rear label and contents! 9″ tall x 3 1/8″ wide at base. Unique shaped bottle with flat label panel and 3 beveled, embossed panels on opposite side. Medium amber color and in perfect condition! The rarest and most difficult of the Log Cabin set of bottles to find.
Other's in the Log Cabin series include the: Extract (in 2 different sizes) [PRG: Example pictured below], the Sarsaparilla [PRG: Example referenced in picture and advertising below], Hops & Buchu Remedy, Cough & Consumption Remedy (in 2 sizes) [PRG: Example pictured below], and the super rare Rose Cream jar [PRG: Example pictured below].
There was also advertising for the Log Cabin Plasters, but to my knowledge – none exist. If anyone out there has any of these or has seen one – please let me know. It's been a long time since I've seen a Scalpine offered on eBay or even at a bottle show. If you've been looking for one of these, look no further. Bottle is in excellent condition with original contents. Complete label shows an even age toning and states: "An Old Fashioned Preparation for the Head and the Hair" This is not a Hair Dye. Made only by H.H Warner & Co. Rochester, NY. Always Gives Satisfaction. A top example that would be hard to improve on, unless you found one with a box, which is almost impossible. In 30+ yrs of collecting, I've only seen a few labeled examples and they came with labels for Scalpine and Hair Tonic. I've also seen boxes for both the Scalpine and Hair Tonic. All the bottles are embossed: Scalpine.
According to records, Glass Works auctions has sold 2 labeled Scalpine's over the past 11 yrs: one in 2000 for $2,530. and one in 2007 with 85% Hair Tonic label for $4,200.00. I'm starting this one out at $2,250. and it will be sold to the highest bidder.
I also conduct fully cataloged, absentee mail/phone bid Drugstore/Apothecary auctions 3 times per year, with Auction #49 scheduled to close on Saturday July 14th, 2012. There is a large selection of other labeled Patent Medicine bottles in this auction, including some more Warner's.
This got me looking around for other Log Cabin products and I again visited the wonderful and deep Warner's Safe Cure Blog web site by Steve Jackson where I found tons of great information such as:
Warner's Safe Cure: Artist's Album (1888) – Part I
Warner's Safe Cure: Artist's Album (1888) – Part II
Warner's Safe Cure: Some Very Rare Safe Remedies
I have added pictures from various sources of some of the Warner's Log Cabin products below: