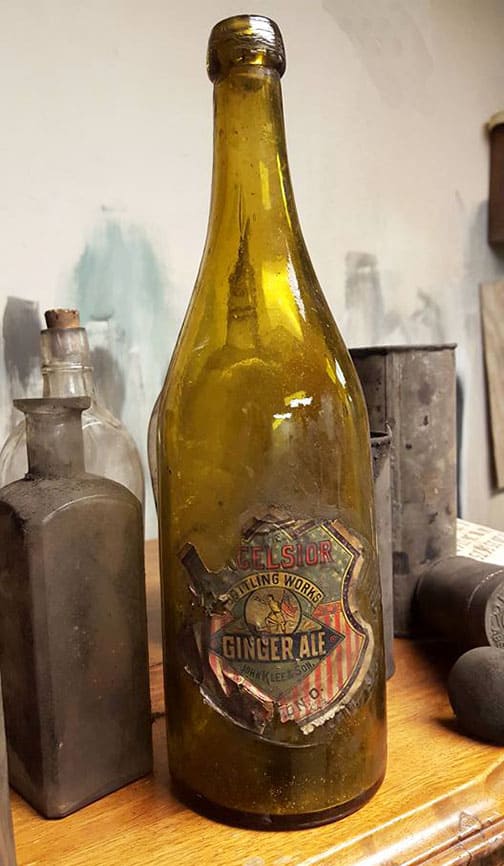 "Up and Going" Excelsior Ginger Ale
20 February 2016    (R•022116)

I received the following "Need Help" message from Troy Beck (Xenia, Ohio) over on PRG Facebook. I get a lot of these types of questions and I am usually clueless on some of the stuff. I'm all over it, if it's up my alley or I try to move the question on to someone else if I can. This examples was a no-brainer as the bottle says Ginger Ale on the label. That would be our man Ken Previtali.
[From Ken Previtali – Ginger Ale Authority] John Klee Senior came to Dayton from Germany and began manufacturing mineral water and sodas in 1866. Eventually the company was operated by his sons. O. P. Klee continued operating the company until some time in the 1930s. Information courtesy of Steve Greene.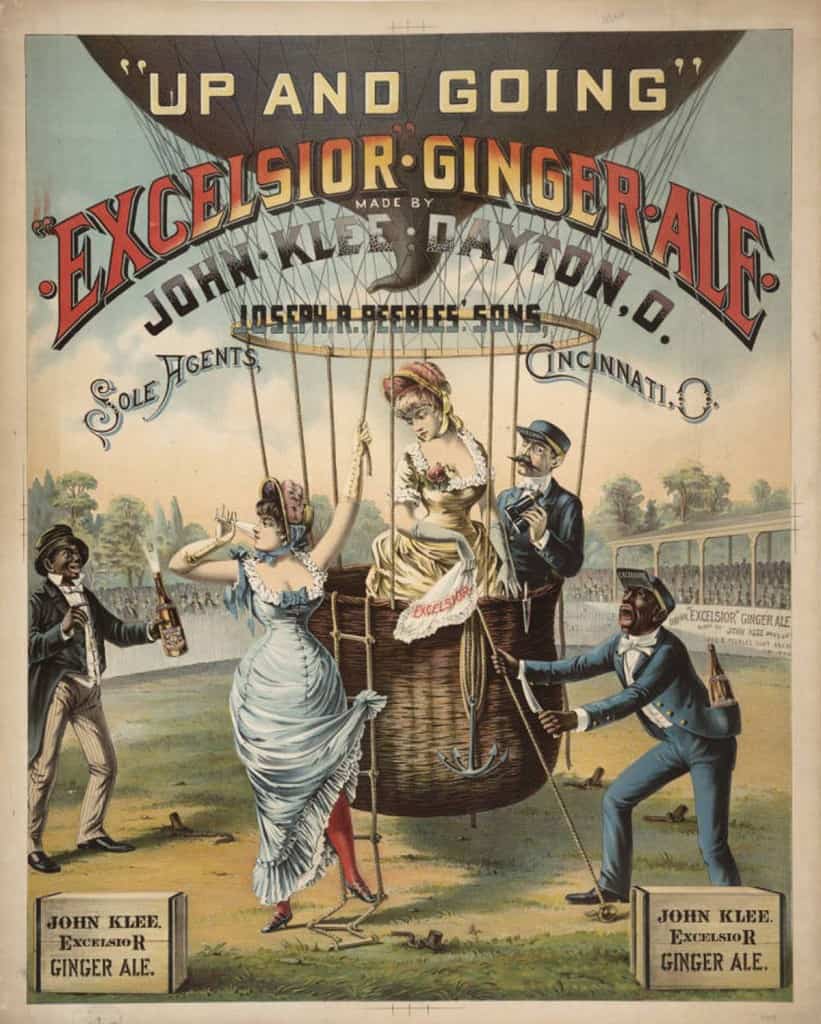 There is an 1885 lithograph poster for Excelsior Ginger Ale (original size 24 x 30″) that has been reproduced thousands of times. ("Excelsior" in Latin means "ever upward", hence the "up and going" slogan and the balloon imagery.) See above.
This must have been an expensive advertising poster in 1885. It probably was produced by the "Sole Agent" for Excelsior Ginger Ale: Peebels Peebles' Sons, Cincinnati, OH.  Peebles' Sons was a major grocer supplying all kinds of goods to the local area and beyond. On his great website, Cincinnati Views, (http://cincinnativiews.net/index.htm)   Dan Prout tell us that in Cincinnati "at one time or another Peebles had branches at 64 East Fourth street, northwest corner Seventh and Mound streets, northeast corner Seventh and Cutter streets, and in 1883 they opened the branch on the northeast corner of East McMillan Street and Gilbert Avenue in Walnut Hills which was known as Kay's Corner, called that after a local developer. Within two months the corner became known as Peebles Corner. It was rumored that Peebles gave gifts of cigars and groceries to bribe streetcar motormen to call out "Peebles Corner" at this stop." "While there is no documentation saying so, it certainly appears that Peebles'  could afford to produce the poster.
However, what is interesting is the bottle in the poster is the reader's bottle! (See detail cut below)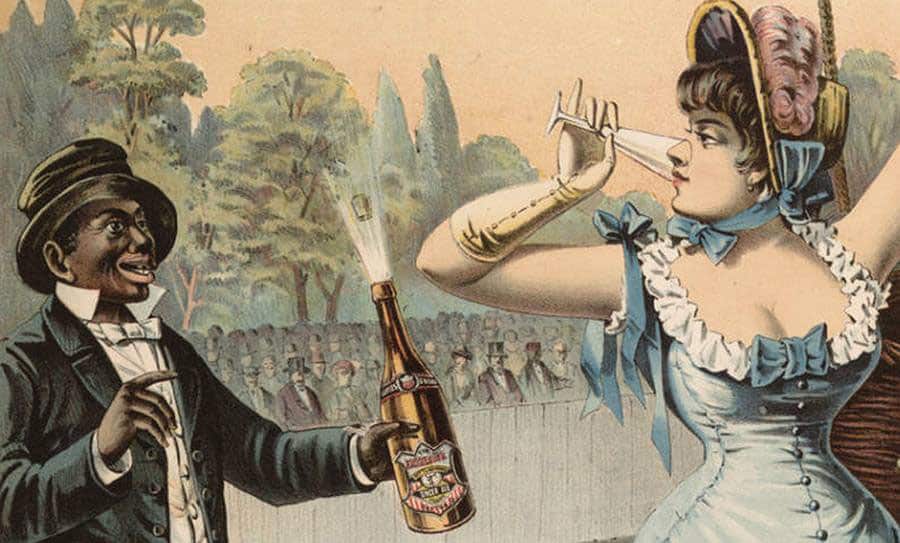 I have never seen an example of the bottle before, even in that condition. It is a safe bet that the label design on the reader's bottle dates back to at least 1885. The age of the bottle is more difficult to determine.
Read more from Ken:
The Ginger Ale Page – Ken Previtali
Is there elegance and mystique in a milk glass soda bottle from Massachusetts?
From clear to purple or brown, that's how irradiation runs
Don't Bogart that Gin . . . ger Ale
The Diamond Ginger Ale Bottle House
Electric Bitters and Electrified Ginger Ale: Were they really "zapped" or was it just more quackery?
Could a mundane bottle of wine-flavored ginger ale be a descendent of a winery established in 1835?