Kaiser Wilhelm Stomach Bitters – Sandusky, Ohio
20 February 2016 (R•091919)

My good friend and fellow bitters collector Gary Beatty (North Port, Florida) sent me an email and pictures today of a fun little side step that we all do sometimes, in this case Gary bought an altered bottle just for pleasure. This gives us a chance to look a the brand a little more closely. Gary's communication:
Hey Ferd, I was with you when you purchased your "Toneco Bitters" at the
Chattanooga National Show. I believe you thought it was nuked, but it is a pretty bottle. I just recently purchased this "Kaiser Wilhelm Bitters, Sandusky, Ohio" off of ebay. It had been nuked and was stained. I cleaned it on my machine and to me it's beautiful. While I don't ascribe to nuked bottles (the only one I have), it took a very un-attractive bitters and dressed it up. I like it because I am a born Buckeye. Maybe you can show it in your Daily Dose. Best Regards, Gary Beatty
Kaiser William Bitters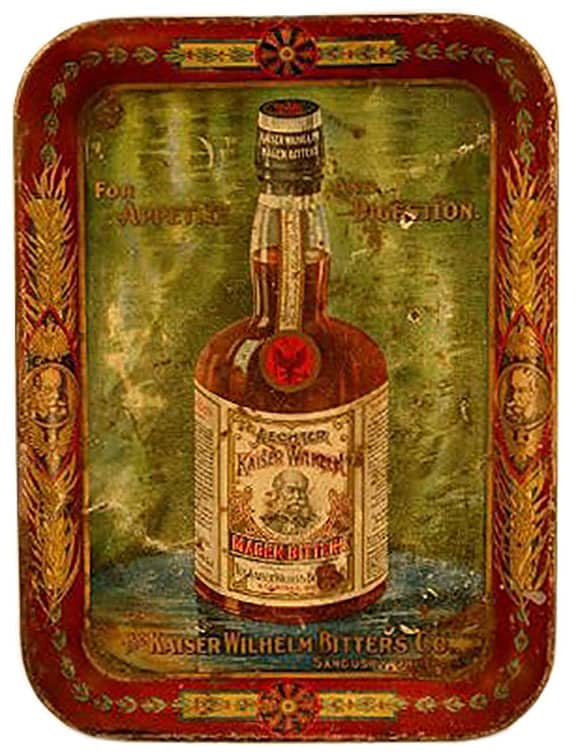 Kaiser Wilhelm Bitters was first introduced as a "New Medicine" in Sandusky, Ohio by Hugo Ohly, Charles L. Blatz, C. T. Wight, Charles L. Wagner and T. B. Hoxsey in 1902. Quite a crew. The Kaiser Wilhelm Bitters Co. was organized at this time in West Virginia with $10,000 in capital stock. Hugo Ohly (born 17 April 1852 in Germany – died 12 February 1911 in Sandusky, Ohio) was the head of the group and these guys were focusing on marketing to the large German population in the region. Wilhelm II or William II was the last German Emperor (Kaiser) and King of Prussia, ruling the German Empire and the Kingdom of Prussia from 15 June 1888 to 09 November 1918.
Kaiser Wilhelm Bitters Co. was then incorporated on 24 June 1905 in Sandusky, Ohio. The brand sold well and came in clear and amber bottles, both pictured below. The killer tray above was sold on ebay some time ago.
The bitters had its demise in 1918 or so, as it was then taxed for its alcohol content and the Feds had caught on. Prohibition was right around the corner.
The Carlyn Ring and W.C. Ham listing in Bitters Bottles is as follows: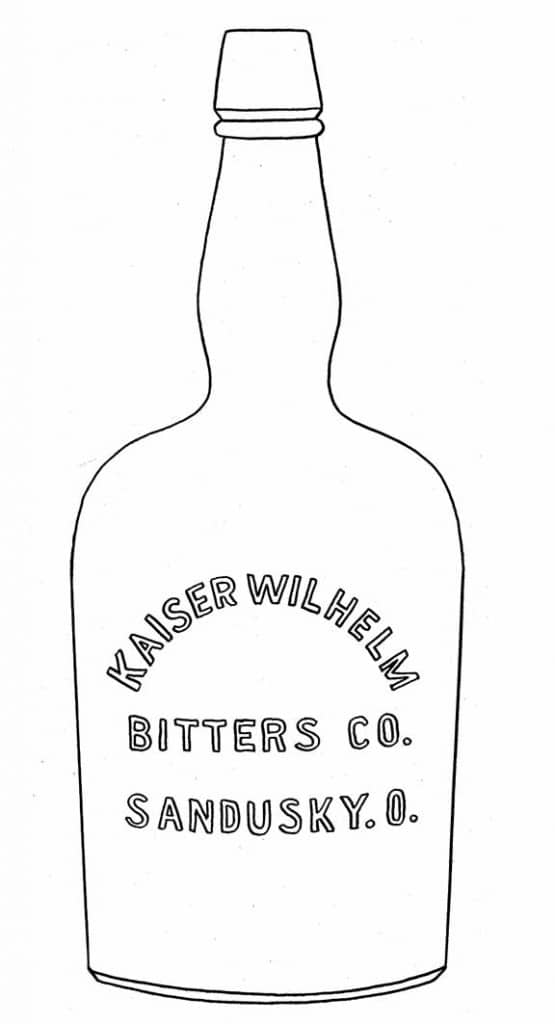 K 5 KAISER WILHELM ( au ) / BITTERS CO. / SANDUSKY.O. // c // // s // c // raised seal for label //
L…Kaiser Wilhelm Mägen Bitters
10 1/8 x 4 (5)
Round, Amber and Clear, LTCR, Tooled lip, Common
The next two trade cards are interesting in that they both promote Sanborn's Laxative Bitters and Kaiser Wilhelm Magen (Stomach) Bitters. Both The Kaiser Wilhelm Bitters Co. Inc., Sandusky, Ohio
Hugo Ohly

As noted above, Hugo Ohly was the ringleader of the Kaiser Wilhelm Bitters Co. He was a grocer first (see 1873 advertisement above) and a liquor and wine merchant active in Sandusky in the second half of the 1800s. Here is an interesting side article about his house being burglarized in 1901.
Select Timeline:
1902:

Newspaper notice: New Medicine To be Manufactured and Marketed by Sandusky Company (see below)
1905:

 Newspaper notice: Company to Make Kaiser Wilhelm Bitters Incorporated Today (see below)
1912:

 Newspaper advertisement: The B. P. Sexton Co. in Sandusky, Ohio selling Kaiser Wilhelm Stomach Bitters (see below).
1918:

 Newspaper clipping. Kaiser Wilhelm Bitters Bottles seized. Federal Prohibition. (see below).