Is there elegance and mystique in a milk glass soda bottle from Massachusetts?

by Ken Previtali
21 January 2014
The post(s) on Gary Katzen's remarkable white milk glass collection (Read: Why White? or How the %$#@! did you choose that Category?) were fascinating and I was also lucky enough to see Gary's display in Baltimore. What was not evident in all the pictures was a milk glass soda bottle. They are not common, and especially rare with a label. Of course there is one my collection . . . ginger ale, naturally. (See photo below)

Country Club Co. of Springfield, Mass. is the only soda bottler I am aware of that used milk glass, and very few of those bottles survived with a full label. Three examples have surfaced to my knowledge; two ginger ales and one Lime Rickey flavor. Mine was found pre-internet days through a response to a want ad in Antique Bottle and Glass Collector. The other ginger ale was on eBay years ago and the Lime Rickey was in some distant auction in Australia (really!).
But here is the question: "Why would a soda bottler use milk glass when nobody else was, and why did they get the idea to make bottles in that slender, tapered form?" The answer could be in the combined history of milk glass, Springfield, Mass., women's golf, and a ginger ale competitor.
Country Club first registered their name for use in trade in 1901. The bottle in my collection has no maker's marks; and nothing substantial on the company history turns up in research. But there is a massive amount of information on Springfield. In the 19th and early 20th century Springfield was a center of industrial innovation, precision manufacturing, and business success. From rifles, revolvers, and ice skates to automobiles and motorcycles, Springfield led the way. The city's reputation for excellence in manufacturing even attracted Rolls Royce to establish its only factory outside of England, and between 1921 and 1931 several thousand Rolls Royces rolled out of Springfield, including this 1923-26 Silver Phantom. (See photo below).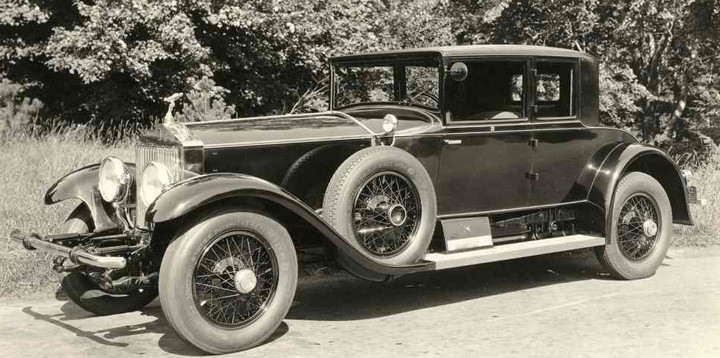 With burgeoning wealth and prosperity, Springfield offered luxurious, ornate homes not just for the upper class, but also for its rising middle class. As mentioned in the milk glass post "Pieces made for the wealthy of the Gilded Age are known for their delicacy and beauty in color and design. . ." The "Gilded Age", ended in the early 20th century, but its influence lingered. Milk glass was the mark of an elegant home with genteel taste and would have been a popular item in Springfield in the Gilded Age and beyond. (See photo of F.W. Lathrop house, 1899). This might partially explain why Country Club chose to use milk glass bottles even though the timeline of the bottle is circa 1929, after the Gilded Age.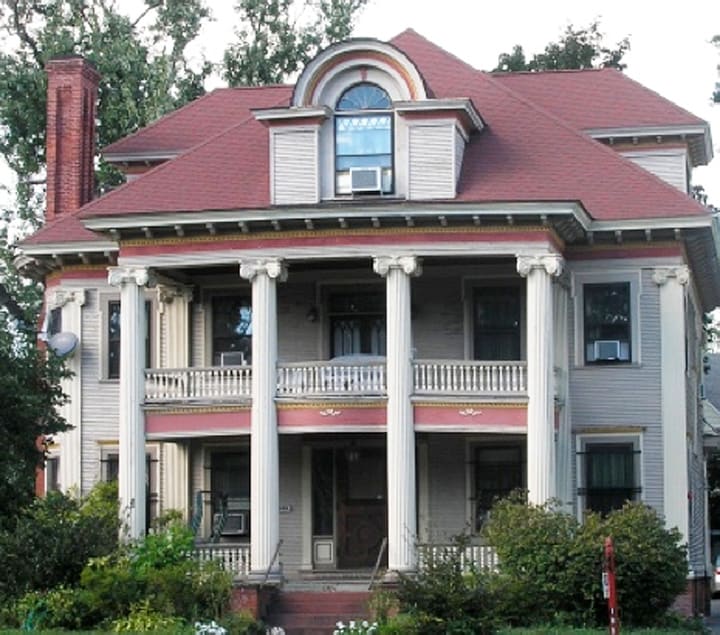 The label on the bottle features a woman golfer from the late 1920s. Why a woman golfer? Massachusetts led the way in womens' golf with an organization founded in 1900 which eventually became the Women's Golf Association of Massachusetts in 1929. The scene on the Country Club label reflects the prosperity of Springfield, which afforded leisure time for golf, for both women and men.
That only leaves the question of the curious, tapered shape which is unusual in a soda bottle. Some of the most elegant pieces in Gary's collection are tall, tapered examples (see image from Gary Katzen original post below). One might think this was the inspiration for the Country Club bottle shape, as elegance was certainly an objective in the 1920-30's in Springfield. Perhaps, but maybe not. Clicquot Club Ginger Ale Company in the eastern Massachusetts town of Millis was an immense corporation with probably the largest bottling plant in the world at the time. Competing with Clicquot Club, especially in Massachusetts, was like Uncle Buddy's Pop Works competing with Coke today. You had to find a unique angle to compete, and it had to be locally oriented. So, how did Country Club compete with Goliath?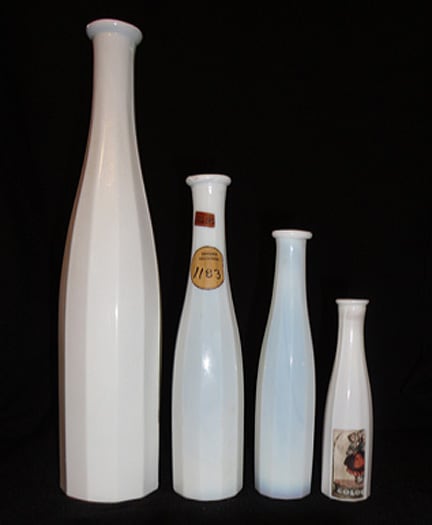 During prohibition, around 1928, Clicquot Club produced an upscale brand called "Sec- Ginger Ale Supreme". (See below Clicquot bottle). The shape of the bottle and the slanted neck label are remarkably similar to the Country Club bottle. I can just hear Country Club's ad man advising: "Put up your ginger ale in the same bottle form and label type as Clicquot, but make 'em in milk glass and add a woman golfer on the label." Did it work? Well, Country Club survived until the 1960s, but I don't think it was because of the milk glass marketing scheme. If it was, why didn't many, many more of the milk glass soda bottles survive? Maybe the country club set in Springfield just didn't buy into elegance and mystique being in a milk glass bottle of ginger ale. However, this post does. . .

Read more below on Ginger Ale from authority Ken Previtali. This will join the very popular Ginger Ale Page on Peachridge Glass. See Ken's Ginger Ale display at the FOHBC 2013 Manchester National Bottle Show – Manchester Display Photo Gallery
Don't Bogart that Gin . . . ger Ale
The Diamond Ginger Ale Bottle House
The Ginger Ale Page – Ken Previtali