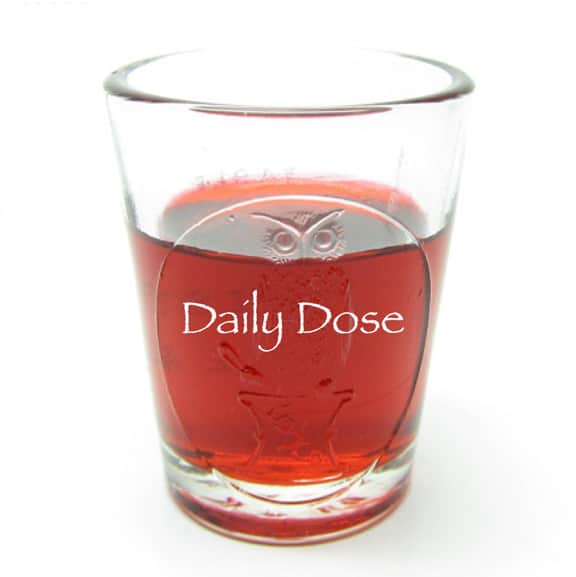 APRIL  

|

 

2 0 1 5
Wednesday, 29 April 2015
Good afternoon from Paducah, Kentucky, "Quilt Capital of the World". You all watching the olive-yellow Kelly's Old Cabin Bitters on eBay? Thanks to Andy Volkerts for tip. Looks too good to be true. Not throwing a red flag yet. In my hand though. SEE LISTING 42 bids, $12 k with two days left. Only 21 sales. Yipes.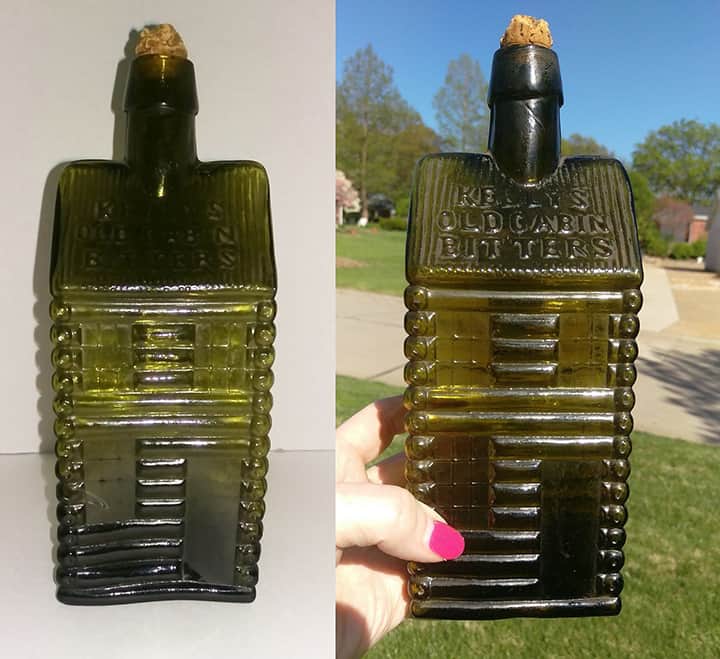 Tuesday, 28 April 2015
Sitting here in a little restaurant in Madisonville, Kentucky. Having a Stella or two trainspotting as I am by the tracks. City entry sign says "Best Town on Earth". Hmmm. Who am I to argue, I am from baltimore which is on lock-down. Birds are playing in an empty stadium. Hmmm x 10.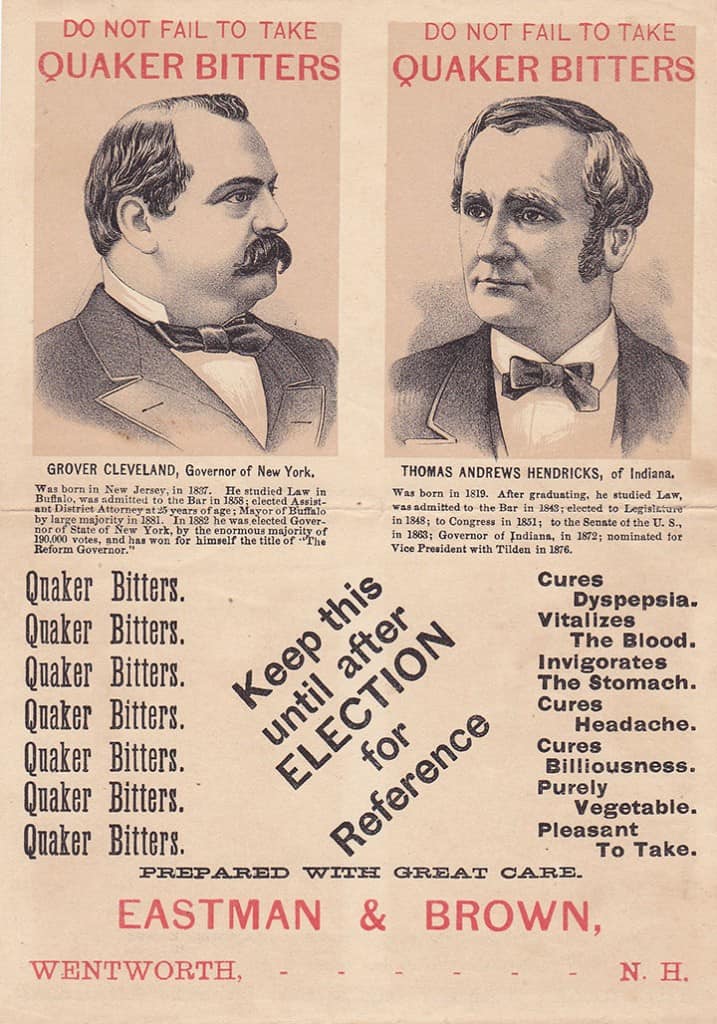 Updated Quaker Bitters post with cool election advertising trade card from Joe Gourd. Read: Dr. Flint's Rhode Island Bitters Products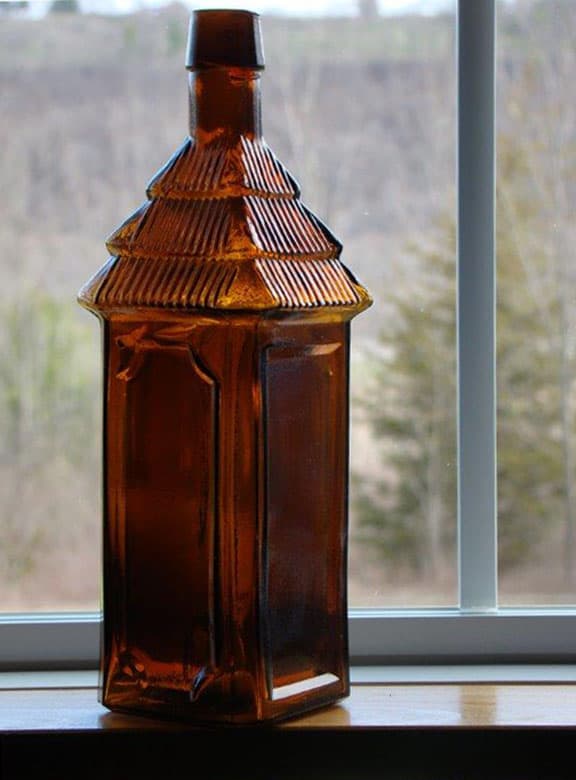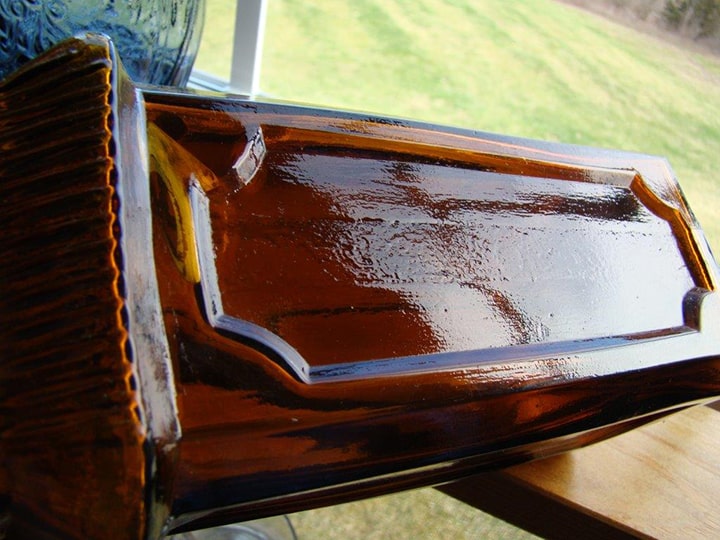 Jim Bender was showing me some pictures (above) of a recent un-embossed square cabin figural bitters that he possessed and asked if I had see it before? Actually, I think I have! It is related to one of the bottles in the still-life arrangement for our 2015 Chattanooga National Show graphics. See if you can spot it. Read: The Wiggs Brothers and their Fabulous Figural Cabin Bottle. The second picture obviously shows the slugged-out area for one of the embossed typography panels.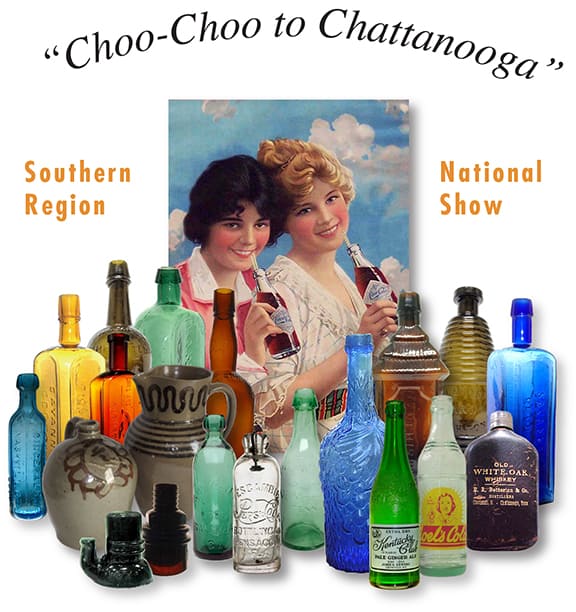 Wednesday, 22 April 2015
Catching an early flight out of Washington DC this morning to Augusta, Georgia for meetings. Hope to catch up with the Chattanooga National Chairs while I am there.
A treasure trove of E. Dexter Loveridge Wahoo Bitters items have been found in a house where his daughter Mary, used to live near Chicago. Look for a big story on PRG and Bottles and Extras. All items will be auctioned at the 2015 Chattanooga National Antique Bottle Show. That is Edwin Dexter Loveridge seated with one of his Wahoo Bitters bottles.
Monday, 20 April 2015
Sorry, travelled all last week and of to DC hear shortly. Lots happening!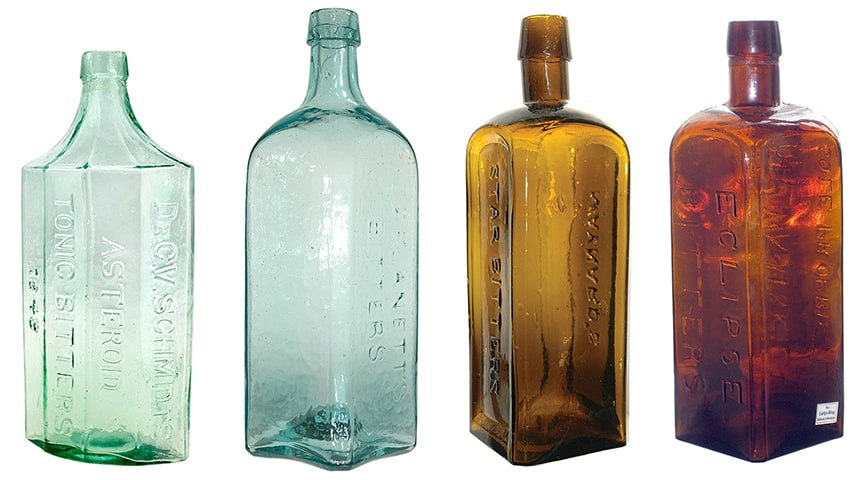 CELESTIAL GROUP. Just added the Dr. Schmidt's ASTEROID Tonic Bitters to my collection. Only know example. Also shown, Dr. PLANNETT'S Bitters, a Maynard's STAR Bitters and an ECLIPSE Bitters.
Monday, 13 April 2015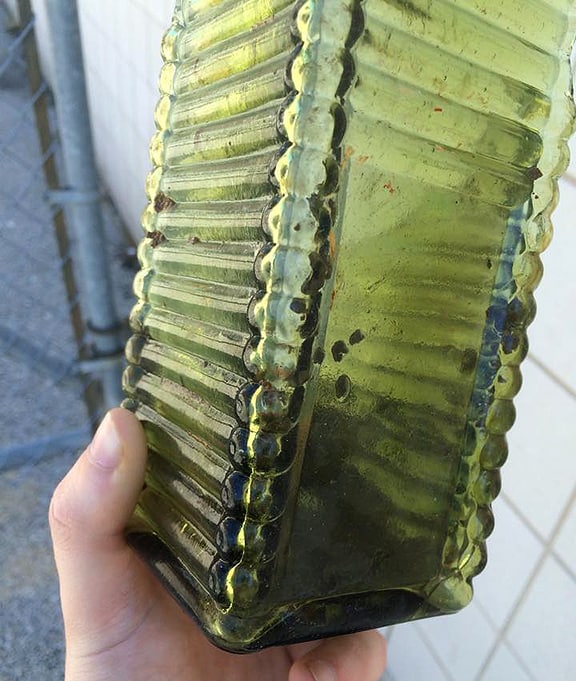 Hey Ferd, sometimes a good color comes up for auction.. but rarely do they come out of the dirt!! – Tom Leveille [PRG] I suspect it was missing the top part of the bottle. Still amazing!
Sunday, 12 April 2015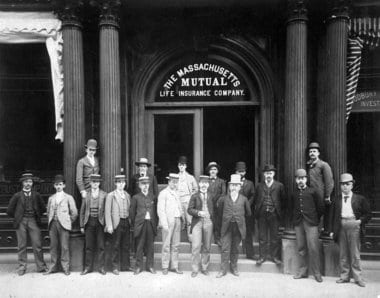 Hopefully there will be a MAJOR bottle announcement in the coming days. The picture above holds some clues.
Friday, 11 April 2015
Been contacted about a Prairie & Plantation Bitters. OMG. Seen two examples before, one in California and one with Jim H. in Baltimore last month. Pictures just came in. It's the real McCoy.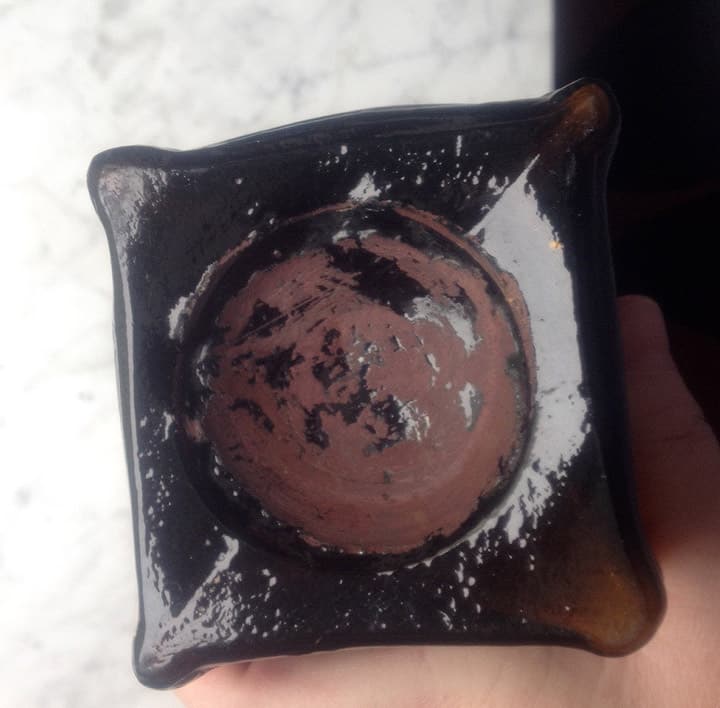 Thursday, 09 April 2015
Carey's Grecian Bitters post updated with trade card.
Gouley's Vegetable Bitters post updated with new material.
Love this label (yes it is actually a label, according to Dr. Townsend's authority Rick Ciralli who has this example in his collection.
Wednesday, 08 April 2015
Asteroid coming to Houston! Read: Dr. C. V. Schmidt's Asteroid Tonic Bitters – 1848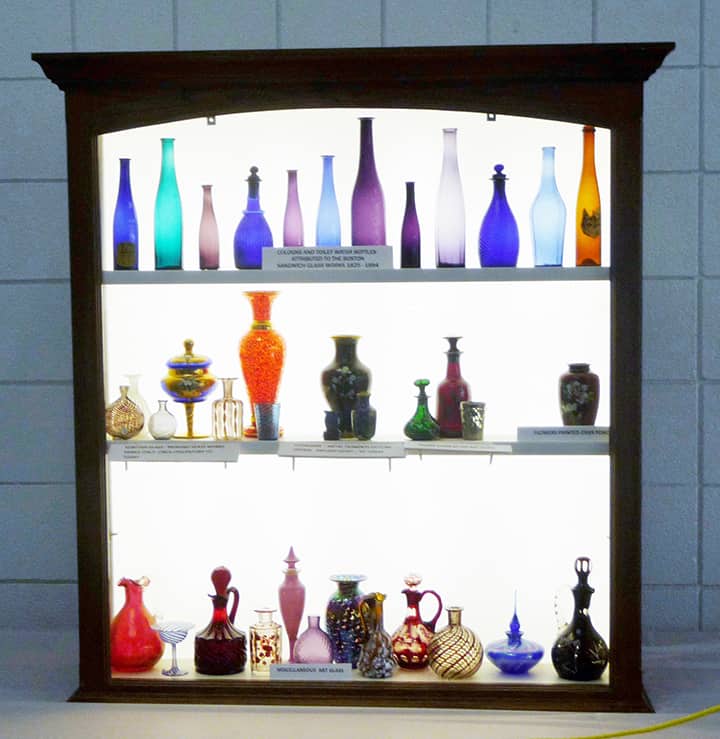 Venetian glass – Ferdinand, We briefly talked at the Morro Bay bottle show about Cologne and Bath Water bottles attributed to the Boston Sandwich Glass Factory. Pictured is a display of Cologne's and Bath Water bottles and a few art glass pieces; Nailse, Venetian and silver over glass to name a few. This display was shown at the 49er Bottle Club bottle show at the Roseville Fairgrounds. The bottles in the picture are not often seen in displays or on sales tables. They add color and attract the attention of those who pass by. – George Wagoner
Tuesday, 07 April 2015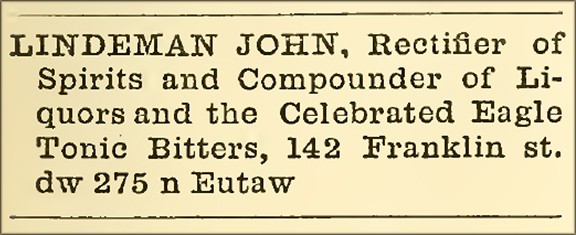 John Lindeman selling the Celebrated Eagle Tonic Bitters in Baltimore, Maryland in 1870 per the Woods Baltimore City Directory listing. I believe this is unlisted. I will further review.
Not to be confused with: CELEBRATED EAGLE BITTERS / LANGE & BERNECKER / ST LOUIS (Julius Lange, Christian Knull and John L. Bernecker) Read: The XR Celebrated Eagle Bitters – St. Louis
Friday, 03 April 2015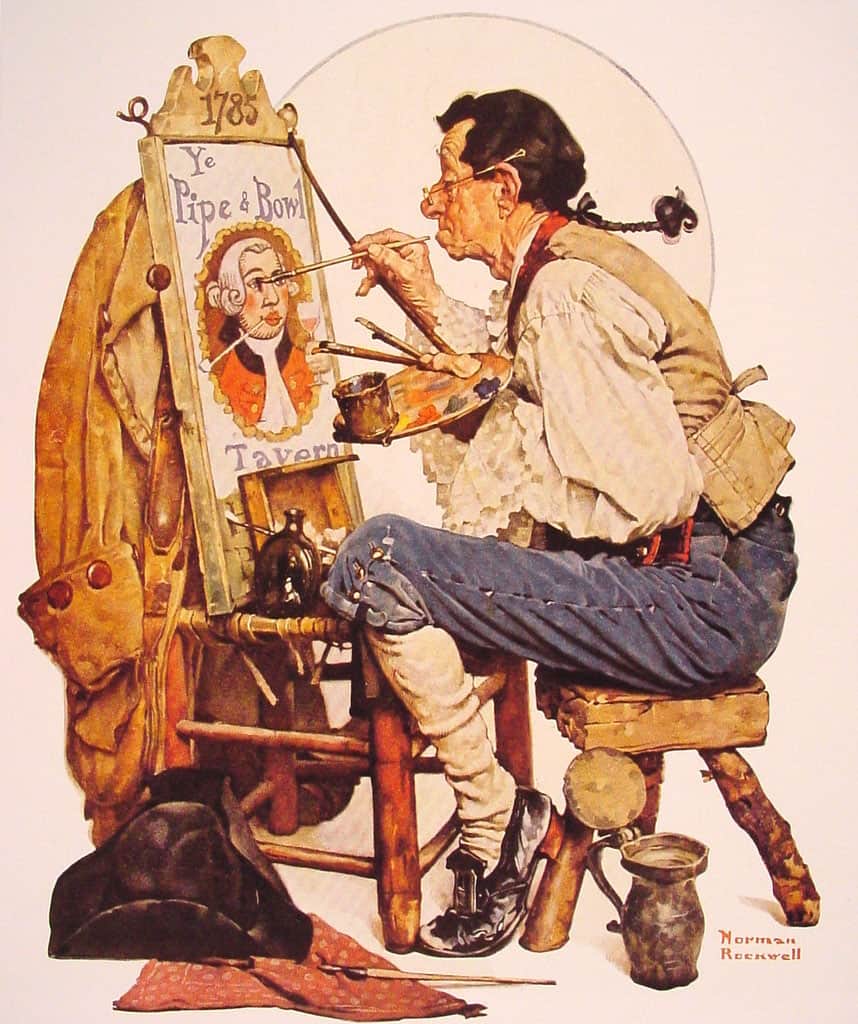 Gary Beatty sends in the following Norman Rockwell link and asks the following: "Hey Ferd, scroll down 5 pictures. Is that a Washington Flask?" See Link: Norman Perceval Rockwell
Wednesday, 01 April 2015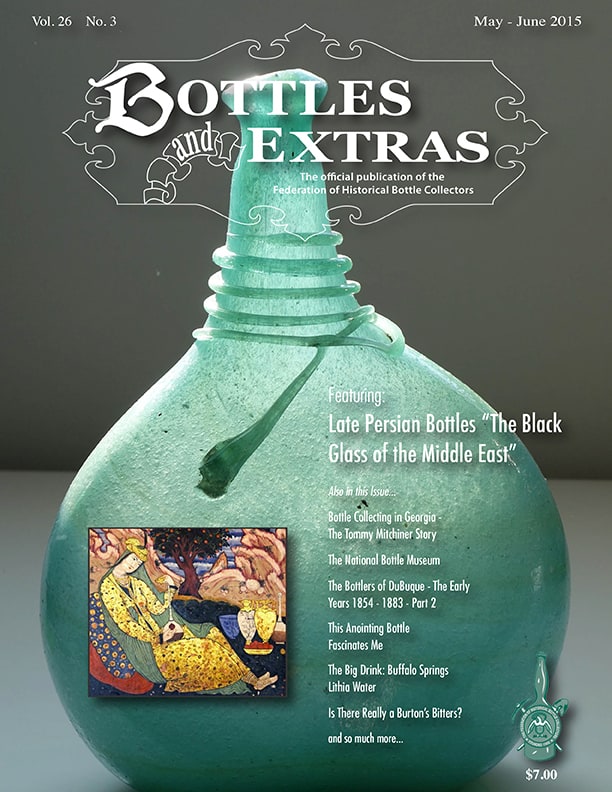 May | June issue of Bottles and Extras goes to the printer today in Missouri after four editor reviews. Going to be a great issue.