An extremely rare

Eclipse Bitters

from Louisville, Kentucky
Stewart & Kiel – Sole Proprietors
05 May 2014 (R•052815)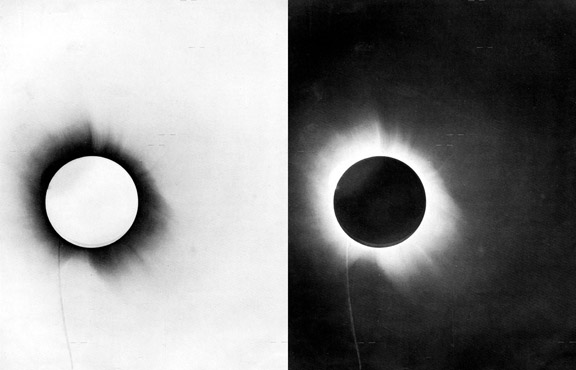 A large number of Cincinnatians, in view of the fact that the eclipse didn't consider their suburb of sufficient importance to go there, arrived in this city (Louisville) this morning, for the purpose of viewing our eclipse this afternoon.
While in the pursuit of items, we went into several saloons this morning. At almost every one of them we saw more poor, susceptible, ignorant fellows trying to see the eclipse through thick-bottomed tumblers stained several inches thick with Bourbon. We told them it was too early to see it, but they contended that it wasn't, and if it was, they didn't intend to be behind time.
Louisville Daily Express, August 7, 1869

In the "snooze ya lose" category, I recently missed an opportunity to obtain an extremely rare, Eclipse Bitters from Louisville, Kentucky put out by Stewart & Kiel. You see, I had placed a bid on this bottle last week when it appeared on eBay from Jeff Noordsy. I had received 3 or 4 tips and was set with a bid that held for a few days. Then I missed it. Got tied up with business. Well, like I said, snooze you lose. Jeff and Holly's write-up on eBay, and their picture of the bottle is below. I clipped away the background and it kind of looks like the bottle is full of some magical, swirling, celestial potion.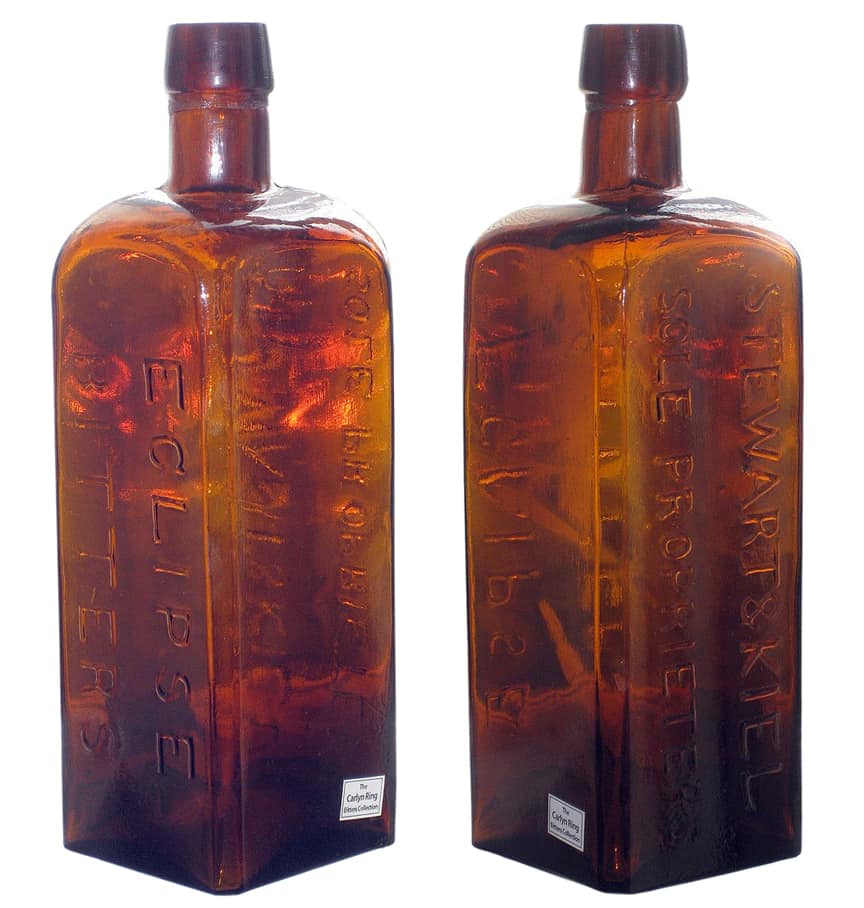 "ECLIPSE / BITTERS – STEWART & KIEL / SOLE PROPRIETORS," shaded golden amber, square, smooth base, applied collar, mint. American, C. 1870, very rare! Ex. Carlyn Ring collection. Just received notice from Bill Ham that the Bitters Supplement will be revised to show this bottle to be EXTREMELY RARE! The base measures 2 3/4″, the shoulder is 6 3/4″H and the overall height is 8 3/4″. – JeffandHollyNoordsy – 100% Positive Feedback.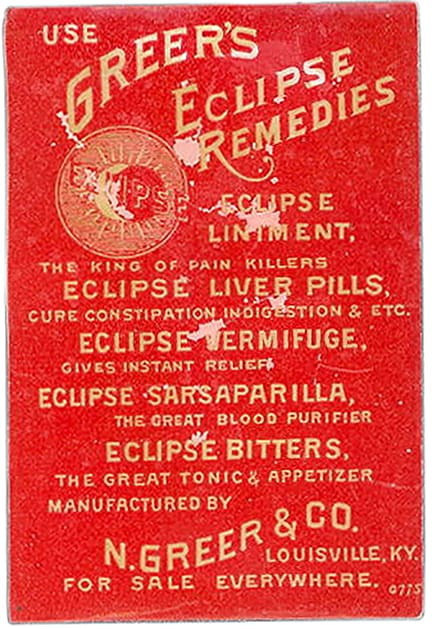 The Carlyn Ring and W. C. Ham listing for the Eclipse Bitters in Bitters Bottles is E 15.5. In the forthcoming second supplement it will read as follows:
E 15.5  ECLIPSE / BITTERS // f // STEWART & KIEL / SOLE PROPRIETORS // f //
8 ¾ x 2 ¾ (6 /34) 1/4
Square, Amber, LTC, Applied mouth, Extremely rare
Solar eclipse of August 7, 1869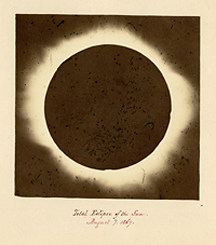 A total solar eclipse of the sun (see picture on left) occurred on August 7, 1869. A solar eclipse occurs when the Moon passes between Earth and the Sun, thereby totally or partly obscuring the image of the Sun for a viewer on Earth. A total solar eclipse occurs when the Moon's apparent diameter is larger than the Sun, blocking all direct sunlight, turning day into darkness. Totality occurs in a narrow path across the surface of the Earth, while a partial solar eclipse will be visible over a region thousands of kilometres wide. The 1869 path of totality was visible from eastern Russia, Alaska, across Canada, and the northeastern United States. A partial eclipse occurred across all of North America. [Wikipedia]
This has been a bit difficult, but I believe we are talking about a very brief relationship between Miller Stewart (or George S. Stewart) and Gustavus Kiel in Louisville around 1870. I suspect these guys observed the major 1869 eclipse (see newspaper excerpt at top of post and above Wiki information) and capitalized on the event by creating the Eclipse Bitters. I can not connect the Stewart and Kiel name but they were in proximity and could have had their name embossed on the bottle. Miller Stewart was a liquor dealer, George S. Stewart was a druggist (probably related to Miller) and Gustavus Kiel was a grocer, chemist and druggist. You could pretty much be anything as far as professions in those days. The brand must not have lasted long.
What is interesting is that Newton M. Greer established N. Greer & Company in Louisville, Kentucky in 1880 and their signature brand was Greer's Eclipse Bitters. Newton was born in Barren, Kentucky in 1849. I suspect Dr. Greer bought the brand name and formula or maybe just 're-invented' the brand. Too much of a coincidence. Newton died in 1885 and his wife Sallie E. Greer (Settle) and son, Charles D. Greer ran the operation from then into the late 1890s. Even in the 1900 Federal Census, Charles' occupation is listed as patent medicines. After this, Charles goes into the insurance business. You can see a number of advertising trade cards from this Greer's Bitters period further below.
The Carlyn Ring and W.C Ham listing in Bitters Bottles:
G 110 GREER'S ECLIPSE BITTERS
GREER'S ECLIPSE // BITTERS // f // LOUISVILLE, KY. //
9 1/2 x 2 3/4 (6 3/8) 1/4
Square, Amber, LTC, Applied mouth, 3 sp, Very rare
Select Timeline Events
1859: Board, Miller & Stewart, (Buckner Board, George R. Miller & George S. Stewart) wholesale druggists, 392 Main – 1859 The Louisville Directory and Business Advertiser
1865: Gustavus Kiel (Serb, Pering & Co.) – 1865 Louisville City Directory
1873: C.W. Kemperdink (Kemperdink & Co.), and physician, 339 Market, nr 9th, Kemperdink & Co. (C. W. Kemperdink and G. Kiel), chemist & apothecaries, 339 Market, nr 9th. – 1873 Louisville City Directory
1873: Miller Stewart & Co. (Miller Stewart, Luther Adams and George W. Taylor and later Thomas H. Hastings only 1878), wholesale liquor dealers, 23 Main, nr 2d – 1873 Louisville City Directory
1880: N. Greer & Company (Newton Greer) established in Louisville, Kentucky. Their signature brand was Greer's Eclipse Bitters.
1891: Proprietary Medicines – N. Greer & Co., Louisville advertisement (see below) – The Courier-Journal, 1 January 1891
Greer's Eclipse Bitters Advertising Trade Cards
The below advertising trade cards are all stock cards for Greer's Eclipse Bitters from the Joe Gourd collection. Note the N. Greer poem on the back of the 'Money To Loan' card.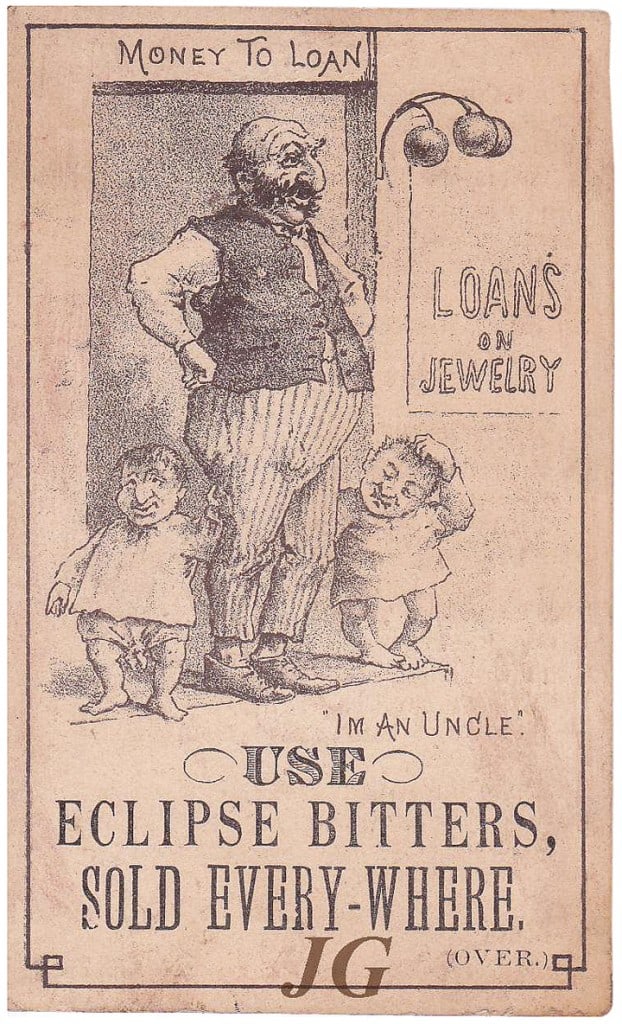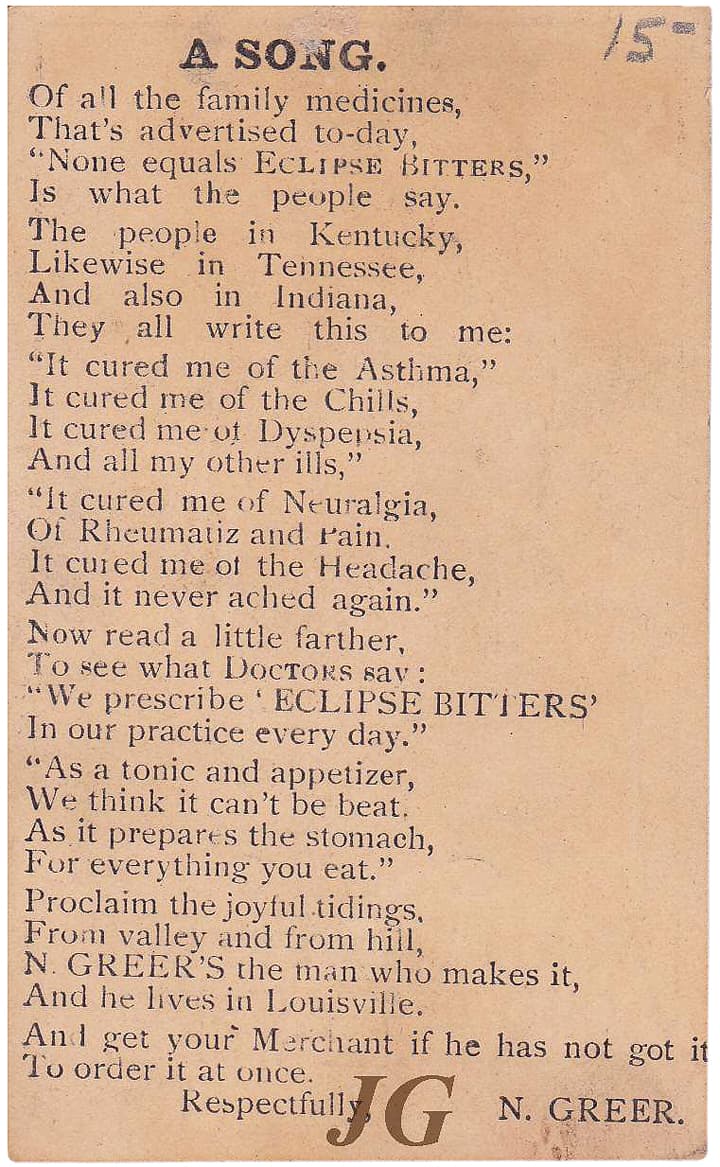 Greer's Eclipse Bitters Presidential Series