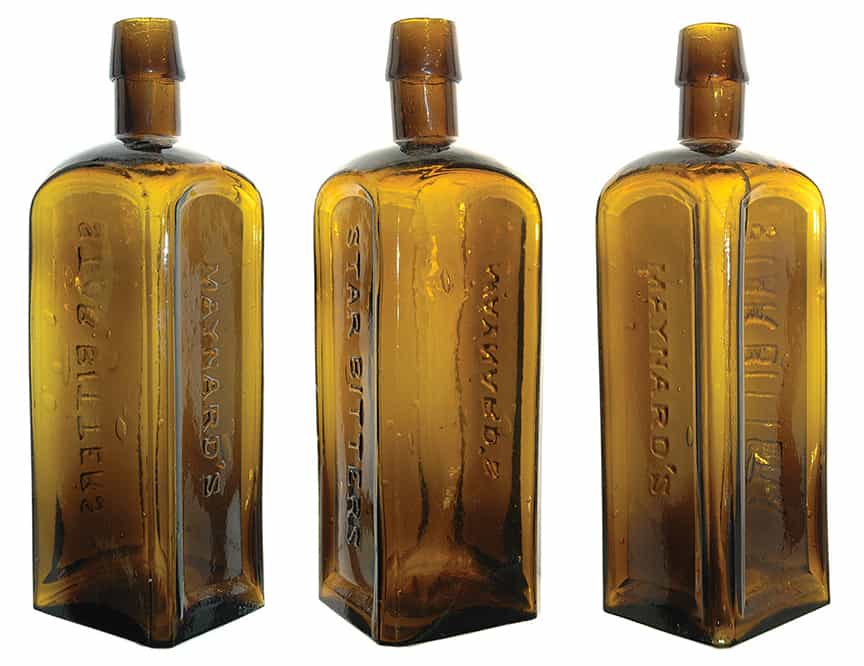 The Extremely Rare

Maynard's Star Bitters

from Pittsburgh
07 September 2014 (R•102916)

I haven't thought about my Maynard's Star Bitters (my example is pictured at the top of this post) until I saw another example in the upcoming Heckler Premier Auction 115. Their example is pictured below. I was able to pick up my example at the live auction at the FOHBC York National Antique Bottle Expo in 2008.
What is exciting is that five of these bottles were found in a dig in Beaver Falls, Pennsylvania. At that time, the bottle was a new find and unlisted. Two were broken and two had some damage. Four were in amber. My example came out in great condition and in unique coloration with olive amber tones. You can read about the dig and discovery in the July/August 2008 issue of the FOHBC Bottles and Extras.
Read: Bitter January Digs by Jeff Mihalik
The Carlyn Ring and Bill Ham listing in the upcoming Bitters Bottles Supplement 2 will be:
M 51.4

 MAYNARD // STAR // BITTERS // f //
8 7/8 x 2 3/4
Square, Amber and Olive-yellow, 3 sp, LTC, Applied mouth, Very rare
A
olive amber (revise)

 example, and three undamaged amber examples were dug in Beaver Falls, PA., two more amber examples, one with a potstone with tails and a cracked example were also dug.

E. Frank Maynard was a druggist and a manufacturer of patent medicines between 1869 and 1873 in Pittsburgh, Pennsylvania. It is most likely that he put out a limited run of Maynard's Star Bitters in 1870 and 1871. Later Maynard was a liquor broker at various locations in Pittsburgh. There is very little information other than he was born in Ohio in 1845. His parents were from Vermont. His wife was Rosanna Maynard and children were May, Nellie, Florence and Asa Maynard.
Select Timeline
1845: Born November 1845, E. F. Maynard, Ohio
1867: E. F. Maynard, clerk, 40 Wylie – Pittsburgh, Pennsylvania City Directory
1868: E. Frank Maynard, druggist,  3 Monongahela House – Pittsburgh, Pennsylvania City Directory
1869: E. F. Maynard, Patent Medicines, 3 Monongahela House – Pittsburgh, Pennsylvania City Directory
1871: E. F. Maynard, druggist, 3 Smithfield, h Bidwell n Ohio av, A – Pittsburgh, Pennsylvania City Directory | Maynard's Star Bitters advertisement (see above) – The Cairo (Cairo, Illinois) Bulletin, 29 August 1871
1873: E. F. Maynard, druggist, Pasture Lane, Mt W – Pittsburgh, Pennsylvania City Directory
1875: E. F. Maynard, clerk, 2131 Sarah, s s – Pittsburgh, Pennsylvania City Directory
1877: bookkeeper, 2111 Sarah, s s – Pittsburgh, Pennsylvania City Directory
1878: E. F. Maynard, clerk, 148 Third Ave – Pittsburgh, Pennsylvania City Directory
1879: E. F. Maynard, manager, Hiland Ave, 19th wd – Pittsburgh, Pennsylvania City Directory
1881: E. F. Maynard, clerk, Hiland Ave, e e  – Pittsburgh, Pennsylvania City Directory
1882: E. F. Maynard, Grain Broker, 59 Fourth Av  – Pittsburgh, Pennsylvania City Directory
1887-88: E. F. Maynard, bookkeeper, 19 Fourth – Pittsburgh, Pennsylvania City Directory
1890: E. F. Maynard, 116 Smithfield – Pittsburgh, Pennsylvania City Directory
1900: E. F. Maynard, Liquor Broker, Allegheny Ward 5 – United States Federal Census