The Wiggs Brothers and their fabulous figural cabin bottle
10 May 2014

As you might imagine, I have quite a few bitters in my collection, many being quite rare. It has gotten to the point that when I see a picture of a bitters or a possible bitters that I don't have or may never have, I get quite excited. Of course there is the desire to possess it, but there is also satisfaction in having the picture and being able to find out about the bottle. This is the case with the the Wiggs Brothers and their fabulous figural cabin from Memphis, Tennessee (pictured above). Is it a bitters bottle? Is is not listed in Ring & Ham.
I think I remember seeing this bottle at the FOHBC 2004 Memphis Expo in a display of rare bottles. My pictures weren't that great so I was happy to see some incoming pictures of rare southern bottles for use in developing marketing material for the 2015 Southern Region | National Antique Bottle Show in Chattanooga, Tennessee. Two were of the Wiggs Brothers figural cabin (front and back embossing) from the Tom Phillips collection.
The Wiggs Family
William B. Wiggs (born about 1835 in Tennessee), John Joseph Wiggs (born 21 January 1836 in Holly Springs, Mississippi and died on 04 January 1904 in Russellville, Arkansas) and James Alpheus Wiggs (born 17 May 1838 in Holly Springs, Mississippi and died on 27 January 1911 in Starkville, Mississippi) were three brothers who were briefly in the drug store business in 1859 and 1860 as Wiggs Brothers and Company in Memphis, Tennessee. Their father was Jonathan S. Wiggs (1810-1850). Jonathon was born on 15 May 1810, in Johnston County, North Carolina. Their mother was Piety Hester Fowler (1803-1871). Piety was born on 13 March 1803 in Johnston County, North Carolina. The Fowler name will show up later.
The Drug Store on Main Street
The address of the brothers drug store was 317 and 319 Main Street. They advertised quite a few medicinal and other personal care products during their few short years together in business. A short paragraph on 14 August 1860 would be prophetic as to the future of Wiggs Brothers & Company.
Wiggs Bro's. & Co., druggists, corner of Main and Union, had numerous small stars, representing the seceding States with the names of which they were labeled; that for South Carolina had a Palmetto flag with the surrounding motto: "Southern Independence." 

Many smaller stars and a general lighting up from bottom to roof, made this display noticeable.

 
The Brothers Separate | William B. Wiggs
On 08 November 1861, the Wiggs Brothers partnership was broken between William B. Wiggs, John Joseph Wiggs and W. H. Pickett. James A. Wiggs is not mentioned which makes me wonder if he was a true partner. You have to remember, these guys were pretty young at this time and hostilities between the North and South had happened a few months prior on 12 April 1861, when Confederate forces fired upon Fort Sumter, a key fort held by Union troops in South Carolina.
William B. Wiggs would retain the drug business under the name Wm. B. Wiggs & Co. at 298 Main Street, in Memphis. An 1861 advertisement said they had a large stock of Ayers' Cherry Pectoral, Ayers' Pills, Heimstreet's Hair Restorer, Mrs. Allen's Hair Restorer, Mrs. Allen's Hair Dressing, Smith's Tonic Syrup, Osgood's Cholagogue, Jaynes' Pills, McLane's Pills, Spencer's, Lyon's Katharion, Brown's Bronchial Troches and Bryan's Wafers along with a large stock of pure drugs, medicines, etc.
William entered service on 15 May 1861 becoming a Captain and Chief of Artillery with General M. J. Wright's staff. He was captured at Jackson, Mississippi and paroled on 12 May 1865. After the war he would go into the cotton mill trade in Memphis.
John Joseph Wiggs
As noted previously, John Joseph Wiggs was born on 21 January 1836 in Holly Springs, Mississippi and died on 04 January 1904 in Russellville, Arkansas. He found himself in Memphis, Tennessee and at the age of 24 and was listed as a druggist in the 1860 US Federal Census. After the Civil War, he returned to Memphis to run Wiggs & Co., (John J. Wiggs and R. M. Harper) who where planing and box manufacturers on Front Street, north of bayou Goyoso. He was also associated with Page & Wiggs in Memphis. Later he would pull up stakes and relocate to Russellville, Arkansas where he ran a drug store with his son, Dr. Henry Blackwell Wiggs (1874-1923).
James Alpheus Wiggs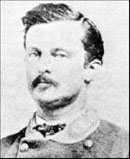 James A. Wiggs was born in Holly Springs, Mississippi on 17 May 1837. He joined the Confederate army as a private in the 4th Tennessee Regiment in May 1861 and during the first year of the war he was appointed Assistant Quartermaster General of Tennessee. He soon resigned this position and was appointed captain of artillery in the provisional Confederate army. He was chief of ordinance on the staff of General S. D. Lee when the siege of Vicksburg commenced, but was transferred to the staff of General F. A. Shoup as chief of artillery, and was captured during the siege. After being exchanged he was appointed Chief of Staff for General B. M. Thomas at Mobile. After the evacuation of Mobile he was appointed Chief of Artillery for the district of North Mississippi, West Tennessee, and East Louisiana on the staff of General J. J. Wright at Grenada. He was paroled at Jackson, Mississippi, as Lieutenant Colonel of Artillery on May 23, 1865.
After the war, James would partner with William J. Fowler, who was his mothers brother, in a company called Fowler, Wiggs & Co. They were cotton agents and commission merchants located at 256 Front Street in  Memphis, Tennessee. In 1884, Captain Wiggs married Mary Outlaw, of Mississippi, and they lived happily at their handsome country home, south of Starkville, Mississippi, until his death on 27 Janunary 1911. – reference Capt. James A. Wiggs obituary
A Bitters?
Unfortunately, I find no direct listing or advertisement showing this figural cabin to be a bitters. I believe it is though. Maybe one of the Memphis collectors can expand on this post. On the Memphis Diggers web site, they say, "This is the best Memphis bitters and the best Memphis bottle. This bottle has almost the same mold as a Drakes Plantation Bitters. We have found one of these without the embossing – what a terrible shame. There is one of these known with the embossing." Read: Log Cabin Series – Drake's Plantation Bitters
*Note: A second un-embossed example is known according to Tom Phillips.
Select Timeline Events
1859: Wiggs Bros. proprietors of Seligman's Chemical Hair Invigorator. Sharing advertising space next to slave advertisements (see below) – Memphis Daily Appeal, December 7, 1859
1860: Wiggs Bro's. & Co., druggists, corner of Main and Union, had numerous small stars, representing the seceding States with the names of which they were labeled; that for South Carolina had a Palmetto flag with the surrounding motto: "Southern Independence." Many smaller stars and a general lighting up from bottom to roof, made this display noticeable. – Memphis Daily Appeal, August 14, 1860, 
1860: Wiggs Brothers & Co. advertisement (see below), 317 and 319 Main Street – Memphis Daily Appeal, November 28, 1860
1861: Wiggs, W. B., Captain and Chief of Artillery on General M. J. Wright's staff; entered service May 15, 1861: captured at Jackson, Miss.; paroled May 12, 1865. Elected a member of this Association upon his own statement and application July 1, 1869. – Old Guard in Gray
1861: Just Received! 540 lbs. Kentucky Mustard, in six pound cans. 200 dozen Kentucky Mustard, in half and quarter pound cans. Wiggs Brothers & Co., Druggist., 298 Main street, Memphis. – Memphis Daily Appeal, October 12, 1861
1861: Wiggs & Bros Partnership dissolved (see below) between W. B. Wiggs, J. J. Wiggs and W. H. Pickett – Memphis Daily Appeal, December 6, 1861
1861: For Rent, Store Houses 317 and 319 Main Street, Wiggs Bros. & Co., formerly a drug store – Memphis Daily Appeal, July 9, 1861 (see below)
1861: Wm. B. Wiggs & Co., Druggists, 298 Main Street, Memphis, Tennessee. Have a Large Stock of Ayers' Cherry Pectoral, Ayers' Pills, Heimstreet's Hair Restorer, Mrs. Allen's Hair Restorer, Mrs. Allen's Hair Dressing, Smith's Tonic Syrup, Osgood's Cholagogue, Jaynes' Pills, McLane's Pills, Spencer's, Lyon's Katharion, Brown's Bronchial Troches, Bryan's Wafers! Also – A large stock of pure Drugs, Medicines, Etc. – Memphis Daily Appeal, December 8, 1861,
1867: Fowler, Wiggs & Co. (W. J. Fowler and James A. Wiggs), Cotton Factors and Commission Merchants, 256 Front Street, Memphis, Tennessee – Memphis Daily Appeal, 27 January 1867
1867: William B. Wiggs, agent cotton mills, James A. Wiggs (Fowler & Wiggs) –Memphis City Directory
1871: Wiggs & Co., (J. J. Wiggs & R.M. Harper), planing and box mnfrs, Front, n. of bayou Goyoso, also Page & Wiggs – Memphis City Directory