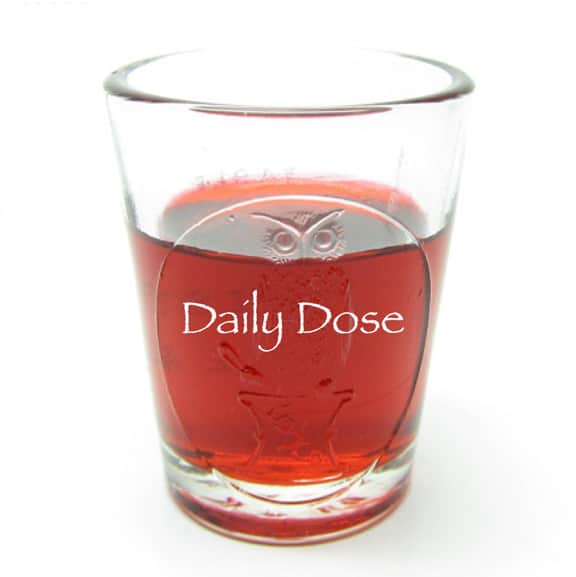 FEBRUARY

  

|

 

2 0 1 5
Saturday, 28 February 2015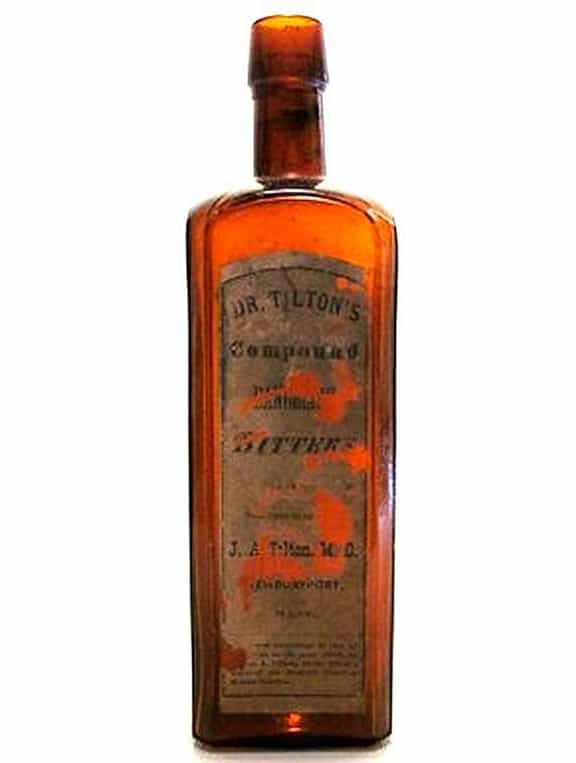 Tilton's Dandelion Bitters post updated with new information.
Friday, 27 February 2015
Sorry, swamped with work. Heard from Pittsburgh collector Chip Cable on the Boerhaves Holland Bitters post. See Update with some very interesting material.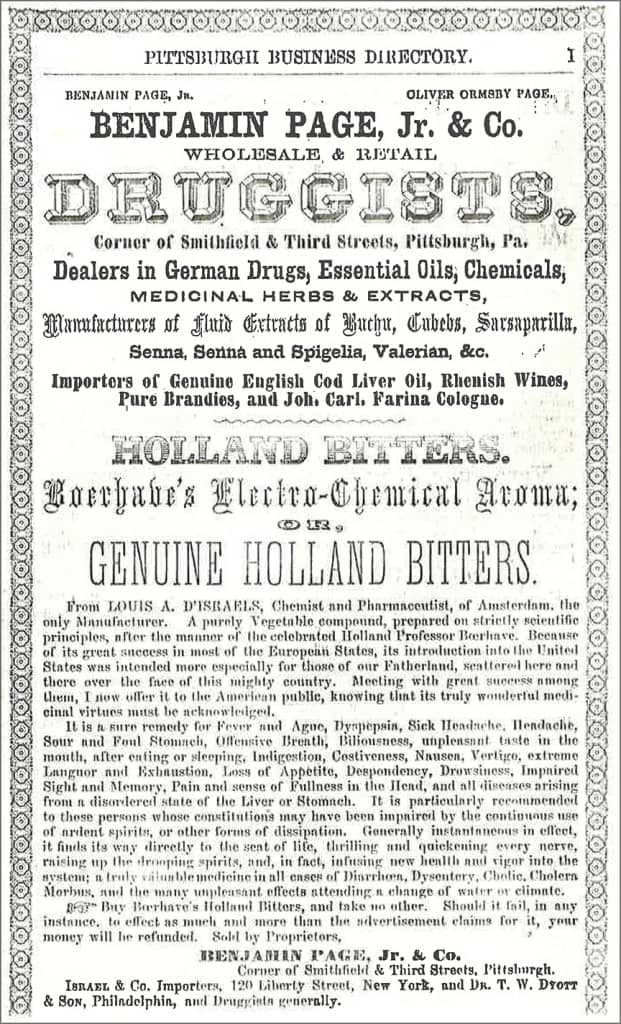 Design for Houston Antique Bottle Show flyer. Rumor has it that two big time bitters collectors from Oregon and Wisconsin will be visiting Peachridge and the show. Wouldn't that be cool!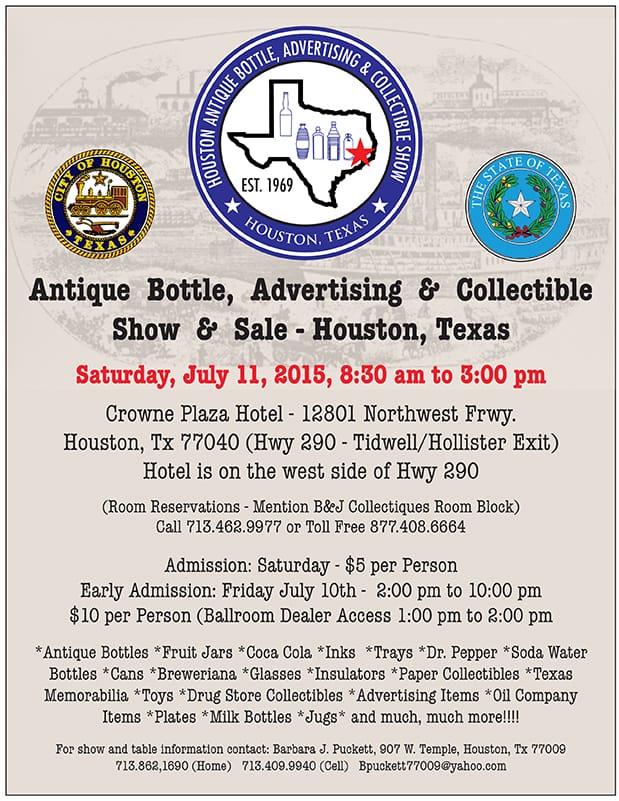 Saturday, 21 February 2015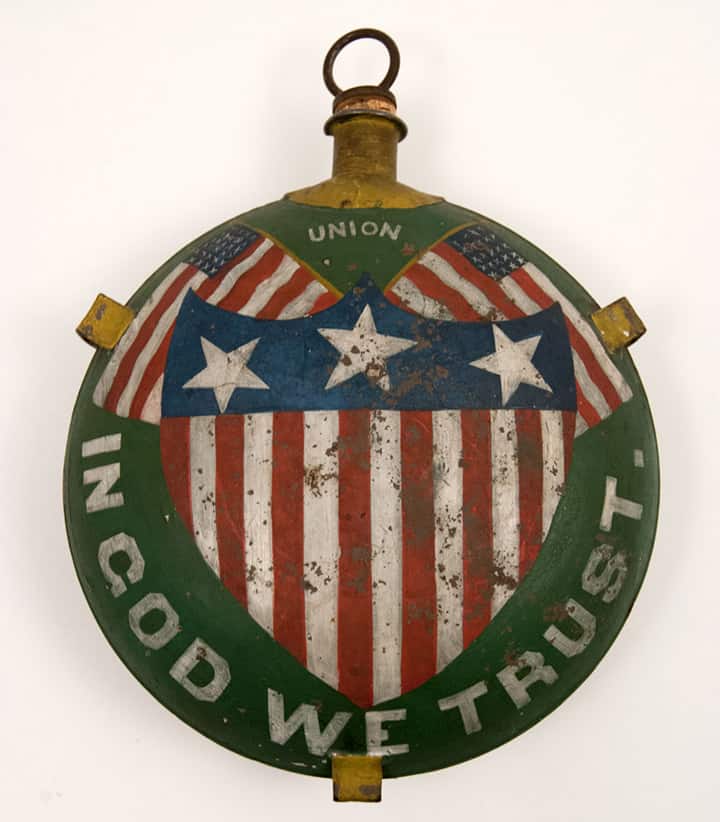 Pretty Cool Canteen. Added to Historical Canteens – Canteen Figural Bottles. Not sure but maybe it prompted me to watch GETTYSBURG from The History Channel last night. Three most intensive, destructive and deadly days in American History. Directed by Adrian Moat. Check it out. Awesome. Very interesting segment on Marylanders fighting Marylanders.
Friday, 20 February 2015
Working on this art for "The Battle of Chattanooga" Bottle Competition. (Colored, Sauces (peppersauce, ketchup, durkees, oyster, etc.) and the Best Bottle South of the Mason Dixon Line. Visit Show Page.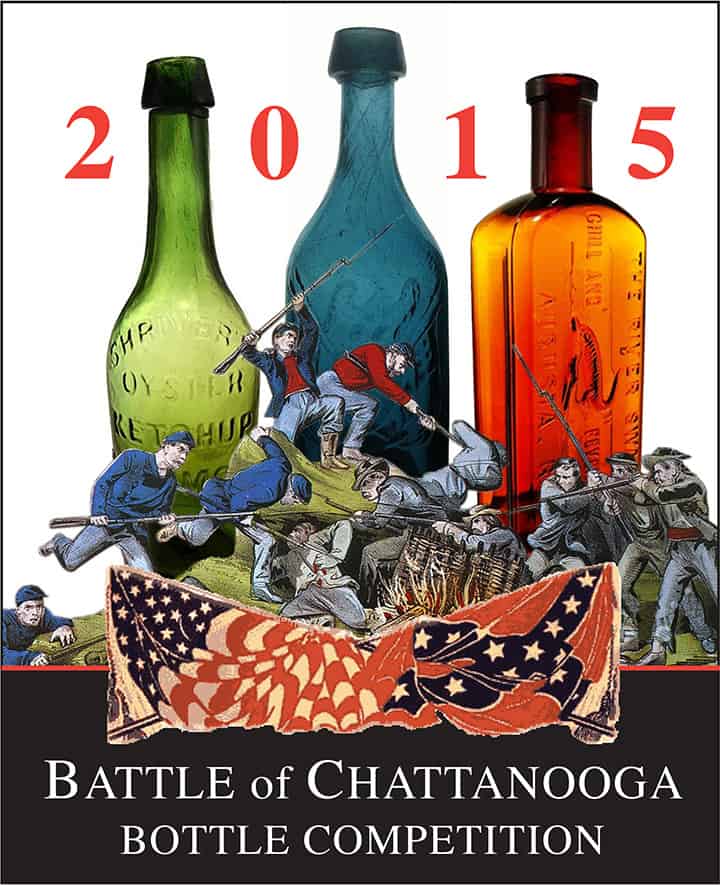 Wednesday, 18 February 2015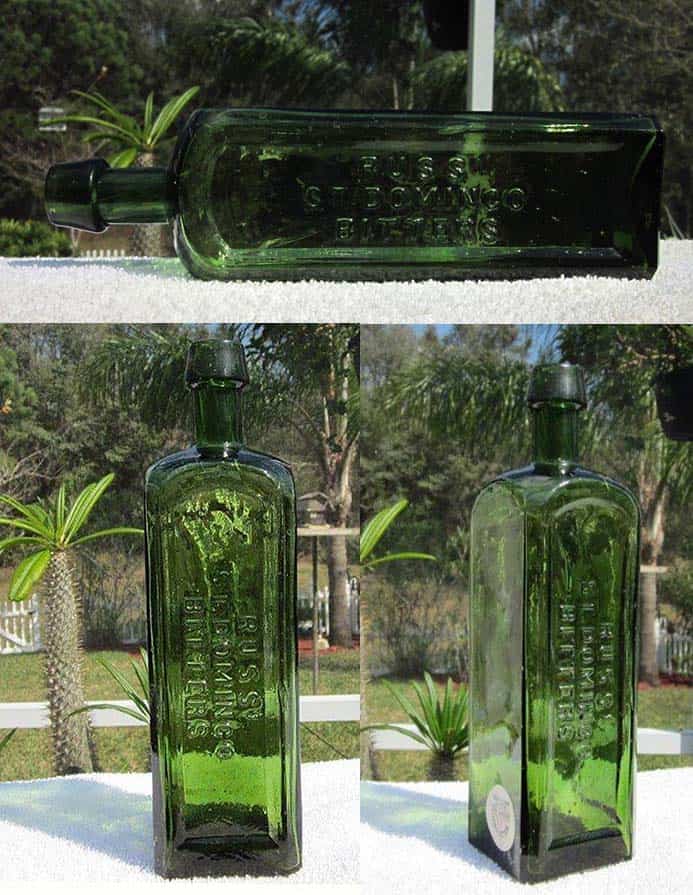 WOW WOW WOW: Hey Ferd, see if this Bitters smokes your socks? I recently acquired this bottle from Bitters collector Howard Crowe. It is a "Russ' St. Domingo Bitters" New York. It is a vivid grass green. My pictures do not do this bottle justice to say the least. Howard says he has never seen another Domingos in this color either at a show or in an auction. He acquired the bottle through Jim Hagenbach's Auction in early 1990s. This bottle has a 60 year pedigree. 1960s & 70s Tip Boyd, Leavittsville, Ohio. Elvin Moody,
Wellington, Ohio 70 & 80s. Chris Batdorf, Manastee, Michigan 80s. Howard Crowe 90s until 2015. Now proudly in the Beatty collection. – Gary (Beatty)
PS: I forgot to say Howard Crowe is from Gold Hill, NC. Would you please include that as I listed the whereabouts of this bottle over the years with the other collectors. Thanks, Gary
Read: Russ' St. Domingo Bitters – New York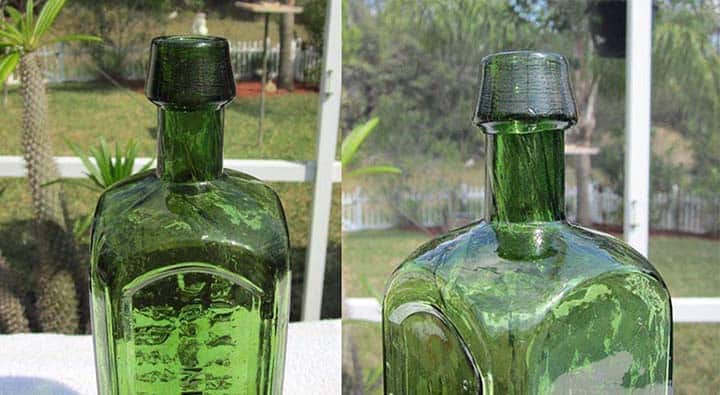 Tuesday, 17 February 2015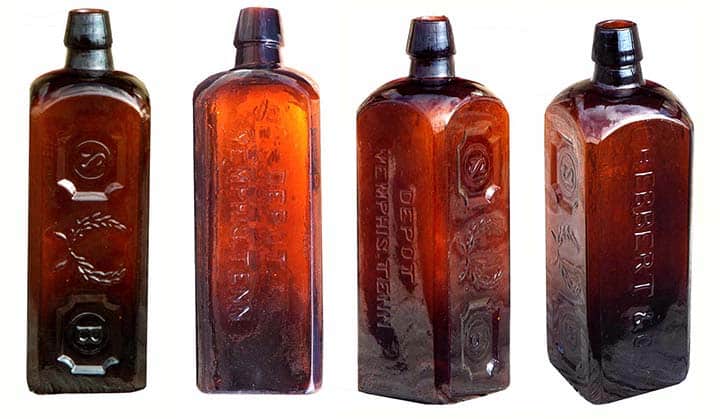 We have the "Our Own Southern Bitters" in house for the auction. Attached you will find our photos. Maybe an announcement on the site?? Thanks, Jim (Jim Daniel with Daniel Auctions, Official FOHBC Chattanooga National Auctioneer.
Read: Our Own Southern Bitters – Memphis
Read: More on C.H. Ebbert & Co's OUR OWN SOUTHERN BITTERS
Monday, 16 February 2015
Price's Aromatic Stomach and Tonic Bitters post updated with advertising from 1870 and 1871. Thanks to Corey Stock.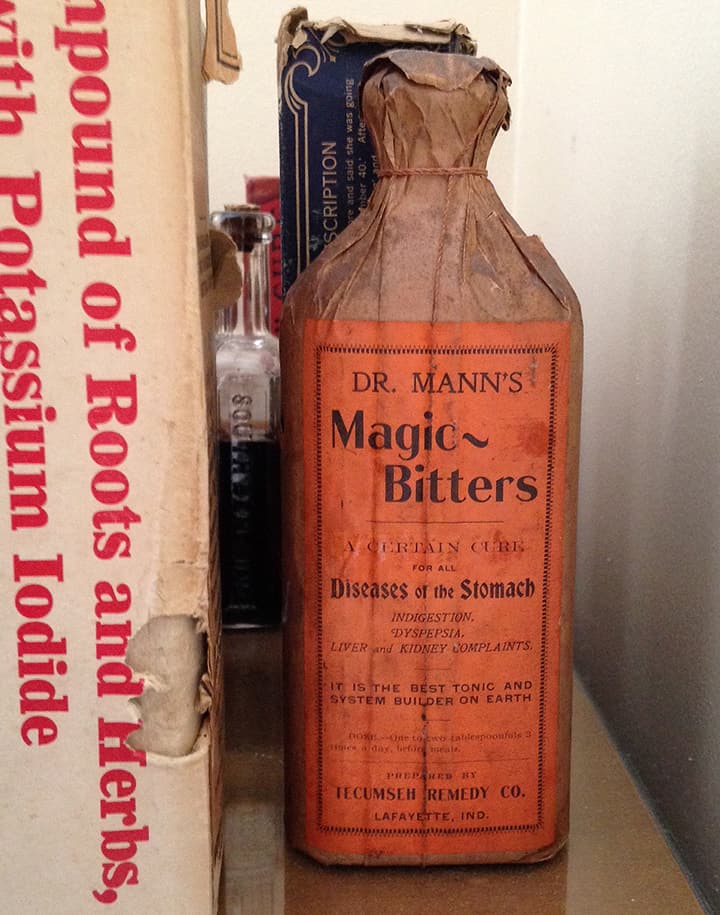 Hey Ferdinand, here's a bottle that I've had laying around. Thought I'd send you a picture of it. I believe it to be a newer machine made bottle but still cool with original label and packaging – Martin Van Zant
PRG: This appears to be unlisted Martin.
Saturday, 14 February (Valentines Day) 2015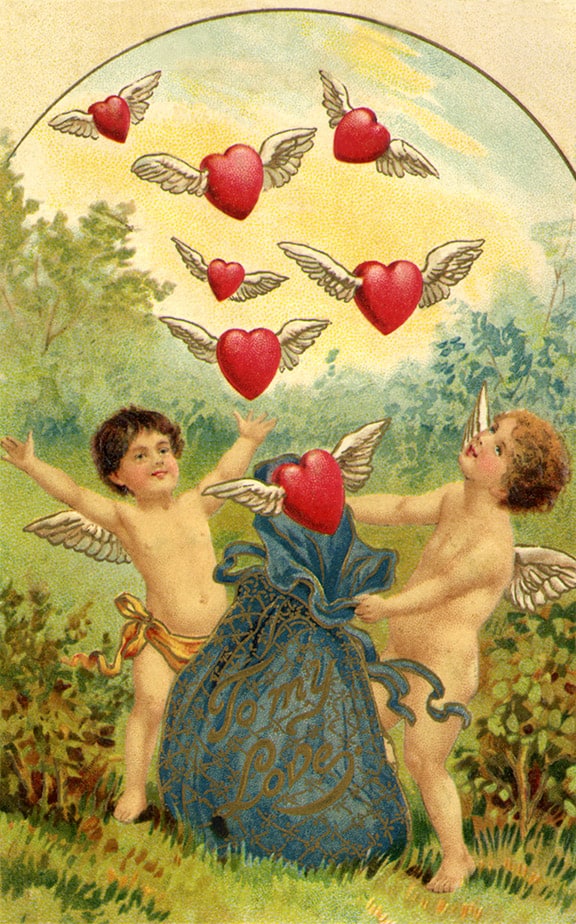 G'day Ferdinand, Thought you might like to see a couple photos of a rare bitters I bought at auction last week in Australia. Apparently it was dug at a bottle depot site near the docks in Melbourne here & would date from late 1880s-early 1890s?
It's a strange looking thing and stands very tall !! I think they also come in green but I've never seen another white one before.
Cheers =)
Simon Cronk
Australia
Read More: History of Kantorowicz Family and their Factory
Friday, 13 February 2015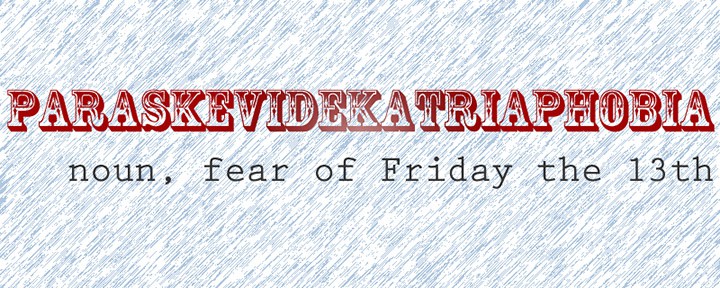 Well today is Friday the 13th! Hope you do not have paraskevidekatriaphobia. Not sure how to pronounce it? NPR offers this handy audio guide.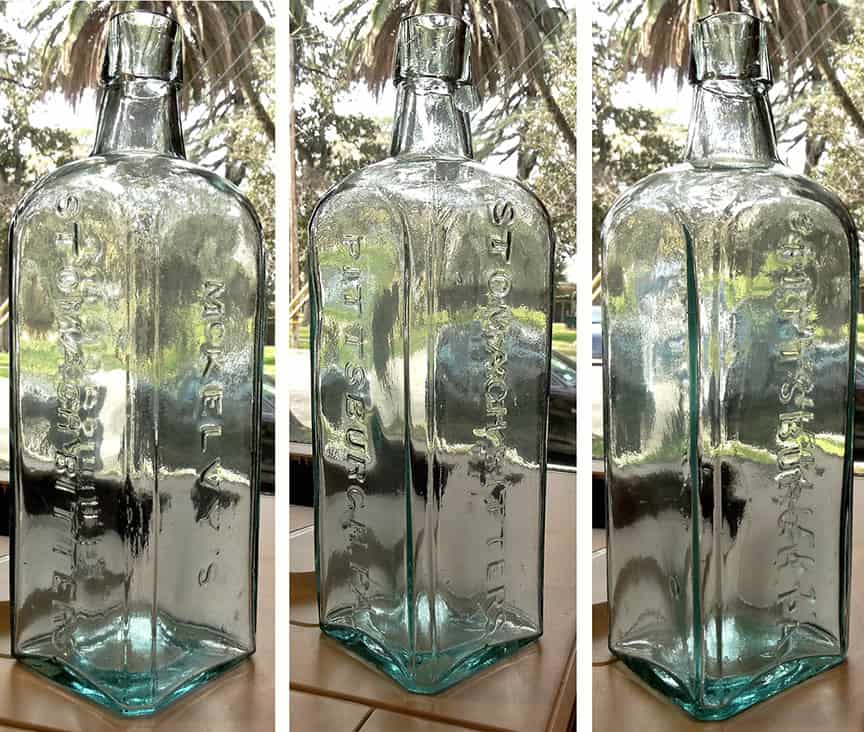 Anybody happen to notice that McKelvy's Stomach Bitters that appeared and was sold in a snap on Jeff Wichmann's American Bottle Auctions Sale Page? His description: McKelvy's Stomach Bitters, Applied top, with Wm McC & Co. 8 7/8". (M 59). Here's a rare bottle that also comes in a true blue. We are only aware of two selling at auction, the other example was aqua. This has the applied top and was made at McCully Glass Works in Pittsburgh. A super condition example, really no distractions to speak of, we happened on a grouping of very rare aqua bitters. Grades a 9.7.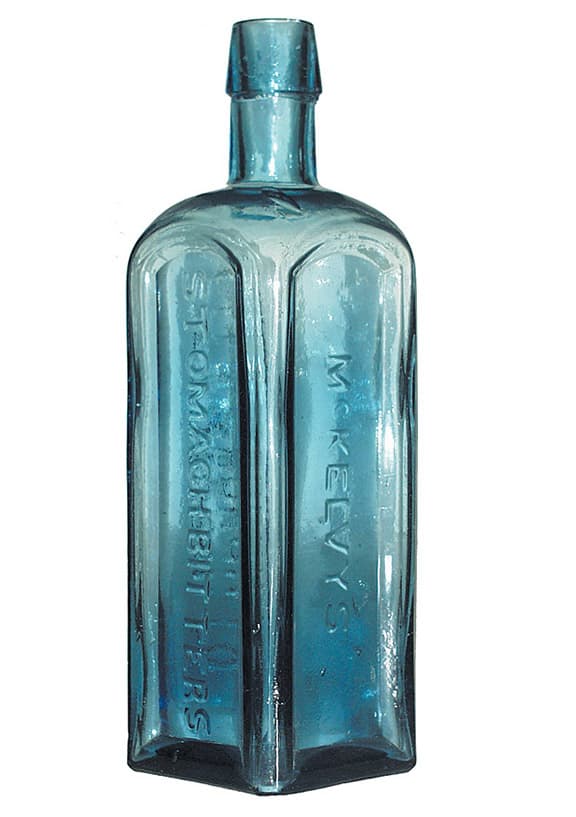 Thursday, 12 February 2015
Stoudt's Dandelion Bitters mentioned on matches. First for me. From the Joe Gourd Collection. This would be S 206.5 in Bitters Bottles and noted as a 7 3/4 inch tall rectangular, cobalt blue, screw top bottle.


Tuesday, 10 February 2015
Down in Greenville and Asheville SC today for business. A nice part of the country. Glad I am not in Boston with all their snow!
Received the following very interesting e-mail from Peter Schaf who allowed me to share. This guy really has it covered for Abbott's Bitters.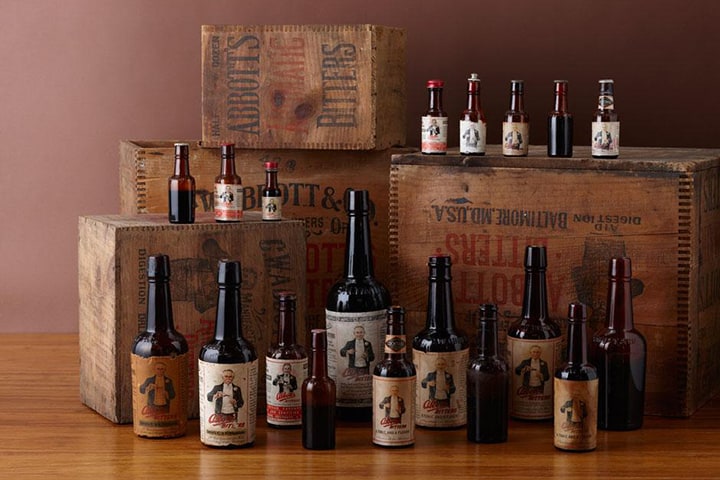 Dear Mr. Meyer,
Thank you for your very informative site! I very much appreciate the work that you have done and the stories and photos often continue to fuel my life-long passion for antique bottles and glass.
My passion for bottles finally brought me to the spirits industry, where I partnered with an old friend (who is also a bottle collector), to create a company dedicated to finding or recreating lost liqueurs, bitters and vermouths for craft bartenders and enthusiasts, originally specializing in absinthe.
Over many years, we had amassed a collection of Abbott's Bitters bottles and antiques and set upon a quest to recreate it, based on its tremendous popularity in cocktails up to the 1950's.
You can find our story and some of our research at: abbottsbitters.com
As you are a native of Baltimore, where the Abbott's company was located, I might imagine that this maker could have some personal interest for you as well.
Although we have considerable documented information and antiques concerning Abbott's, we have had a difficult time finding the truth regarding the founding and closure of the company. We also have not found an original bitters recipe from C. W. Abbott or know of any existing, although there is one person claiming to have found a 1860's recipe signed by a member of the Abbott family that he is claiming to be the original recipe. For several reasons, we have our doubts.
Through research of US census reports and Baltimore City directories, it would appear that some of the early history and founding dates of the company, and the original release of a product called 'Abbott's Angostura Bitters', may have been partially fabricated or presented in a misleading fashion in Abbott's marketing. Yes, imagine that from a 19th century bitters maker!
We also cannot find a definitive date of the closure, nor conclusive reason for the product's demise (though many have concluded it was the FDA banning of one of the assumed ingredients Tonka Bean, that we aren't convinced was ever even in the product). I have my own theories, based on the long-running legal feud between Abbott's and Siegert's Angostura Bitters' original US representative, J. W. Wupperman on the use of the word 'Angostura' in the product's name.
We have also never seen an original bottle or label of Abbott's Angostura Bitters (without the post -1899 Pouring Man image on it) with the label similar to Siegert's Angostura Bitters.
Read at PRG: Abbott's Aromatic Bitters – A Later Bitters with Class
Read at PRG: The Wizard of Oz and Angostura Bitters
Read at PRG: Looking at the Morning Star Bitters – Baltimore
My question for you is, if I may ask, do you have any historical documentation on Abbott's Bitters that you might like to share, outside what you have on your site, or have you ever come across early (pre-1890) bottles or labels from C. W. Abbott such as the one on the 1898 invoice or 1901 envelope on your site? Based on the Baltimore City business directory, we are fairly convinced that Abbott's father, C. F., first started working at the existing Morning Star Bitters company, founded around 1865, in the 1870's, eventually bought it and transferred it to his son, C. W. by the beginning of the 1880's., where the named was changed to C. W.. Abbott & Co. This would contradict the dates often seen on Abbott's invoices, labels and crates, etc., at least, in the sense that the C. W. Abbott Company and the product named C. W. Abbott's Angostura Bitters had been created/founded in 1865, or 1872.
We also don't know of any information that gives a definitive closure date for this company in Baltimore, sometime in the 1950's.
In full disclosure, we have created what we think is a very close replica of Abbott's Aromatic Bitters and are presently selling it. We did not take on this project lightly, nor purely for profit, as the research and attention to detail encompassed all our passion for history and antique bottles.
I should point out that the Abbott's Bitters label on your site is actually one of our early label prototypes for the modern product. There was no recipe for the Manhattan Cocktail on the original label, and you will notice that it reads PETALUMA, CA and not BALTIMORE, MD on the left side. If you were not already aware, we are flattered that you might have confused our work for that of an original label or that you would include ours on your site. We had no intention to deceive anyone, (we now own the 'Abbott's Bitters' trademark and could legally work under the d.b.a. of C. W. Abbott, but chose not to) we also changed the CW Abbott signature on the lower right side to TF Spirits.  There is some consternation that we did trademark the name, but we were not the first to try to trademark it in modern times (in 2002, by the Sazerac Company, though they failed and produced no final product under any name), and eventually, if it could be done by another company, it would have been.
We are surrounded by many modern products that carry original names that are hardly a shadow of their original specs or intentions and are proud to protect the integrity of the original quality of the bitters and its artwork.
Excuse me for this lengthy e-mail, should it not be of interest to you, especially since in the world of bottle collecting, Abbott's Bitters bottles are not at all 'stars'. However, I felt that if someone could shed more light for our studies, and as I eventually would like to write a book on this history, I would look to a fellow bottle collector of your esteem, knowledge and connections, for your input.
Thank you very much for your time.
all the best,
Peter Schaf
U.S. Importer: Anchor Distilling Co.
Facebook:
Troia Schaf – Tempus Fugit Spirits
Abbott's Bitters
Twitter:
@TFSpirits
@AbbottsBitters
Monday, 09 February 2015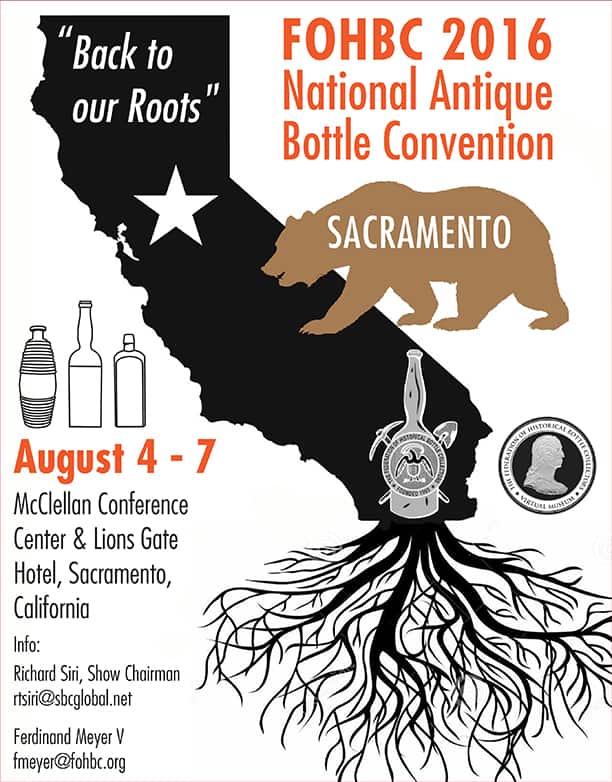 Working on some supplemental art for the FOHBC 2016 National Antique Bottle Convention in Sacramento, California as I need an image for the showing on the FOHBC Show Page.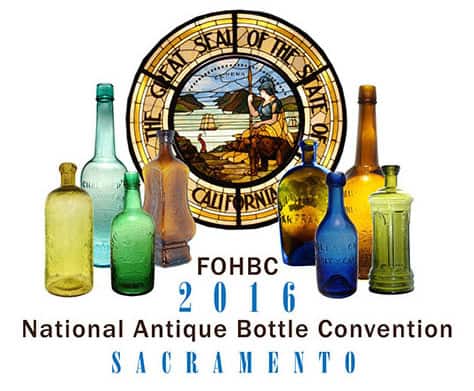 Of the previous color work, this logo above seemed to get the most favorable votes from the bottle collecting populace. Need to run this all by the board and Show Chair. Let me know what you think.
Saturday, 07 February 2015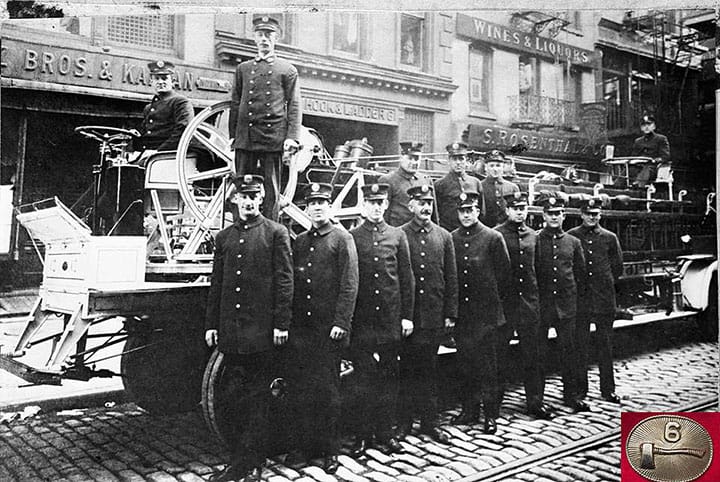 Ferdinand: I thought you might enjoy the enclosed photo which shows my great-grandfather Lieutenant John Joseph Jolly standing on a wooden aerial with the men under his command in front of Ladder 6 in 1913 next to the S. Rosenthal store. A friend of mine saw your post and knew of my photo, and sent your link to me. I have no doubt my great-grandfather and his men enjoyed some of the spirits sold therein.
Regards
John S. Jolly
Columbia, MD
Read: A pair of S. Rosenthal & Co. NYC bottles
Friday, 06 February 2015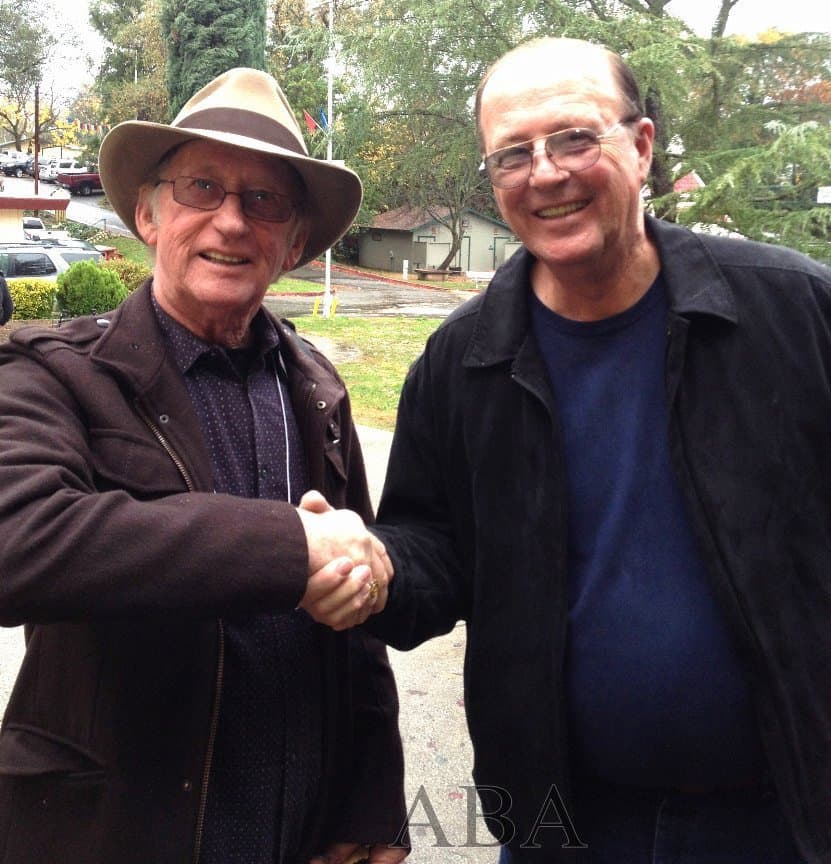 Sad news. Just learning of bottle collector Steve Bird's death. That is Jerry Forbes on the left and Steve on the right in Auburn in 2012.
Jeff Wichmann sales (Store Page)seems to have gone over well yesterday with the noon PST opening. Quite a few bottles were sold. The site was a little sluggish but no crash. Jeff adds, "We added some extra gigs to the RAM so it's moving faster."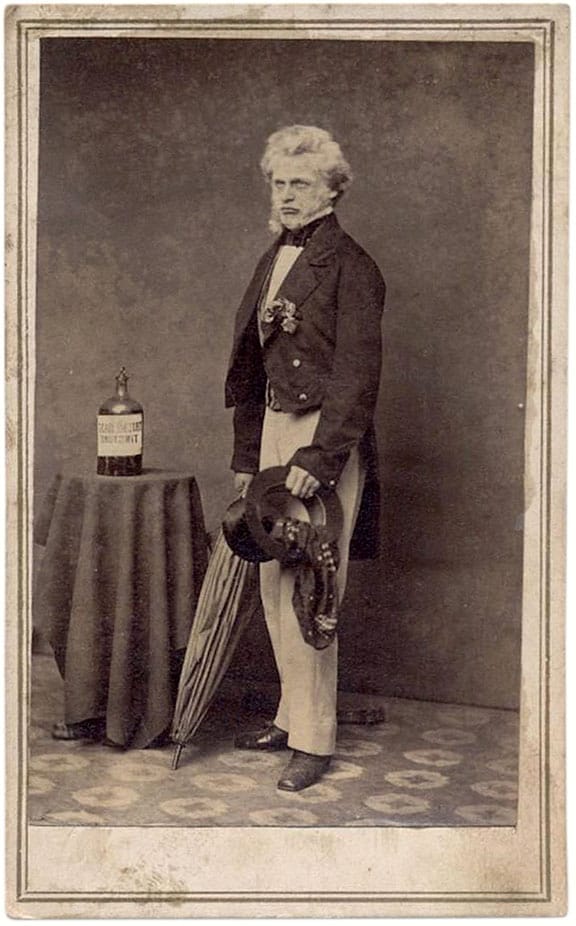 Joe Gourd submits the following, "Good morning Ferd, Came across this photo of an early snake oil salesman in an eBay auction today. Not quite a "Bitters" item for my collection but a really cool card. Wonder who he was? Have a great day………" Joe
Thursday, 05 February 2015
From Jeff Wichmann: If You Aren't Doing Anything Thursday… You might check out our "For Sale" page. We will add a new grouping of bottles at 12:00 noon, different shapes, and colors and in almost every category. We painstakingly searched the world looking for the finest and rarest gems for our favorite people on earth; our customers! We hope there are some bottles you like and please, if you have any questions, call or email us. Our aim is to please so set your alarm for 12:00 noon Pacific Standard Time. Thursday February 5th at 12:00 Noon PST. As I check the website now I get…..
Error establishing a database connection
Ok, 4 minutes until the new bottles go on. Site is working fine. I'm in-between meetings so I can actually try right at 2:00 CST. We'll see what happens!
Wednesday, 04 February 2015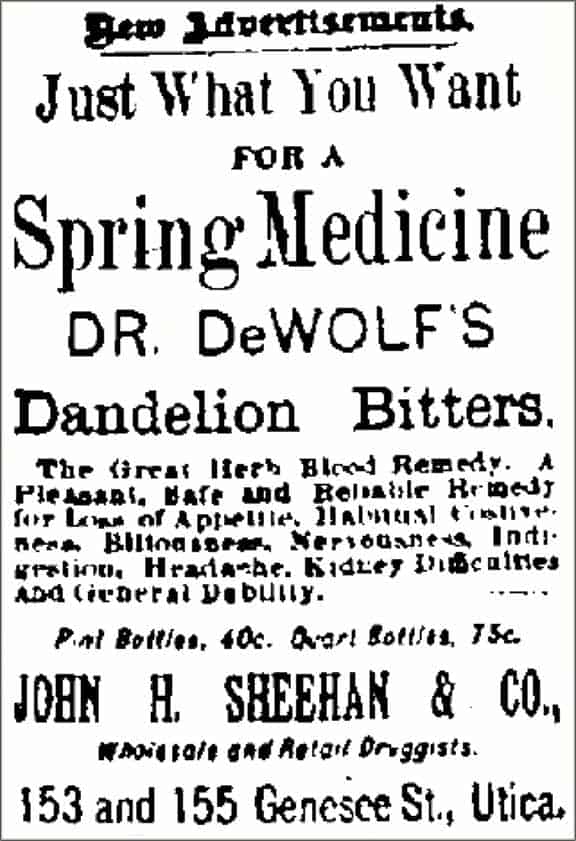 The Dandelion Bitters post from Utica, NY was updated. Apparently John H. Sheehan also was promoting a DeWolf's Dandelion Bitters.
Abel Da Silva reports 3 nice bottles at Invaluable.com
Latest FOHBC Board meeting notes posted here. Notes of Record
Tuesday, o3 February 2015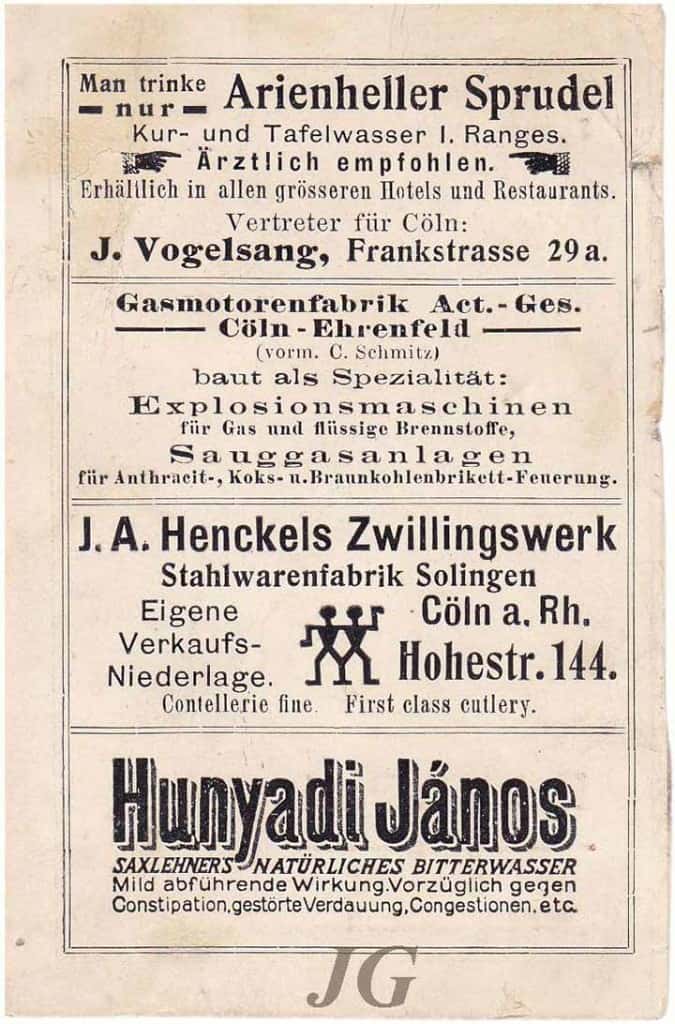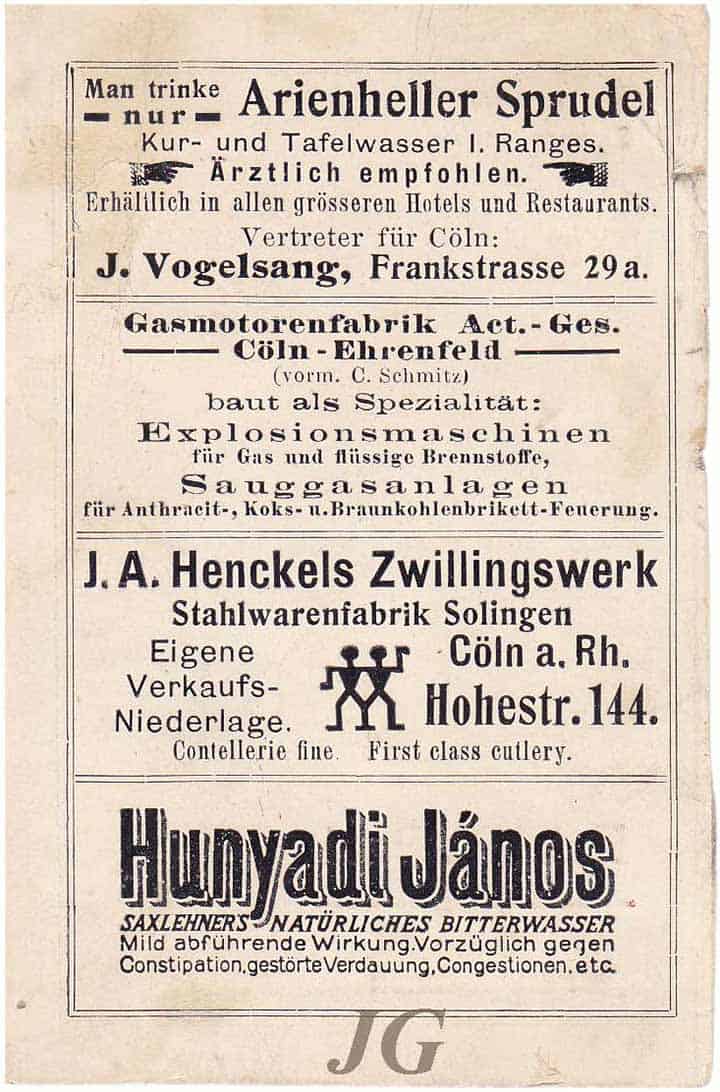 Hunyadi Janos Saxlehner's Bitterquelle post updated with some insigne from Joe Gourd. Maybe Saxlehner really did put out a bitters? Back to Post
Looks like the Bond's Dandelion Bitters from Ft. Wayne, Indiana may be unlisted? Here is an 1868 advertisement. Post in development.

Monday, 02 February 2015
Wow, what a game last night. So easy to second guess. Nice family event for us. Had fun and good food.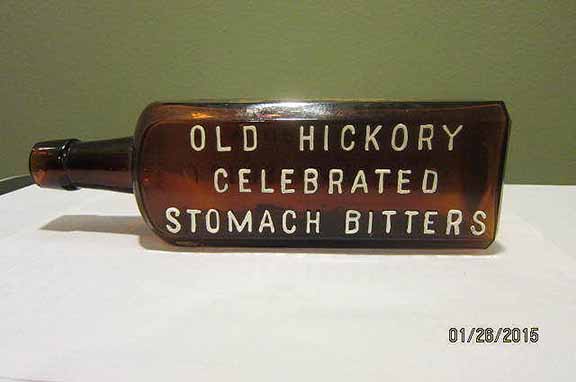 Bill Ham reports, "Ferdinand: There is a rare variant of the OLD HICKORY BITTERS on ebay. I got images to make drawings from the listing. It is the O 33 which doesn't have drawings in the books." – Bill
Heard about this bottle at last years Houston Antique Bottle Show: Read: An unlisted Old Hickory Celebrated Stomach Bitters – New Orleans
Sunday, 01 February 2015 (aka Superbowl Sunday)
Pick-em'. Tough choice. Looking forward to game. Working in a couple areas today. Bottles and Extras first draft review. Post on Willard's Golden Seal Bitters and Hunyadi Janos Saxlehners Bitterquelle. Isn't that a great marketing image below for this mineral water product which is often confused for a bitters.