Is the Hunyadi Janos Saxlehner's Bitterquelle a bitters bottle?
01 February 2015 (R•020215)

No, the Hunyadi Janos Saxlehner's Bitterquelle is not a bitters bottle so let's get that out-of-the-way, right quick. Most new bitters collectors, including myself, remember seeing a Bitterquelle either at a bottle show or on eBay and wondering if this was a bitters bottle. Many of us were intrigued by the embossing on the bottom of the bottle but wondered why there were so many and why they rarely sold, and if so, for only a dollar to two.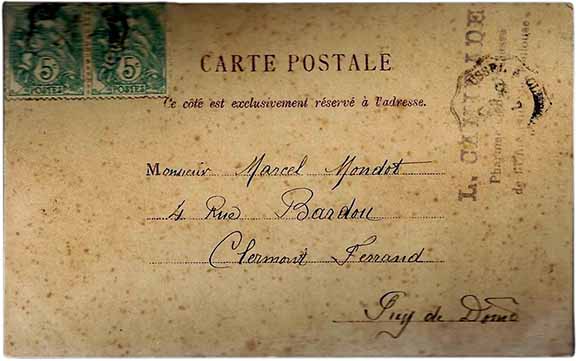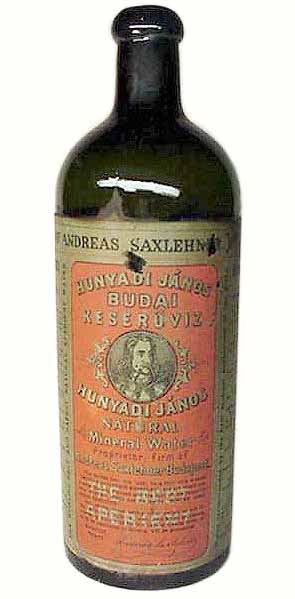 I saw the top most images of the two young girls on a French advertising postal card on eBay and immediately liked it. Pretty cool art. This inspired this post. Let us look at the bottle first which is round and based embossed. By looking closely at the label you will see a Hunyadi Janos portrait and the words. "Natural Mineral Water". So there you go, the Bitterquelle is a mineral or spring water and not a bitters.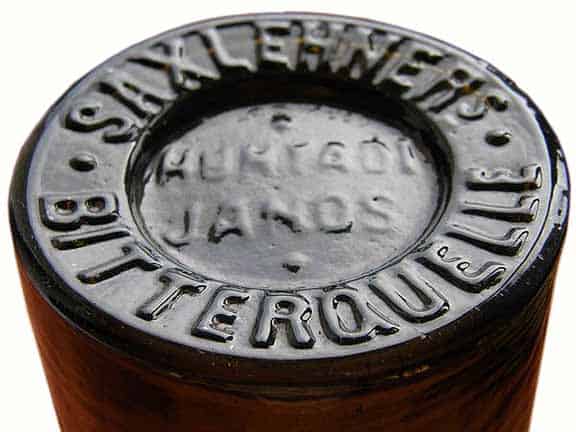 Hunyadi Janos Bitterquelle
The Hunyadi Janos Bitterquelle was made by the Andreas Saxlehner Mineral Spring Water Company of Budapest, Hungary. Notice how they cover both bases by saying "Mineral" and "Spring" water. Mr. Saxlehner made a fortune from his "bitterwater", and built up a family palace on the Andrássy Avenue. He was born in Pest in 1815 and died in the unified city of Budapest in 1889. The Hunyadi Janos natural purgative water occupied a significant niche in the market of United States medicines and cures at the time of the Spanish-American War and was the inspiration of many copycats.
Read: On Beyond Holcombe: Andreas Saxlehner's Hunyadi Janos Natural Mineral Water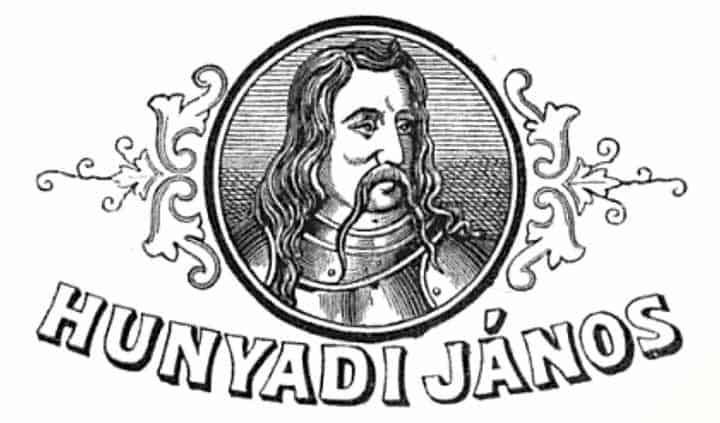 The brand was named after Hunyadi Janos (John Hunyadi) (1407-1456), the 15th century Hungarian military hero renowned for driving the Turks out of the Balkans in his time, and lifting a Turkish siege of Belgrade shortly before his untimely death from plague. Buda had been known as a site for medicinal springs and baths even in Roman times, it was Saxlehner himself who bought the spring and the surrounding land in 1863 from the peasant who discovered the water's healing properties.
Marketed as an "aperient," aka laxative, the mineral water claimed medicinal qualities, including "organic diseases resulting from a fatty degeneration," for the organs of "respiration and circulation," for "the evil consequences of indiscretion in diet," and the keystone – helpful in relieving hemmorhoids.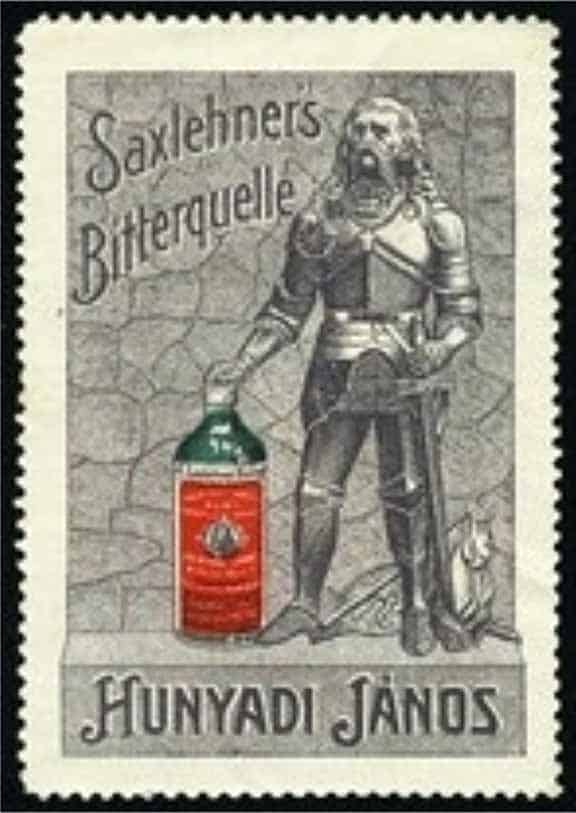 The 24 ounce, dark-olive-green glass bottle is representative of the many "Bitterquelle" mineral water bottles found across the United States at the turn of the 20th century. Often recovered at historic sites, the Hunyadi Janos brand was a popular European import, and spurred many domestic knock-off brands. Most commonly found in the U.S. between 1870 and 1920 or so.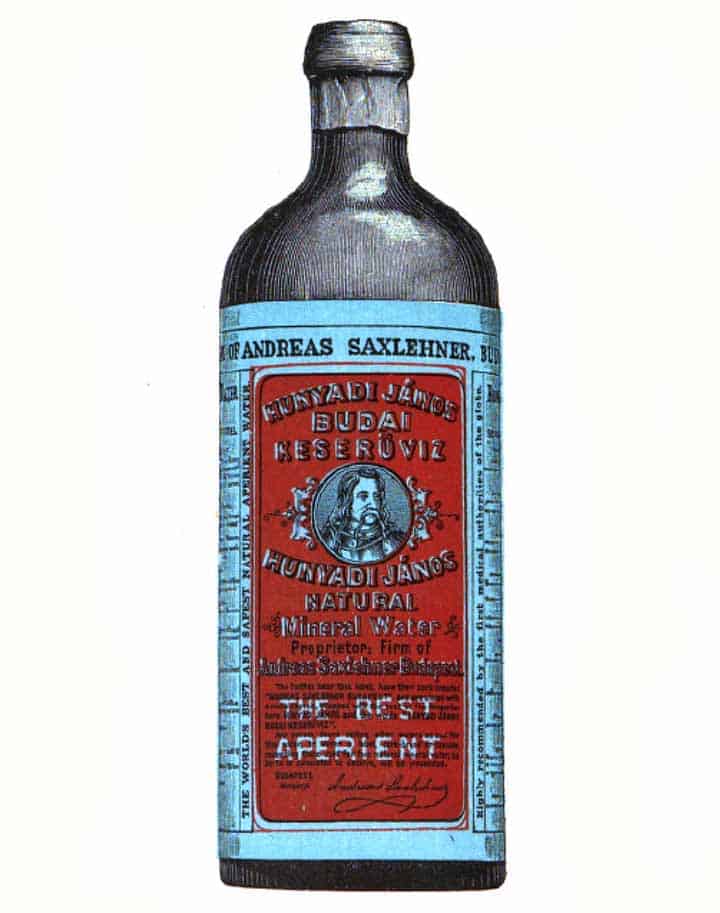 HUNYADI JANOS water has been a household word wherever the sun of civilization shines, for more than a quarter of a century. This fact in itself is a proof of its superior quality. The law of evolution holds good of mineral waters not less than of organised beings; in the struggle for life only the fittest survive. A worthless thing may be puffed into momentary notoriety, but a lasting reputation is acquired only by genuine merit. On its first introduction Hunyadi Janos at once took rank as the best among the waters of its class, and this position it has maintained ever since. Doctors proverbially differ, but when they do agree their unanimity is wonderful, and in nothing is this rare unanimity more strikingly displayed than in the emphatic verdict of approval which has been returned by the medical profession of all countries in regard to Hunyadi Janos Water. No remedy of its kind can show such an array of scientific testimony of the highest order in its favour; the very leaders in the medical world have borne witness to its supreme excellence. When we find men of such undisputed eminence in their several lines as Professor Rudolph Virchorv (clarum et oenerabile nomen), Professor Jas. Moleschott, of Rome; Professor vorz Esmarch, of Kiel; Professor Lombroso, of Turin; Dr. Chas. Fauvel, of Paris; Professor Frederick T. Roberts; Dr. Lewis A. Sayre, of New York; Professor William A. Hammond, late Surgeon General of the United States Army; Professor von Bamberger, of Vienna; Professor Varzlair, of Liege referring to Hunyadi Janos in warm and even enthusiastic terms, nothing more is needed to show that in point of medicinal properties it must be something quite out of the common. And these are only a few chosen almost at random from among living celebrities; a complete list of those who have spoken in praise the water would include almost all the foremost representatives of medical science in the Old World and the New. A still more convincing proof of the high estimation in which the Hunyadi Janos water is held by doctors is that they not only prescribe it to their patients, but they take it themselves, showing a degree of faith in its virtues that they by no means have in all medicines which they use.
Hunyadi János Natural Purgative Water Drawn from Saxlehner's Bitter-water
By Andreas Saxlehner, Budapest
 Here are a couple of nice collateral pieces below.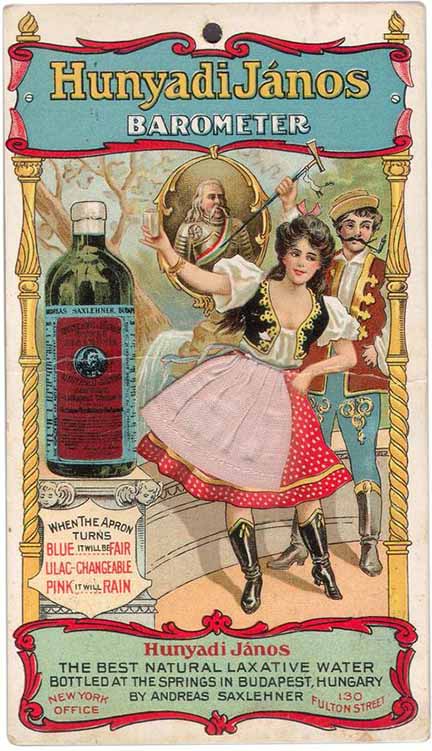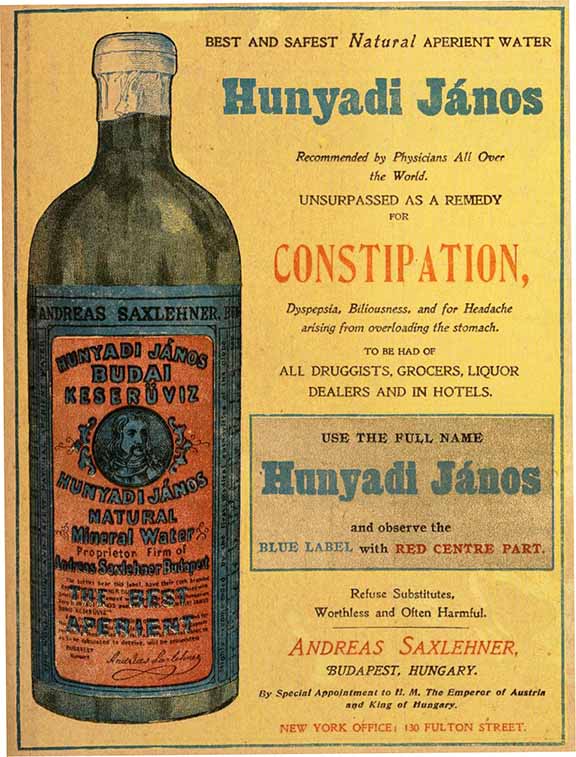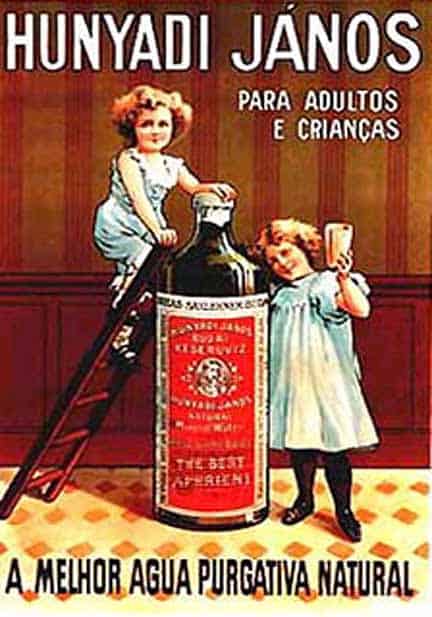 From Bitters ephemera authority Joe Gourd
Ferd,
But wait there's more…. Read your post with interest. But note that in the Bitters lists that I sent you, I identified a Saxlehner Huyadi Janos Bittersalzquelle as an unlisted bitters. This information was taken from the LABEL in the post card featured in your post. (I have the same card in my collection, see below). I was, however, mistaken in my identification. You were correct in saying that Bitterquelle is not a bitters. Turns out that Bittersalzquelle translates to EPSOM SALTS. (I will correct the list in the next version).
HOWEVER, I do believe that Hunyadi Janos did, in fact, manufacturer a Bitters. Look closely at the back of the trade card attached. They made a product called Saxlehner Huyadi Janos Naturliches Bitterwasser. (Until now, an unlisted Bitters). Says it's good for constipation, What do you think?
Have a great day…………Joe