Looking at a Boerhave's Holland Bitters – Pittsburgh
25 February 2015 (R•022715) (R•042619) (R•012123)


Jeff Wichmann currently has a Boerhave's Holland Bitters up on his American Bottle Auctions "For Sale" page that prompted me to pull my example out of a digital folder. The top two pictures represent my bottle. Another rather exciting aqua bitters that can rock your socks or at least mine. I am surprised it still available on Jeff's site. This bitters collector suggests "Buy". The price is right too.
10,000
NEGROES SAVED YEARLY!
Boerhave's Holland Bitters advertising slogan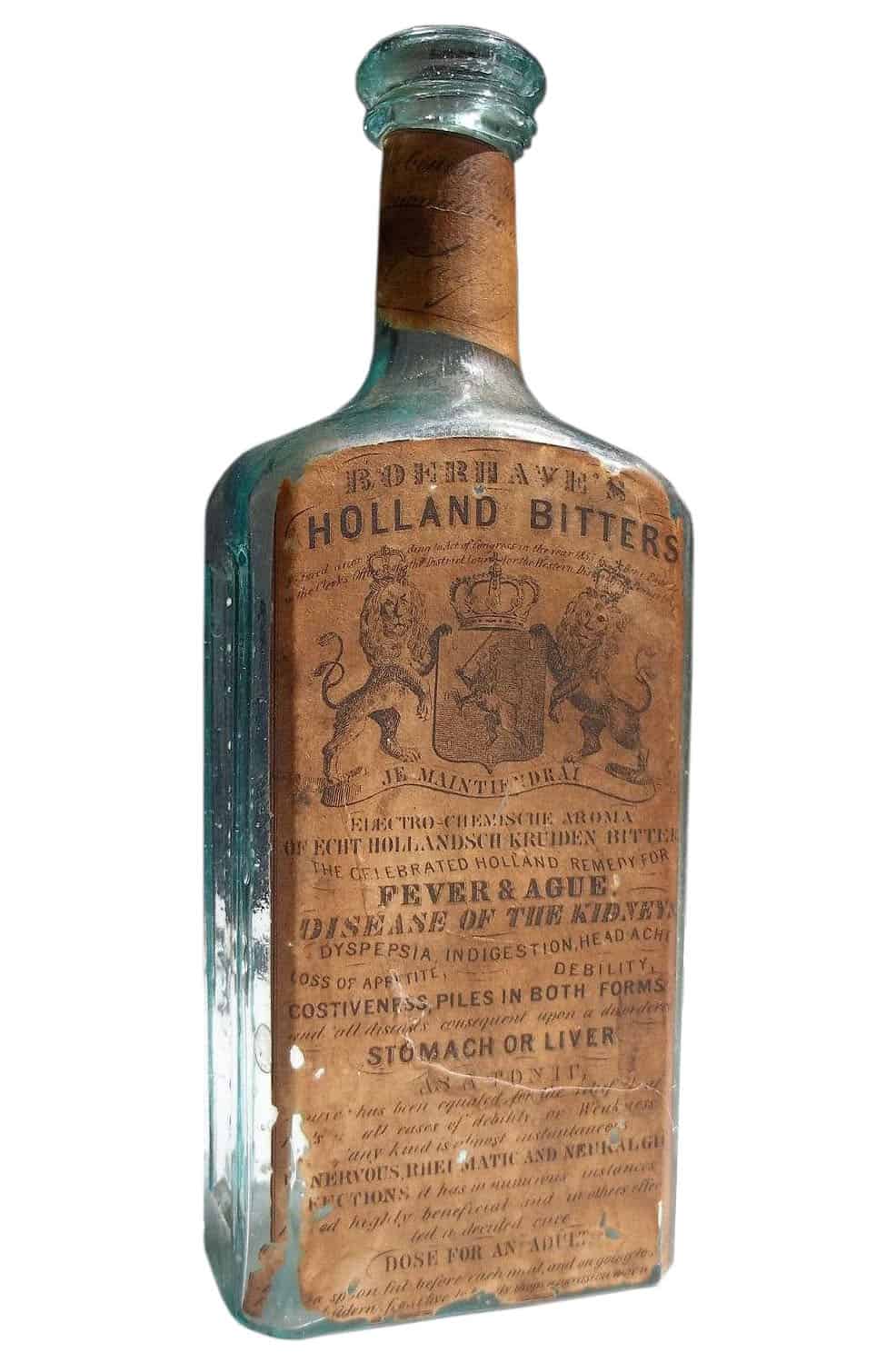 The Bitters Bottles Supplement 3 draft by Ring, Ham & Meyer updated:
B 134 BOERHAVES / HOLLAND BITTERS // B. PAGE JR & CO // f // PITTSBURGH PA. // 
8 x 2 3/4 x 1 3/4 (5 1/2) 1/4
Rectangular, Aqua, CO, Applied mouth, 3 sp, Scarce; Pontil mark – Very rare
Some dug on the south side of Mobile, Alabama
Newspaper advertisement 1853: Holland Bitters – Boerhave's Electro-Chemical Aroma, or Genuine Holland Bitters. From Louis D'Israels, Chemist and Pharmaceutist of Amsterdam, the only Manufacturer. A purely Vegetable Compound, prepared on strictly scientific principles, after the manner of the celebrated Holland professor Boerhave. Sold by the proprietor, Benjamin Page, Jr., Drug and Chemical House, Pittsburgh, Pa.
Read: Bottles on the Steamship SS Republic
Boerhave's Holland Bitters
Boerhave's Holland Bitters was made by Benjamin Page Jr. & Company in Pittsburgh, Pennsylvania. They were the sole proprietors and advertised themselves as Pharmacists and Chemists. They said their product was a purely vegetable compound and remedy for dyspepsia, kidney disease, liver complaint, weakness of any kind, fever and ague plus a whole group of other ailments. This is typical of most bitters. The product was advertised from 1856 to about 1860 heavily in newspapers with a few spot advertisements in 1871 in Davenport, Iowa. One has to wonder if they were selling excess eastern inventory at such a late date.
Apparently the concoction was first developed by the celebrated Holland Professor Herman Boerhaave. Boerhaave (1668-1738) was a Dutch physician, botanist, professor and Rector Magnificus (Chancellor) at Leiden University. He is regarded as the founder of clinical teaching and of the modern academic hospital and is sometimes referred to as "the father of physiology." In the 18th century, Boerhaave was renowned even in China for the way in which he practised and taught medicine. Not only did Herman Boerhaave discover many new things, he was also an inspiring teacher. He was an advocate of 'teaching at the bed' and autopsy and took his students on a journey through the world of medicine. Even Tsar Peter the Great attended one of his lectures.
Advertising further states that the product had great success in European States and that the introduction to the United States was intended for those of the fatherland that were "scattered here and there over the face of this mighty country". The product sold for $1.00 a bottle or six bottles for $5.00. Big time agents like T.W. Dyott & Sons (Philadelphia), Barnes & Park (New York) and Laughlin & Bushfield (Wheeling, Va) were selling the product in those locales.
Benjamin Page Jr. was born in Missouri about 1830 and found himself in Pittsburgh at the young age of 21 practicing as a druggist in 1850. During the last half of the decade he would develop the Boerhaves Holland Bitters. When Mr. Page entered the United States Navy in 1862, he apparently sold his interest in the business, leaving no record of subsequent owners. He died very young in Philadelphia in 1874. However, it seems that this remedy continued to enjoy some appeal even after the turn of the century. Boerhave's is counted among a laundry list of pharmaceutical products available in 1904.
Benjamin Page's grandfather I believe, is the Benjamin Page of the well-known Pittsburgh glass house of Bakewell, Page and Bakewell. The firm was organized in August, 1808, by Benjamin Page, Benjamin Bakewell and Arthur Kinder, three shipping merchants of New York City, and was the first glass house within the then limits of Pittsburgh, and, what is infinitely more, the first successful flint glass works in the United States. The firm continued in existence for nearly three-quarters of a century.
The following advertisements represent a progression of notices in major United States newspapers of the period such as the Richmond (Virginia) Dispatch, Wilmington Journal (North Carolina), Daily Nashville Patriot (Tennessee), Belmont Chronicle (St. Clairsville, Ohio), The Times Picayune (New Orleans), Dawson's Fort Wayne Weekly Times (Indiana), The Baltimore Sun (Maryland) and the The Davenport Daily Gazette (Davenport, Iowa) to name a few.
According to Pittsburgh collector Chip Cable, there is actually a bottle that precedes the Boerhaves Holland Bitters. As far as he knows, there are only two known examples. It is the same shape and size as the Boerhave's, but it is open pontiled and embossed on the front: "Boerhave's Electro Chemical Aroma". On one side it says "Louis a Disrael/Amsterdam" and on the other side panel is is embossed: "Benj Page Jr. /Pittsburgh." He apparently owned both of the known examples, but unfortunately sold them years ago and wishes he could have one back! He also notes that there is a pontiled Holland Bitters and as far as he knows, there is only one known example (see advertisement above provide by Chip).