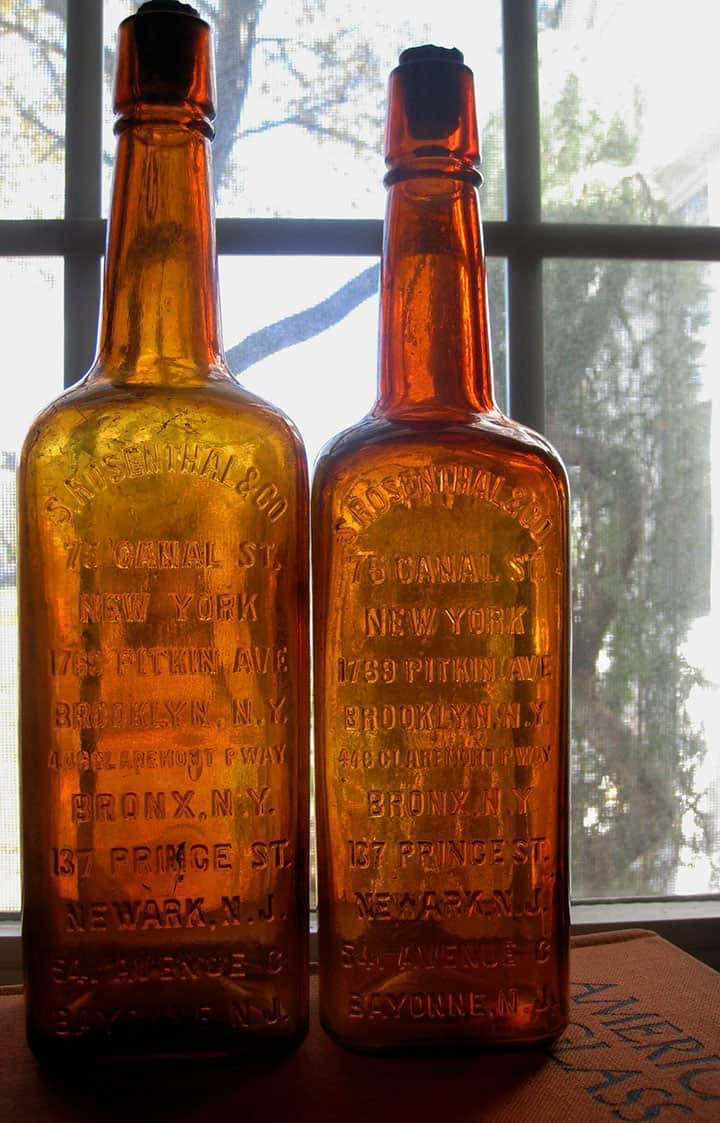 A pair of

S. Rosenthal & Co.

NYC bottles
29 October 2014 (R•020715)

Recently, I have corresponded with Chris Eib regarding various bottle related topics and during this exchange, Chris sent me the picture above of two S. Rosenthal & Co. bottles with a ton of embossed addresses. Kind of cool. The e-mail, "Perhaps you can see what you can come up with on the two S. ROSENTHAL & CO. square whiskies in that last picture. The larger one is a 30 oz. and the other, a 24 oz. The Corning Museum of Glass has one in their collection which was donated, but other than that, I've never come across any others. Your resources are MUCH better than mine and I have faith that you'll be able to come up with a little information on these bottles. Thanks Ferdinand. Take care and have a good night."
Actually searching for "Rosenthal" around the turn of the century in America is almost as challenging as looking for "Smith" or "Jones". Amazing how many Rosenthal listings there are in New York in 1910. Even a tighter search for "S. Rosenthal" or "Samuel Rosenthal" yields quite a few options. Obviously the clues are related to the addresses
S. ROSENTHAL & CO.
75 CANAL ST.
NEW YORK
1769 PITKIN AVE.
BROOKLYN, N.Y.
446 CLAREMONT P WAY
BRONX, N.Y.
137 PRINCE ST.
NEWARK, N.J.
541 AVENUE S.
BAYONNE, N.J.
The Canal address points us to Edward S. and Herman L. Rosenthal who were Jewish brothers selling liquor in New York City. Their father was Samuel Rosenthal who was born in Russia and operated a Saloon in New York City in 1900. S. Rosenthal & Co. was named after him. I found listings for all three Rosenthals, and a partner Samuel A. Kassell (1873-1930) from 1900 to 1919. Samuel Kassell was married to a sister, Minnie Rosenthal (1877-1945). Looks like they had five liquor stores around the region.
Interesting that Chris has not seen many examples except his two sizes and the one in the Corning Museum of Glass which is represented above.
Update: 07 February 2015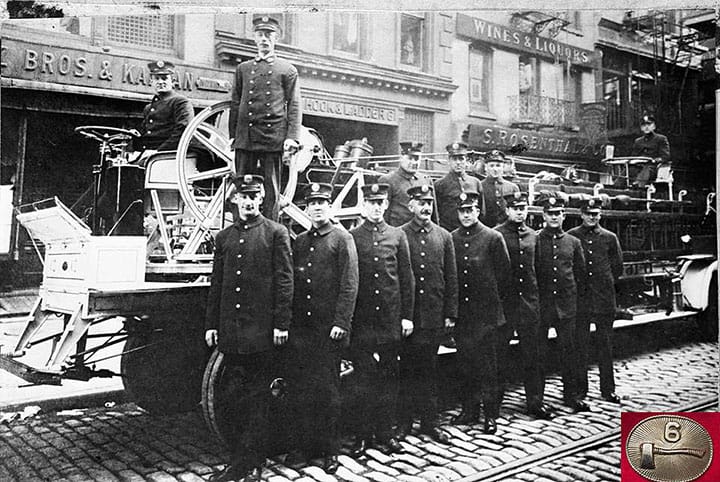 Ferdinand: I thought you might enjoy the enclosed photo which shows my great-grandfather Lieutenant John Joseph Jolly standing on a wooden aerial with the men under his command in front of Ladder 6 in 1913 next to the S. Rosenthal store. A friend of mine saw your post and knew of my photo, and sent your link to me. I have no doubt my great-grandfather and his men enjoyed some of the spirits sold therein.
Regards
John S. Jolly
Columbia, MD
Select Listings
1850: Birth Samuel Rosenthal (father) in Russia in May 1850.
1856: Simon Rosenthal, liquor, 58 second ave., h 33 Third – Trow's New York City Directory
1876: Herman L. Rosenthal (son), born in Russia July 1876 – New York State Census
1886: Edward S. Rosenthal (son), born in New York
1900: Samuel Rosenthal, saloon keeper, wife Lena, sons Herman and Edward, daughters, Rebecca (Rae), Pauline (also Fannie and Minnie) – 1900 United States Federal Census
1908: Samuel Rosenthal died on 25 November 1908.
1908-1910: S. Rosenthal & Co. (liquors), Edward S. and Herman L. Rosenthal and Samuel A. Kassell, 75 Canal, New York – Polk's (Trow's) New York Copartnership and Corporation Directory, Boroughs of Manhattan and Bronx
1915: S. Rosenthal & Co. (liquors), Edward S. and Herman L. Rosenthal, 75 Canal and 446 Claremont Parkway, New York – Polk's New York copartnership and corporation directory
1915: Herman L. Rosenthal, liquors, wife, Lilian – New York State Census
1919: S. Rosenthal & Co. (liquors), Samuel and Herman L. Rosenthal and Samuel A. Kassell, 75 Canal, New York – Polk's (Trow's) New York Copartnership and Corporation Directory, Boroughs of Manhattan and Bronx
1938: Herman L. Rosenthal Death, 03 September 1938