John Dente Recollections
02 December 2014

The following e-mail communications are posted in the hopes of recording memories and recollections of great bitters bottles that have changed hands. We are only temporary custodians of these great beauties. Thank you to John Dente for sharing.
[Sunday, October 12, 2014, 8:40 am]
Hi, Ferdinand, I have visited your web site for a while now, really great, as I used to collect bitters from 1975 to 1982. I sold my small collection, about 30 bottles, mostly to Frank Kurcezesky, and Judge MacKenzie, and one here and there to other collectors I knew at that time.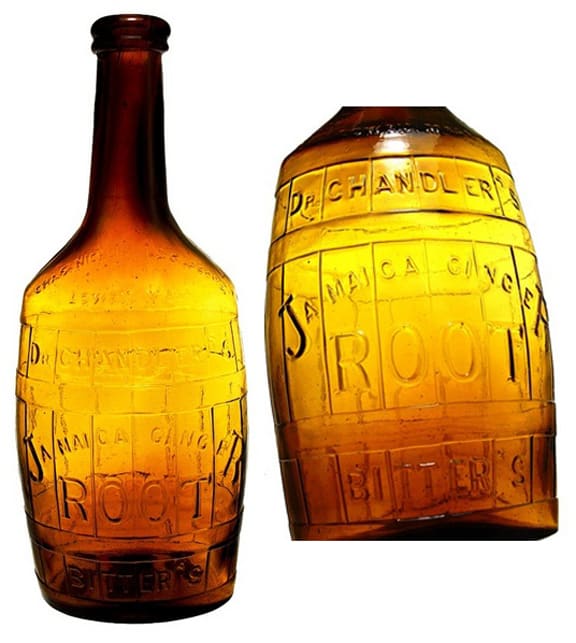 I have two stories related to two of your posts. First, the Dr. Chandlers, in amber, that sold in the Grapentine Auction (pictured above), was mine at one time. Read: Barrel Series – Dr. Chandler's Jamaica Ginger Root Bitters. Story is, a very interesting fellow, named Sheldon Ray, who knew all the collectors, around 1978-1979, contacted me, and asked if I wanted a Chandlers that was full of contents, dried out, had a cracked label, with a sealed top. He drove to Bedford, my town, and said he was from, Louisiana and knew Tony Shank. Well, I purchased the bottle, for $3,000 dollars and decided to remove the label, that was distracting, open the top, pour out the bitters, and hope that there were no stains or interior haze. Lucky for me, the bottle was perfect. This Chandlers, Sheldon told me, was Charles Gardners, and had been purchased at the Gardner Auction.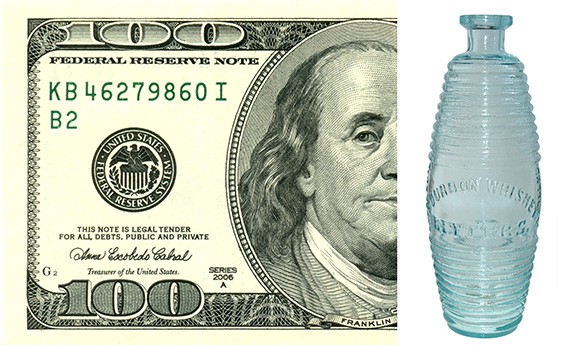 I sold it to Judge MacKenzie using half cash, and trading a vertical Greeley's Bourbon Whiskey Bitters in aqua (pictured above). I know that is my bottle you posted, or was, because of the long slender bubble on the left front of the upper neck. As you know, when you collect, each bottle has a unique blueprint, all different from the next.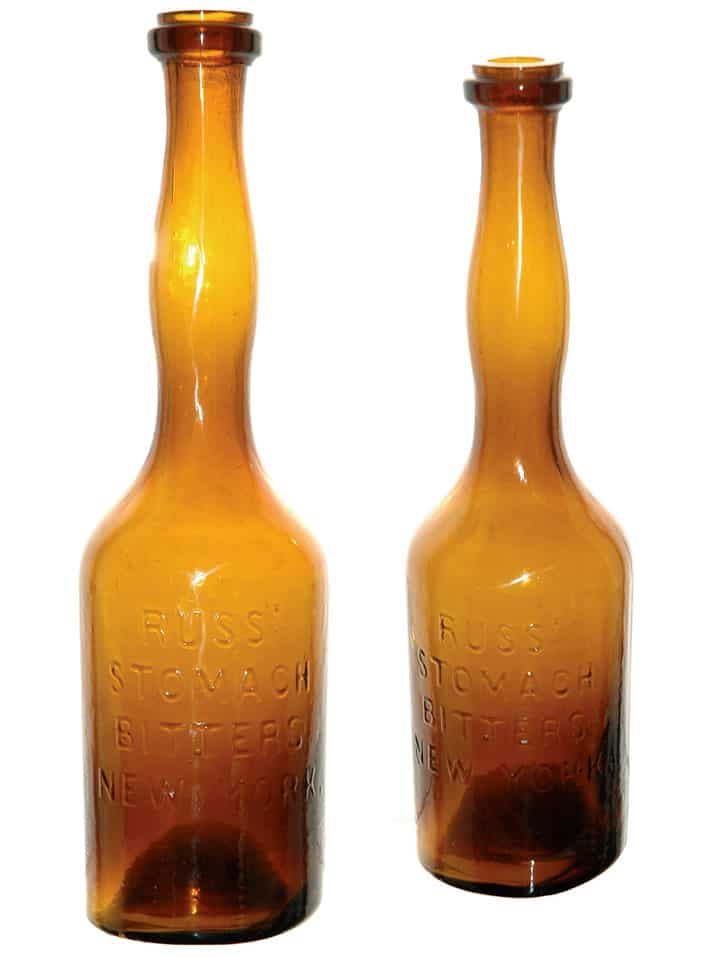 Second, a great story, involving old friends at the time. John Feldmann, from Long Island, called me about the Russ Stomach Bitters (Read: Russ' Stomach Bitters – A New York Lady's Leg), he dug, and priced it to me at $900 dollars, and said there was a small potstone crack, on the neck. If I remember correctly, it had a graphite pontil. He sent it, and I did not purchase it, and I sent it back to him. About two weeks later, Jim Whetzel, from Ardsley, where Jim's Bottle Shop was, called me and said "come in right away, I think I have something you might like." So, my Dad and I went on Sunday, and what did Jim have?, the Feldmann, Russ Stomach Bitters bottle! I could not believe it! I told Jim that John Feldmann offered it to me for $900, and I sent it back. After yelling at me, in disbelief, Jim convinced me to purchase it, now at $1,000 dollars. To conclude, I am pretty sure, I sold it to Kurczesky, as Frank had a green example also, plus he had some really nice bottles, including a Seaworth Bitters (example pictured below), and I think, a green Dingeons (example pictured below). I can go on and on…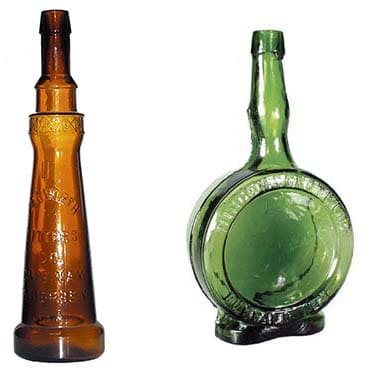 I dealt with Judge Blaske and his wife at a show in Pennsylvania, and purchased an aqua National Bitters, (figural ear of corn, example pictured below, and at the same show, Tony Shank, had a Bartos Great Gun Bitters in amber (example pictured below), slight upper interior haze, and gave it to Jim Hagenbuch to sell. Yes, I purchased that also. So enough said. I wrote this because I know as a collector, history and the changing of hands of these bottles is important. I now collect art from Provincetown artists where my family and I have been vacationing for the past 26 years. Best to you and family. I wish I had the money to collect bitters again, John Dente………..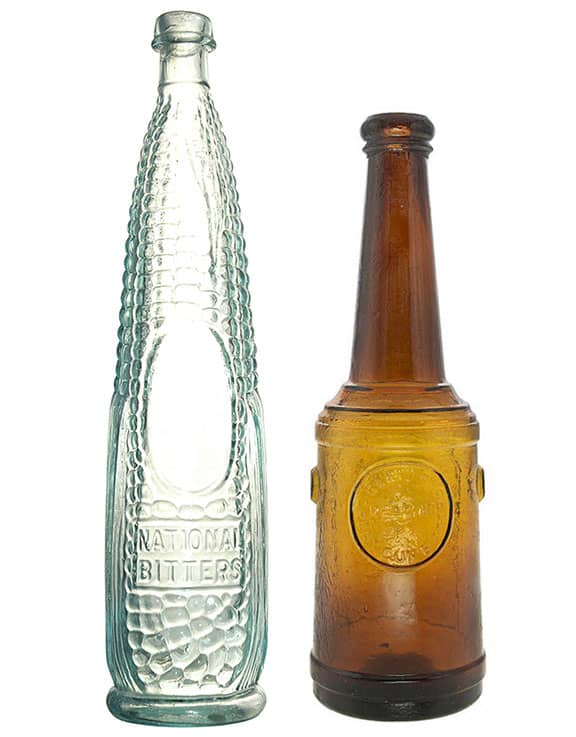 [Sunday, October 12, 2014, 10:50 am]
Ferdinand, after sending out the first e-mail, I started to think of all the days gone by. At that show I mentioned in Pennsylvania, I met Don Keating while I was walking around for the first time and Elvin Moody (Read: Elvin Moody Bottle Collection pictures surface!). He had on a table, I will never forget, a broken upper top and side of a Sol Franks Panacea Bitters (Read: Sol Frank's Panacea Bitters – Great Form) bottle (see example pictured below).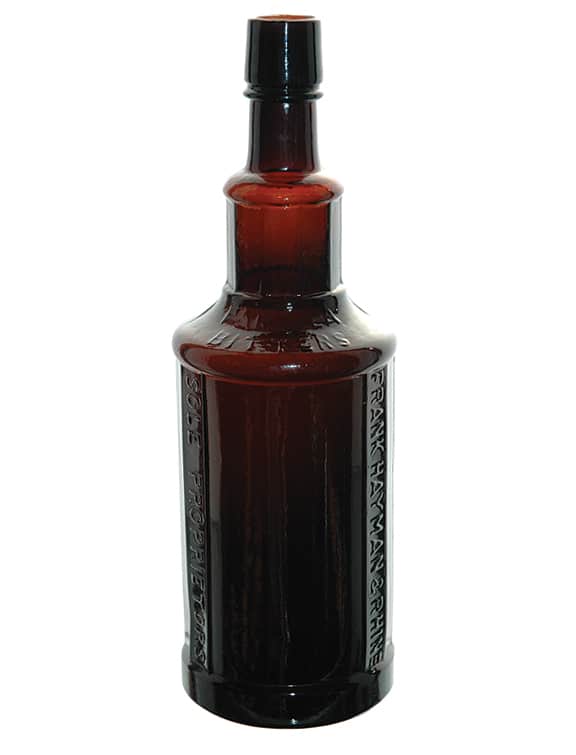 I do remember selling my Barto's Great Gun bitters to, Chris Batdorf. I think Chris was a school teacher. Here are some of the collectors I became friends with and purchased and sold to … Kit Barry, James Hagenbuch, John Feldmann, Tony Shank, Frank Kerzchesky, Jim Whetzel, Norm Heckler, Burton Spiller, Don Keating and I can not remember, there was a guy, my age at the time, who collected only green bitters, and had amazing bottles. I remember, when I spoke to him, he said he was sick. I think, kidney disease or failure. I think he lived in upstate New York and think Don Keating knew him. One bottle I purchased from Jim Hagenbuch, I drove and met him at the Delaware Water Gap, was The Best Bitters in America (Read: Is the Best Bitters in America the Best Bitters in America?)(see example pictured below). A real beautiful bottle in light amber. I was just thinking, and thought you might like some more bottle stories, and to conclude, the best thing about collecting anything, is the great people you meet along the way, always interesting, always great stories! – John Dente……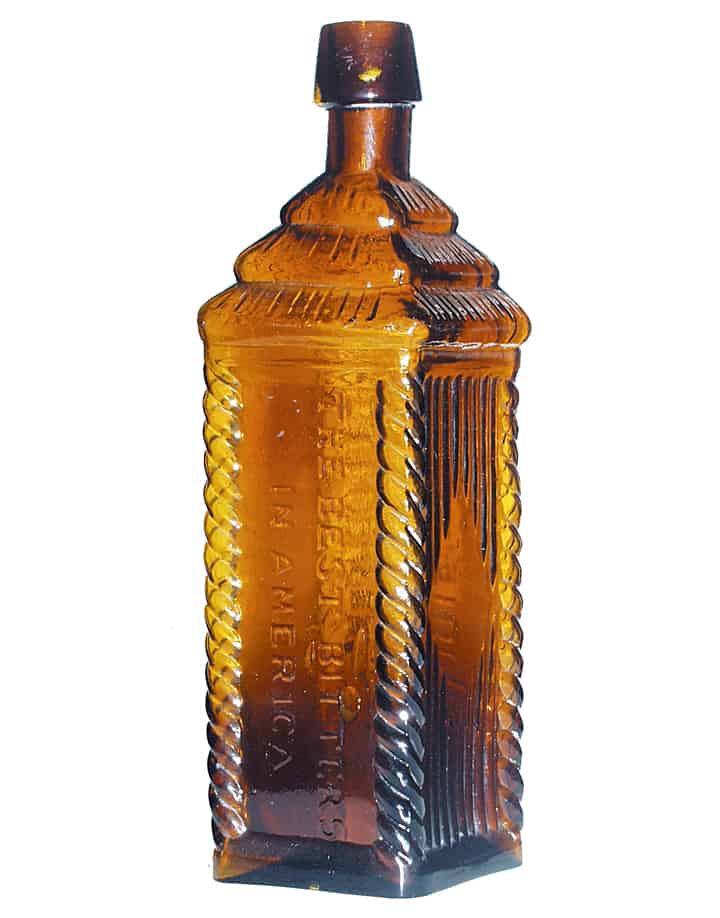 [Monday, October 13, 2014, 7:13 am]
Hi Ferdinand, you can post anything. You might want to re-write it a bit, as I am a lousy writer. One more add-on to the Hagenbuch meeting at the Watergap. Jim sold me the Best Bitters in America, as I said. I also purchased Frank Kurczeskys, Old Homestead Wild Cherry Bitters (Read: Log Cabin Series – Old Homestead Wild Cherry Bitters) with an annealing crack in the applied top. The color was a medium shade of puce that leaned toward strawberry (see example picture below). It was a beautiful bottle, and one Frank talked to me about the most. Also, Jim had a Dingeons Napoleon Bitters with an annealing crack, and already owning one, I passed. I remember, after further thought, Frank purchased the aqua National Bitters (corn) from me. I think Jim had the start of the Kurczcesky collection breakup in his van.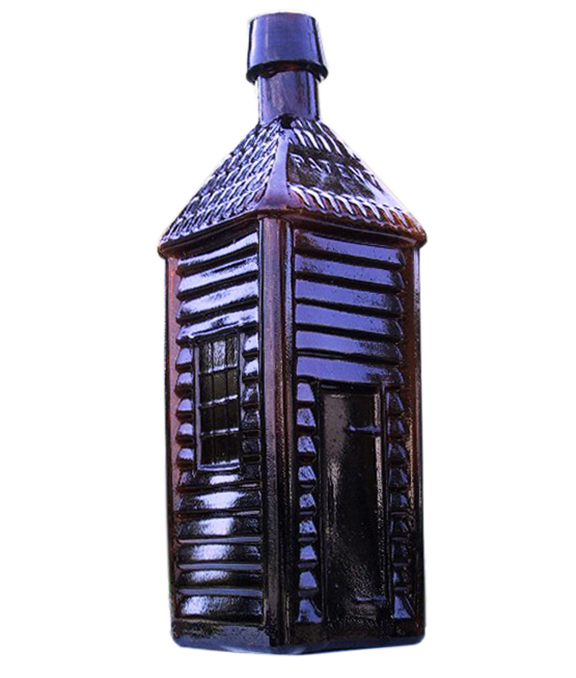 One more note: Jim also showed me, a Halls Bitters barrel (read: Figural Barrel Series – Hall's Bitters), not the regular one, the one that was a mold like a Greeley's or Old Sachem Bitters and Wigwam Tonic as it had rings (see example pictured below). It was sort of a smoky, orange amber and I had never seen this before. It was reserved for someone else so I could not buy it, or I would have. I have a feeling this bottle went to Carlyn Ring, as her picture in the bottle book looks the same and it looks like the one I saw with Jim Hagenbuch. Good Memoiries… Hope my small circle of collecting recollections, brings others to fill in the gaps, as far as, where did the bottle come from. Thanks for the reply. John Dente…..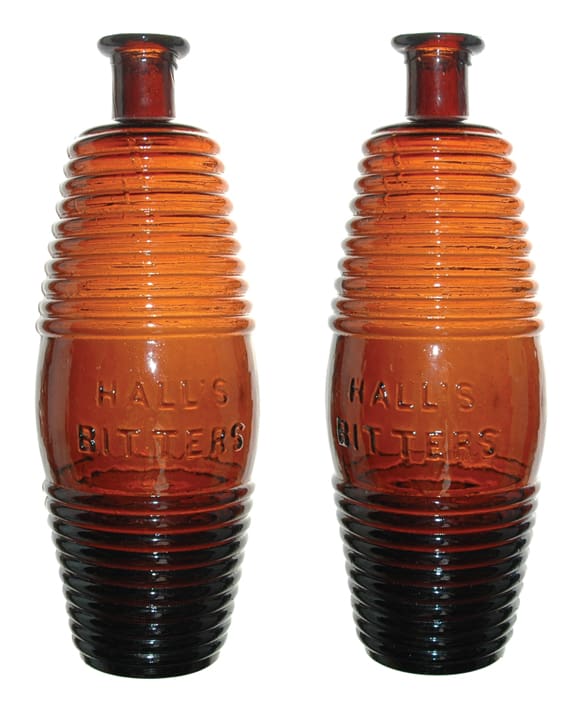 [Sunday, October 19, 2014, 5:35 pm]
Ferdinand, one final memory concerning Jim Whetzel. Jim, was a huge poison bottle collector and displayed his collection in his shop in Ardsley, New York. He had from what I could see, and he told me, "just about every poison bottle out there including the three rare figural skulls (see examples pictured below). When he passed he left the poison collection to his niece Lenore. She was also his assistant. Those of us he knew got a special invite to purchase any and all remaining bottles and cases in the store. My dad and I went, no bitters for me, but what beautiful, rare colored sunburst, scroll, Pitkins and Washington flasks, and more. I was not into anything but Bitters so I did not purchase any bottles. Just another memory gone by. Take care, John Dente……