Comus Stomach Bitters – Crescent City
01 December 2014

The four "C's". I guess I could have said NOLA or New Orleans but"Comus", "Clerc" and "Crescent City" roll off the tongue a little easier. I suppose many of you bitters collectors have seen or heard of the Comus Stomach Bitters presently on eBay. The Sole Proprietor is Clerc Brothers & Company, Limited, New Orleans, Louisiana. The eBay seller, cockerell4141, calls out the following, "Up for auction from the collection of an advanced bottle collector is this fabulous condition Clerc Brothers & Co Limited Sole Proprietors New Orleans, LA–COMUS Stomach Bitters. This minty bottle looks absolutely wet and I see no chips, cracks, or stains. This bottle does have bubbles in the hand blown glass. The bottom features a two-inch indentation." The top pictures have been modified in Photoshop to remove the background.
This eBay example could be an unlisted variant according to Bill Ham, co-author, with Carlyn Ring, of Bitters Bottles and Bitters Bottles Supplement. Their listings in Bitters Bottles for two previous known examples is as follows:
C 212

 COMUS STOMACH BITTERS
COMUS / STOMACH BITTERS // CLERC BROS.
9 x 2 3/4 (6 1/2) 1/4
Square, Amber, LTC, Tooled Lip, Scarce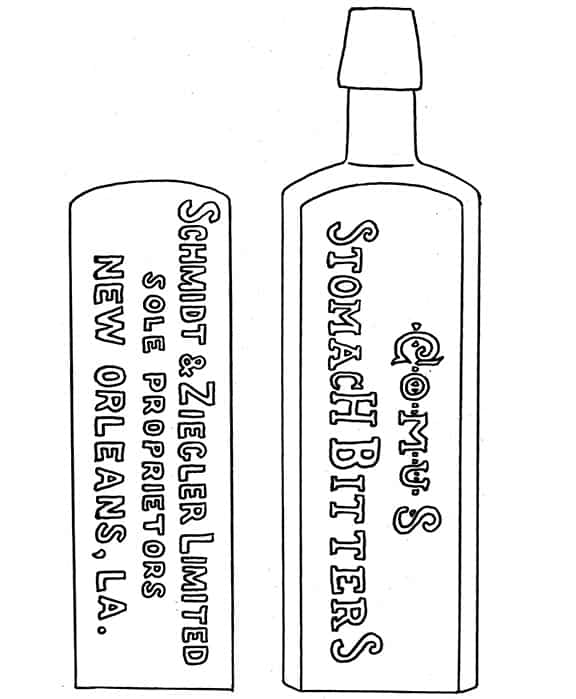 C 213

 COMUS STOMACH BITTERS
COMUS / STOMACH BITTERS / // f // SCHMIDT & ZIEGLER LIMITED / SOLE PROPRIETORS / NEW ORLEANS, LA. // f //
9 x 2 3/4 (6 1/2) 1/4
Square, Amber, LTC, Extremely rare
Schmidt and Ziegler were grocers
*

1875-94

*actually 1845

It is entirely possible that the C 212 listing in Bitters Bottles may have been light in information and that this example on eBay is a C 212. We will wait for Bill Ham to decide.
Comus
Wikipedia says that in Greek mythology, a Comus is the god of festivity, revels and nocturnal dalliances. He is a son and a cup-bearer of the god Bacchus. Comus represents anarchy and chaos. His mythology occurs in the later times of antiquity. During his festivals in Ancient Greece, men and women exchanged clothes. He was depicted as a young man on the point of unconsciousness from drink. He had a wreath of flowers on his head and carried a torch that was in the process of being dropped. Unlike the purely carnal Pan or purely intoxicated Dionysos, Comus was a god of excess. This makes perfect sense for the name of a New Orleans bitters.
Smith & Ziegler
Smith & Ziegler were prominent wholesale grocers, and importers of wines and liquors in New Orleans whose business spanned almost 50 years. The partnership was formed in 1845 by William B. Smith and Francis Michael Ziegler, both Germans. The business constantly grew until it was one of the largest wholesale grocery concerns in the South with trade occurring throughout most parts of the United States, Central and South America and Europe. Schmidt and Ziegler met in New Orleans in 1843 and put together an idea for a grocery store. Schmidt contributed $100 while Ziegler contributed $300. Their grocery store opened on November 5, 1845 on the levee (now Decatur Street), near the French Market. The business prospered, and by 1865, they opened a wholesale grocery in newer and larger quarters at the corner of South Peters and Gravier street. Four years later they built their own building with a sign that read, Schmidt & Ziegler, Ltd. The firm weathered all of the turmoil of the Mexican War and Civil War and had great credit to allow them to grow and prosper.
William B. Schmidt
William B. Schmidt was born in Schwierberdingen, which is a village of Wurtemburg, Germany in 1823. When he was 15 years old he came to New Orleans and stayed his entire life. In 1845, he formed a partnership with Francis Michael Ziegler who married his sister. They both entered the wholesale grocery business as Schmidt & Ziegler. Later in life, at the time of his death on 16 June 1901, Schmidt was vice-president of the Louisiana Planter and Sugary Manufacturing Company as well as holding many other positions of significant importance in business and civic roles.
Francis Michael Ziegler
Francis Michael Ziegler was the partner of William B. Schmidt at Schmidt & Ziegler. Ziegler was born in Oberndorf-on-the-Neckar, Wurtemburg in 1818. In 1839, at the ripe young age of twenty-one years old, he came to United States arriving in New York City. Soon after his arrival he moved to Germantown, Pennsylvania where he was employed until 1841. He then headed south to New Orleans down the Ohio and Mississippi Rivers on steamboat. He first works at the wine and liquor house of Charles E. Alter. In 1843 he meets William B. Schmidt and the two men join in partnership.
The Clerc Brothers & Company, Limited
Brothers Albert Peter Clerc and Rene F. Clerc were both born in New Iberia, Louisiana in 1871 and 1874 respectively. Albert was in the hat business and was also a very successful traveling salesman for a grocer in the South. Rene F. Clerc was also a successful traveling salesman for Albert Mackie Grocery Company. Rene then moved on to work for Schmidt & Ziegler. With Smith & Ziegler finally shutting their doors after 50 years of grocery business, the two brothers and Andrew Gildaud form Clerc Bros. & Co. Limited on 01 May 1897. They are addressed at 400 Tchoupitoulas street in New Orleans and only last two or three years. This is when the Clerc Brothers Comus Stomach Bitters, the bottle on eBay, is put out. Rather late for a bitters bottle. It follows the exact form and embossing of the Schmidt & Ziegler Comus Stomach Bitters which was probably made in the late 1880s or early 1990s. Both are very rare to extremely rare bottles. I can not find any advertising for the brand.
Select Listings:
1818: Francis Michael Ziegler born in Oberndorf-on-the-Neckar, Wurtemburg.
1823: William B. Schmidt born in Schwierberdingen a village of Wurtemburg.
1845: Schmidt and Ziegler, grocers established in 1845.
1871: Albert Peter Clerc born in New Iberia, Louisiana
1874: Rene F. Clerc born in New Iberia, Louisiana
1873: Residence of William Schmidt (see below), Coliseum Street, from Jewel's Crescent City Illustrated, 1873
1890-1891: Albert P. Clerc, clerk, R. E. Lee Hat Store, H. & U. Laroussini, jr., 50 Louis street – New Orleans, Louisiana City Directory
1895: Albert P. Clerc, travel agent, Laudaner & Meyer, 422 Canal – New Orleans, Louisiana City Directory
1895: Rene F. Clerc, travel agent, Albert Mackie, 535 Magazine – New Orleans, Louisiana City Directory
1897: Clerc Bros. & Co. formed on 01 May 1897 by Albert P. Clerc, Rene F. Clerc and Andrew Gildaud
1900: Clerc Bros. & Co., 400 Tchoupitoulas street, New Orleans – The Commercial Year Book, 1900
1906-1912: Albert P. Clerc, clerk, Jaubert Bros., 200 Magazine – New Orleans, Louisiana City Directory
1906-1907: Rene F. Clerc, vice pres., Schmidt & Ziegler, Ltd., 432 S. Peters – New Orleans, Louisiana City Directory
1912: Rene F. Clerc, manfrs agt, 323 Board of Trade pl – New Orleans, Louisiana City Director
1915: Albert P. Clerc death on April 23, 1915 in New Orleans