Nicholas Longworth – Catawba Wine Bitters
Cincinnati, Ohio
02 March 2019

Nicholas Longworth was an influential figure in the early history of American wine, producing sparkling Catawba wine from grapes grown in his Ohio River Valley vineyard on hills north of Cincinnati. He was also responsible for Catawba Wine Bitters, and the bottles embossed with the cluster of grapes. Highly desirable to collectors.
The Carlyn Ring and W.C. Ham listing in Bitters Bottles is as follows. The listing may want to be updated.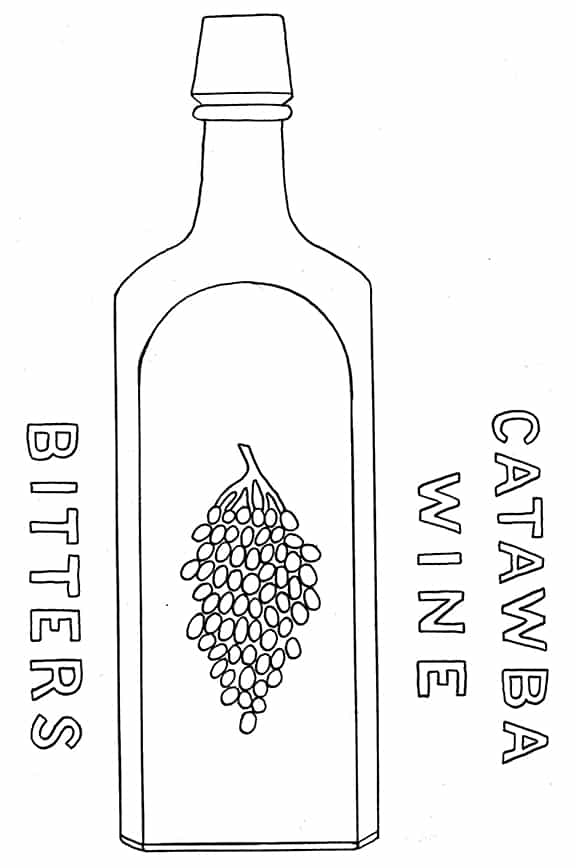 C 85  Catawba Wine Bitters
CATAWBA / WINE // motif bunch of grapes // BITTERS // motif bunch of grapes //
P.H. Drake & Co. New York Depot 53, 55 & 57 Park Place New York
9 3/8 x 2 3/8 (6 3/4) 1/4
Square, LTC & LTCR, Applied mouth, Green with and without Metallic pontil mark – Rare;
Amber and Puce and without Metallic pontil mark – Extremely rare

Nicholas Longworth
Nicholas Longworth was the founder of the prominent Longworth family in Ohio and considered the first millionaire in Cincinnati. He was also known as the "Father of the American Grape Culture." Among his many other attributes, Longworth was an attorney, banker, merchant, horticulturalist, abolitionist, author, and an art collector.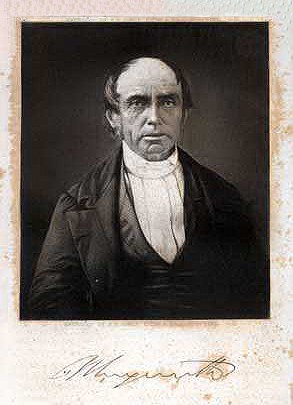 Nicholas Longworth was born on January 16, 1783 in Newark, New Jersey. His mother was Apphia Davis Vanderpoel. His father, Thomas Longworth was a Tory or Loyalist who were American colonists who stayed loyal to the British Crown during the American Revolutionary War. Their very existence was complicated as every British Functionary who refused to betray the trust placed in him was consider a traitor by the Patriots.
By the time Nicholas was born, fines and property confiscations had depleted the family funds. This left young Nicholas with an early life of comparative poverty. Thinking ahead, it was decided to teach Nicholas a trade and give him an opportunity to work with either of his two elder brothers, Joseph and Archibald. One had gone north and the other south. Nicholas chose to move to South Carolina for a brief period where he was a clerk in his elder brothers store. It was said that a careful inventory of young Nicholas' belongings when he set forth to cross the Alleghenies was, "Six coats, black and blue; one dozen plain and fancy waistcoats; four pairs of silk and eight woolen breeches, six dozen plain and ruffled shirts; and a like number of hose and handerchiefs with cravats."
"Six coats, black and blue; one dozen plain and fancy waistcoats; four pairs of silk and eight woolen breeches, six dozen plain and ruffled shirts; and a like number of hose and handerchiefs with cravats."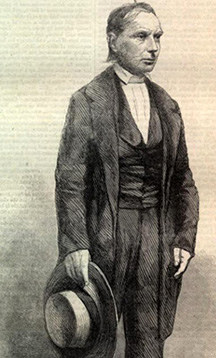 After a spell, Longworth would leave South Carolina, arriving in Cincinnati, Ohio in 1803. Cincinnati at this point was just a burgeoning town and soon to be a city. 1803 was also the same year Ohio was granted statehood. There, he married Susanna Conner, née Howell, three years his junior who was the daughter of Silas and Hannah (Vaughan) Howell, on Christmas Eve, 1807.
Longworth was a little man, and eccentric in dress, speech, and manner. He was also strong-willed and successful, so that he could afford to do as he wished. Longworth, even with all his interests, was never a political candidate nor held any political office. He was also not a faithful member of any religious organization. Grape-growing would soon dominate his life.
Longworth first studied law under Judge Jacob Burnet, a well-known lawyer of great standing. Burnet was a member of the Territorial councils of Ohio from 1799–1802 and served in the Ohio State House from 1814–1816. He was considered the 'father of the Ohio constitution' and was an associate justice of the Ohio Supreme Court from 1821 until his resignation in 1828 to serve as United States Senator.
Even without a formal education, Longworth studied hard and applied himself and was admitted to the bar in Ohio. He practiced as an attorney until 1819 in Cincinnati while buying large tracts of land. He next ventured into real estate, flipping property as his real estate dealings proved more lucrative than law. The property that he bought for a song all those years was now worth millions, and Longworth joined John Jacob Astor as one of the two largest taxpayers in the United States.
Believing Cincinnati to be an ideal location for grape cultivation, Longworth established viticulture as a successful venture on the hills adjoining the city. Along the main highway from east to west during the period of early settlement, Ohio had inevitably seen repeated trials of viticulture, suggested by the combination of southward-facing slopes and broad waters. Longworth would finally make it work.
Planting hundreds of acres and building a large wine-house, Longworth started his vineyards in 1813 and by 1820 became more serious about producing wine that would be a commercial success. At first, he was using foreign vines exclusively and was somewhat unsuccessful until 1828, when he introduced native vines or their seedlings and produced, from the Catawba, and Isabella grape, a wine of a high marketable value. He was also well-known for his experiments with strawberries and published "Buchanan's Treatise on the Grape, with an Appendix on Strawberry Culture" in 1856.
Besides being a pioneer and leading horticultural expert in his section, Longworth was recognized as an authority in national horticultural matters. His writings, though individually short and now out of date, exercised a wide influence in his day. He might be compared to Isidor Bush who put out Missouri IXL Bitters.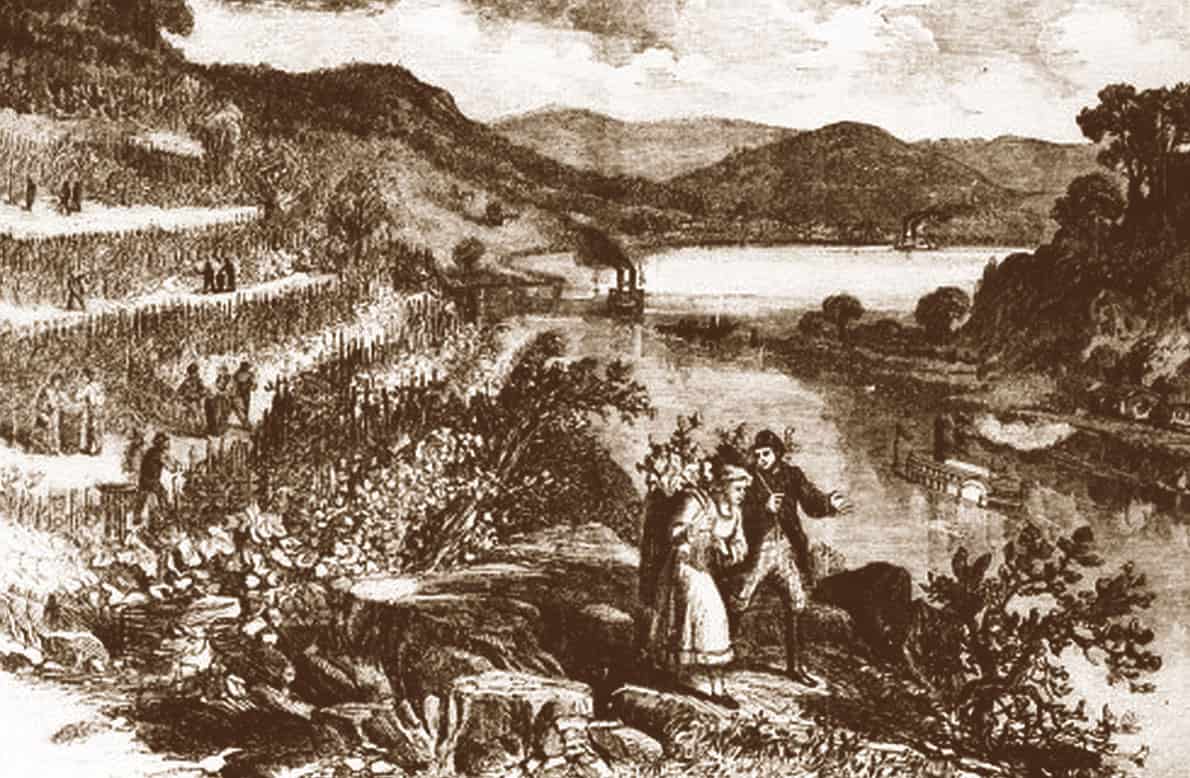 Longworth planted a vineyard of Catawba on the Mount Adams hillside and began making a sparkling wine from the grapes using the traditional method used in Champagne. From the 1830s through the 1850s, Longworth's sparkling Catawba was being distributed from California to Europe where it received numerous press accolades. He was then producing 100,000 bottles of sparkling Catawba a year and advertising nationally. In the 1850s, a journalist from The Illustrated London News noted that the still white Catawba compared favorably to the hock wines of the Rhine and the sparkling Catawba "transcends the Champagnes of France." The illustration above represents the Longworth vineyard from the Harper's Weekly, 24 July 1858.
In the mid-1850s, Longworth sent a case to American poet, Henry Wadsworth Longfellow, then living in New York City, who wrote a poem dedicated to Nicholas Longworth titled 'Ode to Catawba Wine.'
This song of mine
Is a song of the Vine
To be sung by the glowing embers
Of wayside inns,
When the rain begins
To darken the drear Novembers.
It is not a song
Of the Scuppernong,
From warm Carolinian valleys,
Nor the Isabel
And the Muscadel
That bask in our garden alleys.
Nor the red Mustang,
Whose clusters hang
O'er the waves of the Colorado,
And the fiery flood
Of whose purple blood
Has a dash of Spanish bravado.
For the richest and best
Is the wine of the West,
That grows by the Beautiful River,
Whose sweet perfume
Fills all the room
With a benison on the giver.
And as hollow trees
Are the haunts of bees,
Forever going and coming;
So this crystal hive
Is all alive
With a swarming and buzzing
and humming.
Very good in its way
Is the Verzenay,
Or the Sillery soft and creamy;
But Catawba wine
has a taste more divine,
More dulcet, delicious and dreamy.
There grows no vine
By the haunted Rhine,
By Danube or Quadalquivir,
Nor on island or cape,
That bears such a grape
As grows by the Beautiful River.
Drugged is their juice
For foreign use,
When shipped o'er
the reeling Atlantic,
To rack our brains
With the fever pains,
That have driven the
Old World Frantic.
To the sewers and sinks
With all such drinks,
And after them tumble the mixer,
For a poison malign
Is such Borgia wine,
Or at best but a Devil's elixir.
While pure as a spring
Is the wine I sing,
And to praise it,
one needs but name it;
For Catawba wine
Has need of no sign,
No tavern-bush to proclaim it.
And this Song of the Vine,
This greeting of mine,
The winds and the birds shall deliver
To the Queen of the West,
In her garlands dressed,
On the banks of the Beautiful River.
The growing tide of German immigrants coming down the Ohio Valley to Cincinnati liked his wine. Longworth had found a lucrative market and the new German immigrants wanted an affordable, drinkable table wine to continue with the traditions of their homeland, so he enjoyed a virtual monopoly. By this time, Longworth would become one of the wealthiest people in the United States.
A visit to one of Nicholas Longworth's wine cellars in 1851 revealed 75,000 bottles of sparkling Catawba, and 40,000 or so gallons of wine in casks varying from 40 to 50 gallons each. The cellar was 120 feet long, 40 feet wide and 40 feet deep. Longworth was preparing to double in size his capacity the following spring.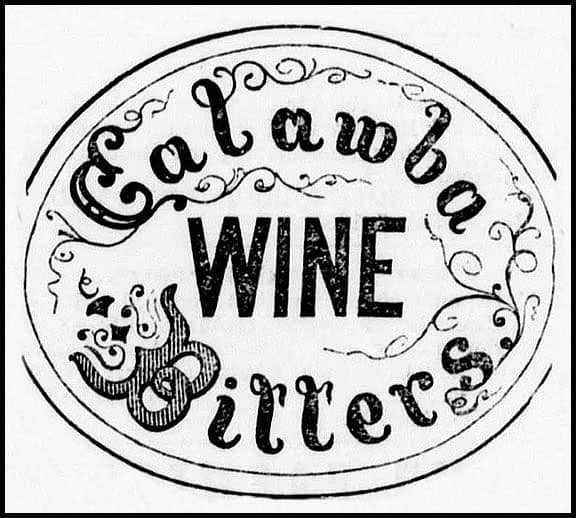 In 1853, Nicholas Longworth partnered with Caspar Zimmermann (Longworth & Zimmermann) to sell the Longworth wines wholesale. They were located at 177 Sycamore in Cincinnati. Anthony, John and Phillip Zimmermann were also part of the business according to a listing in a Cincinnati directory that year. By 1858, the enterprise was called Zimmerman & Co. and was being run by John, Phillip and Anthony Zimmermann. Their 'chemical laboratory' was located on the north side of 6th between Freeman and Canal. You see, Longworth wanted to jump on the profitable bitters bandwagon so he needed a partner and laboratory reference so he could call his product a medicine.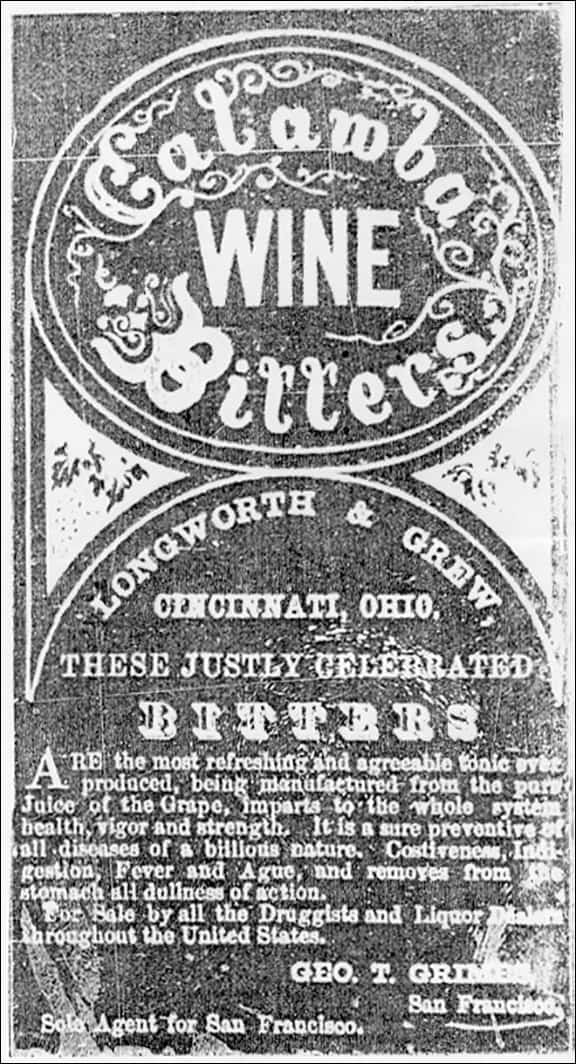 In 1859, the first advertisement for Cordial Catawba Bitters was found in a Buffalo, New York newspaper. The bitters was noted for Pharmaceutical and Medicinal Purpose and was being manufactured pure, by Zimmermann & Co., Manufacturing Chemists of Cincinnati, Ohio. They were noted as the successors to Longworth & Zimmermann. By this time, Longworth was fading due to health issues. Longworth's Catawba Bitters was said to be made from pure Catawba Brandy and warranted to cure the worst cases of Dysentery and Diarrhoea. The ads many times were directed to Civil War soldiers as a remedy for change of climate and fatigue.
There is another Catawba Wine Bitters advertisement for Longworth & Grew, Cincinnati, Ohio noting that George T. Grimes as the Sole Agent in San Francisco. This is puzzling with all the Zimmermann references as there is no reference to a "Grew" in Cincinnati directories who might fit the bill. There is however a J. & B.L. "Crew" noted as grocers on the southwest corner of 3rd and Elm (J. Crew and B. L. Crew) in Cincinnati, Ohio in 1860. This is more likely the reference in the advertisement above.
Another advertisement in 1859 states that J. C. Spalding was selling, from the cargo of the American ship Josiah Bradley, 100 cases of London Jockey Club House Gin and 50 cases Catawba Wine Bitters in Hawaii. So, if you are a digger, and are looking for pontiled examples, might I suggest you head to Buffalo or Honolulu. We see the last advertisements for Catawba Wine Bitters in 1865 in the Black Hawk Daily Mining Journal where cases of the bitters were being sold by J. P. Henry.
I would like to add that I can not say with 100% certainty that the Catawba Wine Bitters bottles that I have associated with Nicholas Longworth are correct but I am pretty darn sure. We will just have to wait until a labeled example is found.
The popularity of Longworth's wine encouraged a flurry of plantings along the Ohio River Valley and up north to Lake Erie and Finger Lakes region of New York. Longworth would also encourage artists to paint scenes of the Ohio River Valley, and the Ohio River Valley Wine Trail (formerly the Nicholas Longworth Wine Trail), in Southwest Ohio.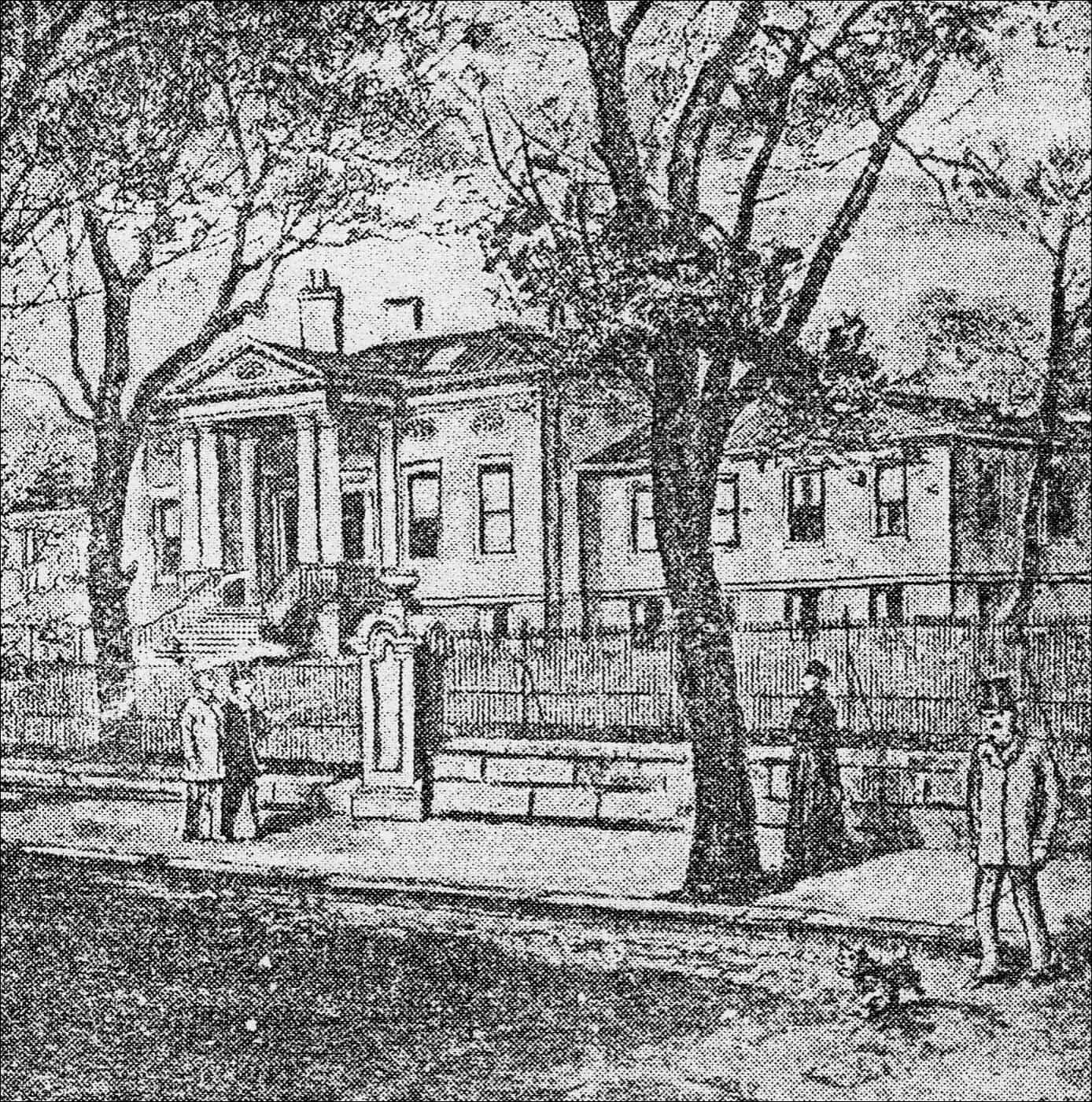 In Cincinnati, the Taft Museum of Art on Pike Street now occupies the former residence of Nicholas Longworth. Considered a National Historic Landmark built around 1820 for prominent businessman Martin Baum, it is the oldest domestic wooden structure and is considered one of the finest examples of Federal architecture in the Palladian style in the country. Longworth, during his habitation of the mansion hired African American painter Robert S. Duncanson to paint landscape murals in the foyer, now considered as one of the finest suites of domestic murals dating from before the Civil War. Longworth supported Duncanson, America's first famous black artist, as a mentor and financed the artist's trip to Europe where he sold paintings to the Queen of England and other dignitaries. Landscape with Rainbow, 1859 is represented below.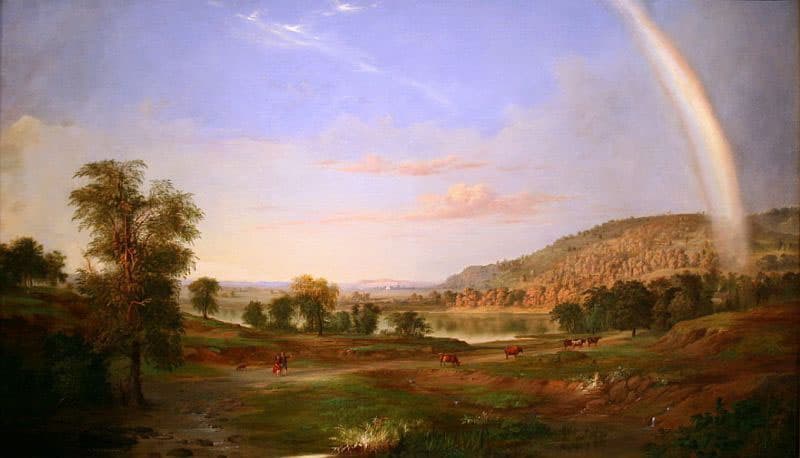 With his success in wine making, Longworth participated in charitable giving throughout Cincinnati, including a noteworthy donation to the land which the Cincinnati Observatory is built on. He was kindly but eccentric and gave much money to what he called the "Devils Poor."
Longworth was also the great-grandfather of U.S. Congressman Nicholas Longworth IV (a United States House of Representatives from Ohio), and the grandfather of Civil War Union General Nicholas Longworth Anderson.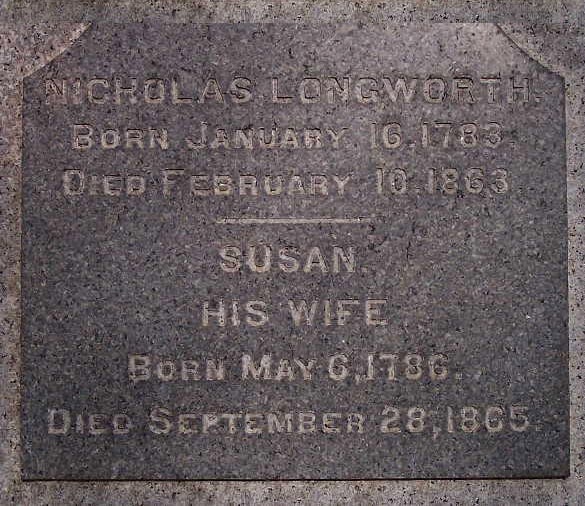 Nicholas Longworth would die on February 10, 1863 at the age of 80. At his death, his property was valued between $12 and $15 million dollars.
Gallery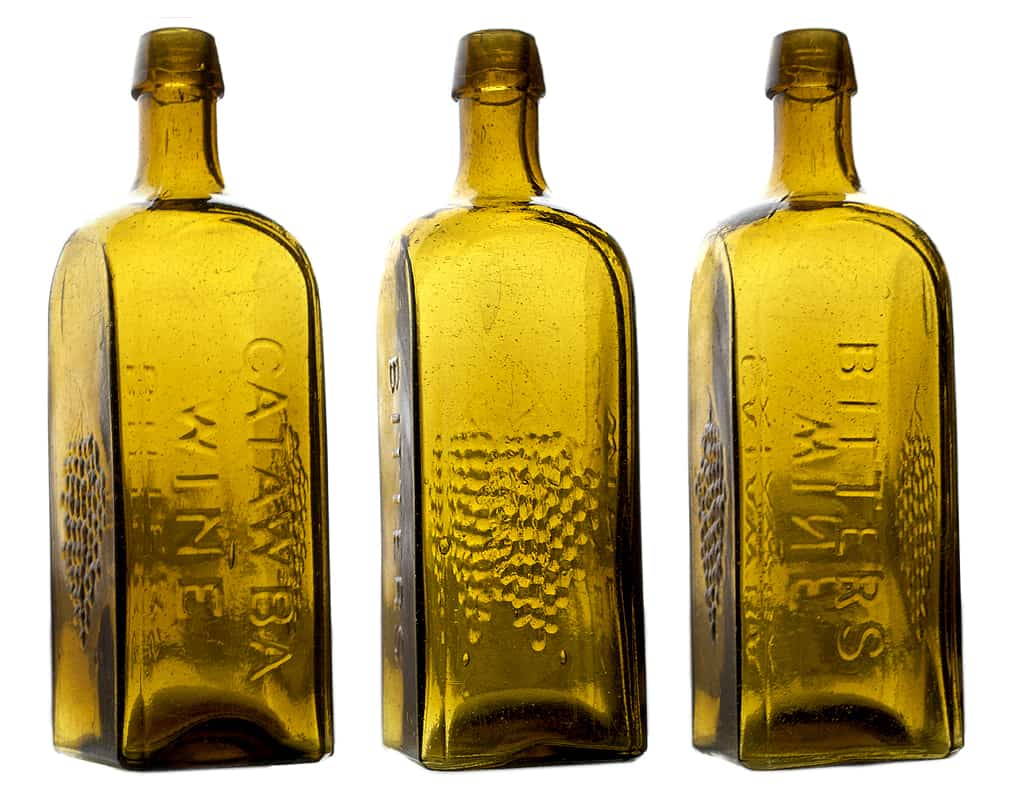 The Cincinnati Grape Varieties
The Planters Banner, Thursday, August 11, 1853

Select Listings:
1783:

Nicholas Longworth I, Birth Date: 16 Jan 1783, Birth Place: Newark, Essex County, New Jersey – U.S., Find A Grave Index, 1600s-Current
1830:

Nicholas Longworth, Home in 1830: Cincinnati Ward 3, Hamilton, Ohio – 1830 United States Federal Census
1840:

Nicholas Longworth, Home in 1840: Cincinnati Ward 1, Hamilton, Ohio – 1840 United States Federal Census
1850:

Nicholas Longworth, Age: 67, Birth Year: abt 1783, Birthplace: New Jersey, Home in 1850: Cincinnati Ward 1, Hamilton, Ohio, Value of Real Estate: $2,000,000, Household Members: Nicholas Longworth 67, Susan Longworth 64, Eliza Longworth 33, John L Stetenous 18, Thomas D Carneal 64, Sallie Burk 30, Margarete, Hutchison 45, Mary Jones 25, Eliza Jones 22, Elia Durary 25 – 1850 United States Federal Census
1851:

Newspaper notice (below) Visit to N. Longworth's wine cellars – The Sunbury Gazette, Saturday, November 29, 1851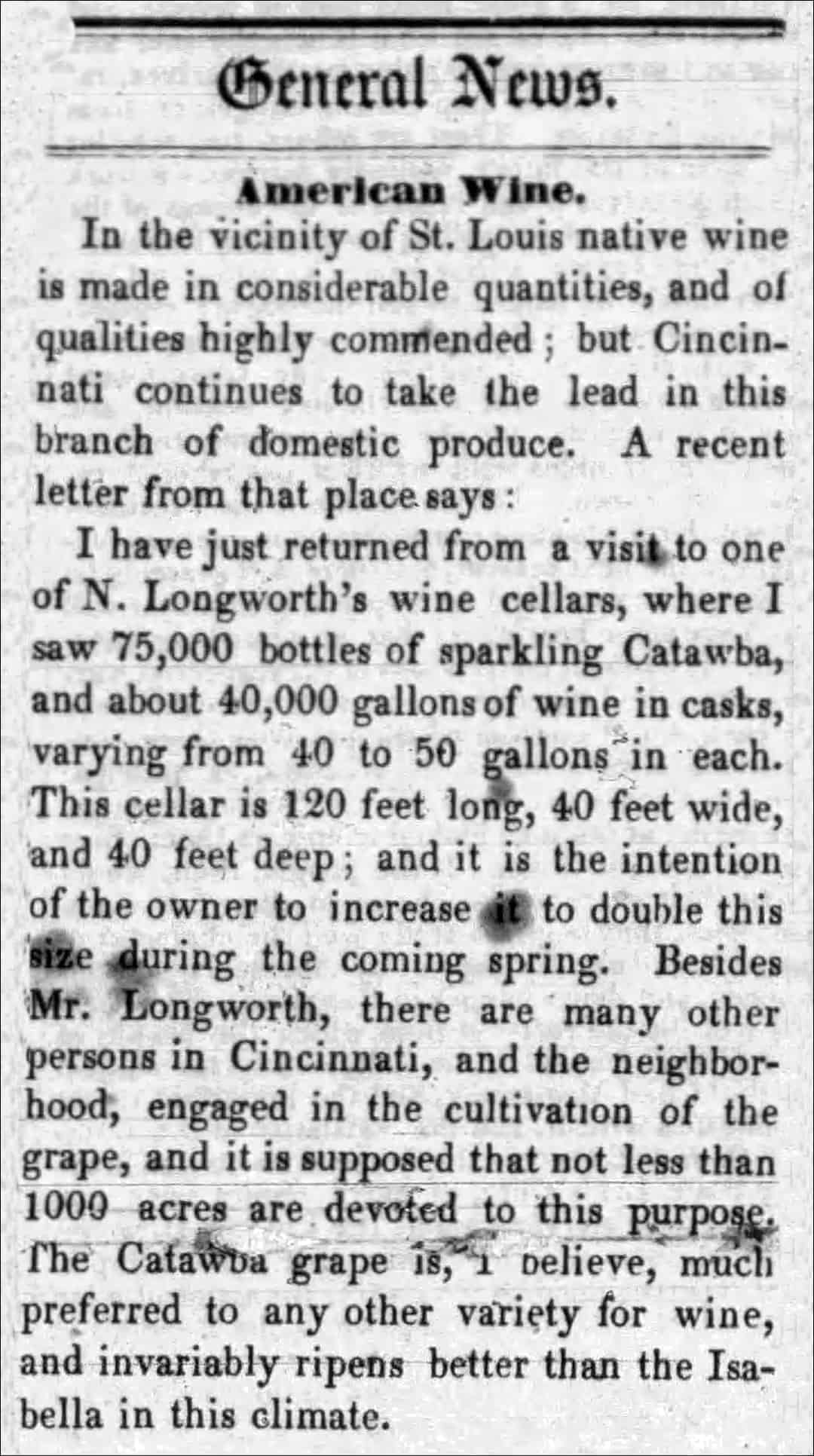 1853:

Longworth & Zimmerman (Nicholas Longworth and Caspar Zimmermann) (also Anthony, John & Phillip Zimmermann), wholesale wine dealers, 177 Sycamore, Cincinnati, Ohio – 

Williams Directory Company

, 1853
1858:

 Zimmerman & Co. (John, Phillip & Anthony Zimmermann), chemical laboratory, n.s. 6th b. Freeman and Canal, Cincinnati, Ohio – 

Williams Directory Company

, 1858
1858:

 A menu from the Gibson House, Cincinnati, dated 15 November 1856. Sparkling Catawba from the local vineyards is listed on the same terms as some distinguished grandes marques  from Champagne; so, too, among the "Hocks," one finds "Buchanan's Catawba" listed along with Marcobrunner and Rudesheimer. – California State University, Fresno, Library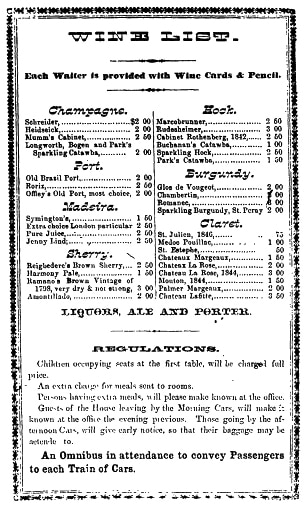 1859:

Newspaper advertisement (below) Cordial Catawba Bitters for Pharmaceutical and Medicinal Purposes, Manufactured Pure, by Zimmermann & Co., Manufacturing Chemists of Cincinnati, O. And Successors to Longworth & Zimmermann – Buffalo Courier, Monday, July 11, 1859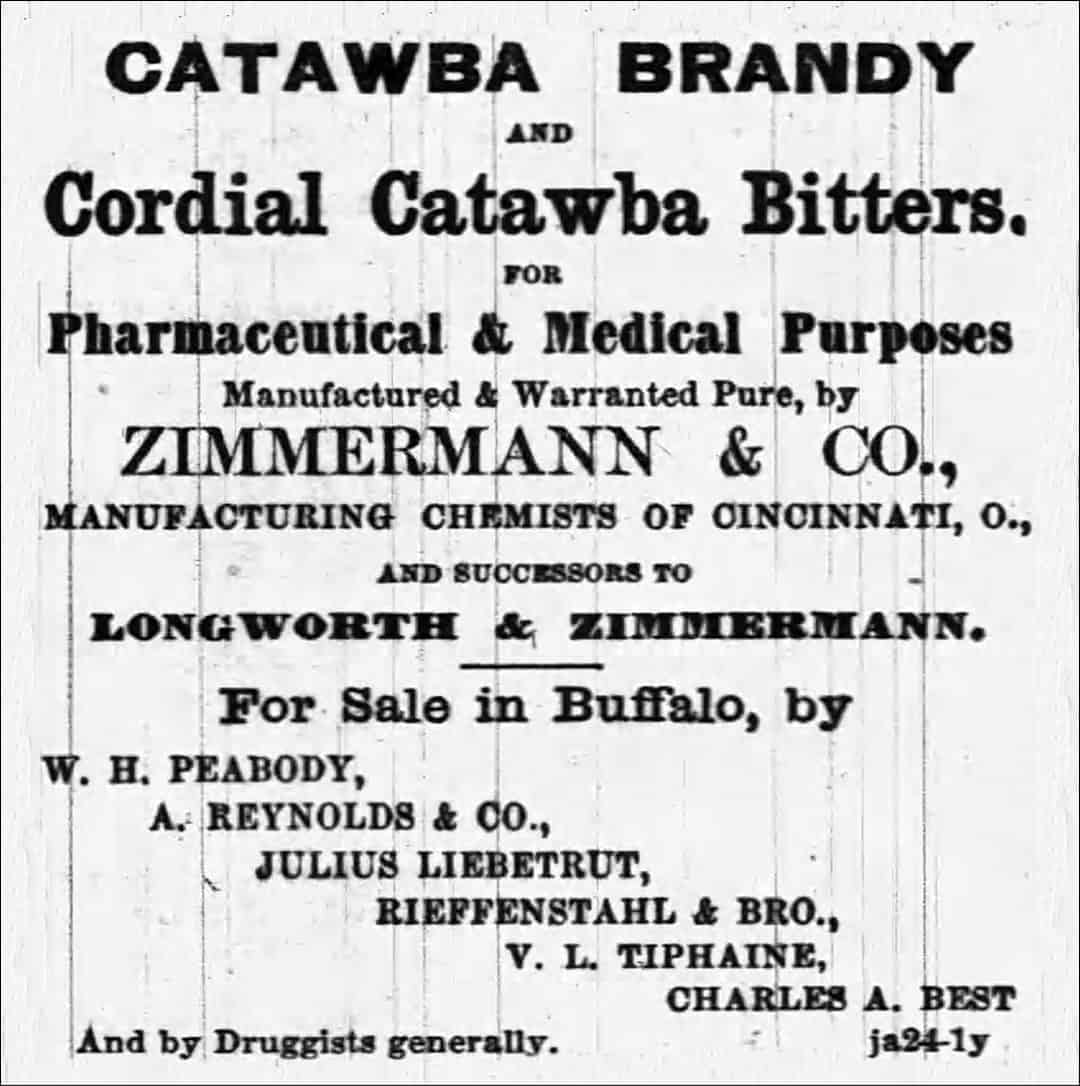 1859:

Newspaper advertisement (below) J.C. Spalding selling from the cargo of the American ship Josiah Bradley 100 cases London Jockey club house gin and 50 cases Catawba wine bitters – The Pacific Commercial Advertiser (Hawaii), Wednesday, September 28, 1859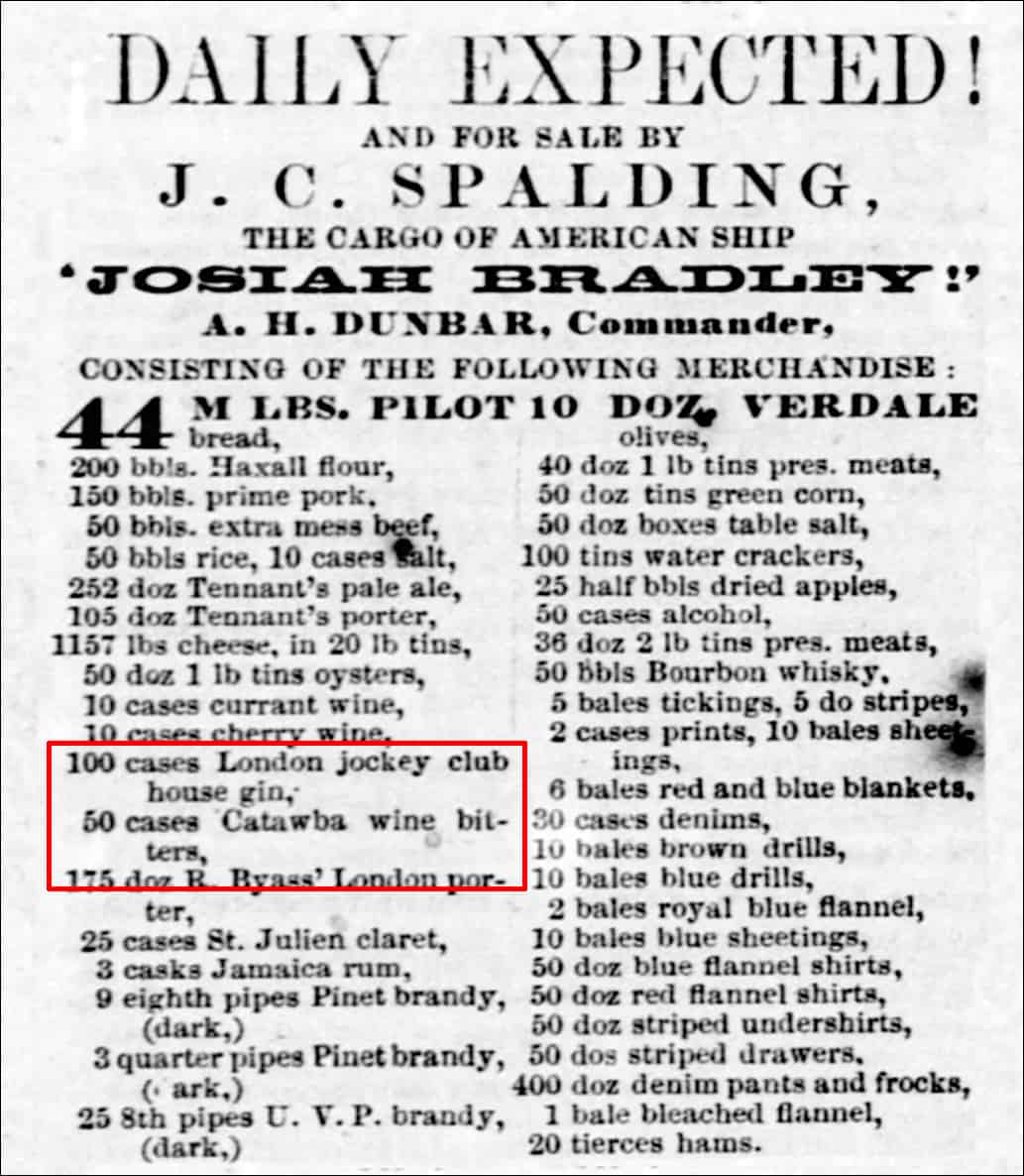 1860:

Nicholas Longworth, Age: 78, Birth Year: abt 1782, Birth Place: New Jersey, Home in 1860: Cincinnati Ward 1, Hamilton, Ohio, Post Office: Cincinnati, Dwelling Number: 470, Family Number: 773, Real Estate Value: $1,500,000, Personal Estate Value: $200,000, Household Members: Nicholas Longworth 78, Susan Longworth 73, John L Stettimers 27, Mary L Stettimers 24, Eloise Stettimers 3, Henry O Stettimers 1, Margret Hidson 45, Bridgt Odonnell 20, Johanna Nolan 19, Christopher Stemfelt 22 – 1860 United States Federal Census
1860:

P Zimmermann, Wine Merchant, Age: 33, Birth Year: abt 1827, Gender: Male, Birth Place: Bavaria, Home in 1860: Delhi, Hamilton, Ohio, Post Office: Cincinnati, Dwelling Number: 243, Family Number: 251, Occupation: Wine Merchant, Personal Estate Value: 300, Household Members: P Zimmermann 33, Augusta Zimmermann 35, Ferdinand Zimmermann 5, Antone Zimmermann 3 – 1860 United States Federal Census
1860:

 Newspaper advertisement (below) Cordial Catawba Bitters for Pharmaceutical and Medicinal Purposes, Manufactured Pure, by Zimmermann & Co., Manufacturing. Chemists of Cincinnati, O. And Successors to Longworth & Zimmerman – Buffalo Courier, Friday, February 3, 1860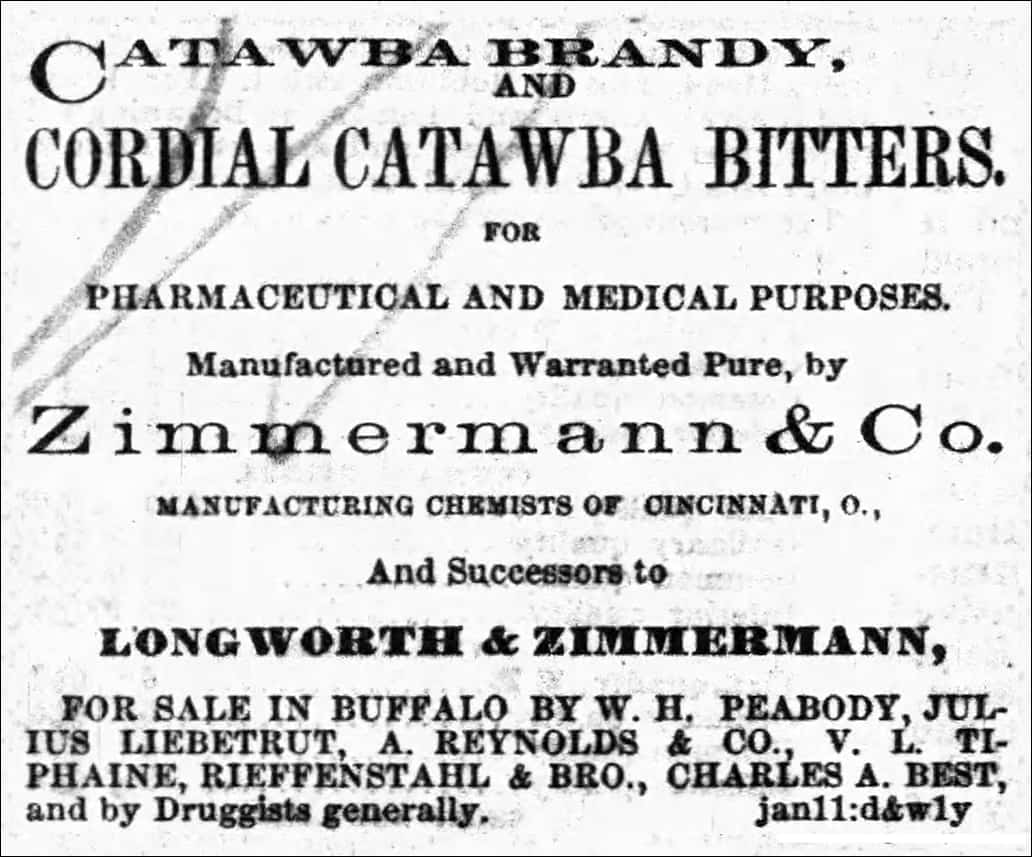 1860:

 Newspaper advertisement (below) Catawba Wine Bitters, Longworth & Grew, Cincinnati, Ohio, Geo. T. Grimes, Sole Agent for San Francisco – Sonoma Democrat, March 1860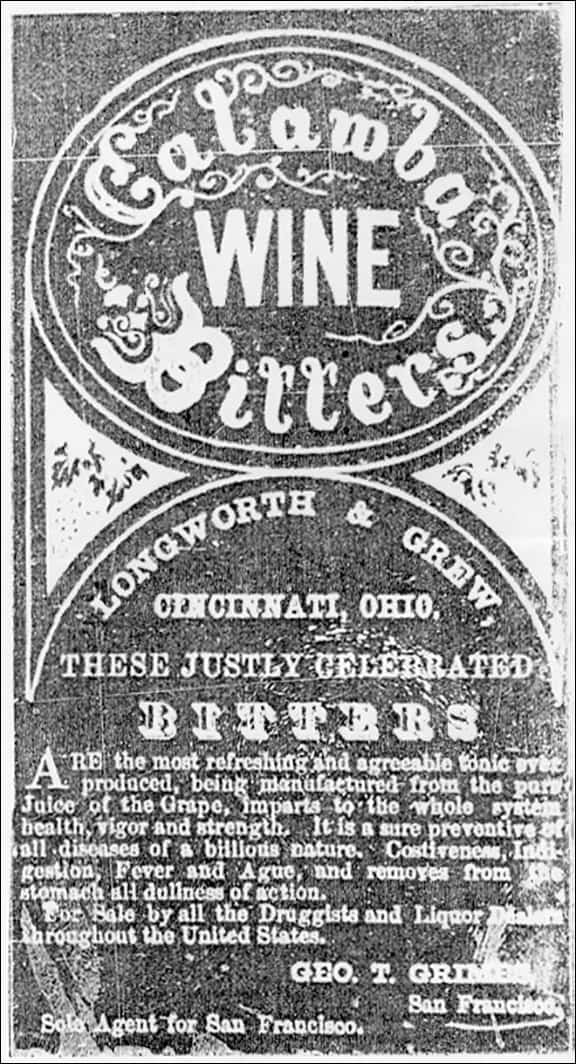 1860:

J. & B.L. Crew, Grocers, s.w.c. 3d and Elm (J. Crew and B.L. Crew), Cincinnati, Ohio – Cincinnati, Ohio, City Directory, 1860
1861-1865:

Zimmermann & Co., (John, Philip & Anthony Zimmermann), Manufacturers of Catawba Wines and Brandies, 586 and 588 W. 6th, Cincinnati, Ohio – Cincinnati, Ohio, City Directory, 1861
1863:

Nicholas Longworth I, Death Date: 10 Feb 1863, Death Place: Cincinnati, Hamilton County, Ohio, Cemetery: Spring Grove Cemetery, Burial or Cremation Place: Cincinnati, Hamilton County, Ohio, Spouse: Susannah Longworth, Children: Elizabeth (Longworth) Flagg (1809-1891), Joseph Longworth (1813-1883), Mary (Longworth) Stettinius (1808-1837), Catharine (Longworth) Anderson (1815-1893) – U.S., Find A Grave Index, 1600s-Current
1863:

 Newspaper advertisement (below) George W. Pomroy selling Catawba Wine Bitters, Zimmerman & Co., late Longworth & Zimmerman – Hartford Courant, Saturday, May 16, 1863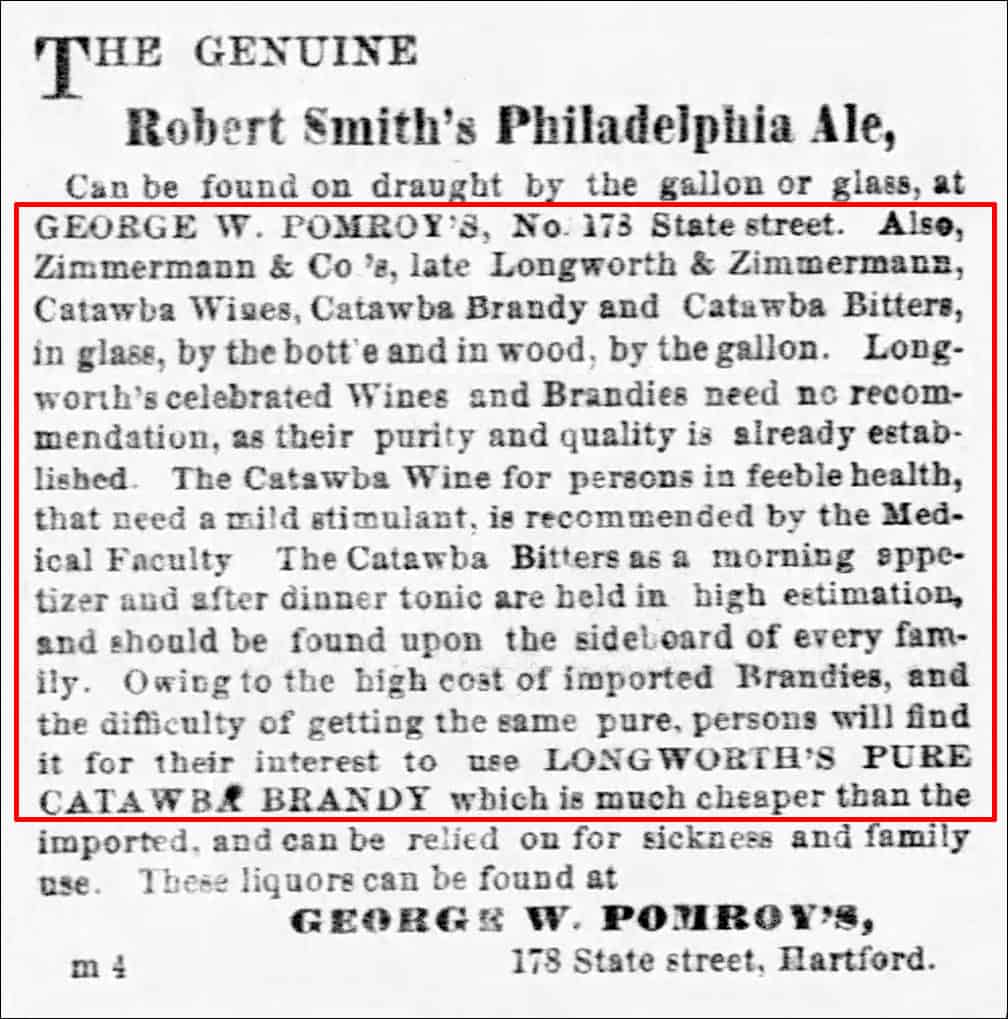 1863:

Newspaper advertisement (below) Longworth's Celebrated Catawba Bitters for sale by Geo. W. Pomroy, Sole Agent, Hartford, Ct. – Hartford Courant, Tuesday, August 4, 1863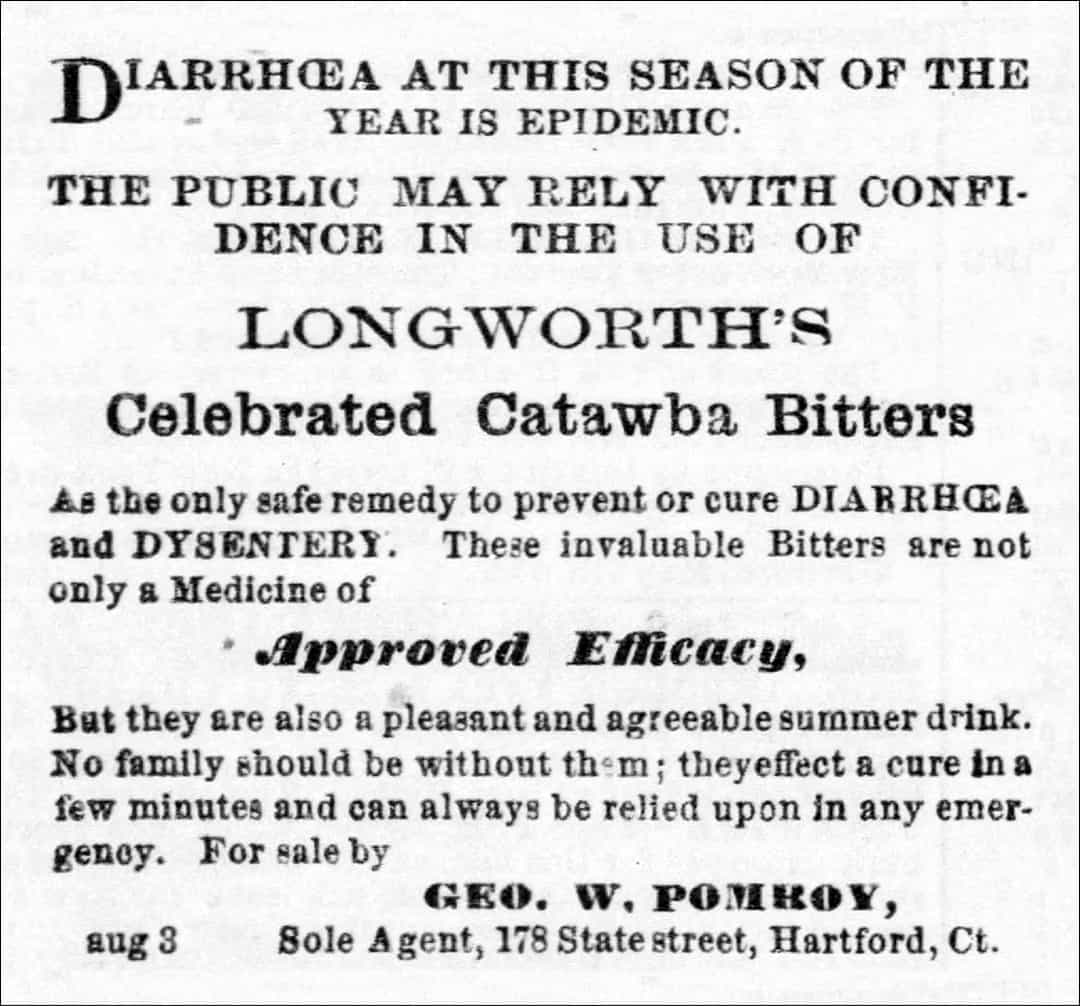 1863:

Newspaper advertisement (below) Native Wines and Brandy for the Holidays, Zimmermann & Co. native wine and brandy depot, No. 22 Duane Street, late partners to N. Longworth, Cincinnati – The New York Times, Thursday, December 31, 1863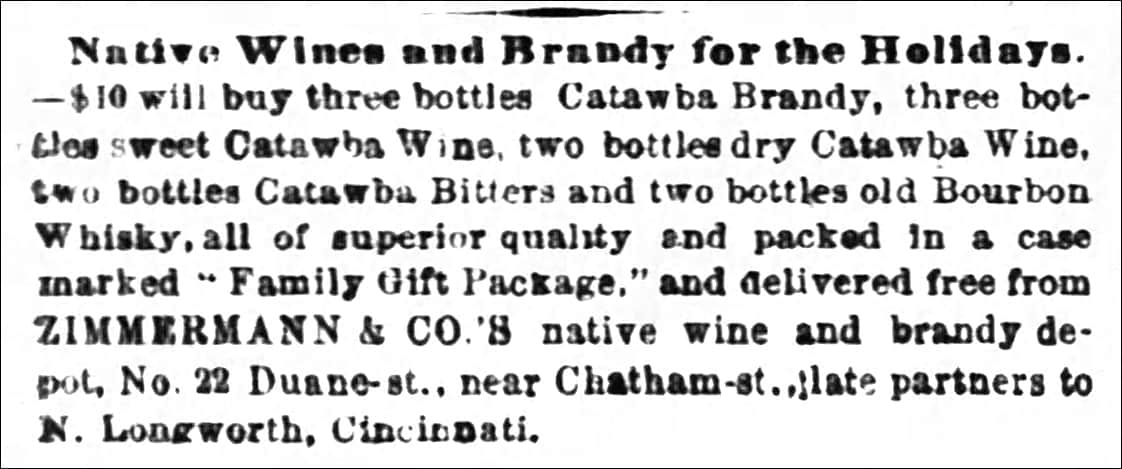 1866:

 Newspaper advertisement (below) Wines, From the Longworth Vineyards and Wine House, Cincinnati, W.P. & F.P. Anderson, Proprietors – The Montgomery Advertiser, Saturday, December 29, 1866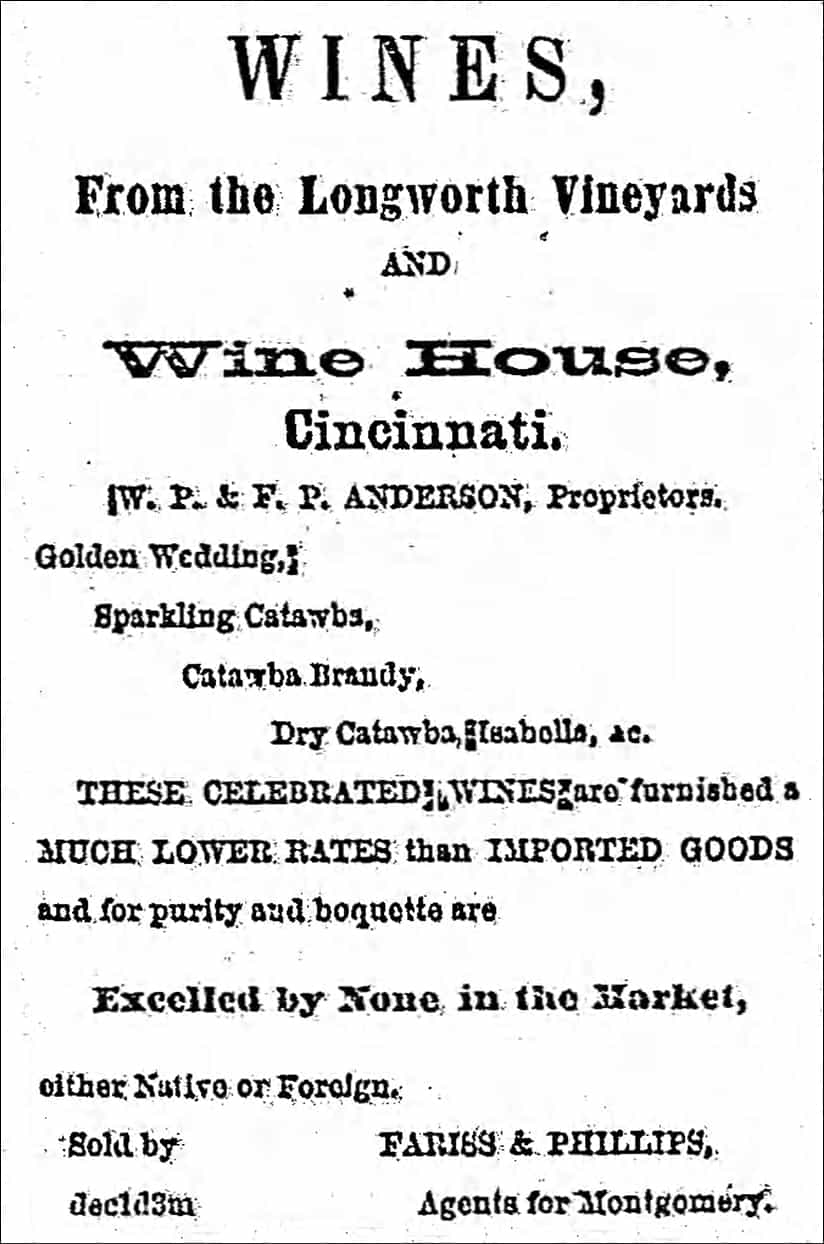 1867:

Zimmermann & Co., (Philip Zimmermann) Manufacturers of Sparkling Wines and Brandy, and Dealers in Whisky, 168  W.Court, Cincinnati, Ohio – Cincinnati, Ohio, City Directory, 1867
1868-1869:

Longworth's Wine House, W.P. Anderson, Proprietor, 113 E. 6th, Cincinnati, Ohio – Cincinnati, Ohio, City Directory, 1868, 69
1870:

Philipp Zimmermann, Distillery, Age in 1870: 43, Birth Year: abt 1827, Birthplace: Bavaria / Bayern, Dwelling Number: 425, Home in 1870: Cincinnati Ward 18, Hamilton, Ohio, Father of Foreign Birth: Y, Mother of Foreign Birth: Y, Male Citizen over 21: Y, Personal Estate Value: 100,000, Inferred Spouse: Augusta Zimmermann, Inferred Children: Ferdinand Zimmermann, Anton Zimmermann, Fred Zimmermann, Regina Zimmermann, John ch Zimmermann, Household Members: Philipp Zimmermann 43, Augusta Zimmermann 35, Ferdinand Zimmermann 16, Anton Zimmermann 12, Fred Zimmermann 10, Regina Zimmermann 5, John ch Zimmermann – 1870 United States Federal Census