Use Dr. Henley's Celebrated California IXL Bitters
21 December 2018

Dr. William Henley is associated with a wide variety of products ranging from bitters to various types of patent medicines. His bitters bottles, typically round cylinders, are highly prized collectibles that come in a striking range of colors. I was able to see a pretty good run of IXL Bitters at a western shootout at the Auburn Bottle Show back in 2010.
Read: Dr. Henley's Wild Grape Root IXL Bitters 'Showdown'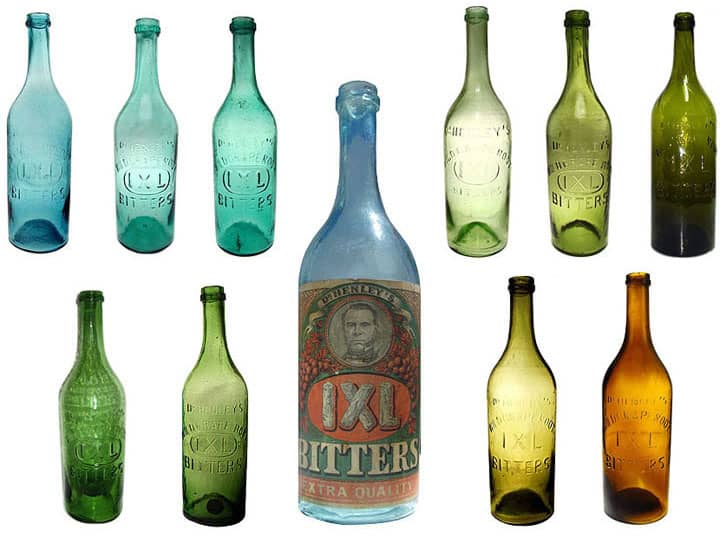 Dr. William Henley, Louis Gross, Simon & Henry Epstein, Isador Landsberger, Edward Vollmer & Arpad Haraszthy
Dr. Henley was initially known for medicines like Dr. Henley's Regulator, Royal Balsam and Indian Queen Hair Restorative to name a few. Some of his better known bitters include the Dr. Henley's Wild Grape Root IXL Bitters, Dr. Henley's California IXL Bitters, Dr. Henley's Eye Opener and OK Bitters. He also put out Dr. Henley's Royal Palm Gin and Dr. Henley's Celery, Beef and Iron.
Dr. Henley's Wild Grape Root IXL Bitters was invented in 1868 by Dr. William Henley who partnered with Louis Gross (L. Gross & Co.) who was a wholesale and retail druggist in Portland, Oregon. At least fifty cases of this product were displayed at the 1868 California State Fair by Dr. Henley and he won first prize.
Henley was born in 1838 and is first listed as an oculist working out of his residence at 157 Front Street in Portland. An oculist is actually an outdated and old-fashioned term. Now, the more popular names for these kinds of eye doctors are ophthalmologist and optometrist. Ophthalmologists deal with more serious problems and diseases. Optometrists address less serious issues, perform vision tests, and prescribe corrective lenses.
By 1868, William Henley is listed as a physician practicing and residing at the corner of Fifth and Jefferson in Portland. This is when we start seeing some of his advertising for bottles of medicines and his IXL Grape Root Bitters. How you go from being an eye doctor to putting out one of the finest western bitters is an interesting story involving a number of gentleman all capitalizing on the extreme popularity of medicinal bitters.
Henry Epstein was born around 1838 and was from Bohemia. He came to New York when he was a boy with his father and headed west to Nevada where his family operated a store in Genoa near Carson Valley. We next see him clerking in Sacramento, California in 1860. His father was a leather manufacturer that same year in Sacramento. At the age of 26, in 1864, young Epstein was elected to the first Nevada State Legislature as an assemblyman from Douglas County.
In 1868, Epstein was listed as a commission merchant in San Francisco with an office at 312 Sacramento. He was working for Edward Vollmer & Company in Belmont, Nevada, a booming silver town in Nevada's Nye County. During this period, Epstein pursued his business interests in California and Nevada. Epstein was living at 335 Eddy in San Francisco with his father Simon, who was a liquor dealer. Simon Epstein would eventually become a partner with I. Landsberger & Company.
In 1869, William Henley and Louis Gross associated themselves with Henry Epstein and they started selling Dr. Henley's Wild Grape Root IXL Bitters under the flag of L. Gross & Company at 518 Front Street in San Francisco. Advertising notes that Gross was the manufacturers and sole proprietor.
By 1871, William Henley was a partner living in Chicago and the umbrella business was called H. Epstein and Company. By 1873, Edward Vollmer, Louis Gross and the IXL Bitters brand had become part of I. Landsberger & Company who were now listed as the sole proprietors of IXL Bitters. Isador Landsberger was a premier grape grower making award winning wines in San Francisco, California. He associated himself with the likes of M. Keller, and E.P. Cassin, familiar bitters names. We also see that Henry Epstein is listed as stock broker with H. H. Noble &. Company in San Francisco, so again, he had multiple interests.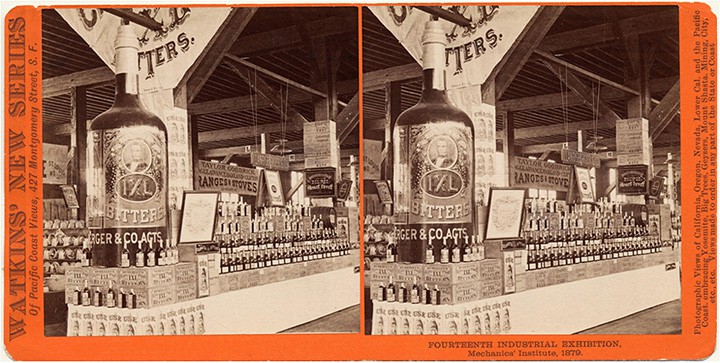 By 1881, Arpad Haraszthy & Company was the proprietor of IXL Bitters. They were located at 10 Jones Alley in San Francisco. Arpad Haraszthy was born in Hungary on June 28, 1840. He was a pioneer California winemaker best known as the creator of Eclipse champagne, the first commercially successful sparkling wine produced in the state. He was the first president of the California State Board of Viticultural Commissioners, one of the founding members and first officers of San Francisco's world-famous Bohemian Club, and a frequent and articulate writer on wine, winemaking, and viticulture. [read obit at base of post for in-depth info]
A excellent article (four-part series) called Dr. Henley's Royal Palm Gin, written by two our our finest antique bottle authors, Stephen Hubbell and Eric McGuire, appears in the FOHBC magazine Bottles and Extras in 2014. Become a member of the FOHBC and read these articles online.

---
Bottle Gallery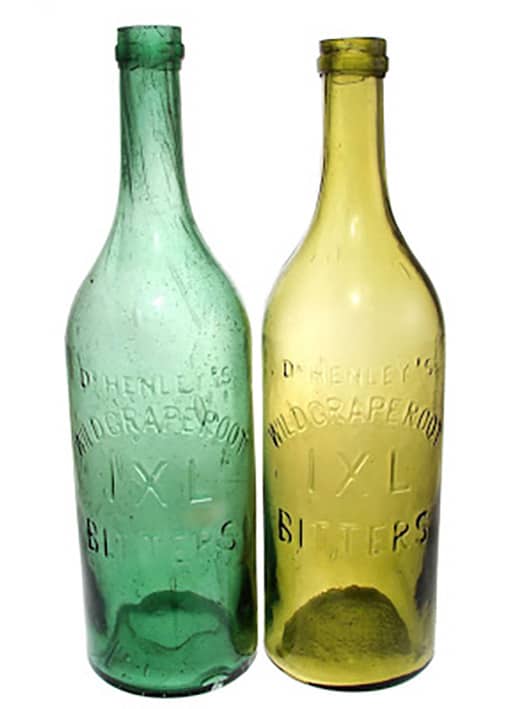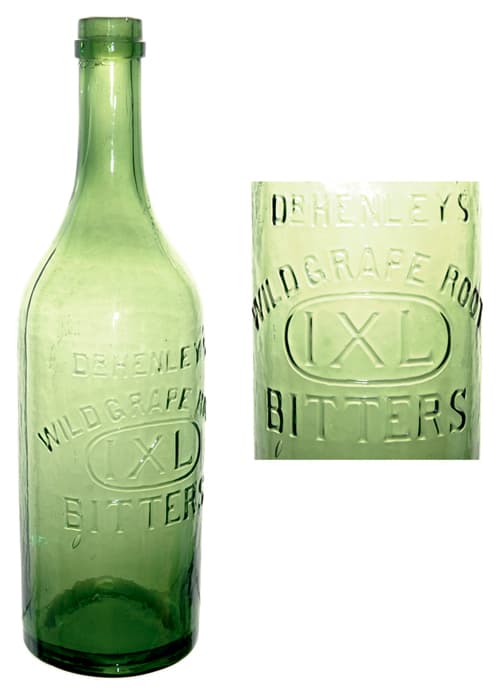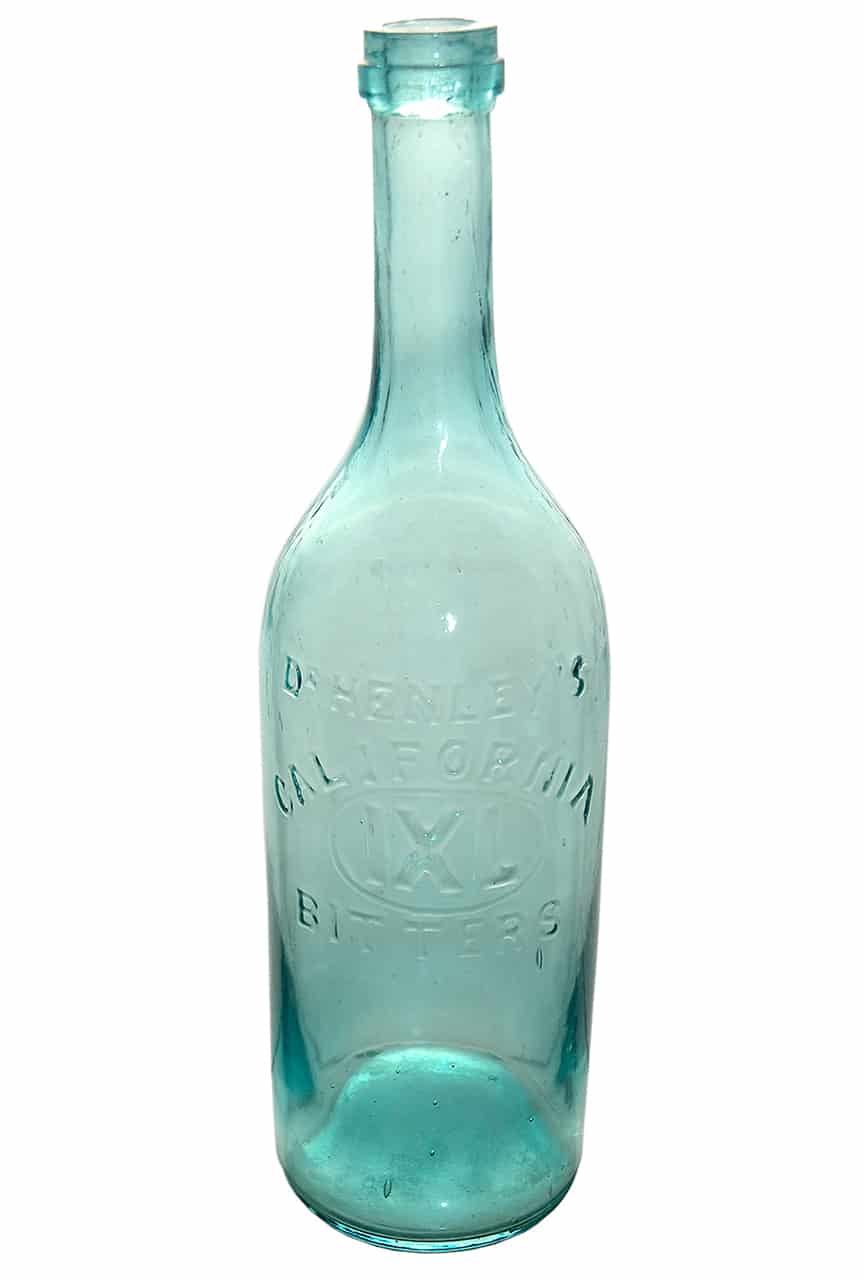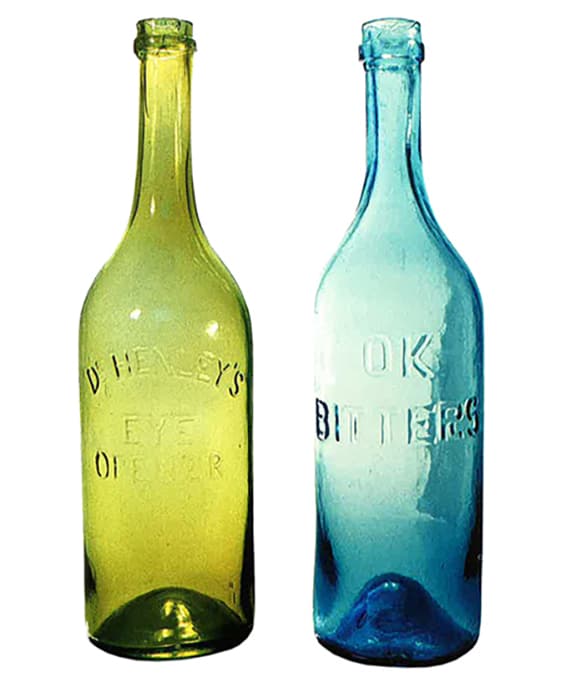 ---
Advertising Gallery
---
The following advertising trade card ephemera is from the Joe Gourd collection.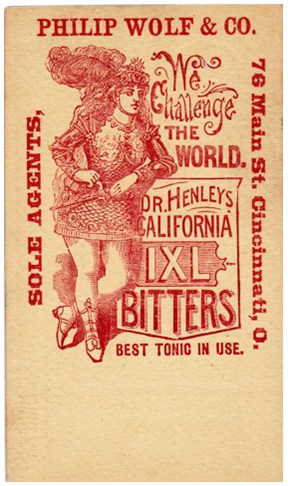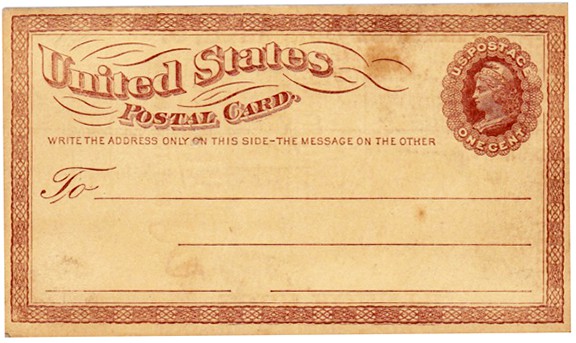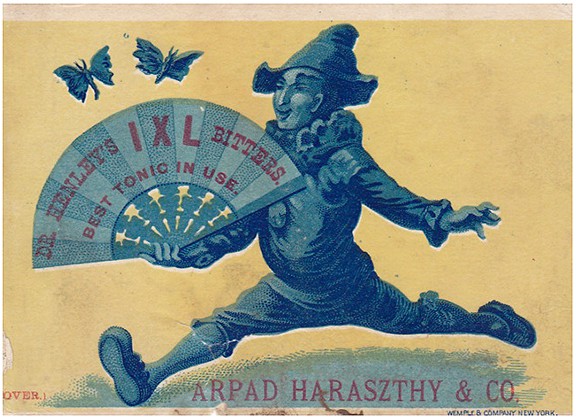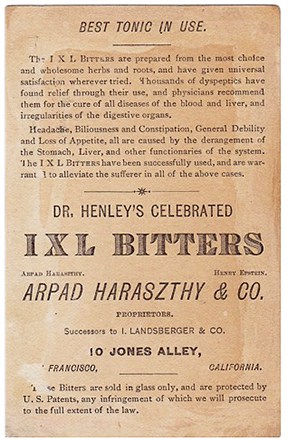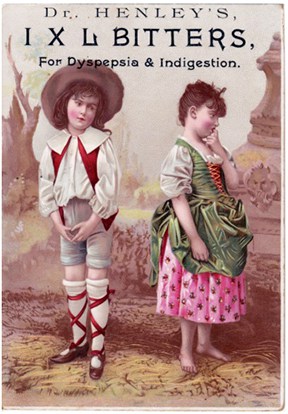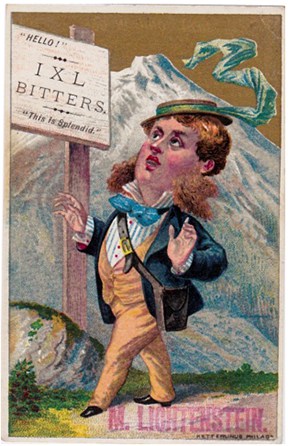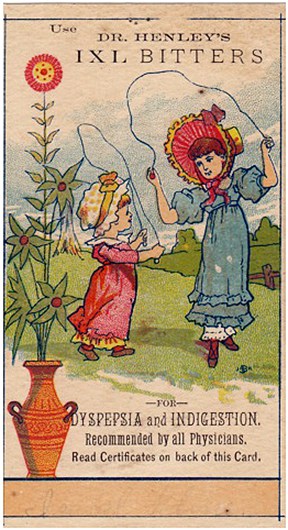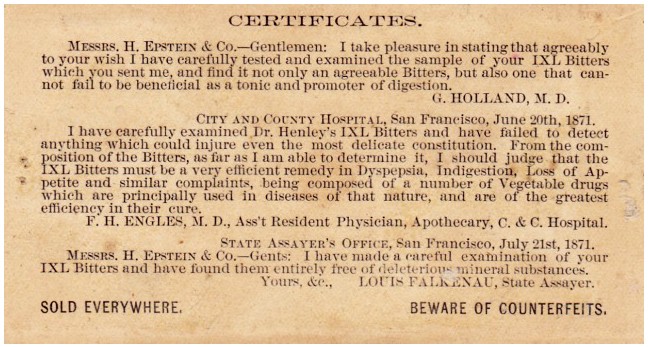 ---
Select Listings:
1838:

Henry Epstein Birth: about 1838
1860: 

Henry Epstein, Clerk, Age: 21, Birth Year: abt 1839, Gender: Male, Birth Place: Bohemia, Home in 1860: Sacramento Ward 3, Sacramento, California, Post Office: Sacramento, Dwelling Number: 1644, Family Number: 1587, Occupation: Clerk, Household Members: Simon Epstein 50 (Leather Manufacturer), Cath Epstein 48, Therese Epstein 18, Henry Epstein 21 – 1860 United States Federal Census
1865:

 Newspaper advertisement (below) New Drug Store, L. Gross, Portland, Oregon, Wholesale andRetail Druggists Oregonian, August 26,1865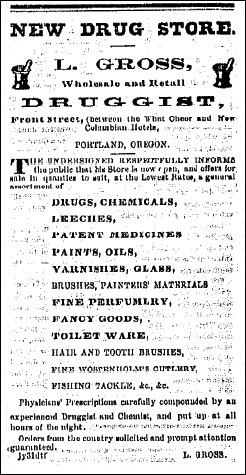 1866:

Dr. William Henley, Oculist, 157 Front, Portland, Oregon – Portland, Oregon Directory, 1866
1867:

Dr. Wm. Henley, Oculist, res corner of Fifth and Jefferson – The Portland Oregon Directory, 1867
1868:

Wm. Henley, Physician, res corner of Fifth and Jefferson – Portland Oregon City Directory, 1868
1868:

Henry Epstein (merchant), office 312 Sacramento, dwl 335 Eddy, Simon Epstein (liquors), dwl 335 Eddy – San Francisco, California City Directory, 1868
1868:

Henry Epstein, commission merchant (and E. Vollmer & Co., Belmont, Nevada, office 312 Sacramento, dwl 335 Eddy – The San Francisco directory for the year commencing October, 1868
1869:

Newspaper advertisement (below) Dr. Henley's Wild Grape Root IXL Bitters, L. Gross & Co., Manufacturers and Sole Proprietors, 518 Front Street, San Francisco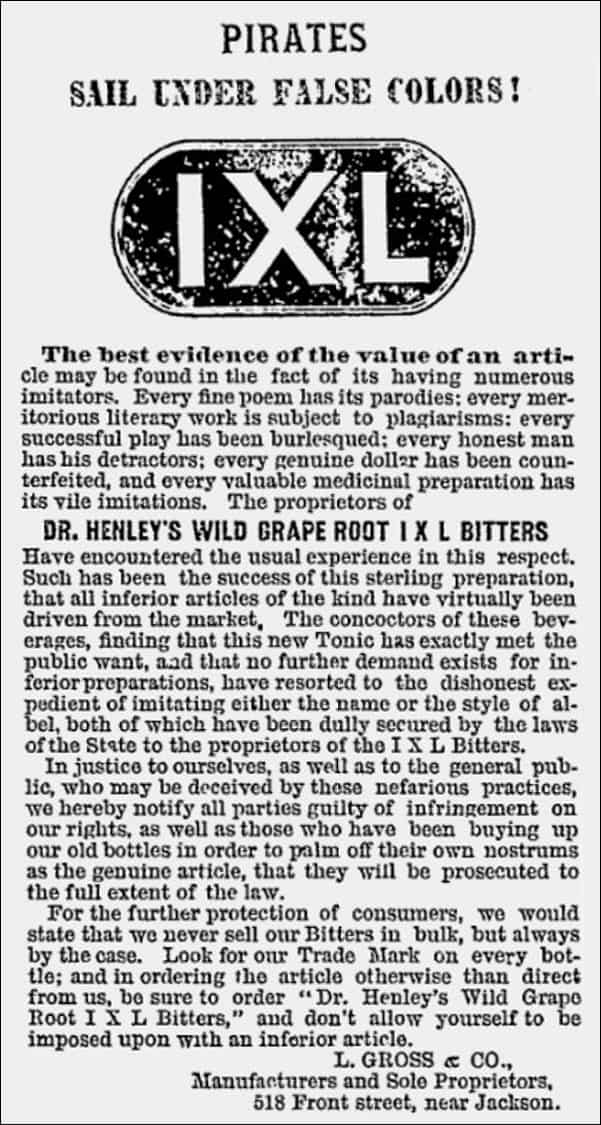 1871:

H. Epstein & Co. (William Henley) manufacturers IXL Bitters, 518 Front – The San Francisco directory for the year commencing April, 1871
1871:

Henry Epstein (H. Epstein & Co.), dwl 763 Mission – The San Francisco directory for the year commencing April, 1871
1871:

William Henley (H. Epstein & Co.), res Chicago – The San Francisco directory for the year commencing April, 1871
1874:

 H. Epstein & Co. (Louis Gross) commission merchants and sole proprietors IXL Bitters, 518 Front – San Francisco Directory, 1874
1874:

 H. Epstein & Co. (H H. Noble & Co.), owl 335 Eddy – San Francisco, California City Directory, 1874
1874:

Henry Epstein (H. Epstein & Co.), dwl 335 Eddy – San Francisco Directory, 1874
1874: 

Simon Epstein, with H. Epstein & Co., dwl 335 Eddy – San Francisco Directory, 1874
1874:

 Louis Gross, (H. Epstein & Co.), dwl 335 Fell – San Francisco Directory, 1874
1874:

 Philip Wolf & Co., 222 & 224 Battery Street, San Francisco, Principal Depot for Dr. Henley's California IXL Bitters and London Royal Palm Gin – 1874, Cincinnati, Ohio City Directory

1879:

 Dr. Wm. Henley, office corner Salmon and First, res same – The Portland Oregon Directory, 1879
1882:

 Newspaper notice (below) Dr. Henley's California IXL Bitters, Arpad, Haraszthy & Co., 530 Washington Street, San Francisco, California – The Record Union, Wednesday, September 13, 1883.jpg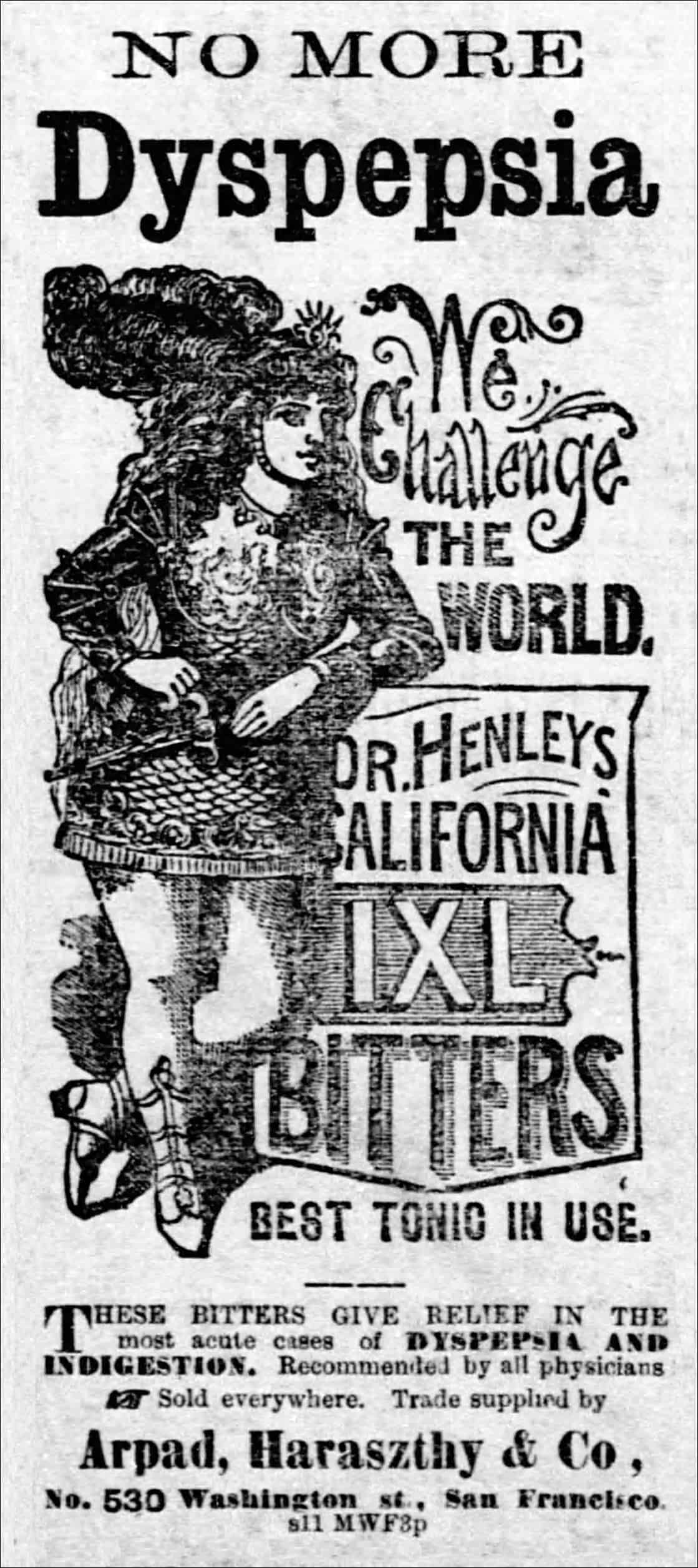 1884:

 Dr. Wm. Henley, 27 Sheridan – Portland Oregon City Directory, 1879
1884:

Newspaper notice (below) Dr. Henley's Celebrated IXL Bitters, Arpad Haraszthy & Co., 530 Washington Street, San Francisco, California – San Diego Union, June 23 1884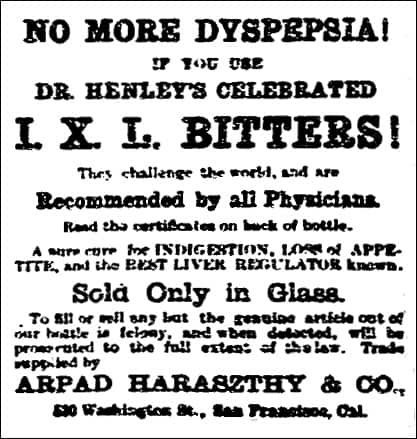 1888:

 Newspaper advertisement (bellow): Try Dr. Henley's Celebrated IXL Bitters – Oakland Tribune, Saturday, September 15, 1888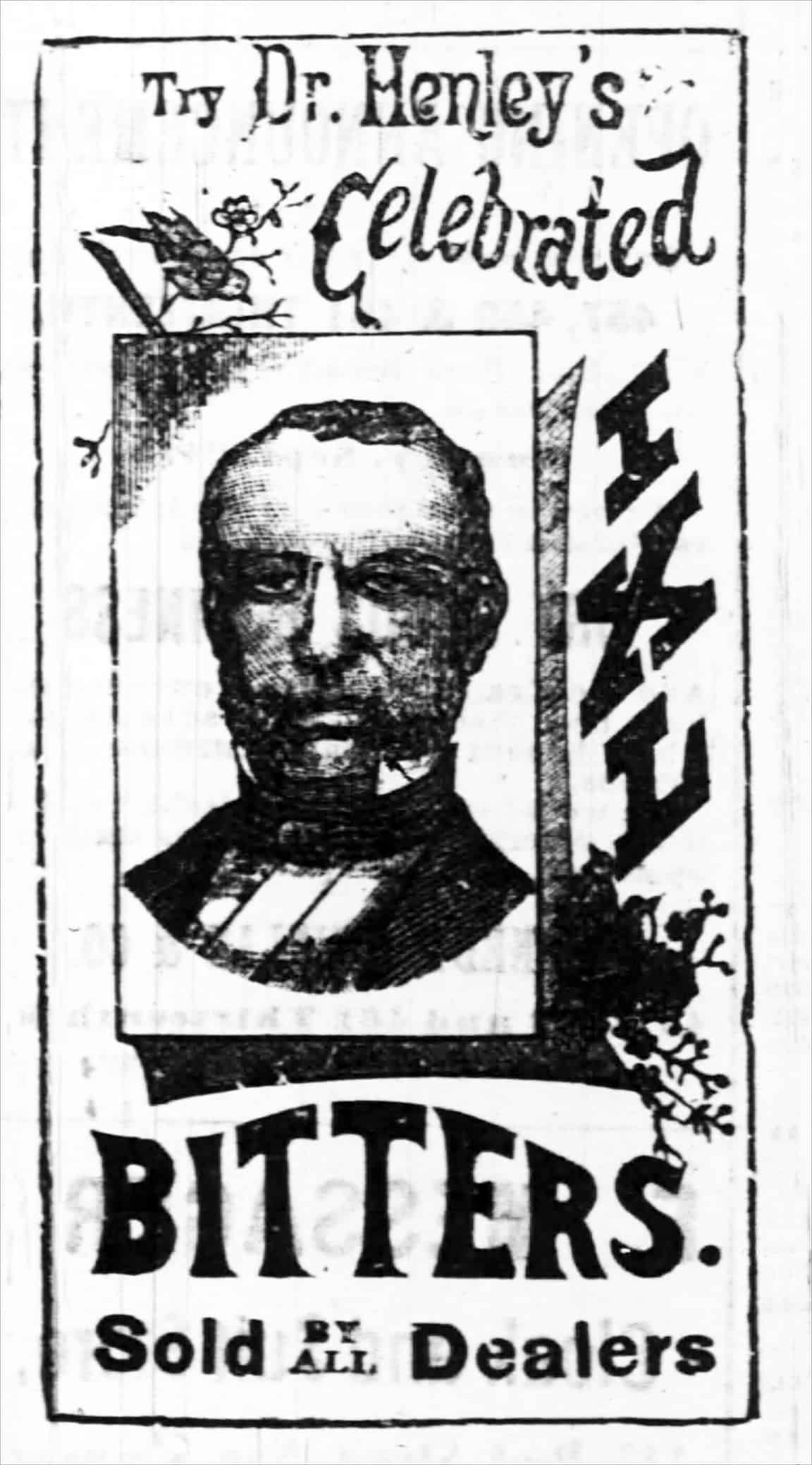 1900: Newspaper notice: Death of Champagne Manufacturer Arpad Haraszthy – The San Francisco Call, Saturday, November 17, 1900

1913: 

Henry Epstein Death Date: 1913, Cemetery: Home of Peace Cemetery and Emanu-El Mausoleum, Burial or Cremation Place: Colma, San Mateo County, California – U.S., Find A Grave Index, 1600s-Current