Missouri IXL Bitters – Isidor Bush
27 February 2019

Isidor Bush (or in Europe, Busch) has his name on the extremely rare Missouri IXL Bitters bottle which to me is quite amazing. I've only personally seen this bottle once and that was at the FOHBC 2015 Chattanooga National Antique Bottle Show when bitters collector, Brad Shultis, carefully unwrapped the bottle to show me. The image at the top of the post was taken at the show. Actually, there is so much more to this bottle and the man behind it.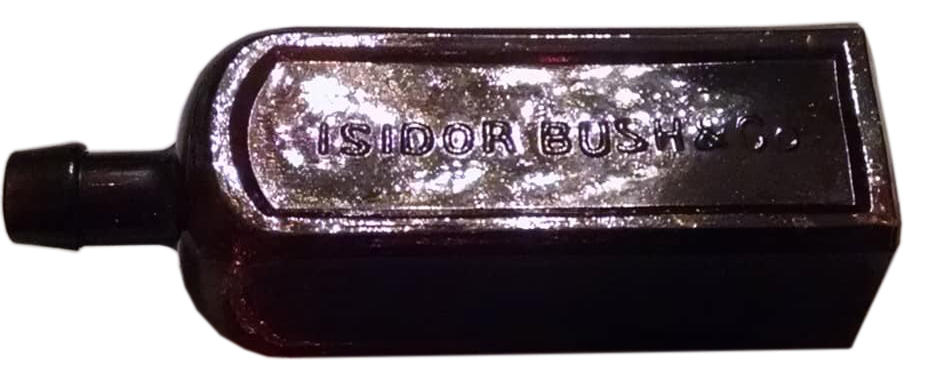 The Carlyn Ring and W.C. Ham listing in Bitters Bottles Supplement is as follows:
M 104.5  Missouri IXL Bitters
MISSOURI IXL in frame BITTERS // f // ISODOR
(Spelled ISIDOR on bottle)

BUSH & CO. // sp //
9 x 2 1/2
Square, Amber, LTC, Applied mouth, 3 sp, Extremely rare
Example was dug in Pekin, Ill. with 1860s items.

Name correctly spelled on bottle.
Isidor Bush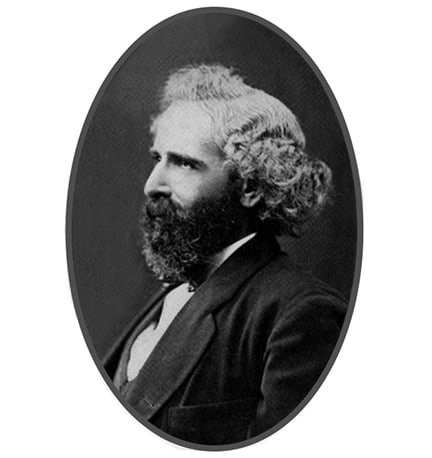 Isidor Bush was born in the Prague, Bohemia on January 15, 1822. He was the great-grandson of Israel Honig Edler von Honigsberg, who was the first Jew raised to nobility in Austria. As a child, Isidor was favored by his father Jacob as his mother, Fredericka had died when he was only three years old. Isidor Bush was privileged and was able to surround and associate himself with many Jewish intellectuals while growing up.
Bush was somewhat of a Renaissance man in that he was, among other things, an author, publisher, journalist, grocer, banker, railroad freight agent, politician, abolitionist, insurance agent, civic leader, philanthropist, capitalist, patriot, wine and liquor merchant,  and a viticulturalist, one of the first grape growers and wine producers in Missouri.
When Isidor was fifteen years old, he moved to Vienna and worked at Schmid's Oriental Printing Establishment, which his father had acquired. At this young age, Bush became engrossed in the printing business and turned to the study of languages. Soon he could read and write in Greek, Latin and Hebrew along with his native German. For six years (1842–47), Bush edited and published the Kalendar und Jahrbuch für Israeliten among many other important works. Eventually, Bush became a partner and a leading book pioneer and publisher in Vienna and the firm was renamed Schmid and Busch.
With the Austrian Empire Revolution in 1848, Bush had to flee to America and settled in New York City along with many other liberal Jewish intellectuals. He arrived on January 8, 1849 with his wife Theresa Taussig who he married in 1844 and their son Raphael. There Bush opened a store that sold newspapers and stationery. On March 30, 1849, Bush founded and published the first issues of Israel's Herald, the first Jewish weekly in the United States which was patterned after the journal he had published in Vienna. Unfortunately, the effort failed financially, so Bush had to stop operations after only three months.
With little available funds, Bush moved to St. Louis, Missouri in the summer of 1849 where his wife's family, the Taussig's had settled. There Bush entered into partnership with his wife's father Charles Taussig, in the firm of Bush & Taussig. They were one of the leading merchants in the city specializing in groceries and hardware located at Carondelet and Park Avenue. Bush and Taussig would run the general store successfully on the south end of St. Louis for many years.
Isidor Bush became a naturalized citizen in 1854 and ardently opposed slavery and championed the Union cause. In 1857, Bush helped incorporate and was made president of the Peoples' Savings Bank in St. Louis. In the late 1860s he was also president of the Mechanics Savings Bank, and later served as actuary for the German Mutual Life Insurance Company.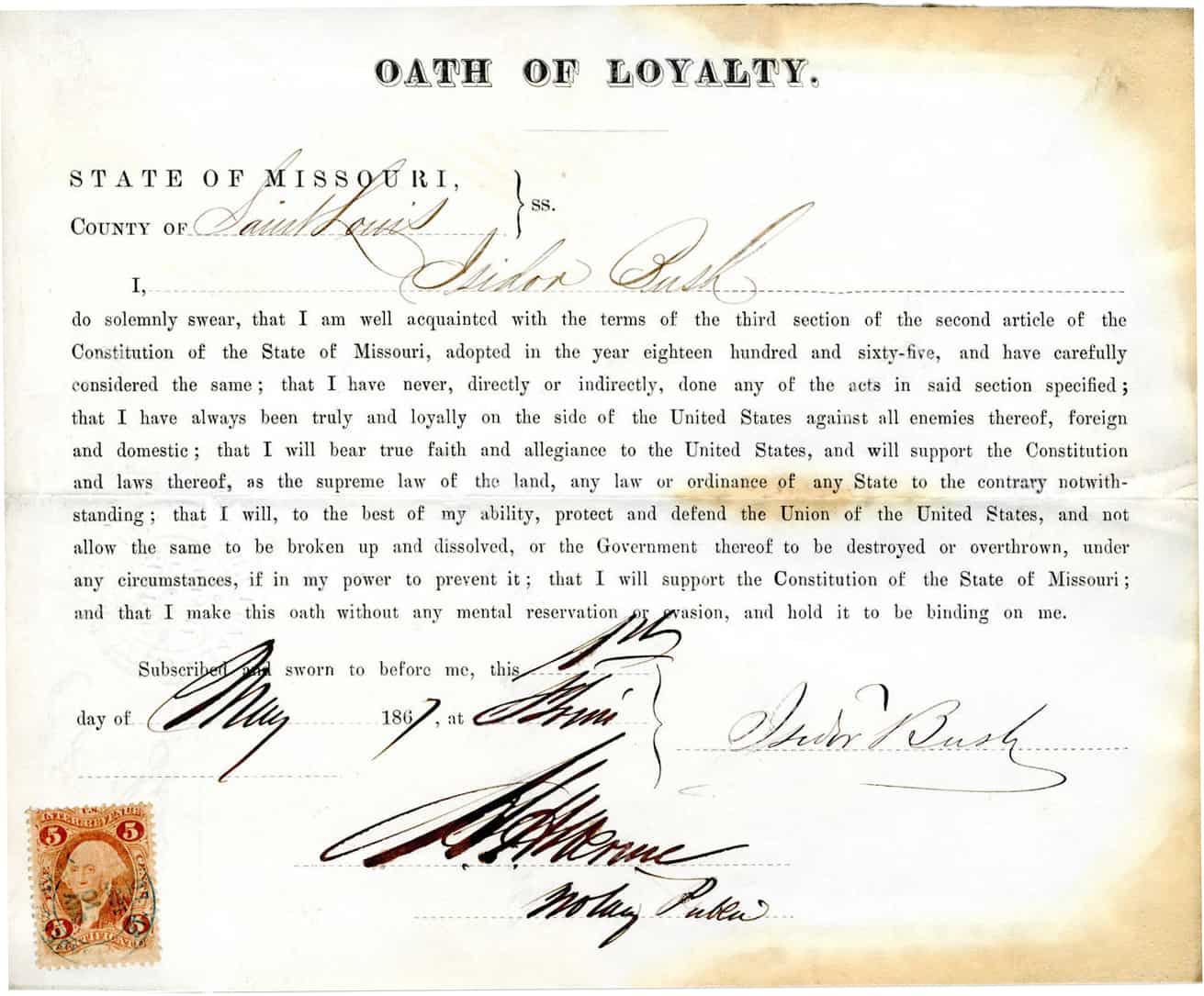 When the Missouri Convention was called to determine whether the state should join in the secession movement, Bush was chosen a member on the Unconditional Union ticket, and was made a member of the Committee of Nine, to which most important matters were referred such as abolishing slavery and forming a new constitution. He was also elected a member of the Missouri state board of immigration to repair losses in population resulting from the war, which post he retained for twelve years.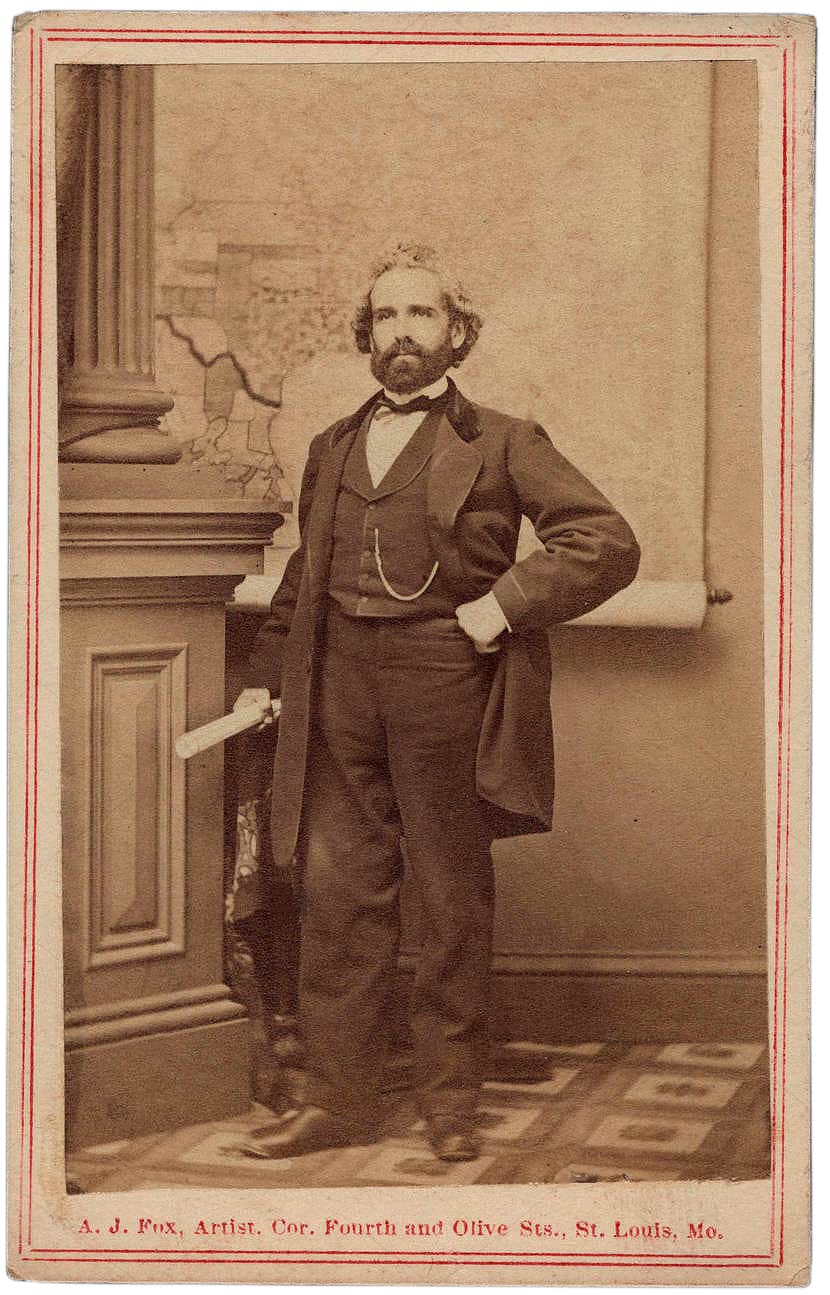 Despite many successful endeavors, Bush never really became a wealthy person in the traditional sense. He certainly suffered his share of financial setbacks but typically was able to rebound, take care of his debts and move on. He was always on the forefront of thought and innovation and prospered sufficiently to position him as a leader in the Jewish Community and the city of St. Louis. One of those associations that Bush was prominent in was the B'nai B'rith, the famous national Jewish fraternal and philanthropic organization. His achievements within the organization were substantial. Bush also served on the City Council and Board of Education in St. Louis as he held public education in high regard.
Bush apparently suffered physical disabilities in a fire when he was a child that prohibited full military service, so he assisted the Union cause in other ways. When Gen. John C. Fremont (the Pathfinder) took command in 1861, with headquarters in St. Louis, Bush was made his secretary and aide-de-camp, with the rank of Captain. He submitted to Secretary of the Treasury, Salmon P. Chase a plan for a government loan of one hundred million dollars, similar to the famous Rothschild premium loans of Austria. Chase feared its rejection by Congress, but was impressed with Bush's financial genius, and offered him a Treasury clerkship.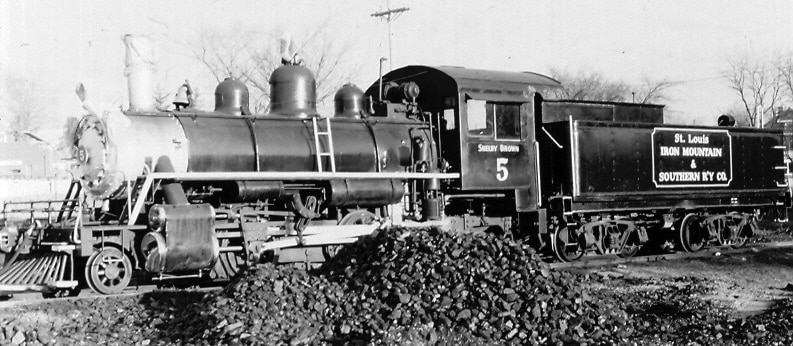 Bush refocused after the Civil War back to St. Louis, and became for six years the auditor and general freight and passenger agent for the St. Louis and Iron Mountain Railroad Company. He later would become director of the railroad, serving until 1865 when the line was taken over from New York by financier Jay Gould and the State foreclosed its liens on the railroad.
Next, Bush partnered in the real estate firm of Barlow, Valle & Bush. Interesting enough, Bush was able to purchase many tracts of land south of the city in Jefferson County that were next to the railroad tracks and Mississippi River. The first tract was purchased in February and March 1865 and included 241 acres near the present-day town of Pevely. He had become familiar with this land during his years with the Iron Mountain Railroad. This land was ideal as his research assured him that the land was adaptable for growing grapes and fruits while having an excellent steamboat landing.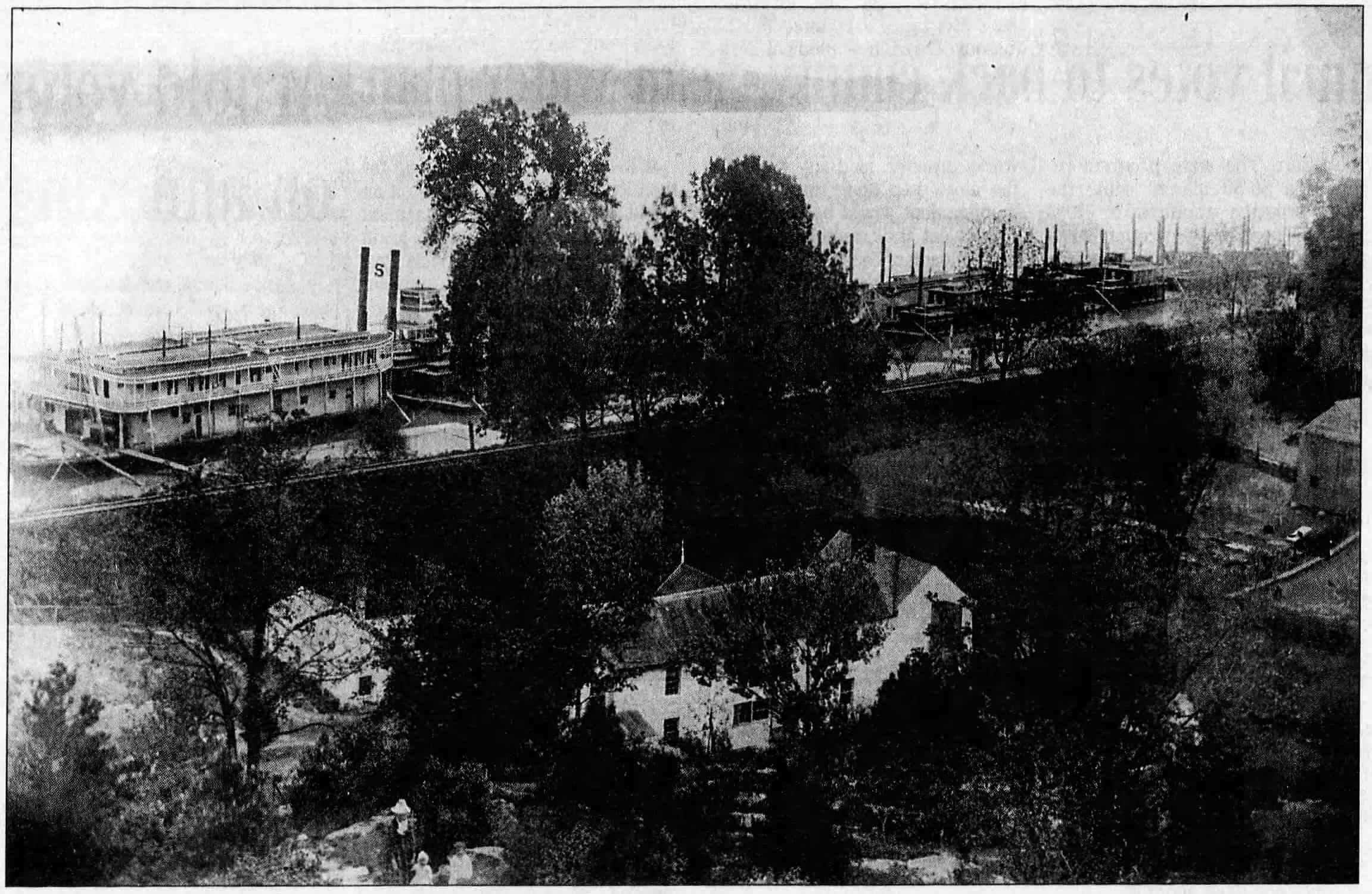 Owning this land would play out as Bush became interested in wine-making and created the Isidor Bush Wine Company. He called all his land "Bushberg," which of course he named after himself. The image above shows the town of Bushberg facing the river in 1880. It was at one time a thriving community complete with steamboat landing, railroad station, post office, wood yard, hotel and a saloon. The image below shows the Isidor Bush house. Both images courtesy of the Missouri Historical Society.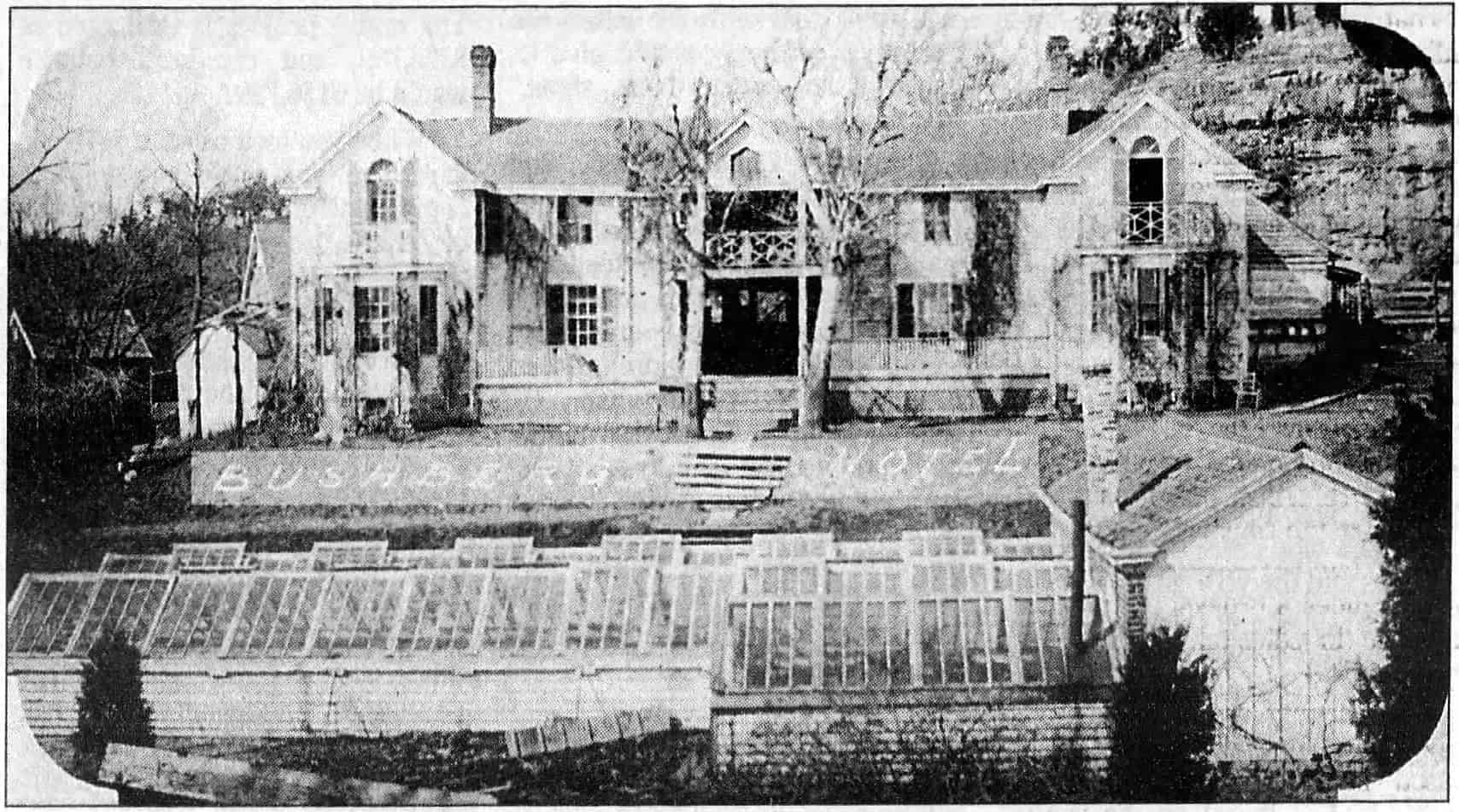 Bush even had the foresight to send his son Raphael to apprentice with viticulturalists in Hermann, Missouri and Cincinnati, Ohio to learn the trade. Their grocery business had suffered during the Civil War and the senior Bush wanted to spare his son from the whims of commercial life. He also felt that agriculture was a more noble Jewish pursuit.
By 1868, the vineyard had nine acres with 20 varieties of grapes. That year the vineyard purchased the post office to handle its growing mail-order business as the company was extremely successful in raising grapes and became known for its products. Before long, Bush was considered a leading expert in viticulture. He even sent large quantities of cuttings from his vineyards to France to replace the ravages there by phylloxera as his wild American vines had a greater resistance to the root louse. In 1871, Bush hired Gustavus E. Meissener who was operating a nursery in Waterloo, Iowa to become his foreman at Bushberg. He would eventually become a partner in the wine growing and vineyard business. You can see his name on the catalogue below.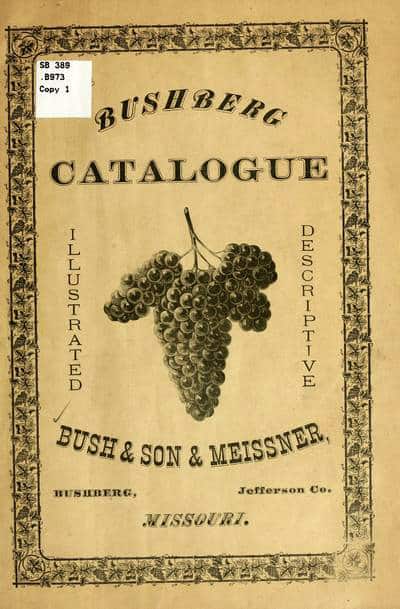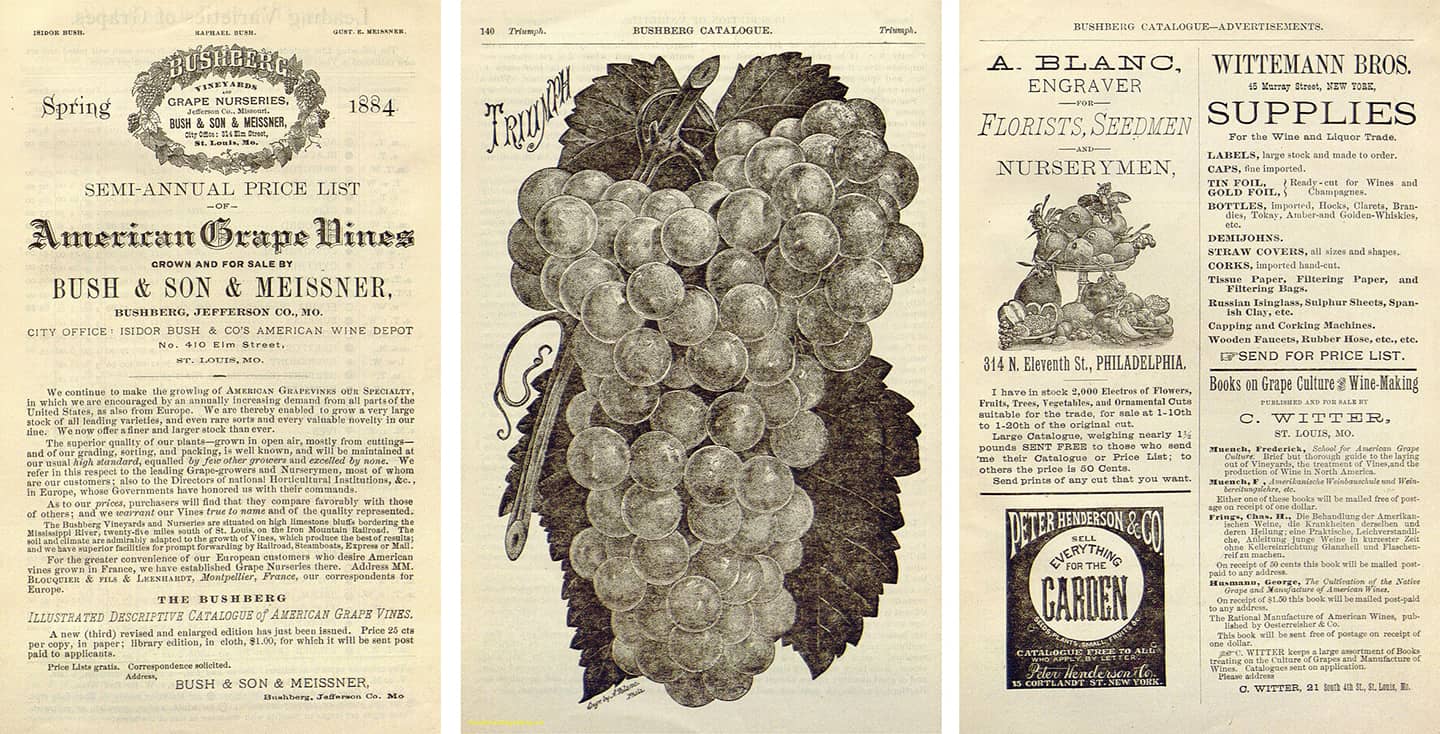 Bush, after years of preparation, published his first catalogue of grapes in 1869-70 called the Illustrated Descriptive Catalogue of Grape Vines, Small Fruit and Seed Potatoes. The vineyards' reputation had spread in the 1870s so The Bushberg Catalogue evolved and only focused on grapes. This catalogue went through a number of generations and was translated into several languages with international acclaim. The catalog contained two major sections. The Grape Manual' contained a history of grape culture and the latest information about grape growing, and the 'Descriptive Catalogue' described and listed native varieties, histories and characteristics. Later editions included testimonials from prominent grape growers, horticulturalists and agriculture official plus related advertising to the trade.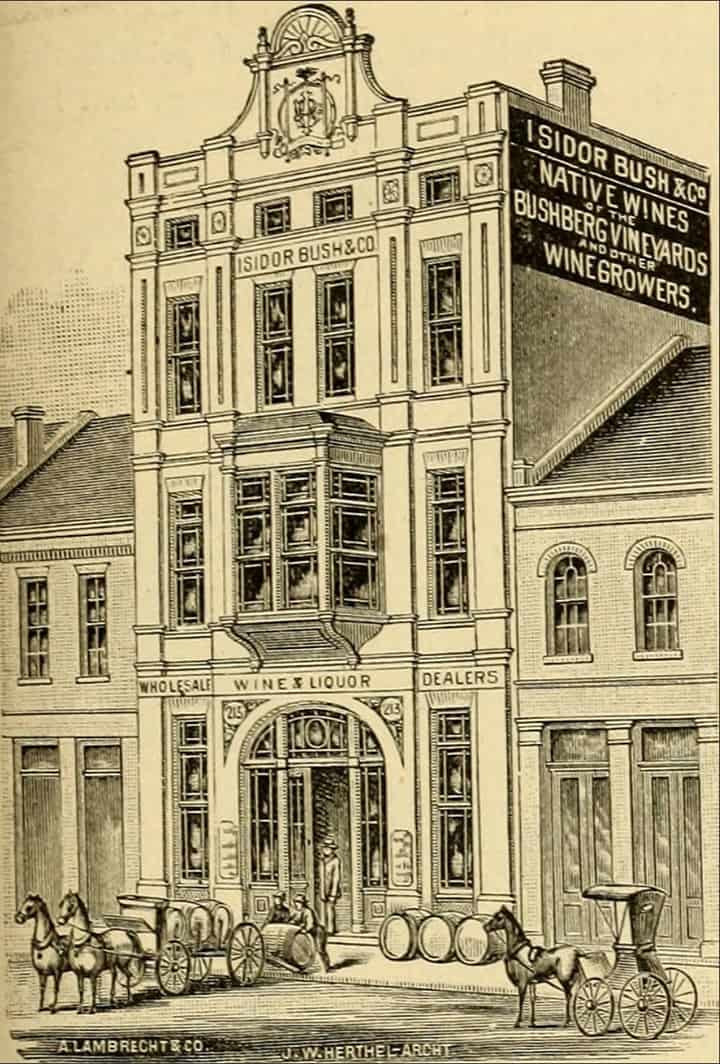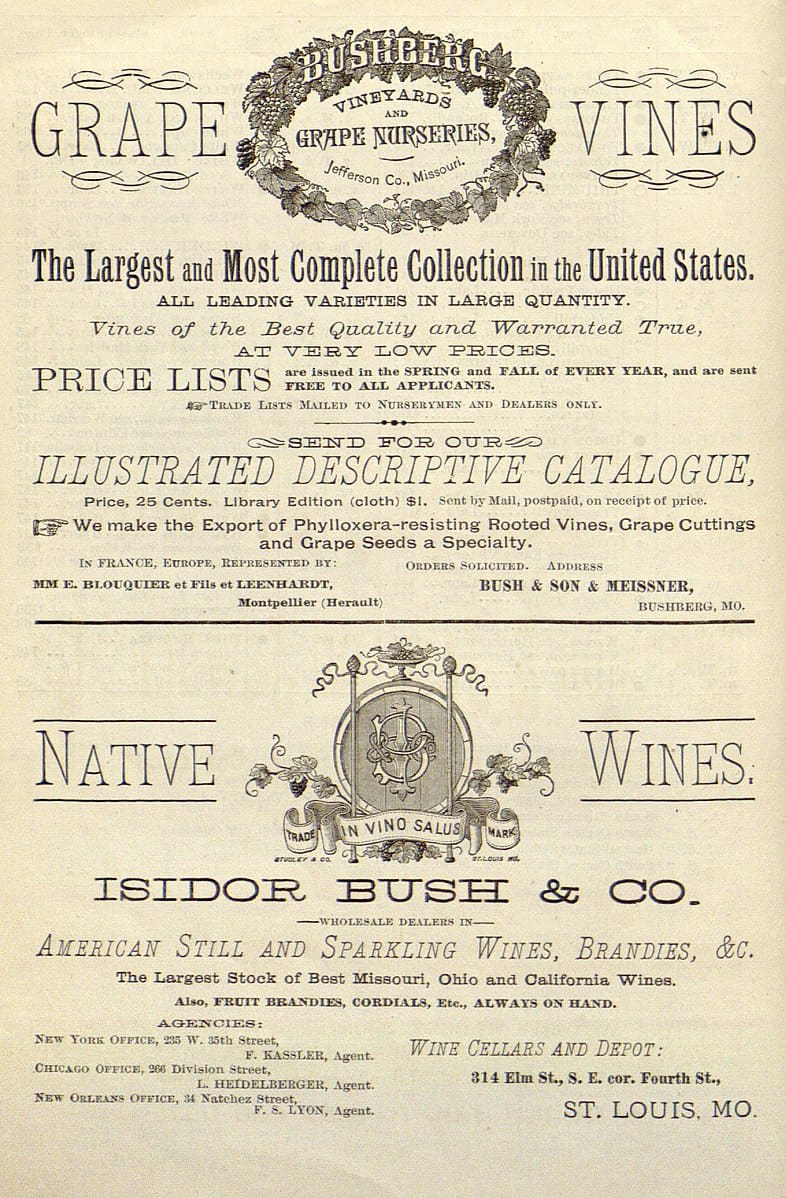 In 1870, Bush and his son Raphael organized the firm of Isidor Bush & Son to run the wholesale and retail trade which grew into one of the most successful wine and liquor enterprises in St. Louis. Their primary address was 314 Elm Street. It was during this period that the Missouri IXL Bitters was produced. I have only seen one example. I believe it was dug in Pekin, Illinois before it came to its present owner.
The northern California wine business was rapidly growing by the end of the 1800s and impacted the Bush wine business. There seemed to be less demand for his vines and his research. The vineyard would close in 1895. The town of Bushberg would cease to exist.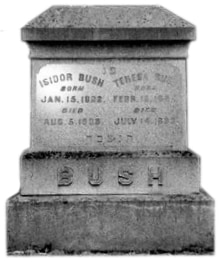 Isidor Bush died in St. Louis on August 5, 1898 and is buried in Bellefontaine Cemetery. His wife Theresa had previously died in 1893. Isidor Bush was a admired person and was considered one of St. Louis's finest citizens. He also had his name on a bitters bottle.
---
Select Listings:
1822:

 Isidor Bush, Birth Date: 15 Jan 1822, Birth Place: Prague, Okres Praha, Prague Capital City, Czech Republic – U.S., Find A Grave Index, 1600s-Current
1850:

Isidor Bush, Merchant, Age: 28, Birth Year: abt 1822, Birthplace: Austria, Home in 1850: St Louis Ward 3, St Louis (Independent City), Missouri, Gender: Male, Family Number: 793, Household Members: Isadore Bush 28, Theresa Bush 25, Raphael Bush 5, Alfred Young 15, Charles Taussig 31 – 1850 United States Federal Census
1857:

Bush & Taussig (Isidor Bush), wholesale and retail grocers and hardware dealers, se. c. Carondelet and Park Ave., St. Louis – St. Louis Directory, R.V. Kennedy & Company, 1857
1863:

Isidor Bush, General Agent, St. Louis & Iron Mountain Railroad, office, cor. Main and Plum, St Louis, Missouri – St Louis, Missouri, City Directory, 1863
1864-

1865:

Isidor Bush, general freight and passenger agent Iron Mountain Railroad, r. Fulton, bet.Barry and Marion, St Louis, Missouri – St Louis, Missouri, City Directory, 1865
1865:

Isidor Bush, Insurance Agent, Tax Year: 1865, State: Missouri – U.S. IRS Tax Assessment Lists, 1862-1918
1870:

Isidor Bush, Grape Grower, Age in 1870: 49, Birth Year: abt 1821, Birthplace: Austria, Dwelling Number: 178, Home in 1870: Joachim, Jefferson, Missouri, Personal Estate Value: 21865, Real Estate Value: 50000, Inferred Children: Raphiel Bush, Household Members: Isidor Bush 49, Raphiel Bush 26, Theresa Bush 47 – 1870 United States Federal Census
1870:

Isidor Bush & Son, Wine Manufacturer and Dealer, 22 S. Main, St Louis, Missouri – St Louis, Missouri, City Directory, 1870
1878:

Isidor Bush & Co. (Isidor Bush, Raphael Bush), Wines, Elm, se cor. 4th, St Louis, Missouri *also Isidor Bush & Son & Meissner) – St Louis, Missouri, City Directory, 1878
1880:

Isidor Bush, Nurseryman, Age: 58, Birth Date: Abt 1822, Birthplace: Austria, Home in 1880: Joachim, Jefferson, Missouri, Dwelling Number: 433, Marital status: Married, Spouse's name: Teresa Bush, Father's Birthplace: Austria, Mother's Birthplace: Austria, Household Members: Isador Bush 58, Teresa Bush 56 – 1880 United States Federal Census
1882-1885:

Isidor Bush & Co. (Isidor Bush, Louis Klein, Raphael Bush), Liquors, Wholesale, 314 Elm, se cor. 4th, St Louis, Missouri *also Isidor Bush & Son & Meissner, (Isidor Bush, Raphael Bush, Gustavus E. Meissner), winegrowers, vineyards, Bushberg, office 314 Elm – St Louis, Missouri, City Directory, 1882, 1883, 1885
1887:

Isidor Bush & Co. (Isidor Bush, Louis Klein, Raphael Bush), Liquors, Wholesale, 213 and 215 S. 2d, St Louis, Missouri *also Isidor Bush & Son & Meissner) – St Louis, Missouri, City Directory, 1887
1893:

 Newspaper Notice (below) Theresa Bush death. – St. Louis Post Dispatch, Saturday, July 15, 1893

1898: 

Isidor Bush, Death Date: 5 Aug 1898, Death Place: Saint Louis, St. Louis City, Missouri, Cemetery: Bellefontaine Cemetery, Burial or Cremation Place: Saint Louis, St. Louis City, Missouri, Spouse: Teresa Bush – U.S., Find A Grave Index, 1600s-Current
1898:

Newspaper Notice (below): Death of Isidor Bush – St. Louis Post Dispatch, Friday, August 5, 1898