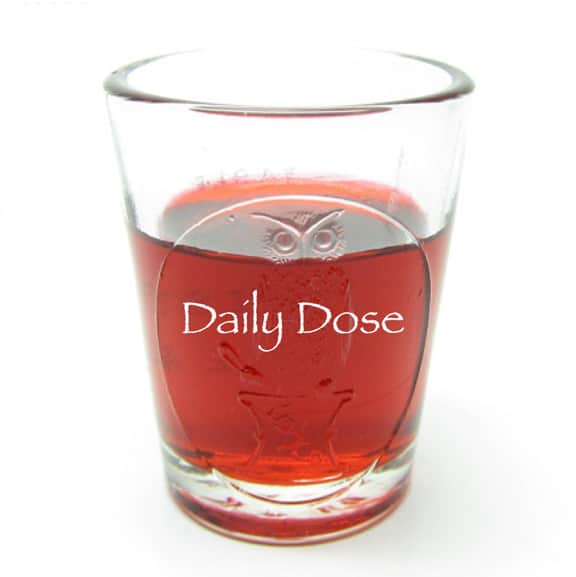 March & April

  

|

 

2 0 1 6
Friday, 29 April 2016
Hey Ferd — Just a quick note to let you know that our May 13 & 14 Lake City Show is again a sellout — All tables were sold (and paid for) within two weeks of sending out the dealer contracts — That's almost a month before the show date — Thanks a bunch for listing our show in your show calendar — Brian Hoblick & Ed LeTard / Show Co-Chairmen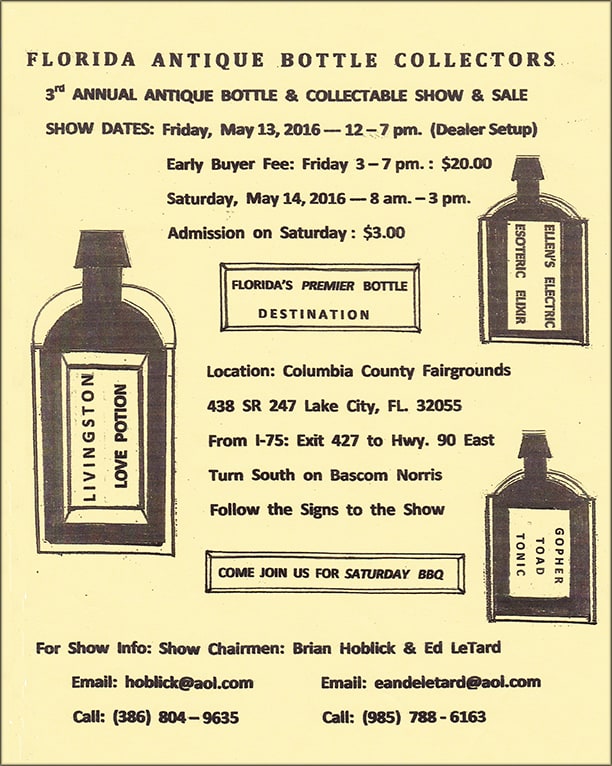 Was hoping for some dry weather this weekend so we could remove all of our stuff from the first floor of the house. Contractors coming monday to start flood repairs for 6 to 8 weeks. Floods warning too. Where can we get an ark?

Thursday, 28 April 2016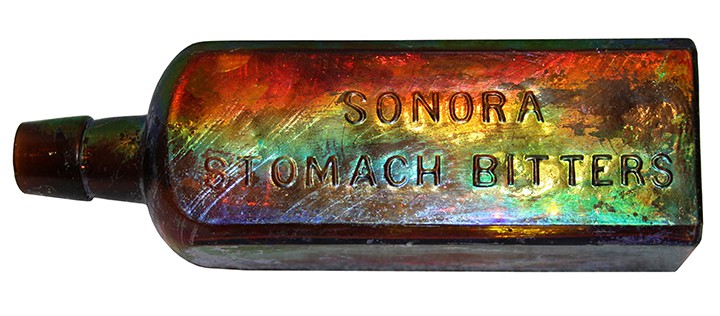 Looks like contractors will take 6 to 8 weeks to rip out everything on the first floor. Looking for a Rent-A-Zoo or something for us, our 7 dogs, 5 cats, fish and 1000 + antique bottles. Speaking of antique bottles, look at this unlisted SONORA STOMACH BITTERS dug in Baltimore a couple weeks ago. It was in a wet brick lined outhouse about 8-10 feet deep. Researching now. Not much more to go on. Story forthcoming. Obviously a Hostetter's wanna-be.
The new listing by Bill Ham for the forthcoming Bitters Bottles Supplement 2:
S 144.3  SONORA / STOMACH BITTERS // f // SONORA / STOMACH BITTERS// f //
8 7/8 x 2 1/2
Square, Amber, LTC, Applied mouth, Extremely rare
Dug in a brick lined cistern in Baltimore
Tuesday, 26 April 2016
Canceled my trip to the east coast this week as we are dealing with cleanup, insurance and contractors this week from our flood last week (see video). Thanks for all the well wishes. Here is an email that I've been sending to a few people explaining us dropping off the radar:
I suspect you heard and saw that South Texas was hit by some epic and biblical like weather this past Monday. We get a lot of rain and average over 50″ a year but this was special with around 17″ or so in one day. Unfortunately Bessie's Creek and the Brazos River left their banks. We sit in between. This has never happened in our area before.
Where I live (Waller County, west of Houston) was declared a State of Disaster (9 Counties total) with National Guard rescues etc. They asked us for a boat rescue twice but with our seven dogs and five cats, that wasn't our desire so we moved operations upstairs. We live kind of remote and roads were under water. We lost our downstairs and a lot of stuff unfortunately. No basements in South Texas thank goodness.
I took off last week but did make it into the office Friday. Houston and county schools were also closed all week.
I was hoping we could postpone our meeting one week as we have contractors and insurance appointments starting tomorrow. Wife wants me here which makes sense. My apologies for such late notice but things are evolving. More storms headed in now so we are moving wet stuff that was outside to dry back inside. Yada Yada….
Jim Bender send this cool image of a poster for a meeting at the Log Cabin.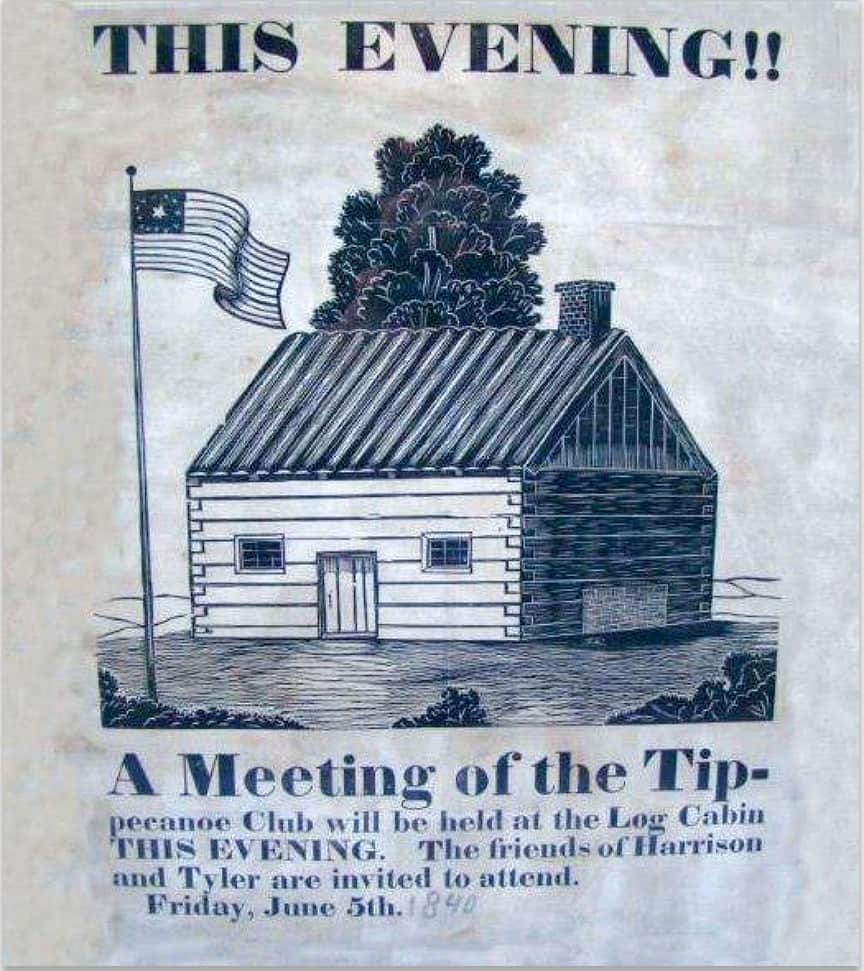 Also from Jim Bender late last week: Hey Ferd, I found this Drakes type bottle this past week end at the Rochester Show. I have seen these bottles before with no name on the roof but what I think is different is the base. It is marked M.S Recd No 812487 UCB Do you have any idea what this bottle is?
PRG: Some interesting comment on PRG Facebook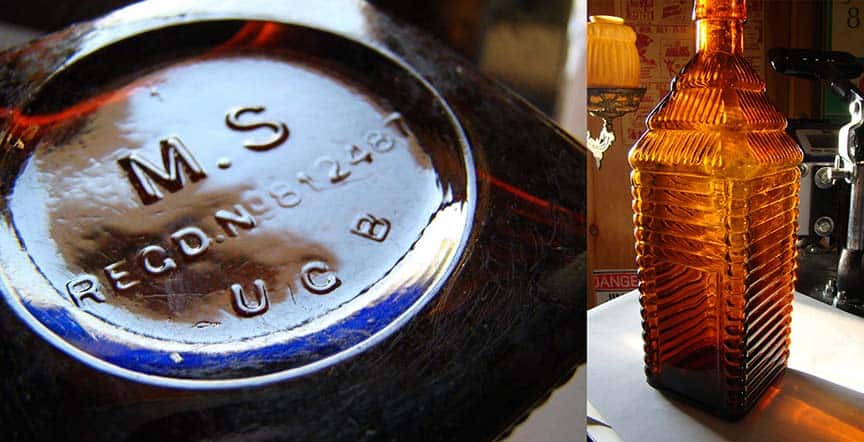 Thursday, 21 April 2016
Hi Ferdinand, Just wanted to send along some spring color! Hope all is well, Cody Zeleny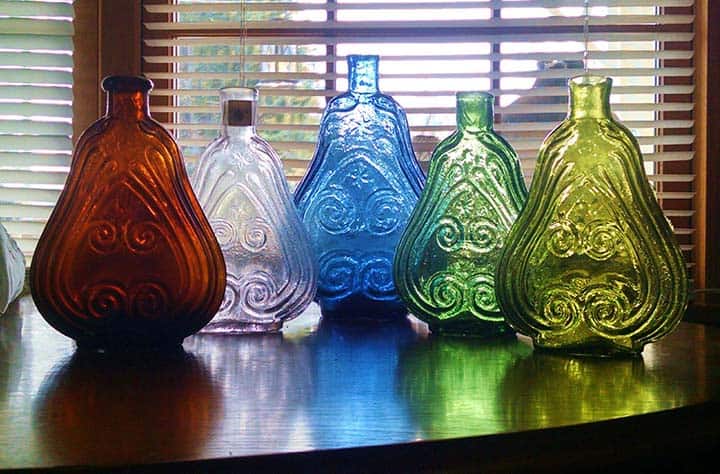 Tuesday, 12 April 2016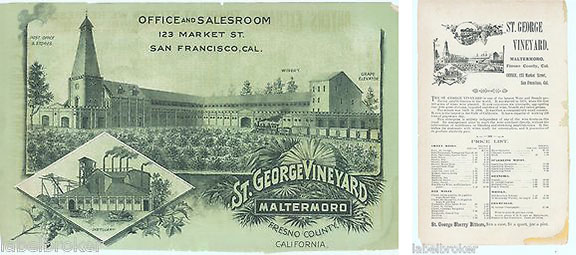 Ferd, Read your California Sherry Wine Appetizer or Stomach Bitters post on Facebook this morning. Here is some information that may contribute to solving this puzzler. While I can't be certain, this bitters may have come from the ST. GEORGE VINYARDSof Fresno, California established in 1879. Now, if you were to substitute WINERY for VINYARDS, you would then have St. GeorGE Winery and you might have the missing name of the maker.
This information came from an advertising brochure in an eBay auction saved to my "wanted" list. In it is listed a California Sherry Bitters along with a number of other Sherries. These bitters is also unmentioned in any bitters reference book that I know of.
Regards…………….Joe (Gourd)
Thursday, 08 April 2016

Gary Beatty snagged that Tyler's Standard American Bitters on eBay recently.
"Here are some pictures of the TYLER'S STANDARD AMERICAN BITTERS. I really was glad to get a BITTERS with AMERICAN in the name. The TYLER'S is T72 in Ring & Hams Bitters Bottles book. It says it is rare. I believe it should be in the next bracket, "Extremely Rare." Bob Strickhart believes there are only about 4 known? I think it is possibly a New England bitters."
Read: Tyler's Standard American Bitters – New Haven, CT
Sunday, 27 March 2016
Happy Easter little wabbits. Aaron Weyand posts these pics of an extremely rare National Stomach Bitters / Kurtz Medical Co. (N 11) over an Antique Bitters Bottles on Facebook. I've cut away the background, combined and rotated for better viewing.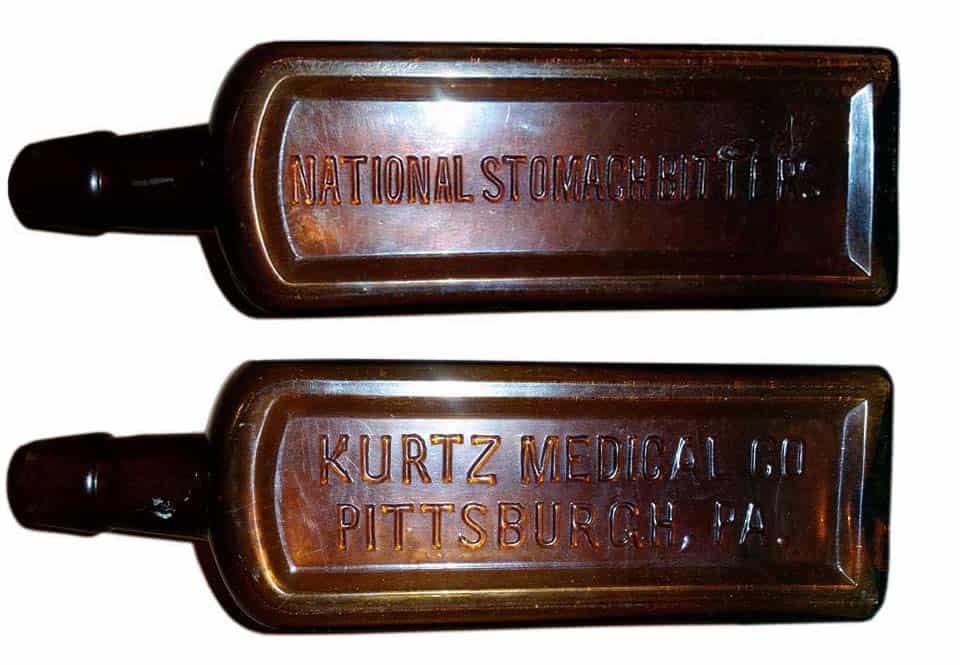 Thursday, 24 March 2016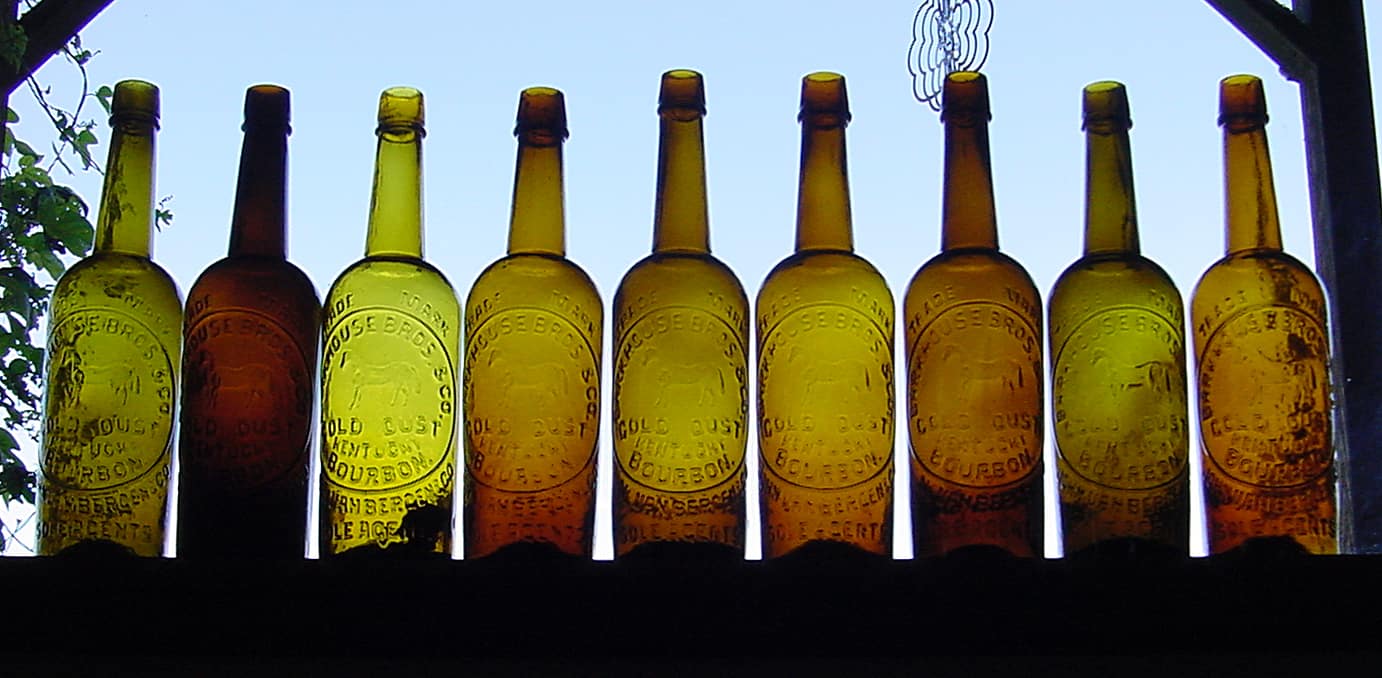 Rain on Jane this AM. Pouring. That's Houston though. Love this color run of Barkhouse Brothers Gold Dust Kentucky Bourbon bottles from a prominent anonymous western collector.
Wednesday, 23 March 2016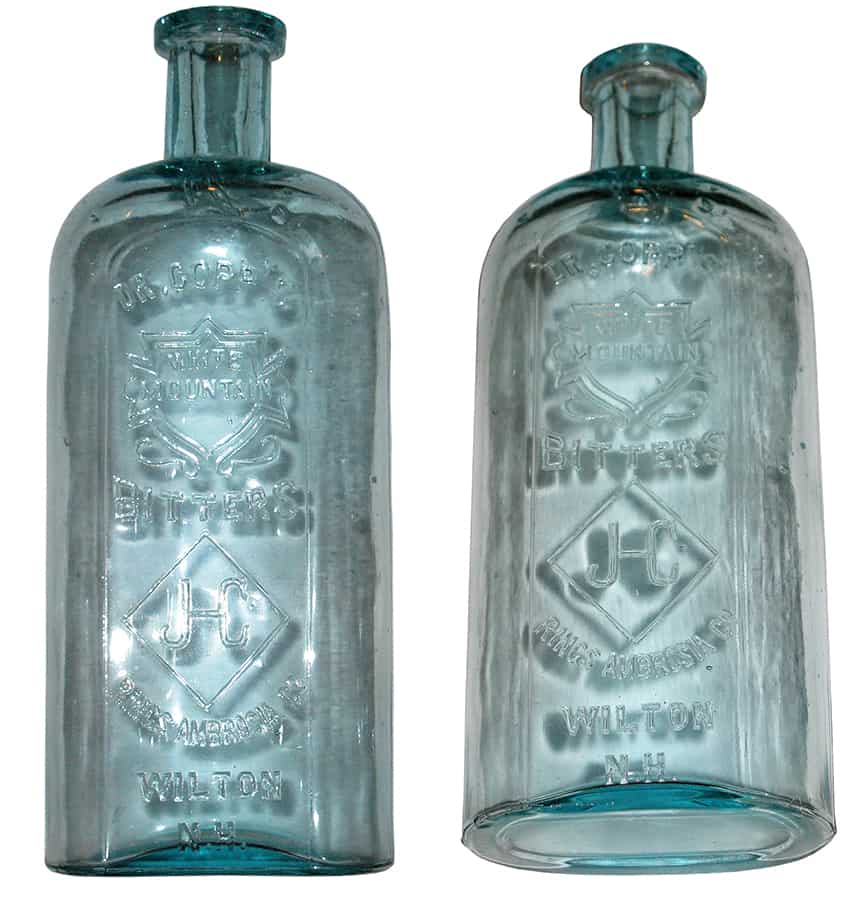 Ferdinand,
I was reading through your past write up on the Dr. Copp's White Mountain Bitters and noticed that you don't have anything on there about the variant. There is another version that is identical except below the JC monogram it is embossed "Ring's Ambrosia Co,/Wilton, N.H."  I have a damaged example…if you would like I'll try to get a photo of it tonight.  It is the only example I have seen…bought it many years ago now with a damaged Manchester example that I have since sold. Ring's Ambrosia Co. put out a number of other medicines, including several other embossed bottles.
Best Regards, Brandon DeWolfe, P.E.
Read: Dr. Copp's White Mountain Bitters – Manchester, New Hampshire
Sunday, 20 March 2016
Hi Ferdinand, Your collection of Clarke's bitter bottles is amazing! My husband's family are direct descendants of Dr. Clarke of Sharon, Massachusetts. Dr. Clarke is third great-grandfather to my children. "Dr." Clarke — as he had "no degree from a medical college," according to the family history — manufactured at one time 36,000 bottles of bitters per month. Family history writes that in an old newspaper article the large number of bottles, 'will not seem incredible, when we are aware that the doctor's portrait, which is on each bottle, is as familiar a sight at the trading stations on the West Coast of Africa, in
Honolulu, and the Sandwich Islands as in the country stores of New England.'
Dr. Clarke's Sherry Wine Bitters 'acquired a worldwide reputation as a cure for asthma, dyspepsia, and general debility,' the article also states. A fun family fact of Dr. Clarke is that in the family, the Clarks before him never spelled their name with the final "e." Dr. Clarke must have liked having that extra "e" for some reason. All direct descendants of
Dr. E. R. Clarke have hung on to that final "e." My children's great-grandfather (deceased 2003) shared Dr. Clarke's name, Edwin Richards. His wife, Mrs. E. R. Clarke, is still living and celebrates her 98th birthday next month. Her name is Elizabeth. She has always been a history buff and told me the story of Dr. Clarke's patent medicines when I married into the family, even showing me a piece of one of Dr. Clarke's bottles with his name intact. I thought you would appreciate some information about the man on the bottles you collect.
Holly Warden
Read: A grouping of Clarke's Vegetable Sherry Wine Bitters
POST UPDATE >> Barrel Series – Highland Bitters and Scotch Tonic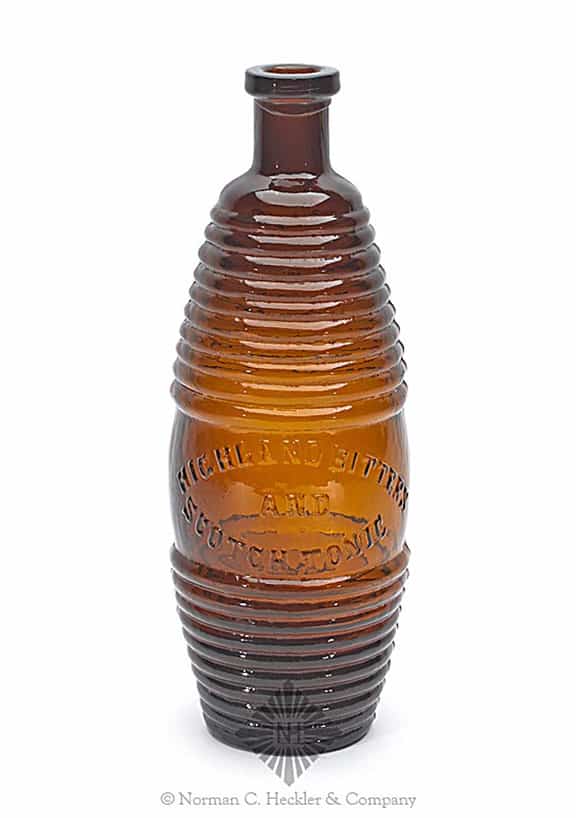 Thursday, 17 March 2016
1859 advertisement below from The Louisville Courier for Dr. Brunon's Bitters from New York. Listing only for advertisement in Bitters Bottles as B 239.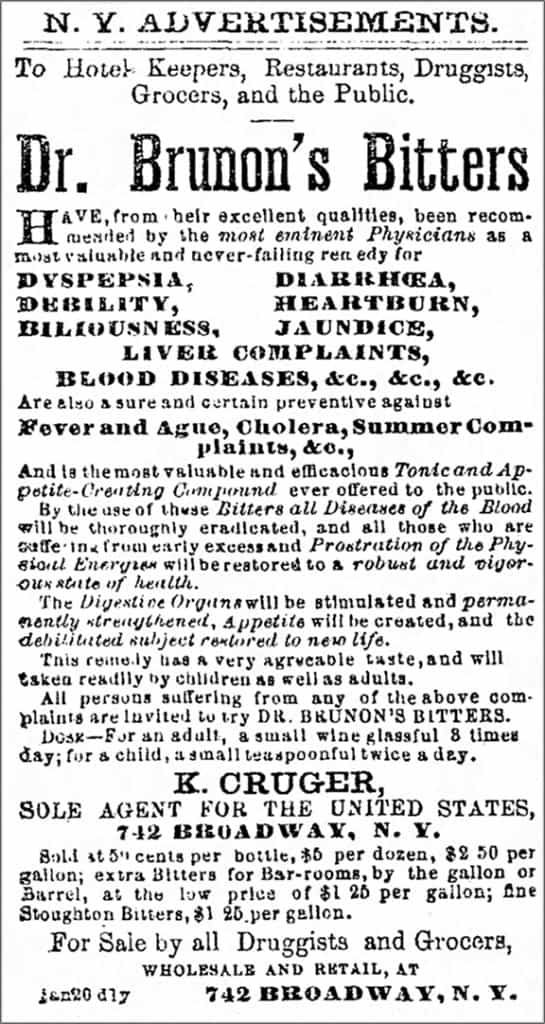 Wednesday, 16 March 2016
This interesting Professor Byrne's closes tonight at Heckler Premier Auction #133.
Read: Professor Byrne and Landsberg – Some Highly Decorative Bottles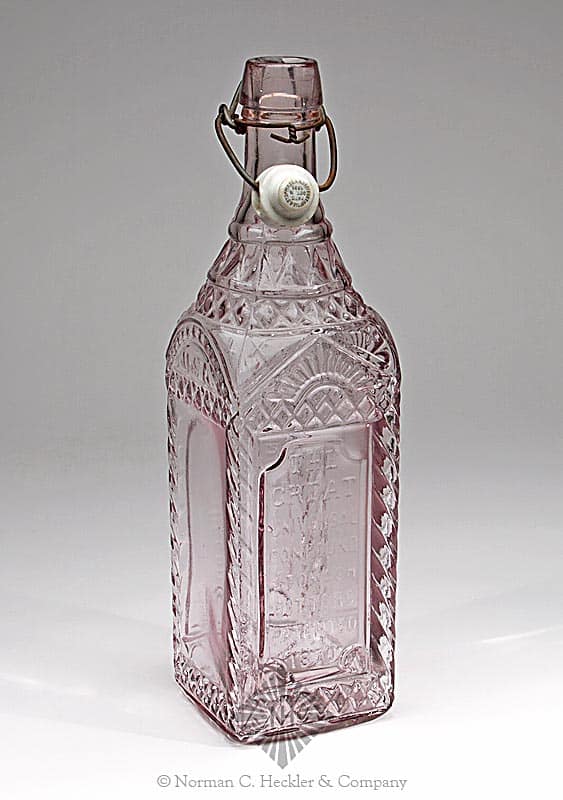 Lot:

 4 "The / Great / Universal / Compound / Stomach / Bitters / Patented / 1870" – "Professor / Geo. J. Byrne / New York" Figural Bitters Bottle, America, 1870-1880. Square modified cabin form with roped corners and fancy overall embossing, colorless with a strong lavender tint, tooled sloping collared mouth with ring – smooth base with impressed five pointed star, ht. 10 1/2 inches. R/H #B-280 Retains metal closure and porcelain stopper which reads "Amanda Miller / Germantown, PA.". Extremely rare. Strong mold impression. Unlisted color. Fine condition. Property of The Strong, sold to benefit the museum's collections fund.
Tuesday, 15 March 2016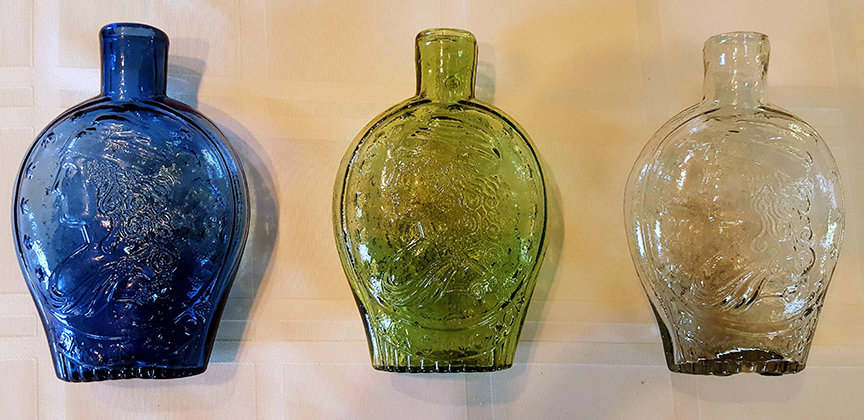 Updated The Bust of Columbia Liberty Cap Eagle Historical Flask post with this image of three half pints from an anonymous collector.
Monday, 14 March 2016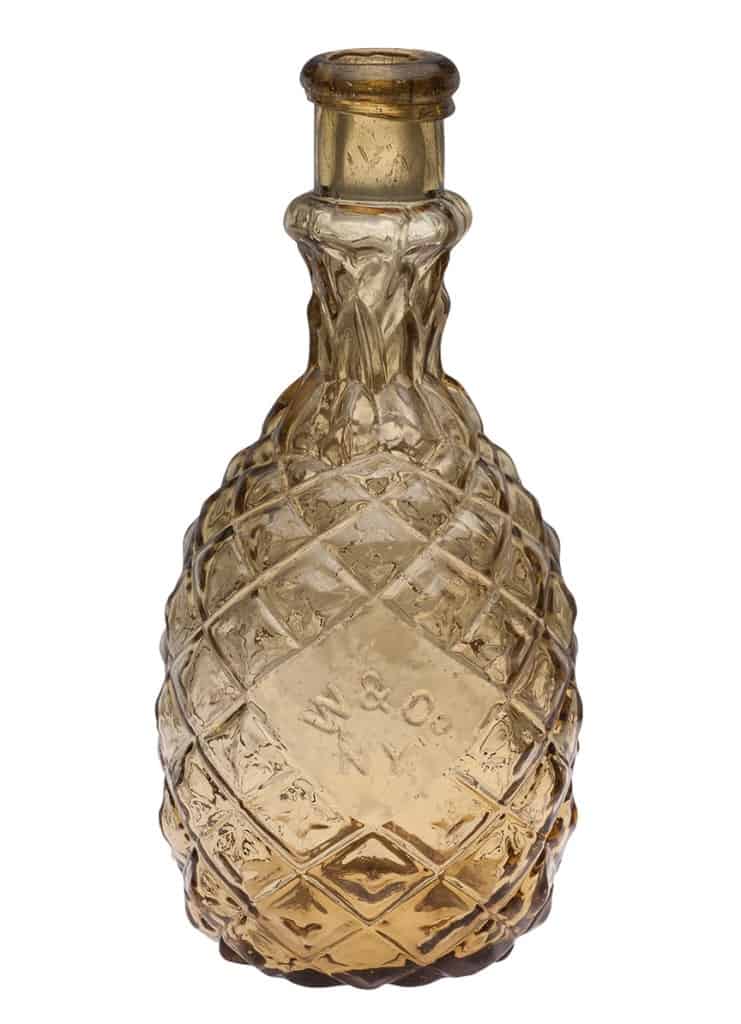 Updated Pineapple Bitters post with this better photograph of an uniquely colored topaz W & Co NY pineapple bitters from the Sandor P. Fuss collection. Read: Pineapple Bitters – The Different Variants
Tuesday, 08 March 2016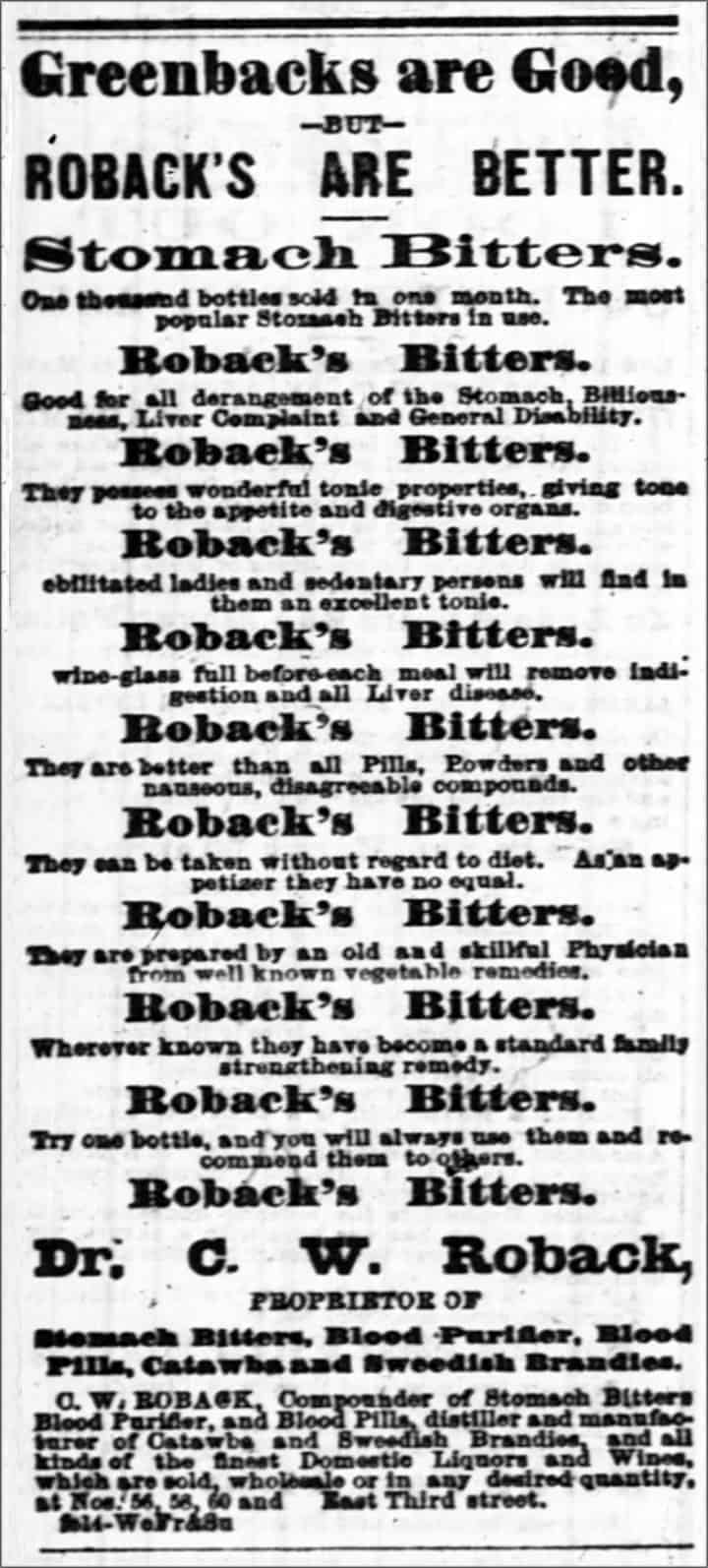 Greenbacks are Good but ROBACK'S ARE BETTER, Green Roback's are best!! 
Read: Barrel Series – Roback's Stomach Bitters (the big boys)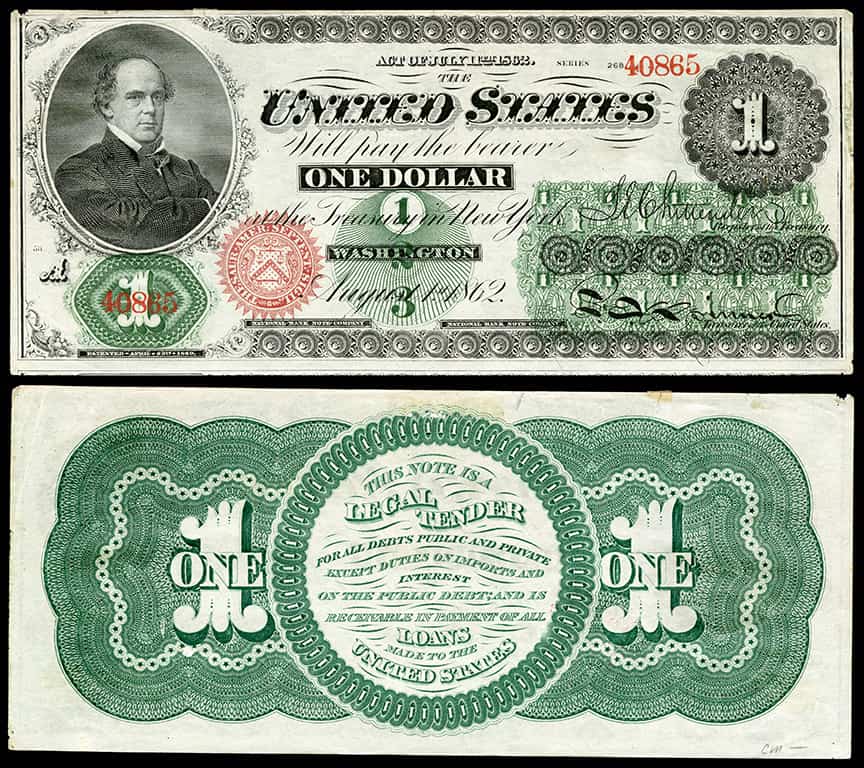 Monday, 07 March 2016
Finally figured out what the A. M., S. 2. embossing on a Constitution Bitters means. "All must surrender to Constitution Bitters." Ad below from the The Indiana Herald, Wednesday, August 19, 1868.
Read: The Constitution Bitters from Buffalo, NY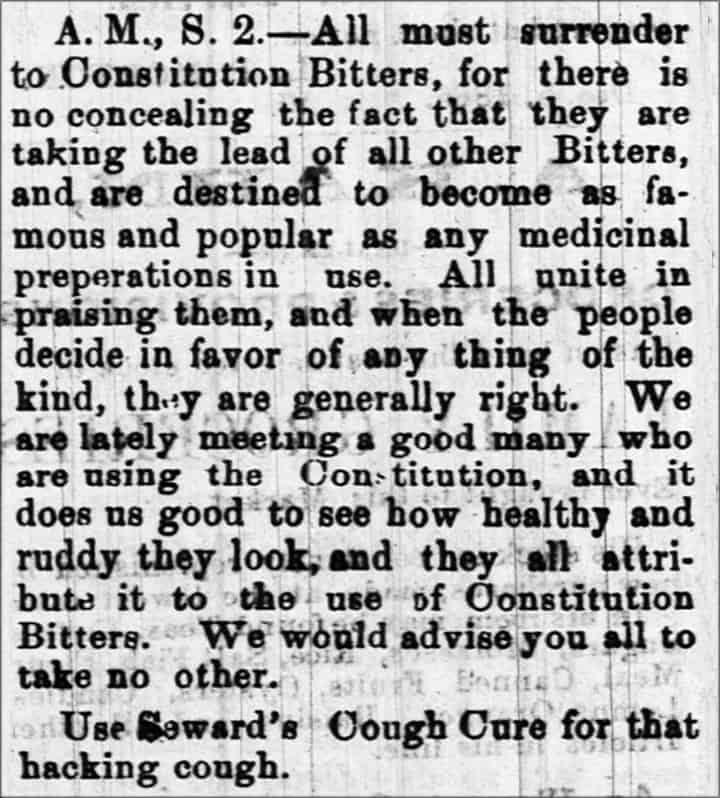 Saturday, o5 March 2016
Nice Dr. B. F. Sherman's Compound Prickly Ash Bitters sign being auctioned by McMurray Antiques & Auctions.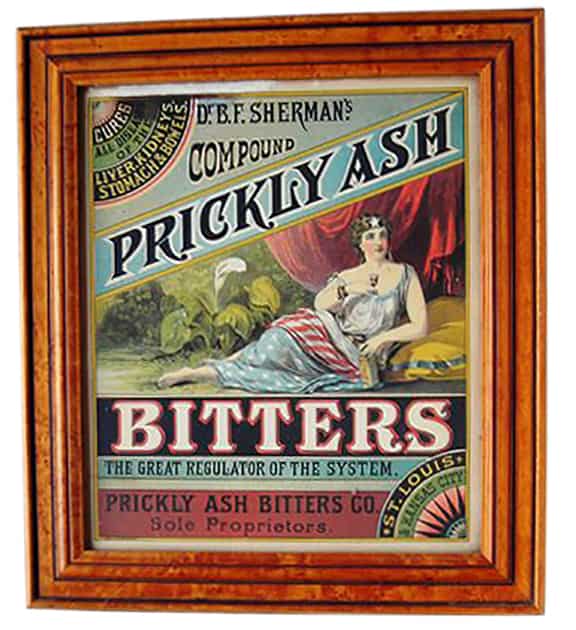 Tuesday,01 March 2016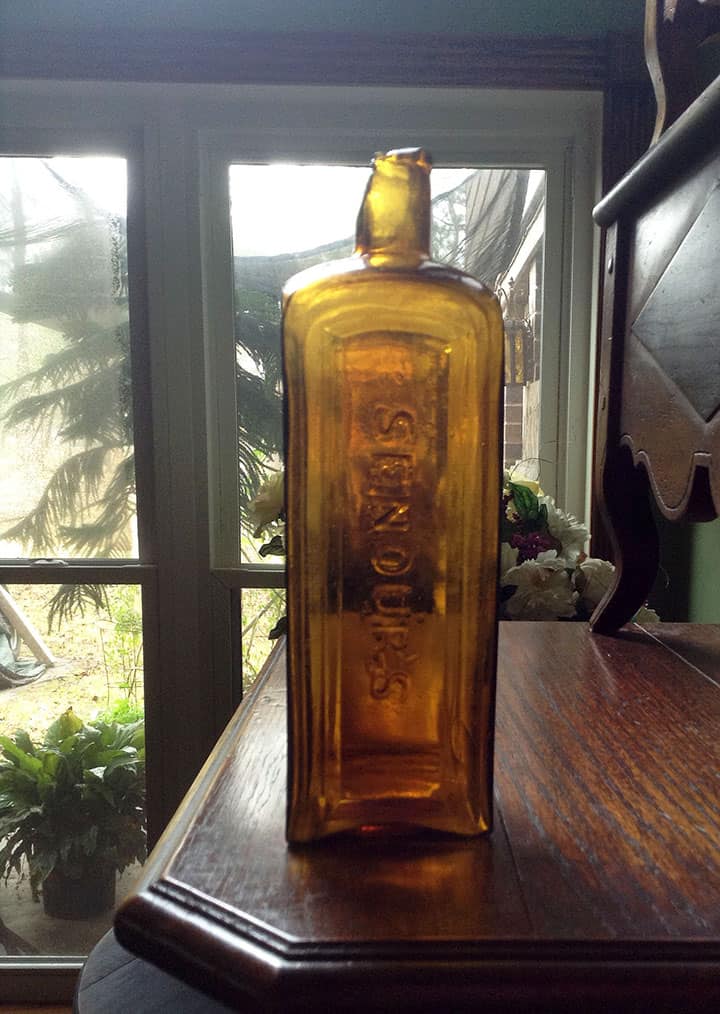 Off to Dallas and than San Antone tomorrow night. Baltimore next week for the show and FOHBC board meeting. Here is another Senours Calisaya Bitters that crossed my path today (see above). Obviously with a problem. That makes the one dug last month (see below) and this one, the only examples that I have seen.
The bottle is about nine inches tall. It has no other damage other than the top. It does have some oxidation from being dug. In a window it is honey amber. On the Senours side it displays nicely. The bottle with the rigaree, I found in an antique mall in Corpus Christi about twenty years ago. The only other one like it I have seen was in a New England bottle auction catalog about ten years ago. The only difference is that this one is a quart and the other was  a pint. It is cloudy inside. Pontiled with wide wear band. If you are interested in the Senours what ever feels good to you is fine. Thank you for your reply. If you know anyone that needs custom furniture in the 18th or early 19th century style. This what I do. Johnolsonfurniture.com Have a blessed day.