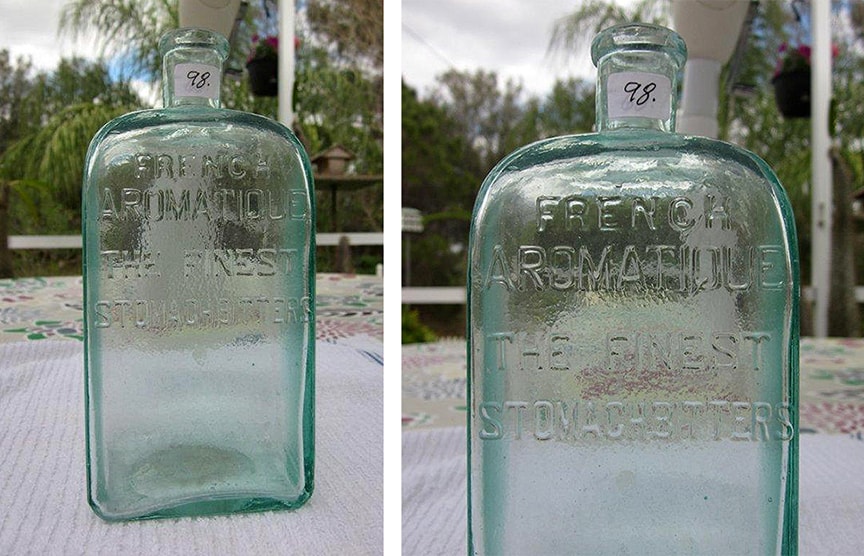 French Aromatique – The Finest Stomach Bitters
23 February 2016 (Updated)

I get quite a few neat bitters emails from Gary Beatty (North Port, Florida) that always get me thinking and admiring. Let's take a moment to look at his French Aromatique Stomach Bitters with the backwards "Q". I have an example too that I picked up on eBay in 2006 from bitters guru Mark Warne. Here is Gary's email below and pictures (top of post).
Hi Ferd, here is a FRENCH AROMATIQUE  THE FINEST STOMACH BITTERS in aqua. It is 7 1/4 by 3 1/8 by 2 3/4 by 5 1/4 with an applied ring top. I showed it to the late Dick Watson and he had heard of it, but never seen one. Ring & Ham have it listed as F 85 and Very Rare, which is 6 to 15 examples. I don't know what city it is from but Dick was sure it was American. Does anyone out there know or have a label or newspaper advertisement? Best Regards, Gary Beatty
Hey Ferd, just for the heck of it… this is my other passion. Gary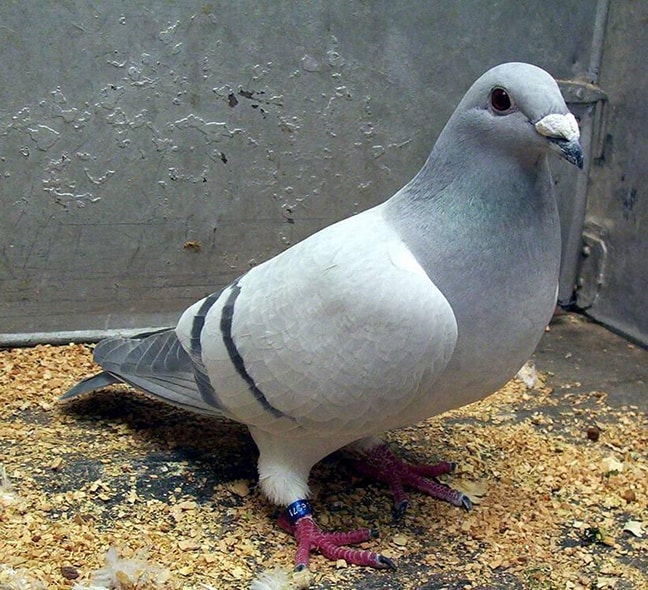 [PRG] Gary, since the file is named British Show Racer I see that you fancy, fancy pigeons too. Interesting reading about them.
The Carlyn Ring and W.C. Ham listing in Bitters Bottles is as follows: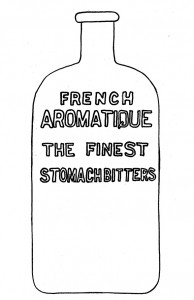 F 85  FRENCH AROMATIQUE BITTERS
FRENCH / AROMATIQUE / THE FINEST / STOMACH BITTERS // f // f // f //
7 1/4 x 3 1/8 x 2 3/4 (5 1/4)
Rectangular, Aqua, CM and DC, Tooled lip and Applied mouth, Very rare
Note: Q is backwards
This is a tough one to figure out without a label or advertising. The bottle kind of reminds me of a Dr. Mampe's Herb Stomach Bitters from Oshkosh, Wisconsin which also comes in aqua. Maybe even a Normandy Herb and Root Bitters from Louisville, Kentucky that usual comes in ranges of yellow amber. Both are pictured below. Dig that horseshoe on the Normandy's. Without a doubt though, you get that German bottle feeling.
Searching online, I see a couple of clues in the form of newspaper advertisements. You can see below that a druggist named William O. Posey was selling "Bitters Aromatique" to the large French population in New Orleans in 1877. The ad is even in French. Maybe a labeled version might prove, or disprove this. This may want to be listed in Bitters Bottles Supplement 2.
Also Steinwender & Sellner were selling a lot of French liquors and wines in St. Louis in 1891. One product was Lappe's Aromatic Bitters. This could be unlisted or related to Lappe's Stomach Bitters (L 27) listed in Bitters Bottles.
I'll keep looking and see if the readers have anything to add.
UPDATE
Ferdinand,
Saw your write-up about the Aromatique bitters bottle…seems like these were typically sold in these squat bottles. Attached are some photos (see below) of a bottle embossed "T. H. Lappe / Apotheker / Neudietendorf / Thuringen" and labeled for Aromatique Feinster Magenliqueur (or something to that effect) that is advertised on the side as the finest stomach bitters. I've seen the bottles before without labels and wondered how so many got into the United States, but there is a note on the front label that says "Sole Agents United States & Canada / Runk Unger & Co. 50 Park Place New York", so it looks like it was marketed here in the US.
Nonetheless, thought you might be interested in seeing these. This is the only labeled example I have seen and it struck me how similar in shape it was to the French Aromatique Bitters you posted about.
Best Regards,
Brandon DeWolfe, P.E.