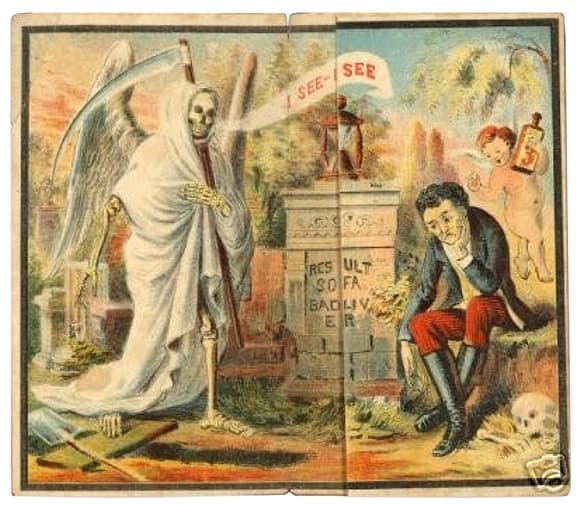 Dr. Sherman's Prickley Ash Bitters from Kansas City?
28 March 2013 (R•030516)
It appears that Dr. Sherman went into a drug store to get a drink of whiskey, and being familiar with the place went behind the prescription case and helped himself, but by mistake took from the wrong bottle something of a poisonous nature from which he died in a few hours.
Hi Ferdinand,
Thought you might find this story interesting. I started digging when I was 12 years old. In one of my first privy's dug on the West Side in K.C., Missouri, I found two bitters. One broken and one whole. Citron in color, square, unlisted, and embossed DR. SHERMAN'S / COMPOUND / PRICKLY ASH BITTERS / KANSAS CITY, MO. Yes, embossed Kansas City, Mo.
I took it to the St. Louis show in 74′ or 75′ and sold it for $100. I know Meyer Drugs owned this bottle and rights to the product starting I believe 83″? But, check out this trade card and you will find a different lineage of ownership than what you expected. The bottle and the bitters were distributed in K.C. well before St. Louis. I would guess the bottle I dug to be 1870's time period. Never seen another one before or since……. Wish I had it back! I dug one an amber one in St. Joseph, Mo. but no K.C. embossing on it.
Anyway check out the trade card. (You have to able to read upside down.) It's on the third page of the card. J.W. WOODS must have been a druggist? So, let's re-think that St. Louis origination, OK?
Best,
Sam Lawson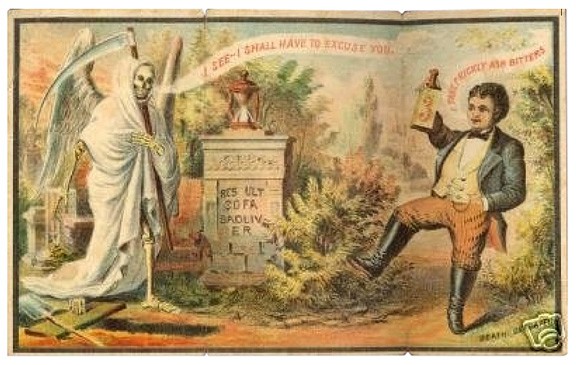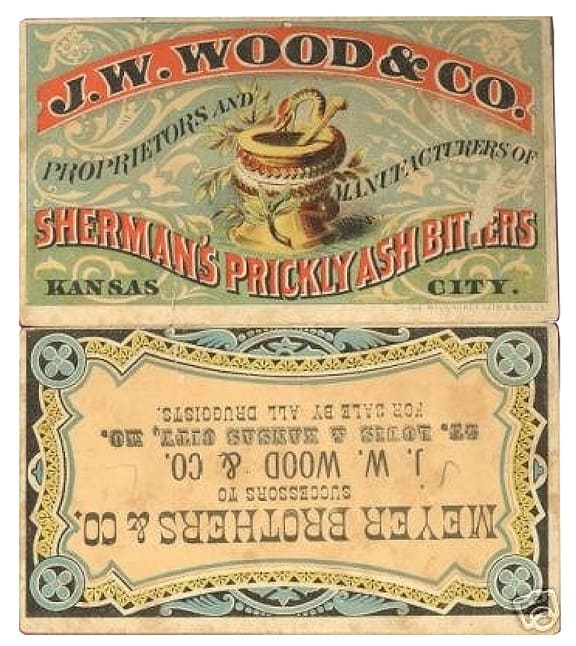 Nice to hear from you Sam. Quite a bit of evidence showing Dr. B. F. Sherman's Prickley Ash Bitters was before Prickly Ash Bitters. Meyer & Co. purchased the brand. Dr. Sherman is also showing up in Missouri.
I have a pretty decent example of the Dr. Sherman's. Maybe it is the one you dug?
The Carlyn Ring and W.C. Ham listing in Bitters Bottles is as follows:
S 100.5

 DR. SHERMAN'S PRICKLEY ASH BITTERS, Circa 1870 – 1880
DR. B. F. SHERMAN'S / COMPOUND / PRICKLEY ASH / BITTERS
9 1/4 x 2 7/8 (7)
Square, Yellow olive, LTC, Applied mouth, Extremely rare
The Prickly Ash Bitters Company of St. Louis and Kansas City.
* Note spelling of PRICKLEY
Read More: Prickly Ash Bitters – Meyer Brothers Drug Company