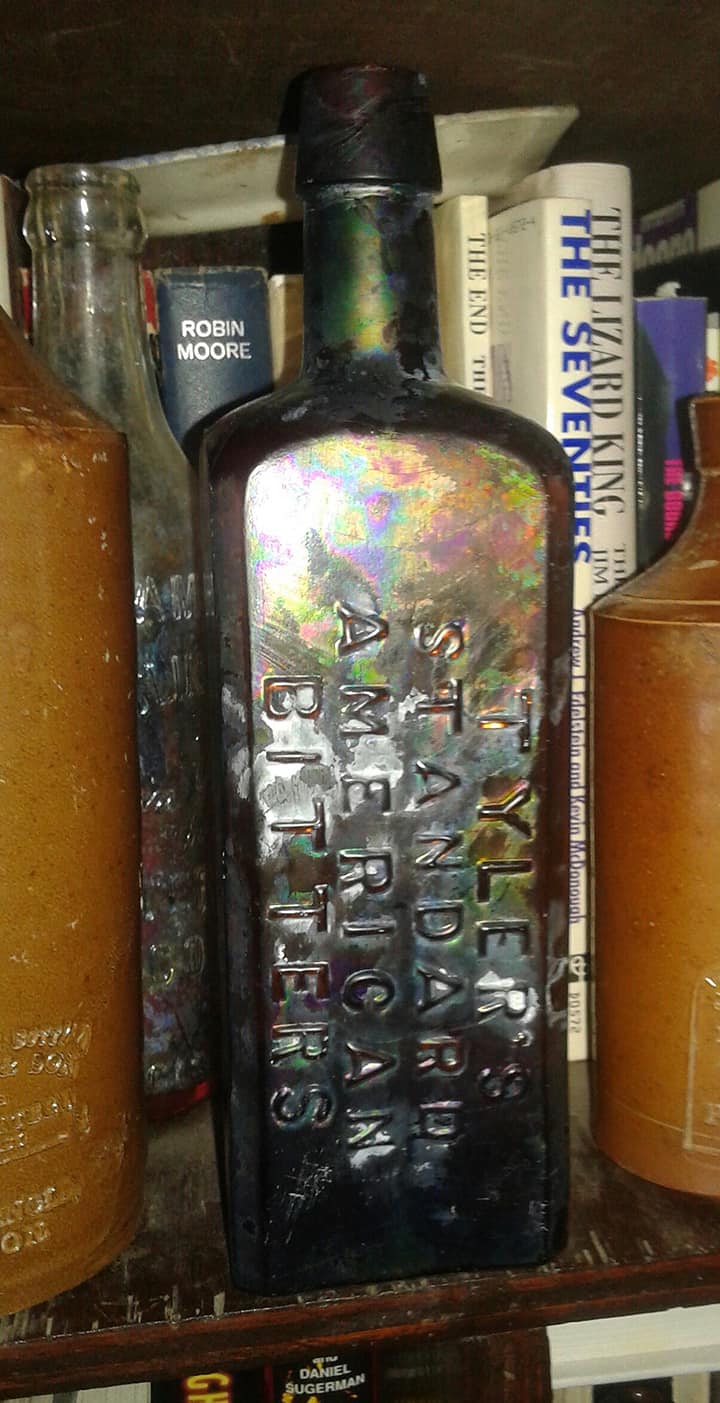 Tyler's Standard American Bitters – New Haven, CT
22 July 2015 (R•072615) (R•040816)

I have pretty much been overwhelmed with business, the upcoming 2015 Chattanooga National and the 2016 Sacramento National. Traveling every day of the week, so thinking about bitters bottles has been challenging though the pictures, stories and questions are lined up like freight trains coming and going from Houston. That's the only comparison I can think of right now as I sit in my hotel lobby in Lexington, Kentucky. Off to Louisville later today.
This post started with a simple e-mail and picture:
I recently dug up this bitters bottle (see top of post) in New Milford, CT. Do you have any info about it? I can't seem to find much about it.
Thanks,




Frederick Crowe
I was not familiar with this applied top square but did see a T 72 advertising trade card listing in Bitters Bottles Supplement by Carlyn Ring and Bill Ham for a Tyler's Standard American Bitters. A quick e-mail to bitters ephemera authority Joe Gourd in Chicago, reveals the following:
Ferd,
Here you go (see below). This is one of my favorite trade cards. I love the graphics and the patriotic symbols. It is a centerpiece of my collection. I know it goes with a great bottle. Can hardly wait to see what history you are able to uncover.
Have a great day ……………. Joe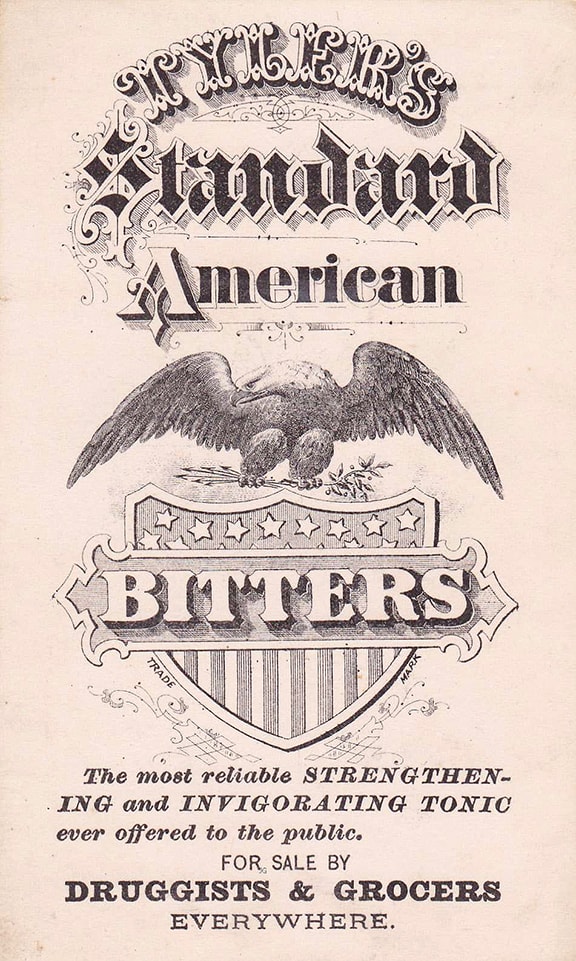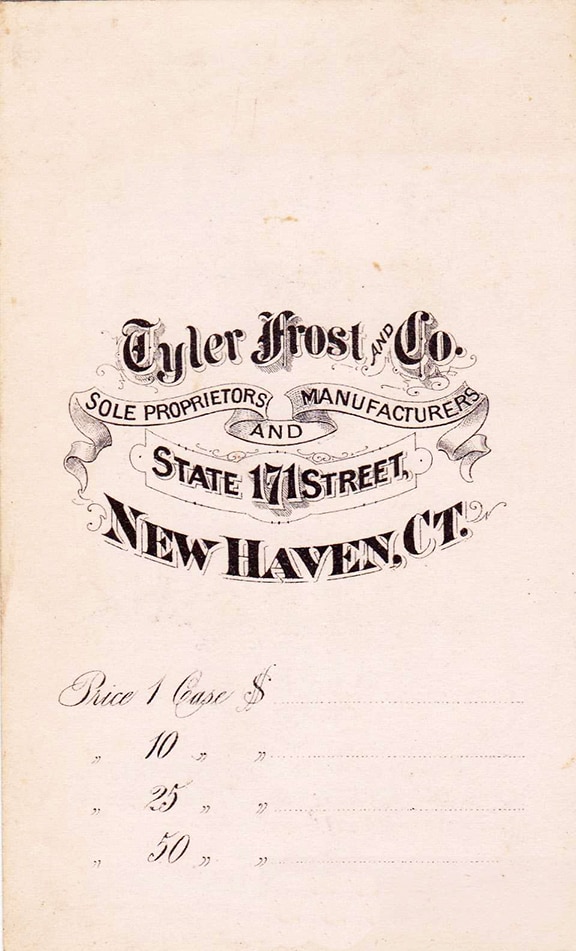 The Carlyn Ring and W.C. Ham listing in Bitters Bottles is as follows:
T 72

  TYLER'S / STANDARD / AMERICAN / BITTERS // f // f // f //


9 1/4 x 2 3/4 (6 1/2) 1/4
Square, Amber, LTC, Applied mouth, Rare
(probably should be Very rare)
The trade card is important as it leads me to New Haven, Connecticut and Tyler, Frost & Company. The advertisement below dates the brand and bottle to around 1874.
Actually the brand may be a little earlier than 1874 because Tyler is the only name on the bottle. This would be Julius Tyler, Jr. and he was a liquor dealer in New Haven, Connecticut. Both his parents were from Connecticut and his father was a blacksmith or horseshoer. In 1858 he formed a partnership with Herrick Payne Frost and established the wholesale grocery house of Tyler & Frost, on State street. In 1868 Truman Sherman Foote joined the company and the name was changed to Tyler, Frost & Company. This business was operated with great energy and varied success for nearly twenty years. The business failed and the partnership was dissolved in 1875.
Since the bottle was dug in Milford, Connecticut, this pretty much seals the deal.
Julius Tyler Jr.
Julius Tyler, 44, born 9 January 1836 in Connecticut, home in 1880: New Haven, Connecticut, married to Mary Tyler, father's birthplace: Connecticut, mother's birthplace: occupation: Liquor Dealer, Father was a blacksmith. Death 61, 4 Aug 1897 in CT.
Herrick Payne Frost
Herrick Payne Frost, late of New Haven, where for many years he was one of the useful citizens and substantial business men of that city – first as a wholesale grocer, and then as a telephone projector, as well as manager, was descended from the Frost family, of Wolcott, Connecticut.
Mr. Frost was born January 16, 1835, in the town of Wolcott, a son of Sylvester and Philarida (Tuttle) Frost, and was in the fourth generation from David Frost, of the same town. David Frost was born September 5, 1742, and his wife, Mary, was born December 22, 1740. They had their home three miles east of Waterbury, on the Southington road, at what is now called East Farms. His death occurred December 15, 1812, and that of his wife, February 6, 1819, when she was aged seventy-nine years. From this David Frost, Herrick P. Frost's lineage is through David Frost (2) and Sylvester.
David Frost (2) was born March 1, 1767, and was married June 14, 1790, to Mary Ann, a daughter of David Hitchcock, of Southington. Mr. Frost settled on Southington Mountain, north of Capt. N. Lewis, and became a man of influence and responsibility in the town. He died March 18, 1850, and his wife, November 24, 1832. Sylvester Frost, his son, was the father of Herrick Frost, and was born May 8, 1807. He married Philanda Tuttle, and was engaged in farming in Wolcott. His death occurred in Southington, Connecticut.
Herrick P. Frost passed his boyhood for the greater part at the home of his uncle, Herrick Payne, and was educated at the academy. In his seventeenth year he secured a team and wagon and went on the road selling goods of various kinds through a number of states and in this manner soon became self-reliant and confident, as well as experienced. For a number of years he was engaged in this line, and in 1856 made his home in New Haven, where after several experiments in various enterprises, in 1858 he formed a partnership with Julius Tyler, Jr., establishing the wholesale grocery house of Tyler & Frost, on State street. This business Mr. Frost prosecuted with great energy and varied success for nearly twenty years, the partnership being dissolved in 1876, at about the time the telephone was just coming into public notice. The attention of Mr. Frost was turned to it, and after a careful examination of its merits, its practical character was quickly revealed to him. Associated with George W. Coy, an electrician and at one time a telegraph manager, Mr. Frost and his partner, in January, 1877, projected the first telephone company ever formed 'for a general exchange business in New Haven, under the name of the New Haven Telephone Company, and the first telephone exchange, it is said, that the world ever saw, was established. The new enterprise attracted general attention, and in less than three months after its inauguration it had one hundred and fifty subscribers, and within a year over four hundred. Mr. Frost and his partner were thus instrumental in giving to New Haven the credit of leading the world in this important line. By 1880 capital had become interested in the further development of the system, and the New Haven Telephone Company was merged into the Connecticut Telephone Company, with the late Marshall Jewell, of Hartford, as president. and Hon. Charles L. Mitchell and Morris F. Tyler as directors. This company in 1884 underwent another change, becoming the Southern New England Telephone Company, with a capital of one and a half million dollars. Through the foresight, energy and ability of Mr. Frost, to whom was committed the general management of this great and growing corporation, the lines of the company were carried into nearly every town, hamlet and school district. within the territory in which they operated, and until a very few years ago there was no district in the world with so many telephones in use, in proportion to its population, as Connecticut.
The Boston Electric Light Co., of Boston, was also projected by Mr. Frost. The New Haven Electric Light Co. and the New Haven Steam Heat Co. were also projects of his, and he was interested in the Chesapeake and Potomac Telephone Co., Washington, D. C.; and he was director and stockholder in thirty-four electric light and telephone companies. He was also one of the organizers of the opposition line of steamboats.
Mr. Frost commanded the esteem and respect of his fellow citizens. He had been connected with the city government in various relations—as a councilman, alderman, police commissioner, as well as in other capacities. For a number of years he was chairman of the city board of finance, and in all official relations acquitted himself with credit.
Mr. Frost was married April 22, 1858, to Miss Olive Amelia, a daughter of Ashbel Mix, a highly respected citizen of the town of Bristol, and to this union were born: Louie Herrick, who married Clara Drake; Helen Louise, who died when five years old; Pauline Amelia, who married Archibald Ward Ives, of Boston; and Dwight S. M. Mr. Frost died Nov. 3, 1888, and was interred in Evergreen cemetery, New Haven. – A modern history of New Haven and eastern New Haven County, Volume 2, by Everett Gleason Hill, 1918
Truman Sherman Foote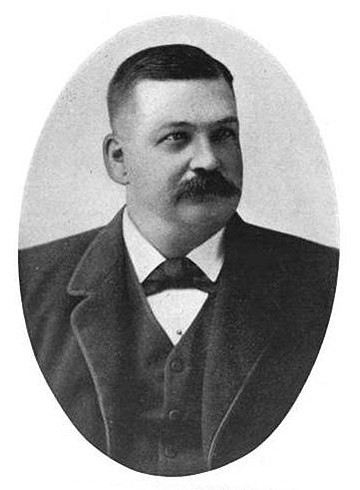 TRUMAN SHERMAN FOOTE, b. Albany, N. Y., Feb. 11, 1845; m. Jane Foote Mix, dau. of Ashbel Mix and Olive Eliza Foote, of Bristol, Ct., Oct. 27, 1868.
After the death of Mr. Foote's parents in Albany, N. Y., he went to Bristol, Ct., where he lived with his guardian until he was 15 years of age, when he removed to New Haven, Ct., and resided here until his death. On coming to New Haven he secured a position as bookkeeper with the firm of Tyler & Frost, but his adeptness for his business was soon recognized and in 1868 he was made a member of the firm under the name of Tyler, Frost & Company. 
He was prominent in local and State politics and served as a member of the Common Council, was also Town Clerk and Chairman of the Democratic Town Committee. It is said of Mr. Foote that he could look defeat in the face with as genial a smile as when victory rewarded the efforts of his party.
In secret society affairs, Mr. Foote confined his enthusiasm to the Masonic order, having been a member of Wooster Lodge No. 79, A. F. and A. M.; Franklin Chapter No. 2, R. A. M.; New Haven Commandery No. 2, Knights Templar, and was one of the first New Haven Masons to be raised to the Ancient Accepted Scottish Rite.
Mr. Foote's happiest moments were when with his family. There the gentle sweetness of voice and manner had full play, there the devoted husband and tender affectionate father lived. He was esteemed in social and business life alike, and of a most genial nature, none knew Mr. Foote but to value his friendship. He was aggressive in business, positive in his convictions, generous in his treatment of others, he made firm friends and won the confidence of his associates. Despising hypocrisy, none more quick to pull the veil from falsehood or more quick to entrust confidences to those in whom he believed. He was one who allowed the cares of business to unduly burden him, and when, on June 16, 1887, he died suddenly, twenty good working years were cut off from what might have been expected for him.
"Formed on the good old plan, A true and brave and downright honest man, Loathing pretense, he did with cheerful will, What others talked of, while their hands were still." Mrs. Foote m. twice, her second husband being George Edward Hoadley, son of George Hoadley, of New Haven, Ct., Feb. 5, 1890, b. in New Haven, Ct., July 18, 1832; d. Mar. 11, 1893 (No. 257, Hoadley Genealogy). No ch. second marriage. – Foote family: comprising the genealogy and history of Nathaniel …, Volume 1, by Abram William Foote