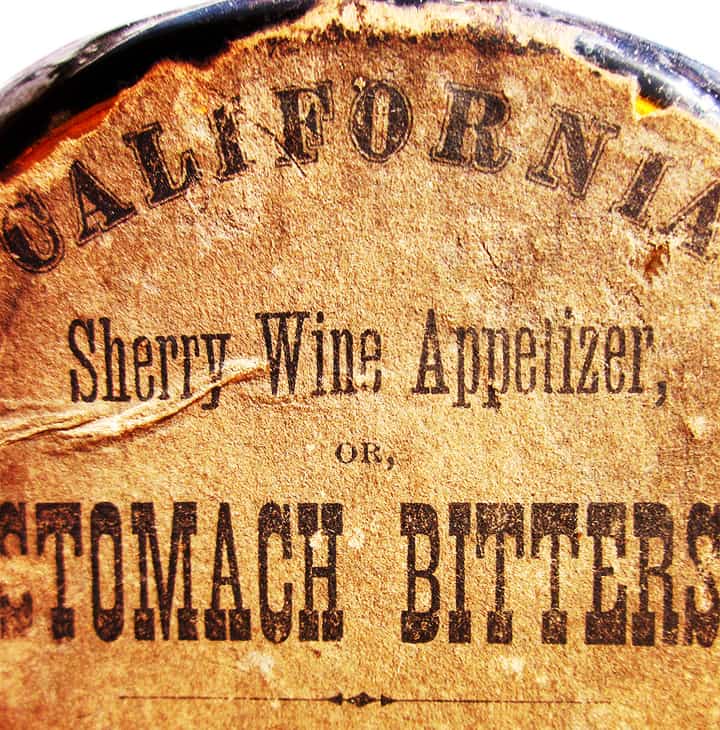 California Sherry Wine Appetizer or Stomach Bitters
10 April 2016 (R•041216) (R•041316) (R•090319)

It looks like we may have an unlisted, labeled bitters here as I find no reference to the California Sherry Wine Appetizer or Stomach Bitters in the Ring & Ham Bitters Bottles or the supplements, both existing and planned. This email and pictures came in from Henry Hartley:
"Hello Ferdinand, having read about you and your connection with bitters, I figured you were the right fellow to ask about a labeled bitters I have. I hope you can read what is left of the label. Unfortunately the maker's name is missing. Only an "E" and a "W" are discernible. This is sort of puzzle bottle. Thanks for any help in identification."
I sent Henry a quick email back and asked: "Henry: Interesting. See if there are any remaining words on the label the might be: Speer's Port, Grape, Leavenworth, Marshall & Pinkston and New York?"
Henry replied: "I could not find any of your terms in the text on the label. However, in the last picture you may make out  "GE W.". There is label room for George. Do you recall a bitters with George W. (blank) as maker? How ironic the most important information is missing."
A search in the PRG data base does show a George W. Holloway who was a Manufacturing Pharmacist at 807-809 N. Salina Street in Syracuse, New York. He put out the labeled Holloway's Aromatic Bitters (see picture below). Read: Holloway's Bitters from Syracuse. His label said, "As fine as silk" to all dyspeptics this bitters is recommended. It relieves at once that "all gone" feeling, wind on the stomach, liver complaint, and all forms of indigestion, fever and ague, biliousness, general debility, faintness, female weakness, also an agreeable stimulant for persons recovering from sickness." This could be our guy but no solid evidence.
Another place to look might be on the other side of United States on the west coast. Here the California Wine Bitters was made by M. Keller in Los Angeles (see picture below). Doubt there is a relationship here either. Read: M. Keller Label over at Western Bitters News
OK… What about the California Wine Bitters ladies leg from the vineyard of Kohler & Frohling? Rennert, Prosch & Company in San Francisco was also related to the brand. Could there be a relationship here? Read: California Wine Bitters – From the vineyard of Kohler & Frohling. Nah, I doubt it.
Another clue might be to look at the Mercado & Seully's California Wine Bitters. Look at their label below and you would not think there was a relationship.
Really not getting anywhere with these more ornate western "vineyard brands". There is even another western variant of the California Wine Bitters by the Sainsevain brothers. Read: El Aliso, Jean Louis and Pierre Sainsevain and their California Wine Bitters.
I don't think we are really looking at the west coast here. Here is a listing below in a Leavenworth, Kansas newspaper in 1868 for Speer's Port, Grape, California, Sherry and Wine Bitters sold locally by Marshall & Pinkston's. This is probably in reference to Alfred Speers in New Jersey and New York. This is the first time "Sherry" appears in the brand name. Read: Alfred Speer and his Raised Sidewalk & Standard Wine Bitters
So where does this leave us? I can not tell you. Maybe one of you can provide some help. Maybe a fully labeled example is out there?
Update: Bill Ham has provided the following number for the new listing in Bitters Bottles Supplement 2:
C 22.5  L .  . California Sherry Wine Appetizer or Stomach Bitters
Gin shape, Amber
---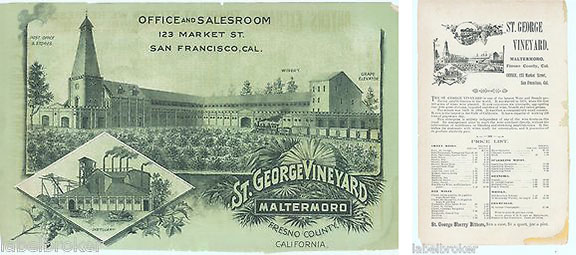 Ferd, Read your California Sherry Wine Appetizer or Stomach Bitters post on Facebook this morning. Here is some information that may contribute to solving this puzzler. While I can't be certain, this bitters may have come from the ST. GEORGE VINYARDS of Fresno, California established in 1879. Now, if you were to substitute WINERY for VINYARDS, you would then have St. GeorGE Winery and you might have the missing name of the maker.
This information came from an advertising brochure in an eBay auction saved to my "wanted" list. In it is listed a California Sherry Bitters along with a number of other Sherries. These bitters is also unmentioned in any bitters reference book that I know of.
Regards…………….Joe (Gourd)
Update: Bill Ham has provided the following number for the new listing in Bitters Bottles Supplement 2:
Advertisement
S 11.5 ST. GEORGE SHERRY BITTERS, St. George Vineyard, Maltermoro., Fresno County. Office, 123 Market Street, San Francisco, Cal. St. George Sherry Bitters, $6 per doz. bottles., Pacific Medical Journal, 1897
S 154.5 Speer's Port, Grape, California, Sherry and Wine Bitters, Marshall & Pinkston's, Leavenworth Times, October 3, 1868
---