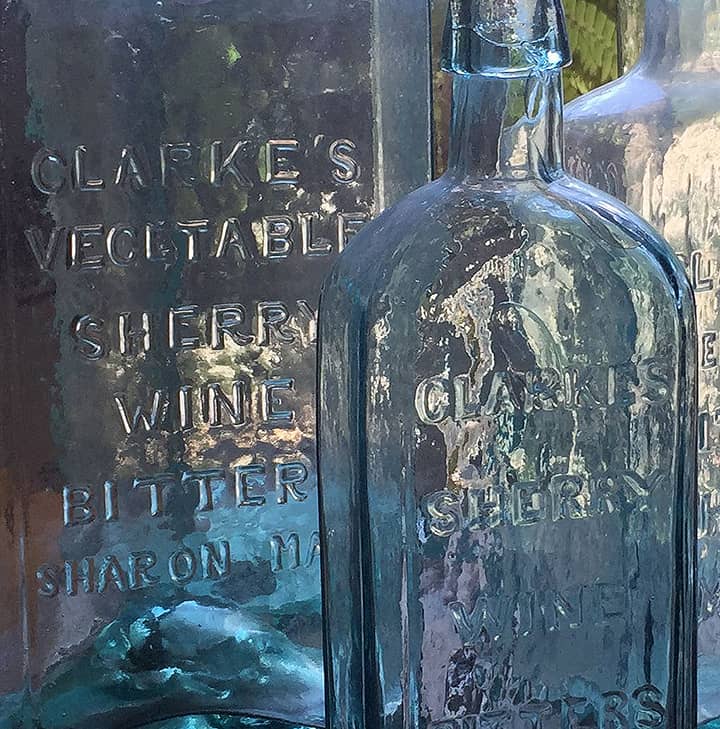 A grouping of Clarke's Vegetable Sherry Wine Bitters
11 November 2015

It seems like I am always moving bottles around because I am adding to the collection, dusting or just plain ole' re-arranging. You see, bottles talk to each other and communicate as a group. It is fun to pair them up in situations where they might not been seen that way on a shelf.
Here are some aqua Clarke's Vegetable Sherry Wine Bitters that I grouped this past summer. I actually have a variant or two more that I forgot about. Maybe they can join the next family reunion? What amazes me is the astounding reflections and colors that radiate thru aqua bottles when you pose them near a window. The glass grabs the sky, the landscape, the sun, the shadows, the wood surface and their companions. And you can even read some of the embossed typography. Isn't bottle collecting fun? Bottles photographed with my iPhone 6.
Read: A few of my aqua figural bitters met for a little sun today.
Read: XR Clarke's Vegitable Sherry Wine Bitters sells on ebay