Dr. Bishop's Wa-hoo Bitters
New Haven, Connecticut
23 November 2015
Wahoo Bitter Co., 285 State, up stairs

I put up a post the other day on Pinkerton's Wahoo Bitters that fit in nicely with some other "Wahoo" bitters in my collection. I realized that I had not previously posted about Dr. Bishop's Wa-Hoo Bitters from New Haven, Connecticut. The Bishop's Wa-hoo Bitters is a cool, semi-cabin, figural bottle that comes in two sizes. Wahoo is a fictitious name used to represent the Indian population. Chief Wahoo is the logo for the Cleveland Indians. Let's not go there.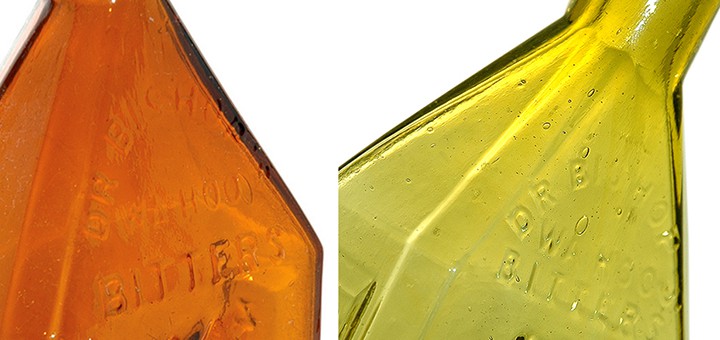 Read: The great indian beverage XXX E. Dexter Loveridge Wahoo Bitters
Read: The extremely rare, triangular Wahoo Chamomile Bitters
Read: Dr. Shepard's Compound Wahoo Bitters – Grand Rapids
Read: Jacob Pinkerton's Wahoo & Calisaya Bitters
Read: C. K. Wilson's Original Compound Wa-Hoo Bitters
The Carlyn Ring and W.C. Ham listing in Bitters Bottles is as follows: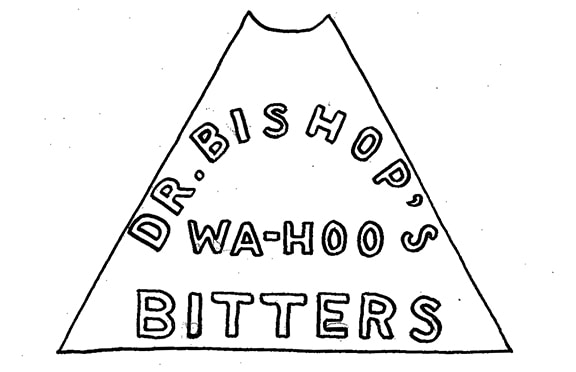 B 103

 DR. BISHOP'S WA-HOO BITTERS
// s // DR. BISHOP'S ( au ) / WA-HOO / BITTERS // f // f // f // // sp // WAHOO BITTER CO // f // NEW HAVEN CONN //
10 1/2 x 3 3/4 x 2 1/8 ( 6 1/2) 1/2
Rectangular, Amber,
Yellow amber

, NCS, Applied mouth, Scarce
Front panel elaborate and unlettered.
Note: Semi-cabin bitters which is one of two variants, the other a fair amount smaller and extremely rare (see B 104).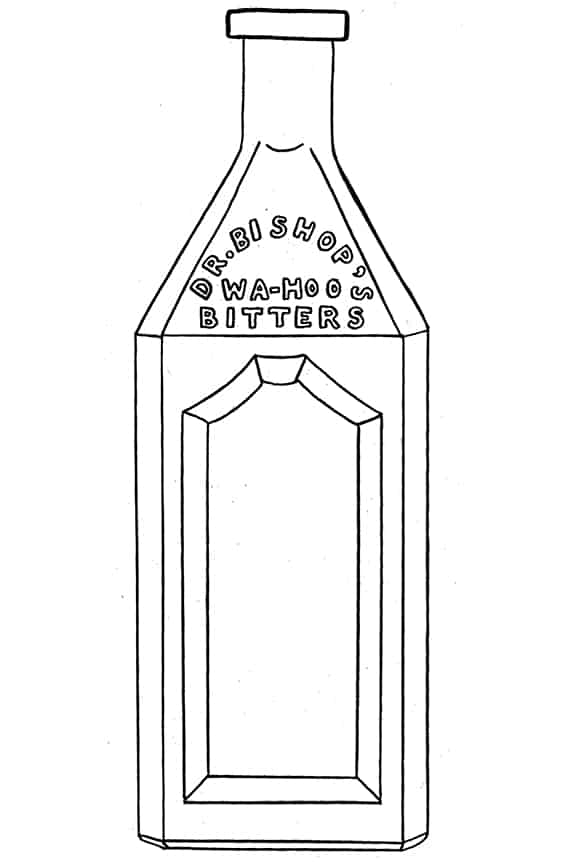 B 104

 DR. BISHOP'S WA-HOO BITTERS
// s // DR. BISHOP'S ( au ) // WA-HOO / BITTERS // f // f //// sp // WAHOO BITTERS CO // f // NEW HAVEN CONN //
7 5/8 x 2 3/4 x 1 5/8 (5) 1/4
Rectangular, Amber and Yellow, NSC, Applied mouth, Extremely rare
Front panel elaborate and unlettered.
Here are examples of the two sizes from my collection. Love the applied ring mouths!
I suspect that whoever was making Dr. Bishop's Wa-hoo Bitters in 1877 (only) was related to Reeds Bitters. Both proprietors were located on State Street in New Haven, Connecticut within doors of each other. The Wa-Hoo Bitter Company was located at 285 State (up stairs) while George W. M Reed & Co. was located at 298 State Street. I like that "up stairs" notation from the directory. These guys weren't too big or around too long. I can not find any advertising and hope that this post will lead me to a labeled example.
So where did the name "Dr. Bishop" come from? Looking at the same 1877 city directory from New Haven, I see a number of "Bishops" living on State Street. I even see a listing for "Bishops Block" at 485 State Street. But no Dr. Bishop. I'll keep looking though.
Read: Reeds Gilt Edge Tonic Clocks
Read: Bishops Oppose Bitters – The Hydra-Headed Monster Drink
Select Listings:
1877: Wahoo Bitter Co., 285 State, up stairs – New Haven, Connecticut, City Directory