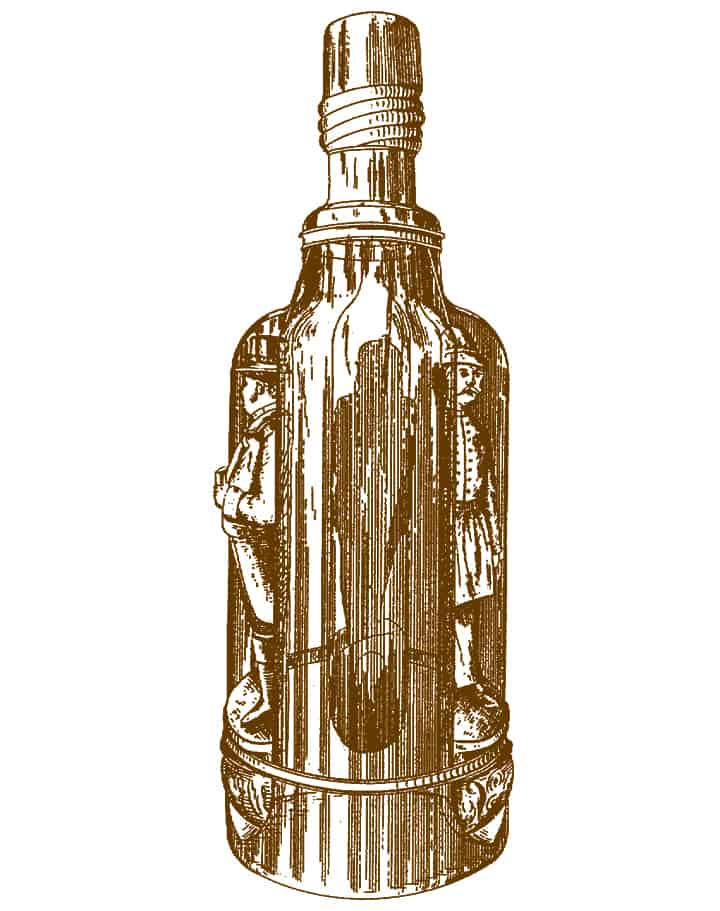 Alphons Dryfoos' Wald Koenig Bitters
And an amazing bottle design patent
23 November 2015 (R•120315)

Here is a pretty cool bottle design that never happened. If it did, it would probably be the coolest bitters bottle ever, surpassing the figural indian queens, ear of corns and pigs. This post was inspired by James Viguerie.
Ferd,
While looking through all my patent research I came across a bitters reference and an amazing bottle design patent. I'm not sure if a bottle was ever made, or if it was for the Wald Koenig Bitters. I didn't think the Landsberg Sphinx Bitters bottle existed until I saw the pictures! All I have right now are two patents and a 1904 ad selling Wald Koenig Bitters for $1 a bottle, or $7.50 a dozen. Hopefully you can find out a little more on Mr. Dryfoos' bottles. And maybe someone out there has one of the bottles patented in 1895.
Oh, and as an added bonus, take a look at the 1904 price list. It looks like the maker of Walker's California Vinegar Bitters also made a Ginger Bitters! I do not see that one in the books.
Take care,
James
Read: Ladies and Gentlemen… the Landsberg Sphinx Bottles
Alphons Dryfoos
Alphons Dryfoos was a life-long liquor man and bottle dreamer it appears, who was born in Niederhochstadt Rheinfalz, Dei Landau, Germany in October 1849. He emigrated to United States in May 1865 arriving in New York City from Havre, France on the ship Goshen. He married Gussie Dryfoos in 1879. Both of his parents were born in Germany.
We can find many listings, and a number of bottle design patent applications for Mr. Dryfoos at various locations in New York City throughout his long life. In 1880, he applied for a Trade Mark registration for Wald Koenig Bitters. In 1895, he sought a patent on the wild bottle design pictured in this post. As far as if there is a bottle out there? …. let's cross our fingers and wait and see.
The new listing by Bill Ham for the forthcoming Bitters Bottles Supplement 2:
K 67.5

 WALD KOENIG BITTERS
Very fancy bottle shown in patent drawing
Two patents by Alphons Dryfoos, New York, N. Y., July 23, 1895, and a 1904 advertisement.
No example of the bottle known to collectors
Select Listings:
1875:

 Alphons Dryfoos, liquors, 737 Second Avenue, h 312 E 43rd – Goulding's Manual of New York and General Statistical Guide
1876:

 Alphons Dryfoos, liquors, 737 Second Avenue, h 12 Beekman Pl – Goulding's New York City Directory
1878:

 Alphons Dryfoos, liquors, 737 Second Avenue & 135 W 33rd, h 408 E 51st – New York City Directory
1880:

Trade Mark registration for Wald Koenig Bitters by Alphons Dryfoos, New York, New York (see above)
1882:

Alphons Dryfoos, liquors, 737 Second Avenue, h 404 E 51st – New York City Directory
1886:

 Alphons Dryfoos, liquors, 654 Second Avenue, h 417 E 5oth – New York City Directory
1892:

Alphons Dryfoos & Co. (Alphons Dryfoos), Wines, 150 Chambers and 654 2nd Avenue – New York City Directory
1894:

Alphons Dryfoos patent application (see above) for Composite Bottle, May 8, 1894 – United States Patent Office
1895:

Design for a Bottle Patent for Alphons Dryfoos, July 23 1895 – United States Patent Office (see above)
1900:

Alphons Dryfoos, age: 52, Merchant, Birth Date: Oct 1847, Birthplace: Germany, Home in 1900: Manhattan, New York, Marital Status: Married, Marriage Year: 1879, Spouse's Name: Gussie Dryfoos, age 41, Years Married: 21, Father's Birthplace: Germany, Mother's Birthplace: Germany – United States Federal Census
1904:

Wald Koenig Bitters listing – The Pharmaceutical Era, Volume 31 (see above)
1910:

Alphons Dryfoos, age 62, Wine & Liquor Merchant, Birth Year: abt 1848, Birthplace: Austria [Germany] Home in 1910: Manhattan Ward 19, New York, New York, Immigration Year: 1867, Spouse's Name: Gussie Dryfoos, age 51, Father's Birthplace: Germany, Mother's Birthplace: Germany – United States Federal Census
1917 – 1920:

 Dryfoos, Blum & Co. (Alphons Dryfoos and Eugene Blum, Eugene Bascho), wholesale liquors, 42 W. Broadway – New York City Directory
1929:

Death on January 3 (or 4th), 1929. Alphons Dryfoos at his residence in New York City