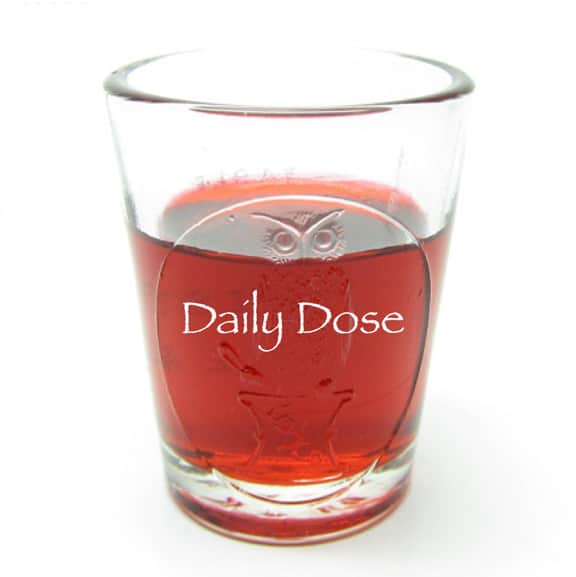 MAY

  |  

2 0 1 5
Sunday, 31 May 2015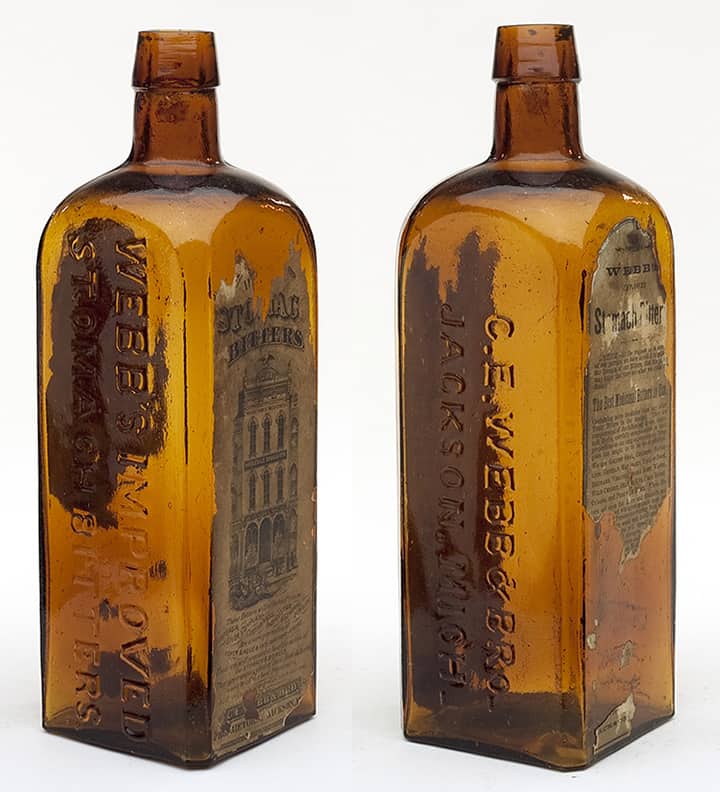 3″ more rain yesterday evening. Wettest May on record for Texas. Supposed to dry out this week. Post update: Webb's Improved Stomach Bitters – Jackson, Michigan
Saturday, 30 May 2015
Sitting here waiting for the next storms. Dallas hit hard this morning. The Brazos River, which is very near us, is leaving it's banks. Anyway, picked up fallen tree branches this morning while battling zillions of mosquitos.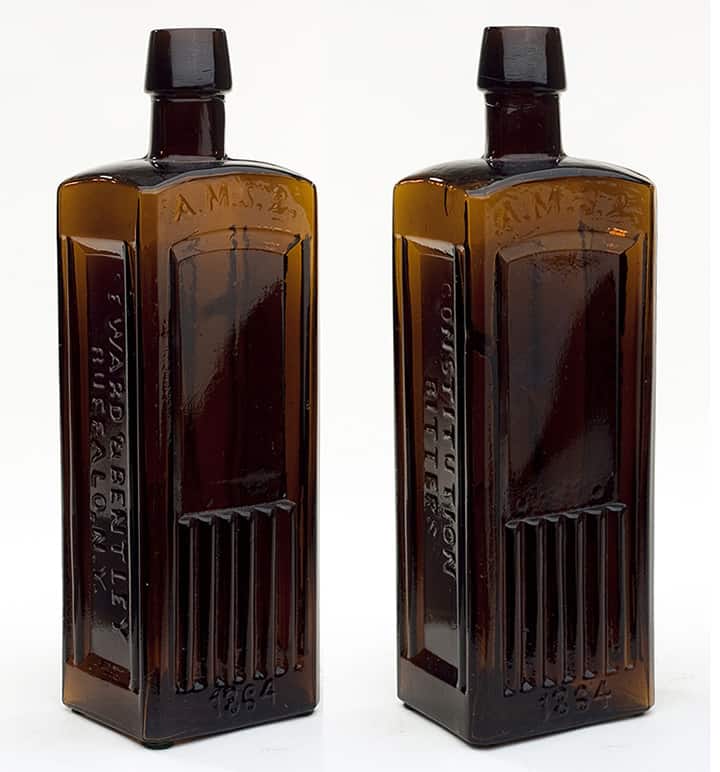 Updated the Constitution Bitters post with the example from the American Glass Gallery Auction 13.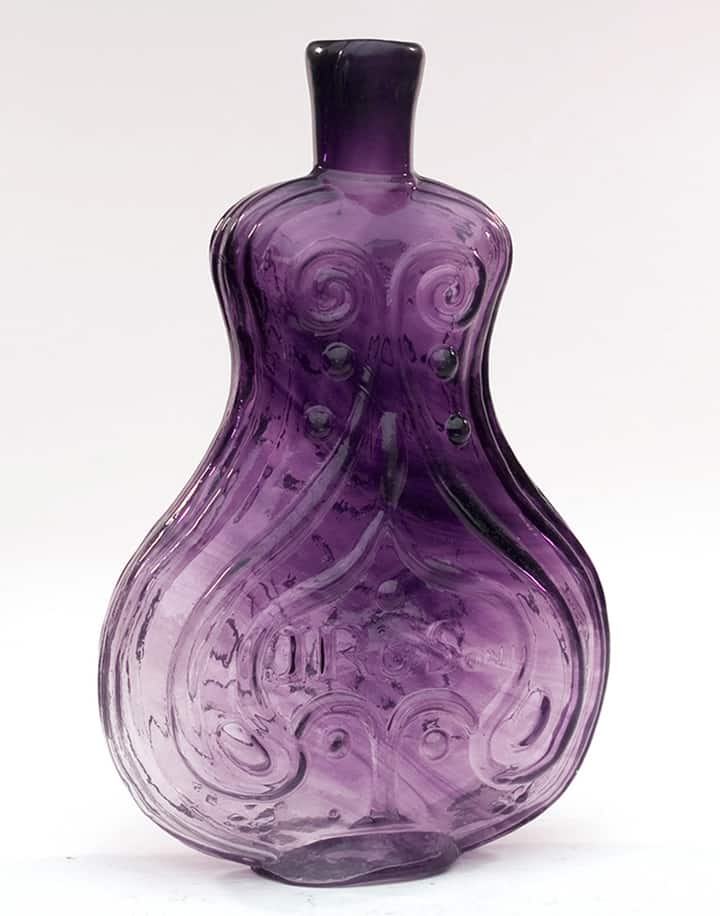 I wonder if the medium amethyst "J R & Son" SCROLL FLASK, John Robinson & Son Glass Manufacturers at American Glass Gallery Auction 14 has final sold after callbacks. It is at $71k. Read: Who Doesn't Love Scroll Flasks.
Friday, 29 May 2015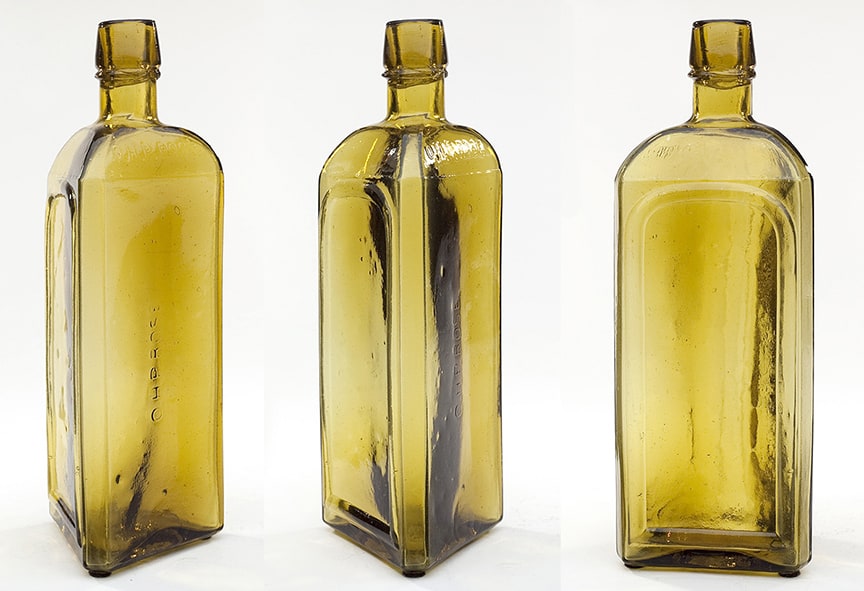 Updated the The Triangular O.H.P. Rose's Peruvian King Bitters post bitters that was in the recent American Glass Gallery Auction 14.
One of the first NYC elevated railways.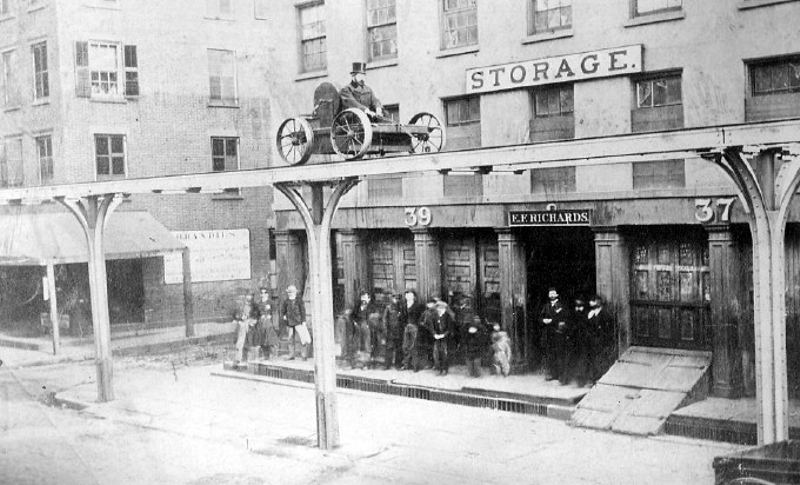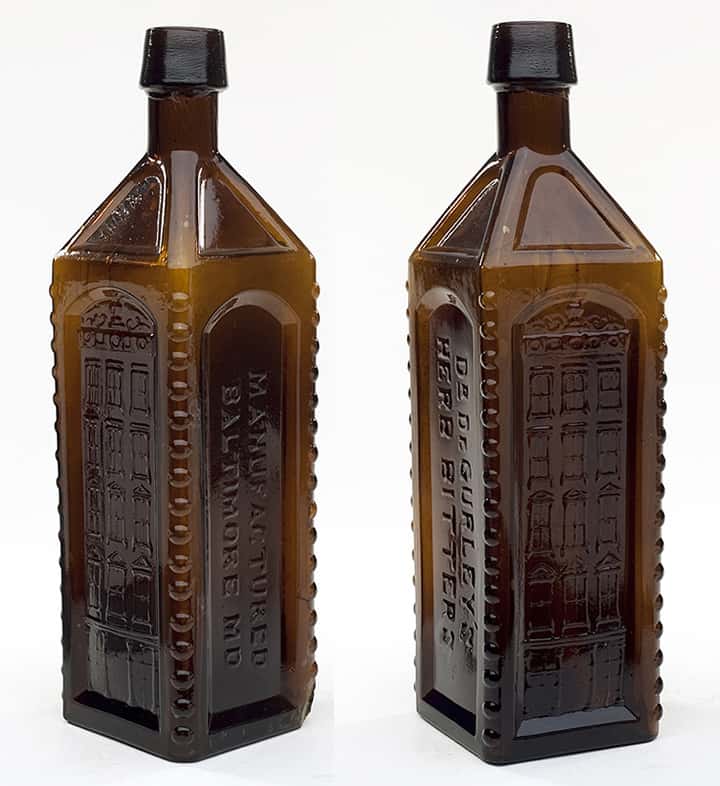 Thursday, 28 May 2015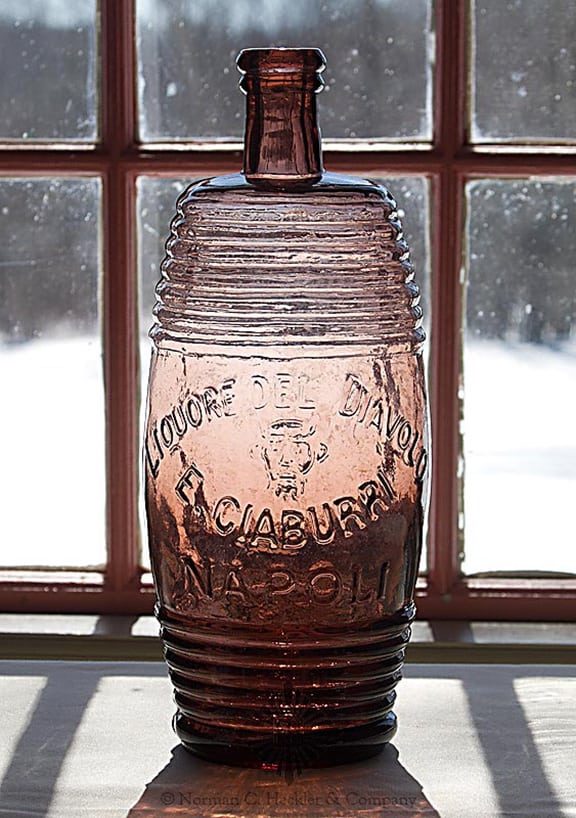 Liquore del Diavolo Figural Barrel post updated with that great example that closed last night at the Heckler auction.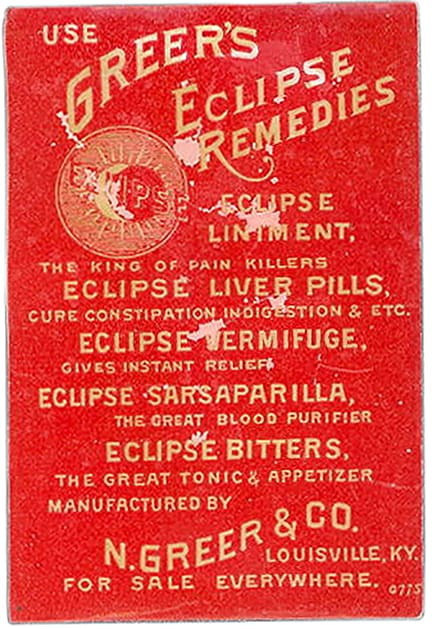 Greer's Eclipse Bitters post updated with this advertising trade  are that is currently on eBay. Thanks to Frank Wicker for tip.
Tuesday, 26 May 2015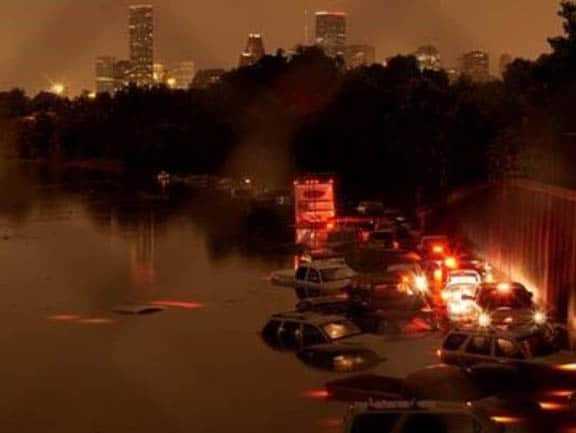 Working out of Peachridge today. Houston shut down due to weather event. Here is the freeway that takes me in to my office every morn. Nobody using center lanes. We're safe, Big storms, wind and lightning is common but last night was something else.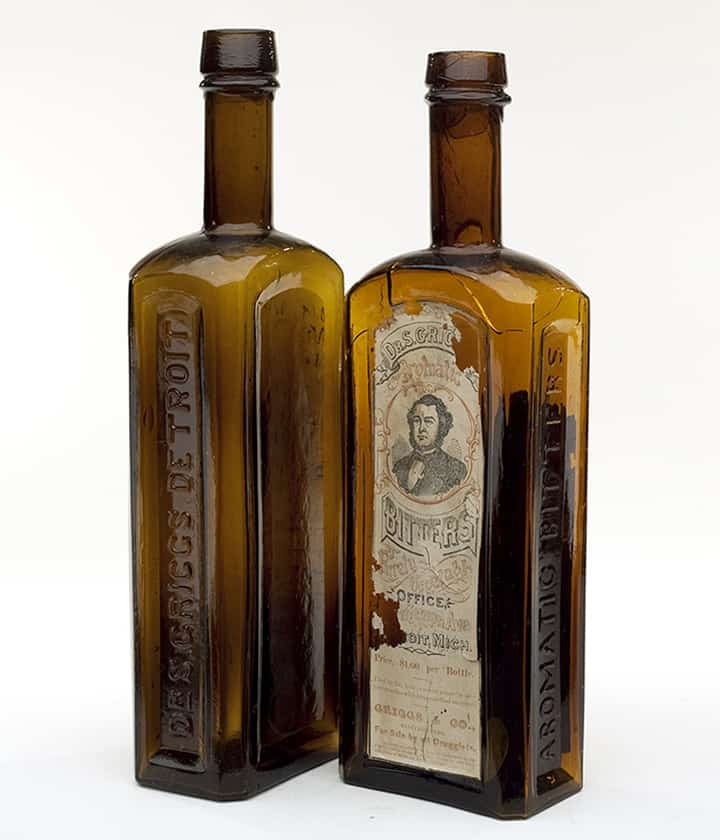 Update: Dr. S. Griggs' Aromatic Bitters – Detroit
Saturday, 23 May 2015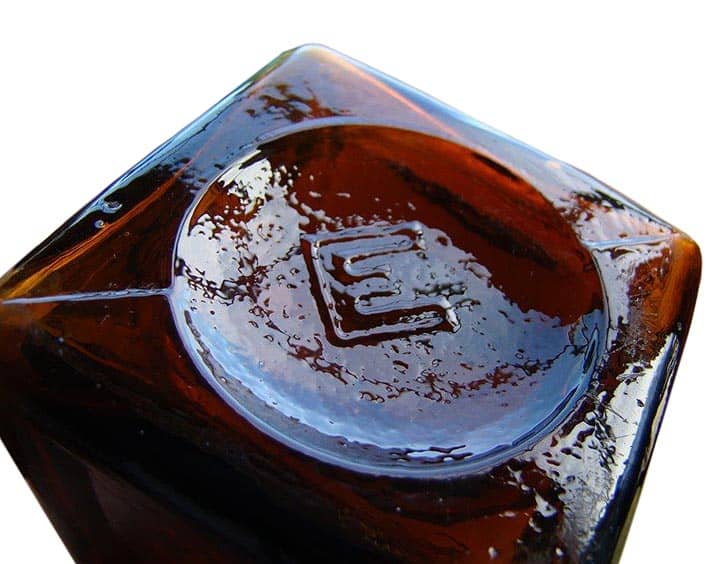 Here's a photo of my Hop Bitters. What is cool is the base has a large E
embossed on it. I have never seen another one, have you? Not a rare find but
still interesting. Jim Bender
Read: The Doyle's & Soule's Hop Bitters – Rochester, N.Y.
Friday, 22 May 2015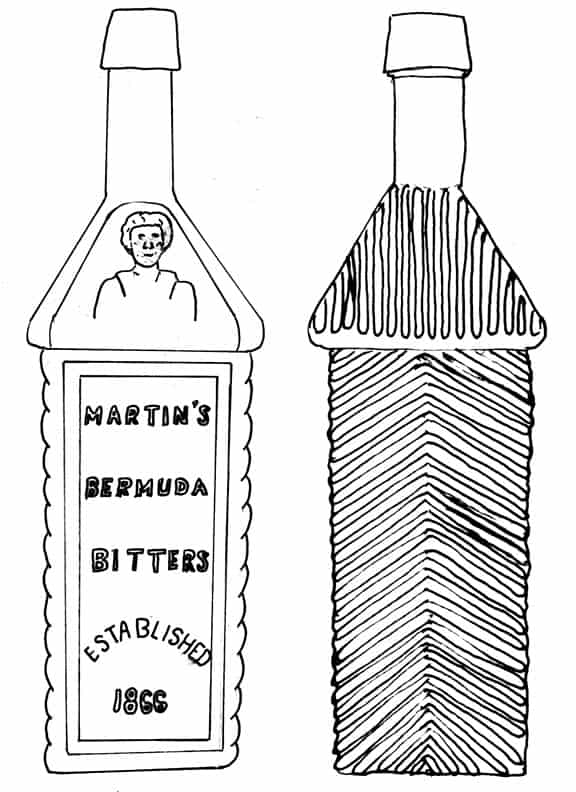 Yeh…back in Houston for the long weekend. Time to catch up with all the bitters news and bottles of late. Did get a chance the other day to update the Martin's Bermuda Bitters post with new information from Corey Stock.
Wednesday, 20 May 2015
Gosh, it has been over a week since I have posted here. Left last Sunday for Louisville, in San Antonio now. Just crazy busy. Looking forward to getting home tomorrow with my bottles and dogs.
Lot's of bitters news. Rumors of Dan Grove (D. Owen Grove Auctions) snagging a dark green Drake's Plantation Bitters for his auctions. "I've been chasing this thing since last year. It was tied up in a divorce estate. I haven't even had eyes on it yet. The owner says its a dark green. Could be a pretty rare shade. Will post pics on FB asap. He also has an unembossed smooth base drakes in his house 2 blocks from my auction gallery. Who knew?!"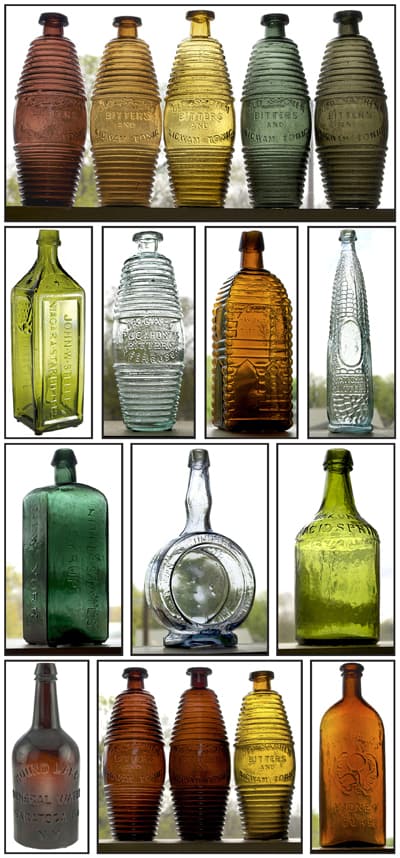 John Pastor has some great bitters in his current American Glass Gallery Auction 14 as does Norm Heckler in his Auction 122. Jim Hagenbuch just formally announced that the Jack Stecher collection (example pictured above) is coming soon. WOW!
Tuesday, 12 May 2015
Talked to John Pastor last night. I'm presently in Washington D.C. for business. Interesting that he had questions on an unlisted variant of a Cannon's Dyspeptic Bitters from Washington D.C. that was just dug. Look for pictures soon when he gets the bottle. Read: Cannon's Dyspeptic Bitters – W. Morrow – Washington D.C. – Unlisted Find!
Diana up in Chicago has found E. Dexter Loveridge's cane! Dagger concealed within. This will join the other Loveridge items at the Chattanooga National Auction. Read: E. Dexter Loveridge – In the House
"So, we've been working frantically to get ready for our Saturday sale, and we almost forgot about our cane collection that was in our foyer all these years. There were about a dozen really cool ones, and so Jim started polishing the tips of the silver ones. And…when he did…he could read the inscription on the end of one…E. D. LOVERIDGE, BUFFALO, NY. It had been pretty tarnished, so we had no idea it said anything."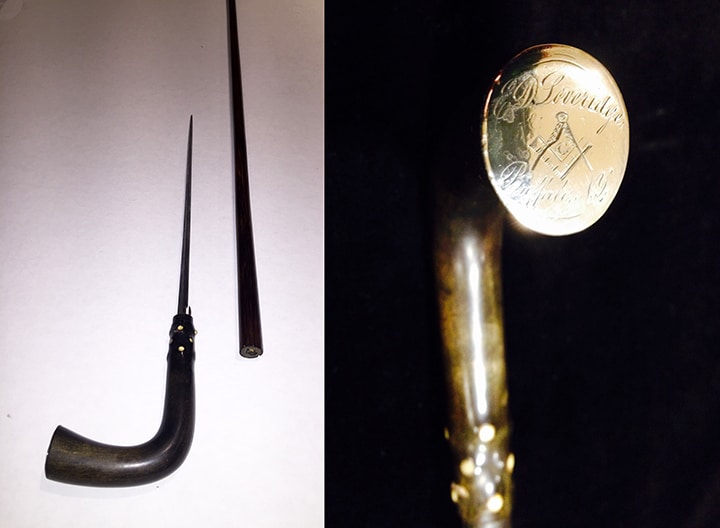 Sunday, 10 May 2015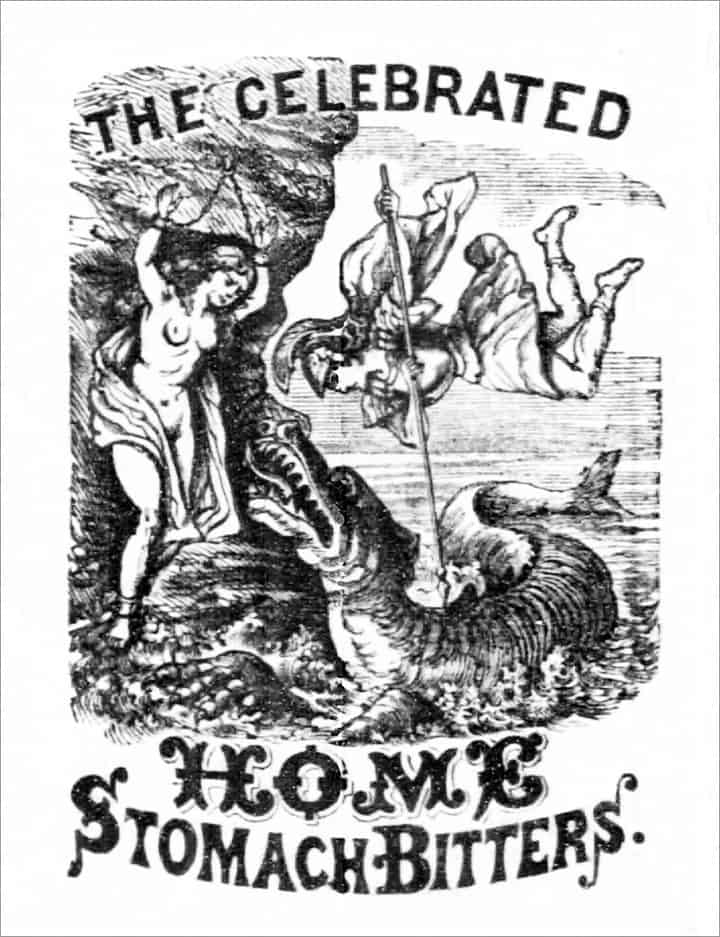 Updated the Home Bitters post of St. Louis. Nothing really new but cleaned up. One of my favorite squares.
Read: Saint George the Dragon Slayer – Not only on Hostetter's
Friday, 08 May 2015
Wow, has it been a week? Should be Weekly Dose I guess. Lot's of posts on the main page though. Look at this advertisement for Dr Weaver's Canker and Salt Rheum Syrup. It also cures SORE NIPPLES AND SORE EYES. That that is something. Mother gets a little relief from her feeding infant and the infant gets a little relief if he gets poked in the eye.
Friday, 01 May 2015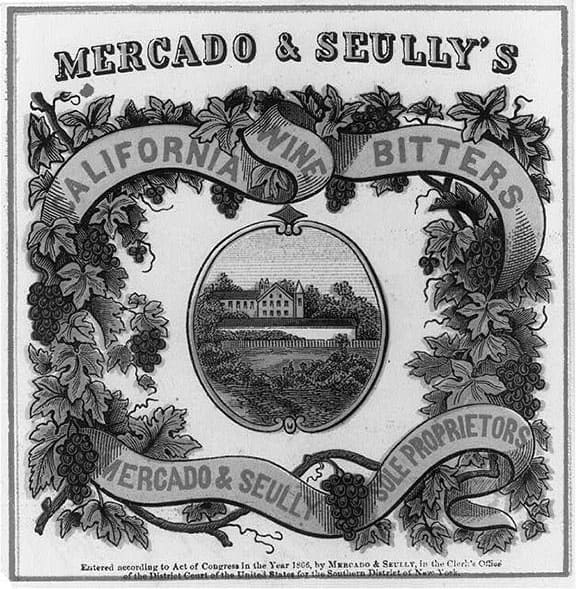 Mercado & Seully's California Wine Bitters label. Read: El Aliso, Jean Louis and Pierre Sainsevain and their California Wine Bitters