The only Martin's Bermuda Bitters
27 May 2014 (R•052015) (R•052215)

Oh, if I could only just see this bottle, let alone have it sit proudly in my collection. To my knowledge, the Martin's Bermuda Bitters, is a one-of-a-kind, only example, residing in the legendary collection of Dick Watson (FOHBC Historian) in Medford, New Jersey. I was reminded of this bitters during the Martin's Female Bitters post yesterday.
The Carlyn Ring and W.C. Ham listing in Bitters Bottles is as follows: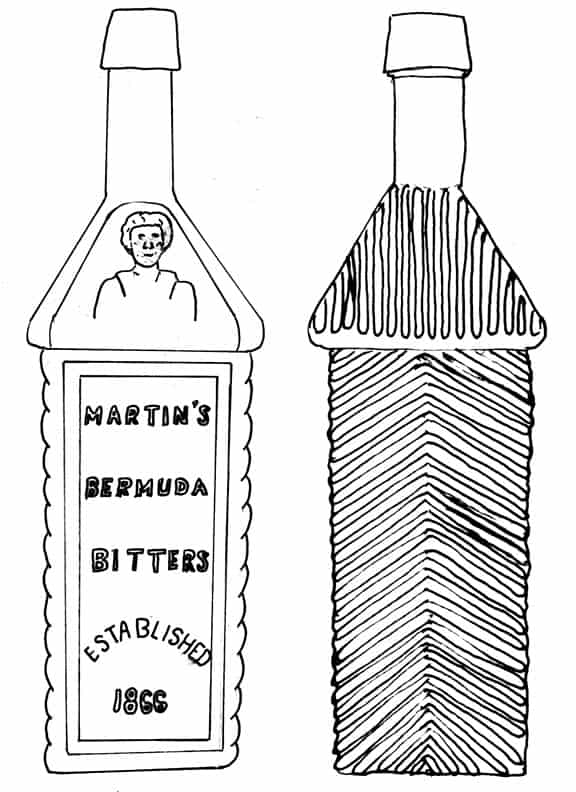 M 42

 MARTIN'S BERMUDA BITTERS
MARTIN'S / BERMUDA / BITTERS / ESTABLISHED ( au ) / 1866 // motif logs // label panel // motif of logs // s // motif face of a sea captain /// motif of shingles // motif of shingles // motif of shingles //
10 1/4 x 2 3/4 (6)
Square log cabin, Amber, LTC, Applied mouth, Extremely rare
Unusual log arrangement
Martin was a British Admiral who participated in the Capture of Bermuda.
What an extraordinary bottle. I can only imagine. As a history buff, I am totally clueless as to what the statement, "Martin was a British Admiral who participated in the Capture of Bermuda." means in the Bitters Bottles book? I mean, it can't be a great battle or I would have heard of it or it would have been commemorated on a U.S. postage stamp or elsewhere. We don't have a holiday for it and I can't think of any movies or songs. Was it akin to our major (tongue in cheek) "Operation Urgent Fury" when the United Stated invaded Grenada (population 19,000) in 1883?
Like I do many times to help my cluttered and sometimes cloudy mind is to google or go to Wikipedia. Of course there is nothing on the "Martin's Bermuda Bitters" brand including pictures, advertising etc. Next I try "Capturing of Burmuda" and get the USS Bermuda.
USS Bermuda (1861) was a large steamer captured by the Union Navy during the American Civil War. She was used by the Union Navy as a cargo and general transport ship in support of the Union Navy blockade of Confederate waterways, primarily in Florida and the Gulf of Mexico. However, despite being a valuable cargo ship, she proved very adept at capturing blockade runners as her record proves.
Ok, what about searching "British Admiral" and "Bermuda". Has to be something here right? Already it seems odd that an American, Civil War era bottle would be commemorating a British General. I do find Admiral George Martin (Royal Navy officer).
Admiral of the Fleet Sir George Martin (1764 – 28 July 1847) was an officer of the Royal Navy who saw service during the American War of Independence, and the French Revolutionary and Napoleonic Wars. During his long naval career he took part in several significant battles, for which he was awarded a number of honours and promotions; he commanded ships at Cape St Vincent and Cape Finisterre.
Nothing in Admiral Martin's biography mentions Bermuda so maybe it is another British Admiral? There were a couple. There was an Admiral Sir George Somers who colonized Bermuda for Britain. Then the bottle would be named "Somer's Bermuda Bitters". Nope, not that.
Could it possibly be Admiral of the Fleet Sir Thomas Byam Martin?
Admiral of the Fleet Sir Thomas Byam Martin GCB (25 July 1773 – 25 October 1854) was a highly influential British Royal Navy officer who served at sea during the French Revolutionary and Napoleonic Wars and then as a naval administrator until his death in 1854. Martin also sat in Parliament for 14 years and was an outspoken critic of government attempts to reduce the Navy budget which ultimately saw him dismissed in 1831 by his old friend King William IV.
During his many years of service, Martin was credited with reforming and modernising the Royal Navy and, for over fifty years after his death, having theretofore been its most effective administrator. Despite his entrenched conservative views, Martin was open to new technologies and worked closely with administrators, shipbuilders and serving officers to convert the fleet from the huge battlefleets of the Napoleonic era to and effective force for colonial and commercial expeditions and defence. He died in 1854 during the Crimean War, still working as a staff officer at Portsmouth.
Maybe Ring and Ham meant to say French Admiral and we should be looking at Admiral Pierre Martin who was a French Navy officer and admiral?
Admiral Pierre Martin (Louisbourg, on 29 January 1752 – Rochefort, 1 November 1820) who was a French Navy officer and admiral. Martin served on the Magnifique as a pilot, and took part in the Battle of Ushant, the Battle of Grenada, the Battle of Martinique, where he was wounded, and the Siege of Savannah. In 1781, he served aboard the Cérès, in Vaudreuil's squadron. In 1782, he became an officier bleu, being fast-tracked for a career as a reserve Navy officer. After the Treaty of Paris, Martin stayed with the royal navy and served on a variety of ships in the Caraibs. In 1785, he received command of the corvelle Rossignol, and of the Cousine, based in Senegal, between 1786 and 1791. In 1788, reforms of the Navy initiated by Marshal Castries allowed him to be promoted to sub-lieutenant.
I don't know. I'm still just as confused. Maybe it was just a barkeep in Philadelphia named Barney or Homer Martin who put out this bitters? My hunch is that more information will show up and that one of you may be able to straighten me out. Better yet, maybe I will get an example of the Martin's Bermuda Bitters for my collection.
Marianne Dow suggests the Bermuda Hundred Campaign which according to Wikipedia was:
A series of battles fought at the town of Bermuda Hundred, outside Richmond, Virginia, during May 1864 in the American Civil War. Union Maj. Gen. Benjamin Butler, commanding the Army of the James, threatened Richmond from the east but was stopped by forces under Confederate Gen. P.G.T. Beauregard.
Bottle picture and illustration courtesy of Bitters Bottles.
UPDATE from Corey Stock:
I found some info (see select listings) that might be relevant to your post on the Bermuda Bitters bottle. Tristam T. and William R. Martin were engaged in the liquor business from about 1858 to 1866 at 72 South Calvert Street in Baltimore. It appears that sometime in 1866 they parted ways. Tristam remained at 72 S. Calvert and was listed as MARTIN & CO. William R. and Charles H. Martin became MARTIN & BRO at 120 Light Street. The last directory listing for Tristam [being in the liquor business] was in 1870. The last directory listing for William & Charles in the liquor business was in 1868-69. The directories for 1867-68 show separate company listings. I'm just guessing that they separated in 1866 because of the "Established 1866" embossed on the bottle. I don't know which one of the firms may have had the bottles produced…….or even if this is the right firm.
Select Listings:
1858: T. T. Martin & Bro. listing (see listing below) – Baltimore City Directory, 1858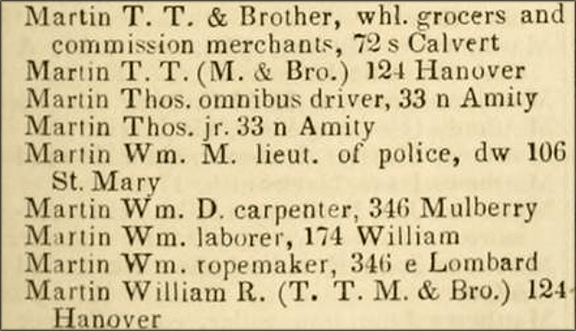 1860: Burmuda Bitters advertisement (see below) T. T. Martin & Bro. – The Daily Exchange, February 3, 1860

1860: T. T. Martin & Bro. advertisement (see below) – The Daily Exchange, February 3, 1860

1860: T. T. Martin & Brother listing (see listing below) – Baltimore City Directory, 1860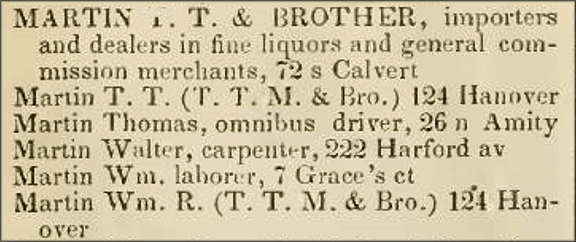 1863-1864: William and Tristom Martin & Company listing (see listing below) – Baltimore City Directory, 1863, 1864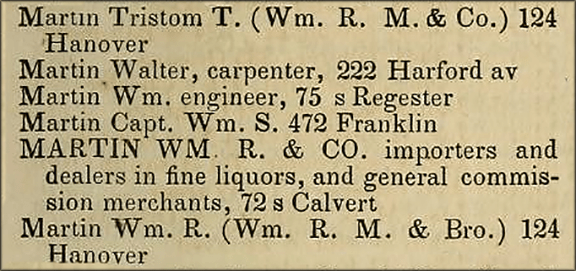 1865: William and Tristom Martin & Company listing (see listing below) – Baltimore City Directory, 1865

1867-1868: Martin Brothers split up (see listing below) – Baltimore City Directory, 1867, 68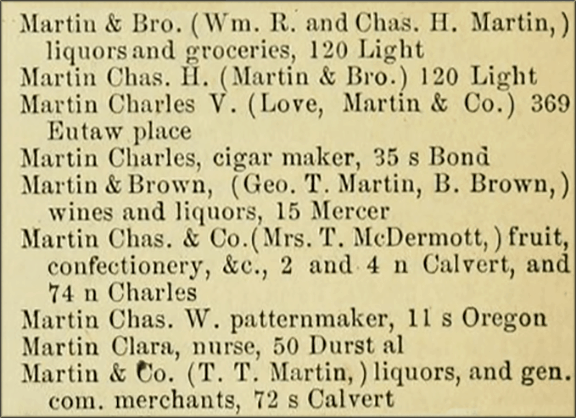 1868: Martin & Brother and Martin & Company listing (see listing below) – Baltimore City Directory, 1868

1870: Martin & Company listing (see listing below) – Baltimore City Directory, 1870

1871: Possibly Tristam T. Martin no longer in business (see listing below) – Baltimore City Directory, 1871