Cannon's Dyspeptic Bitters
W. Morrow, Washington D.C. Unlisted Find!
14 April 2012 (R•051215) (R•051619)

Last week, five (5) broken examples of a previously unknown bitters were unearthed by three well known east coast diggers. This is extremely exciting when this happens because it allows us to study the new bottle with the hopes of determining what the bottle looked like, who made it and was there any advertising that might further shed light on the bottle. In this case the bottle found was an open pontil, aqua, rectangle embossed:
CANNON'S / DYSPEPTIC BITTERS // W.  MORROW // WASHINGTON, D.C.
The new listing by Bill Ham for the forthcoming Bitters Bottles Supplement 2:
C 33.3 CANNON'S / DYSPEPTIC BITTERS // W. MORROW // f // WASHINGTON, D.C. // f //
Rectangular, Aqua, FM, applied mouth, 3 sp, Rough pontil mark, Extremely rare
Five broken examples dug from one pit in the Washington D.C. area, one broken example dug from 22-foot deep 1840s brick lined pit in Northern Virginia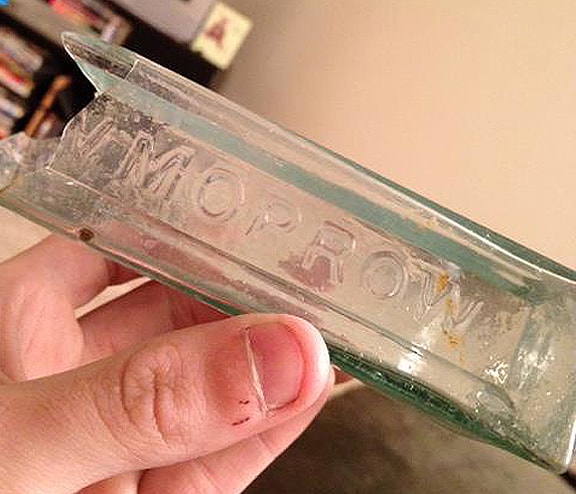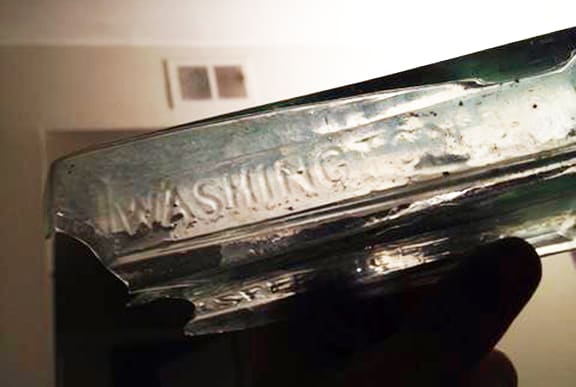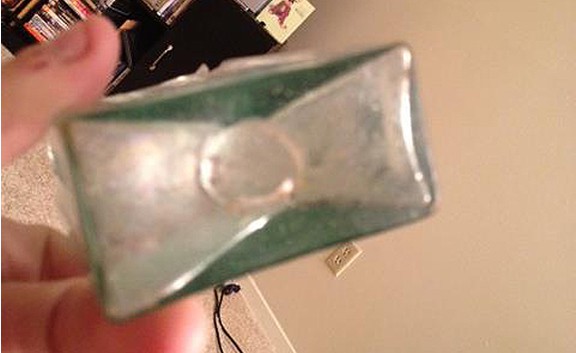 I asked Tom Leveille from Newport News, Virginia, who was on the dig, for a little more information on the pictures of the bottle and Tom reports:
[from Tom Leveille] I dug it in a pit in northern Virginia, behind an 1840 house owned by a clammer who was shot by his wife when caught with a mistress, and is buried in the yard in an unknown place. 6 ft across by 22 ft deep circular brick liner. It was found among 1840's trash and there were pieces to other examples of the same bottle. It should have an applied flared lip.
[from Chris Rowell] Ferd, That bitters Tom posted is embossed Cannons / Dyspeptic Bitters – W.  Morrow – Washington DC. We dug five of them all broken from the same pit last week. One of the guys we dig with is an advanced collector of Washington DC bottles and he had never seen it before.
[PRG] Both communications refer to the same pit and bottle dug by Phil Edmunds, Tom Leveille and Chris Rowell.
---