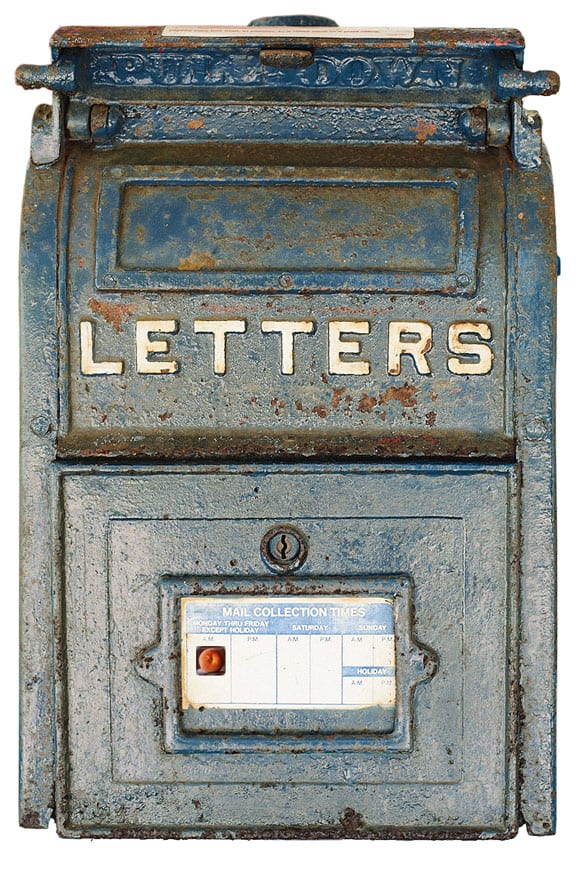 Please feel free to send any antique bottle or glass questions to ferdinand@peachridgeglass.com. The information will be posted if relevant or of interest to the readers. I will try to answer or wait for another reader to respond. Quality images are very important. Thanks! If you want to see previous questions,go to "Mailbox Letters" in "Categories" on the right column of each page.
Mailbox Letters | 2015
---
My Coke Bottle with Iridescent Quality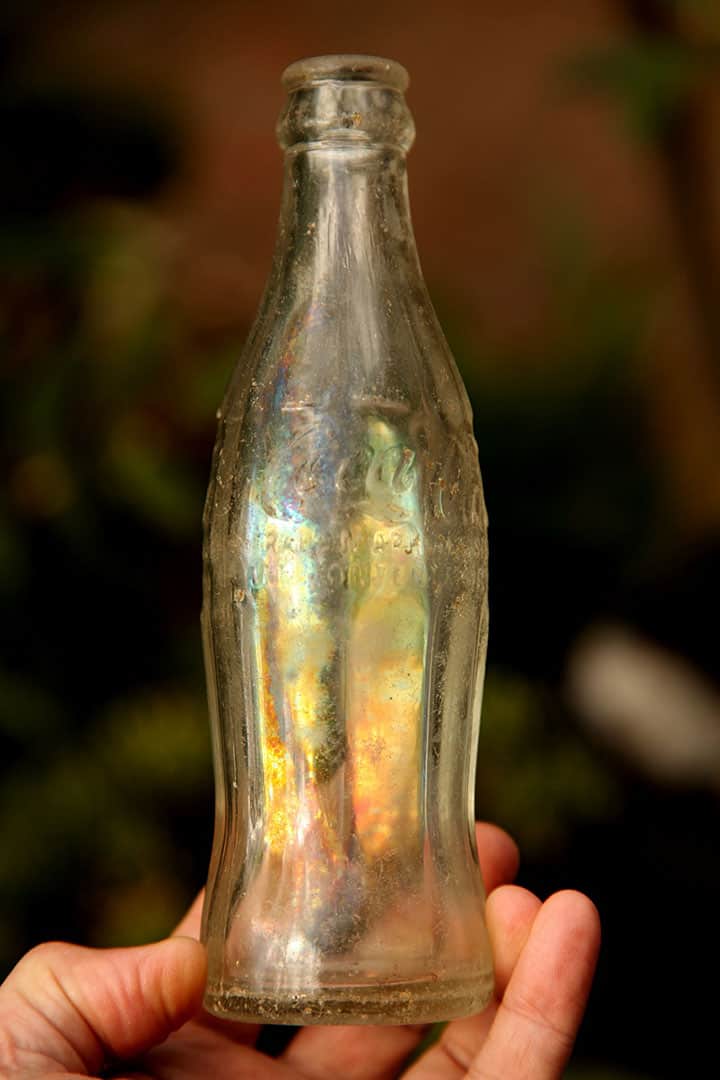 Hi Ferdinand, I was scuba diving, many years ago, in Sydney Harbour when I found this bottle on the bottom. I'm not sure why I collected it as there must be millions of the damn things down there. I did not have a bag with me so I stuck in down the front of my BCD. Ten minutes later I can feel wriggling and scratching next to my skin. I have a mild flip out. I grab out the bottle, open the BCD, clean out the critters, and shake out the bottle vigorously. All kinds of things came out in the water. I got it pretty clear to get it back to shore. I washed it out and hey presto. I thought the effect would fade. That was 20 years ago. What do you think? You can see in the pictures it has an iridescent quality. I have never seen this on plain glass before. What causes this effect?
Brian Findlay Lilyfield. NSW
Australia
PRG: Check this cool post out. Acids and minerals in the ground will make this happen but it takes time to develop this character. Very desirable to many.
Read: Benicia Iridescence and Patina on Bottles – Not a Sick Bottle
---
The Holtzermann Store in Minneapolis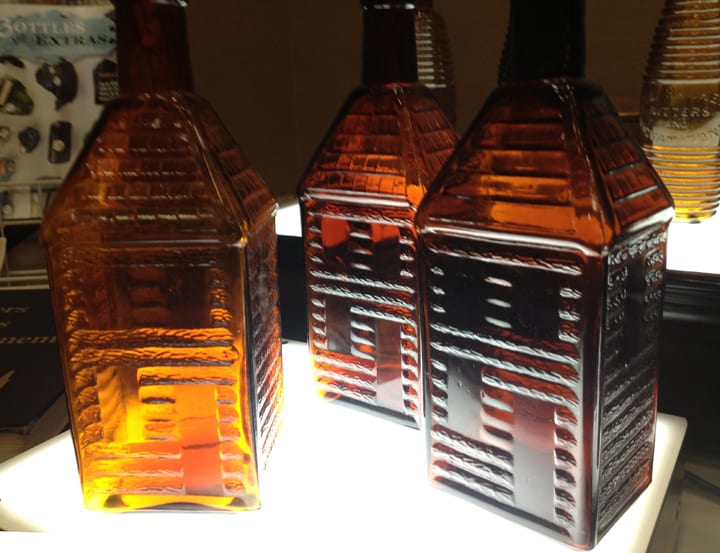 Dear Mr. Meyer.
I have read with great interest your web pages concerning the bitters, and the Holtzermann families. Well done!
A year ago I wrote an extensive research article for HENNEPIN HISTORY, the magazine of the Hennepin County (Minneapolis) Historical Society, concerning the Holtzermann store in Minneapolis. That specialty store
was nationally known for its German merchandise, and it remained in business for some 80 years. I would be pleased to send you a published copy if you are interested.
Recently I have been writing an unrelated article for the German Historical Institute of Washington, D. C. for their on-line series of articles concerning German immigrant entrepreneurs in the United States. In the course of our discussions they inquired if I could write an article for them, expanding my article concerning the third and fourth generations of the Holtzermann family in Minneapolis, to include the first and second generations of the same family in Ohio.
The background material in your web pages (and the compelling images!) would be of enormous assistance to me if you would be willing to allow me access thereto. I would of course provide you with full credit for your assistance, and reimburse you for any expenses incurred.
I look forward to hearing from you.
Sincerely,
Leo J. Harris
St. Paul, Minnesota
[PRG] Mr. Harris: Yes, please send your article. You certainly can use the images. Please let me know how I can help. No compensation is necessary. – Ferdinand
Read: Log Cabin Series – Holtzermann's Patent Stomach Bitters (2-Roof)
Read: Log Cabin Series – Holtzermann's Patent Stomach Bitters Compound (4 Roof)
---
From the Bottom of the Amazon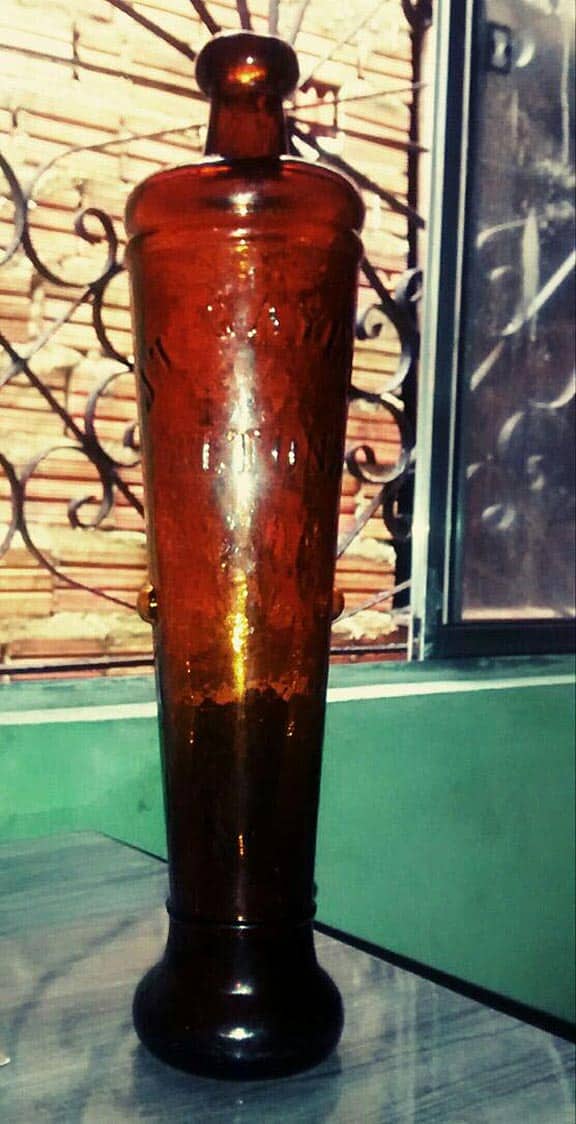 Hello Sir; My name Jao Francisco Caldas. I am Brazilian origin. Born August 21, 1958 on an island called "Rio Acari". Indeed, the purpose of my letter is that I found a bottle named JT Gayen / ALTONA, dating from ancient times, the bottom of the Amazon River on the island that I saw in 2001. It was my birthday and when I slept a woman came to me and ordered me to go to this place to find my birthday present. When I hurried on my way there, there is something told me in spirit to set foot next to the object. So, I put my foot and I felt there something and I picked up the bottle is gorgeous and reflects an object that has value. Also, I kept this art to check and get more information on the scope of this bottle so splendid. In addition, I visited on the Internet and saw other bottles of the same size and shape equal to mine. After when I learned that there are people who collect these bottles to sell to people interested in this ancient work that give them the beauty of art in their homes or office just for decorative souvenirs and beautification.
It is in this movement that I am writing to share with you this bottle so grand that could serve as helpful to you and vice versa. If you are interested here is my contact information which you may contact me. Hoping that my condition will hold your attention, I am at your disposal to send you this bottle if you want to buy. Thank you for your understanding.
Best Regards.
Jao Francisco Caldas.
NOTA: I am a friend of Francisco Caldas. Je Jao Jao said that can not speak English. He only speaks Portuguese
Read More: Figural Cannon Bottles – J T GAYEN / ALTONA
---
Killer Kantorowicz Posen Bottle from Down Under
G'day Ferdinand, Thought you might like to see a couple photos of a rare bitters I bought at auction last week in Australia. Apparently it was dug at a bottle depot site near the docks in Melbourne here & would date from late 1880s-early 1890s?
It's a strange looking thing and stands very tall !! I think they also come in green but I've never seen another white one before.
Cheers =)
Simon Cronk
Australia
Read More: History of Kantorowicz Family and their Factory
---
Related to S.O. Richardson on my father's maternal side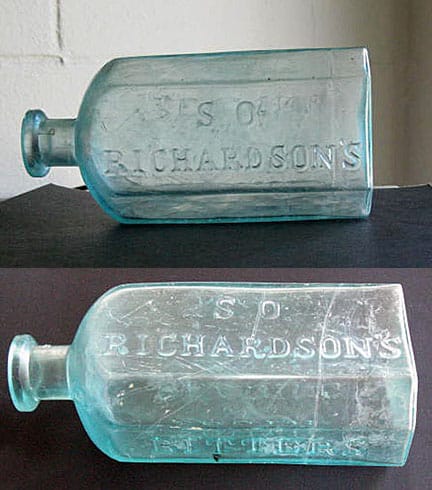 Dear Mr. Meyer,
I am related to S.O. Richardson on my father's maternal side. I have in my possession one of his bitters bottles, an color advert (for lack of a better term) for the product and a mounted advertisement for Dr. William Richardson's Health and Strength Bitters. I have since taken the Blood-Root elixir advert out of the frame to check on the back. It looks authentic. I think the William Richardson document is authentic as well, but the wooden mounting board appears to have been custom made by Sak's Fifth Avenue and made to look antique. I would be most appreciative if you could tell me if these are salable items and approximately what I should ask. I know a similar bottle with a letter from the Civil War sold for approximately $460 on E-bay. I look forward to hearing from you.
Thanks,
Kimberly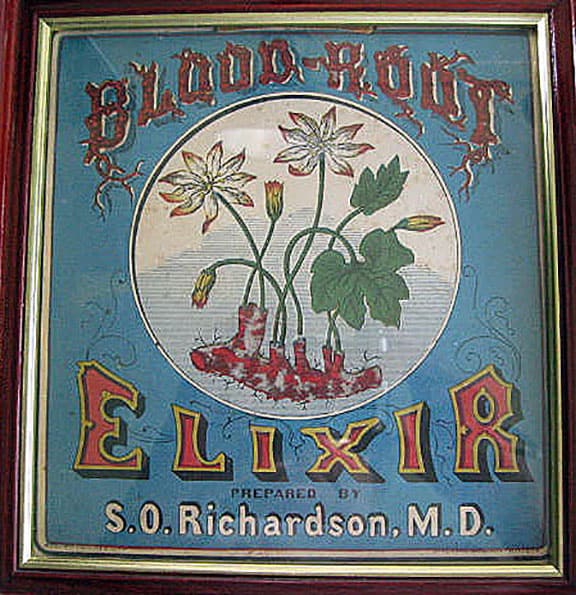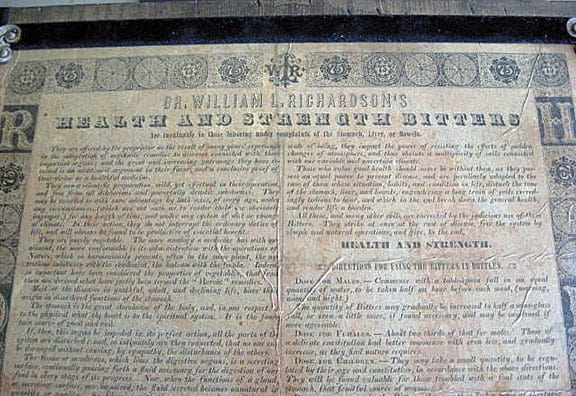 PRG: Looks authentic to me. The bottle certainly is but it is deeply etched and that will affect value. So the value is in the advertising piece. Your ebay assessment is good.
Read More: S.O. Richardson's South Reading Mass Bitters Bottle + letter Civil War 34th Reg
Read More: Dr. S.O. Richardson's Jaundice Bitters – South Reading
Read More: W.L. Richardson's Bitters – South Reading
---
I am a canteen collector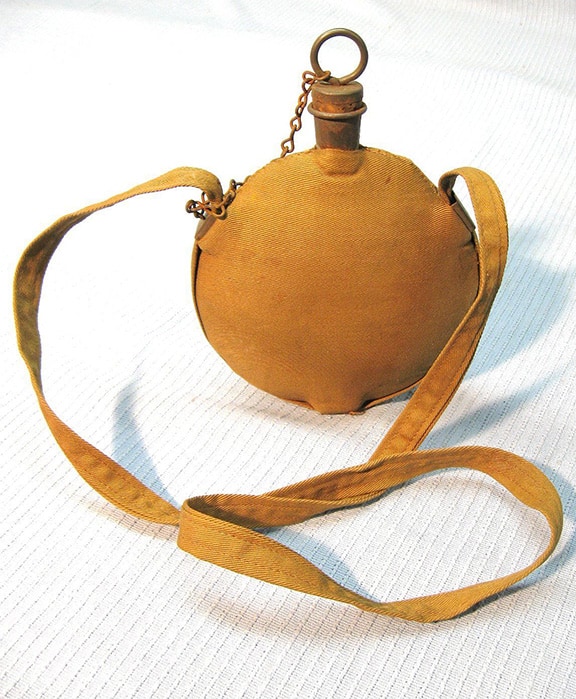 I am a canteen collector, non professional, just for fun. I mostly collect 1900 – 1950 desert or government style canteens. I do pick up a post civil war canteen when I find them for such a low price one cannot pass it by.
Knowing that you are experts in this category I have a question I would like to ask with hopes your experience will answer my question. I recently purchased a unique canteen. It is very reminiscent of the Indian and Spanish American war style except smaller. Not as small as most GAR canteens. Attached are two photos of this canteen. It is in almost perfect condition and is authentic without a doubt.
My question is, what was it built for? I have searched for a few weeks with no luck in finding any information. I did find one other that sold this summer in an auction that was selling a pre civil war house and property and hundreds of artifacts. There was one exactly like it in the auction only it had been soaked with water many times and had the colors to the canvas material one usually sees on early canteens. I contacted the auctioneers and he told me he had no idea of its origins.
The canteen is 5.5" in diameter with identification on the strap brackets that reads; "JUNIOR HIKE NY". Please feel free to send any links to others who may have knowledge if you have not seen one.
Thank you with regards,
Gary
Elgin, AZ
PRG: Gary, the best I can do here is put it out there. Maybe someone will respond with some information. Read: Historical Canteens – Canteen Figural Bottles
---
SHOULD WE KEEP THIS CATCH?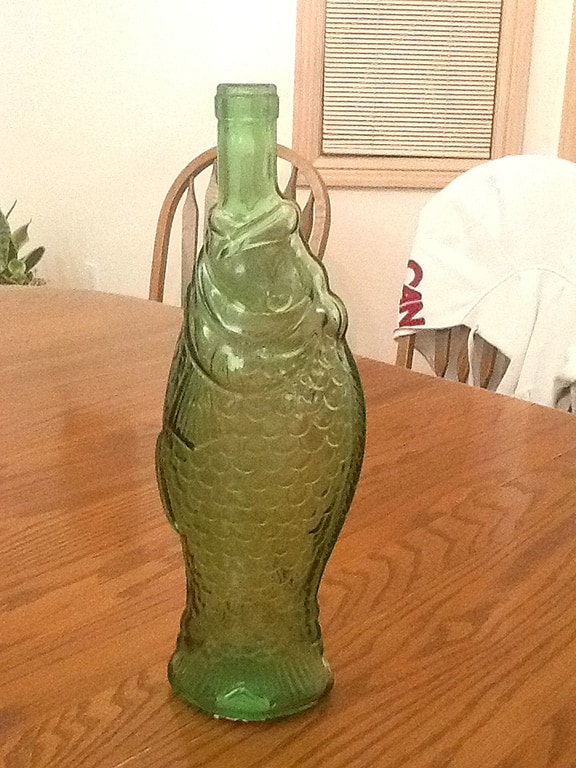 Good afternoon,
My girlfriend and I watched your episode on Extreme Collectors the other day while we were in a small town in Ontario Canada. The very next day we went to an antique store to see if anything caught our eye and couldn't believe we found one of the bottles featured on your episode. I know it is different than the ones in your collection but we still decided to buy it and use it as a single flower vase. We were wondering if there was any information on it if you had any? Now that we know the blue one is worth so much we are going to keep our eyes open even more :). Thanks for any info that you might have on it.. Talk soon
Matt and Romina
PRG: This is a more common Cod Liver Oil bottle. Some are reproductions. Good luck hunting!
Read: Early Cod Liver Oil Bottle
---
WINFREE'S AROMATIC STOMACH BITTERS
Hello Ferdinand, Happy New Year! I'm writing you to ask for any information on a pristine bottle of H.N. WINFREE'S AROMATIC STOMACH BITTERS CHESTER VA. I saw your post about them, thank you on letting me know that they are extremely rare, but aside from this i haven't found much. Mine is in great shape, i found it in my attic this week among other bottles, It is the one you label as W135. Do you know how much its worth? Or where can i find more information. Thank you in advance.
Grace.
P.S. Im sending you pics on separate e-mail.
PRG: Great bottle with a lot of history $1k plus. I think I paid $2k for a killer example. READ MORE
---
Recent Acquisition from an Old House Clearance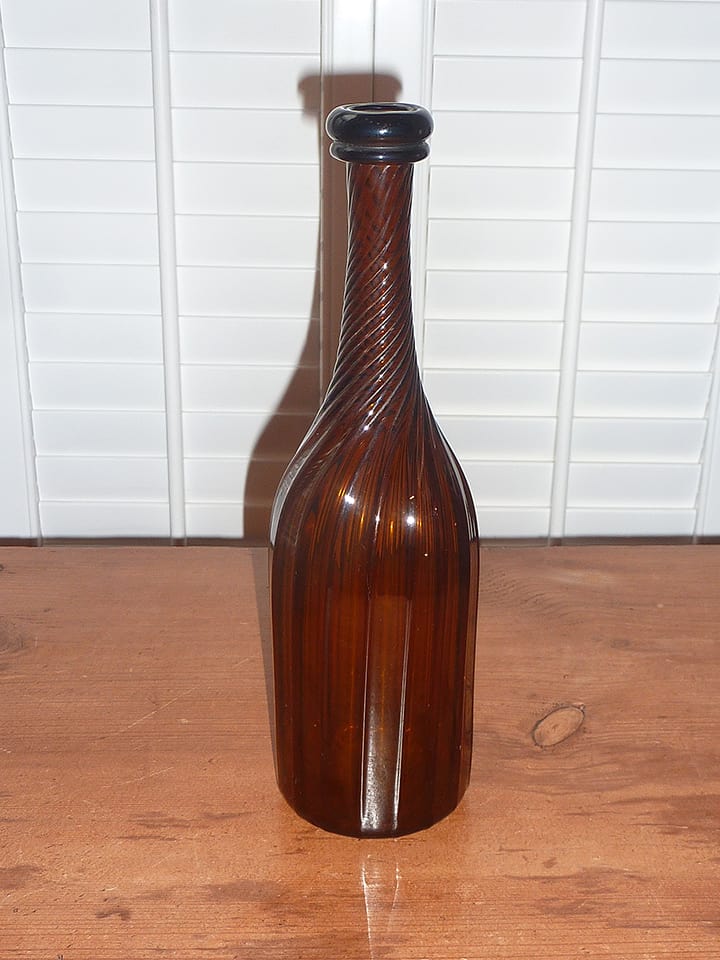 Dear Ferdinand,
You have a very enchanting website, even for a non-bottle-collector :). I am writing for I wonder if someone could help me with a bottle. The bottle is a recent acquisition from an old house clearance through simply liking it. I have attached some pictures and it measures almost 30cm in height, approx 3.8cm in diameter at its top and 8.3cm at its base. I have tried to find a swirled bottle in a similar shape but come to find nothing. It would be lovely to hear something about it, if anything is known.
Kind Regards,
Scarlett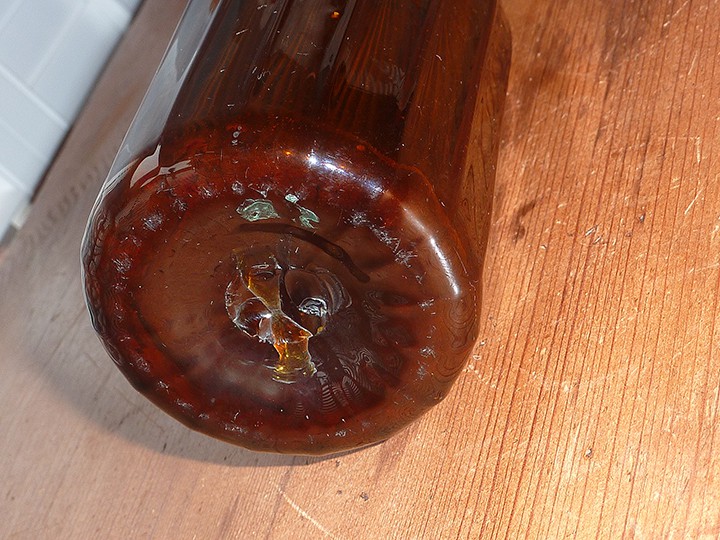 Scarlett: What a decanter. Very old with GREAT character! Hearing it might be midwestern.
---