The Winfree's Bitters Family
Winfree's Aromatic Stomach Bitters,

Winfree's Bitters

and 

Winfree's Tonic Anti-Spasmodic and Alterative Bitters
07 March 2014 (082819)

I picked up an extremely rare, Winfree's Aromatic Stomach Bitters at the Baltimore Antique Bottle Show this past weekend. There are three different Winfree's listings in Bitters Bottles by Carlyn Ring and W.C. Ham. Two are from Chester, Virginia and one is from Petersburg, Virginia. In this post we will take a look at these extremely rare bottles and try to establish and shake some information loose.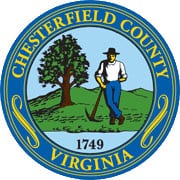 First of all, Chester, Va., which is embossed on the W 135 and W 136 bottles, is located in Chesterfield County, Virginia and is due south of Richmond. Chester is centrally positioned between Richmond and Petersburg, Virginia as the crow flies. Chester was a stop on the Richmond and Petersburg Railroad and the Chester Station was the scene of a battle during the American Civil War.
"Here, on May 10, 1864, as part of Butler's Bermuda Campaign, 3,400 Federals and 2,000 Confederates fought the battle of Chester Station."
The three listings in Bitters Bottles are; Winfree's Aromatic Stomach Bitters (2 variants) and Winfree's Bitters. A fourth, Winfree's Tonic Anti-Spasmodic and Alterative Bitters has also been discovered during this post research. This will need to be listed by Bill Ham.
W 135 H. N. WINFREE'S / AROMATIC / STOMACH / BITTERS / CHESTER, VA. // c //
6 1/2 x 2 3/4 x 1 3/4 (4 5/8)
Oval, Aqua, NSC, Tooled lip, Extremely Rare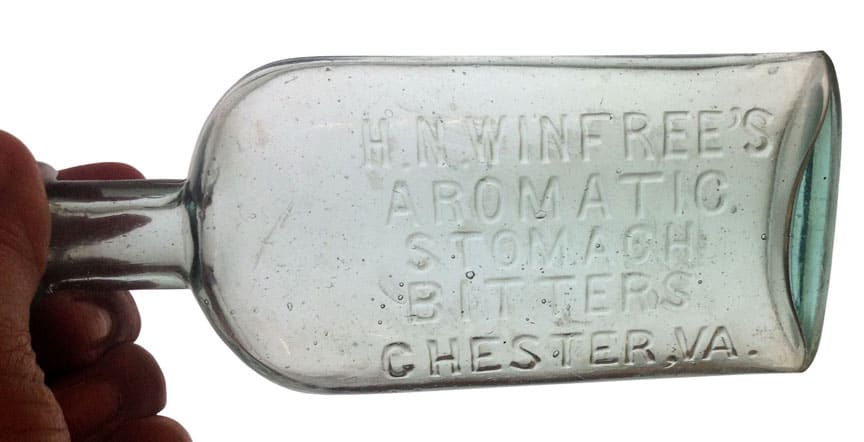 W 136 H. N. WINFREE'S / AROMATIC / STOMACH / BITTERS / CHESTER, VA. // c //
6 1/2 x 2 3/4 x 1 3/4 (4 5/8) 3/8
Oval strap sided, Aqua, CM, Extremely Rare
Interestingly enough, there is also a listing in Bitters Bottles for:
W 137 WINFREE'S BITTERS / D'ALTON & CO. AGTS / PETERSBURG, VA. // c //
6 1/4 x 2 5/8 x 1 3/8 (4)
Flask – oval with one flat side for lettering, Amber, DC, Extremely rare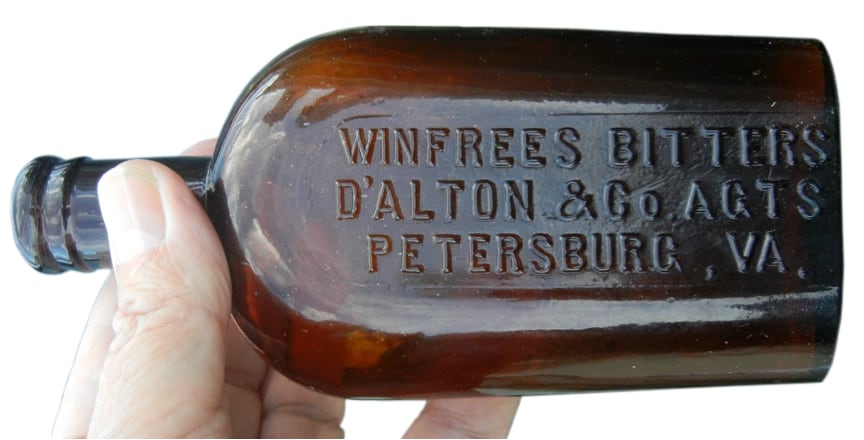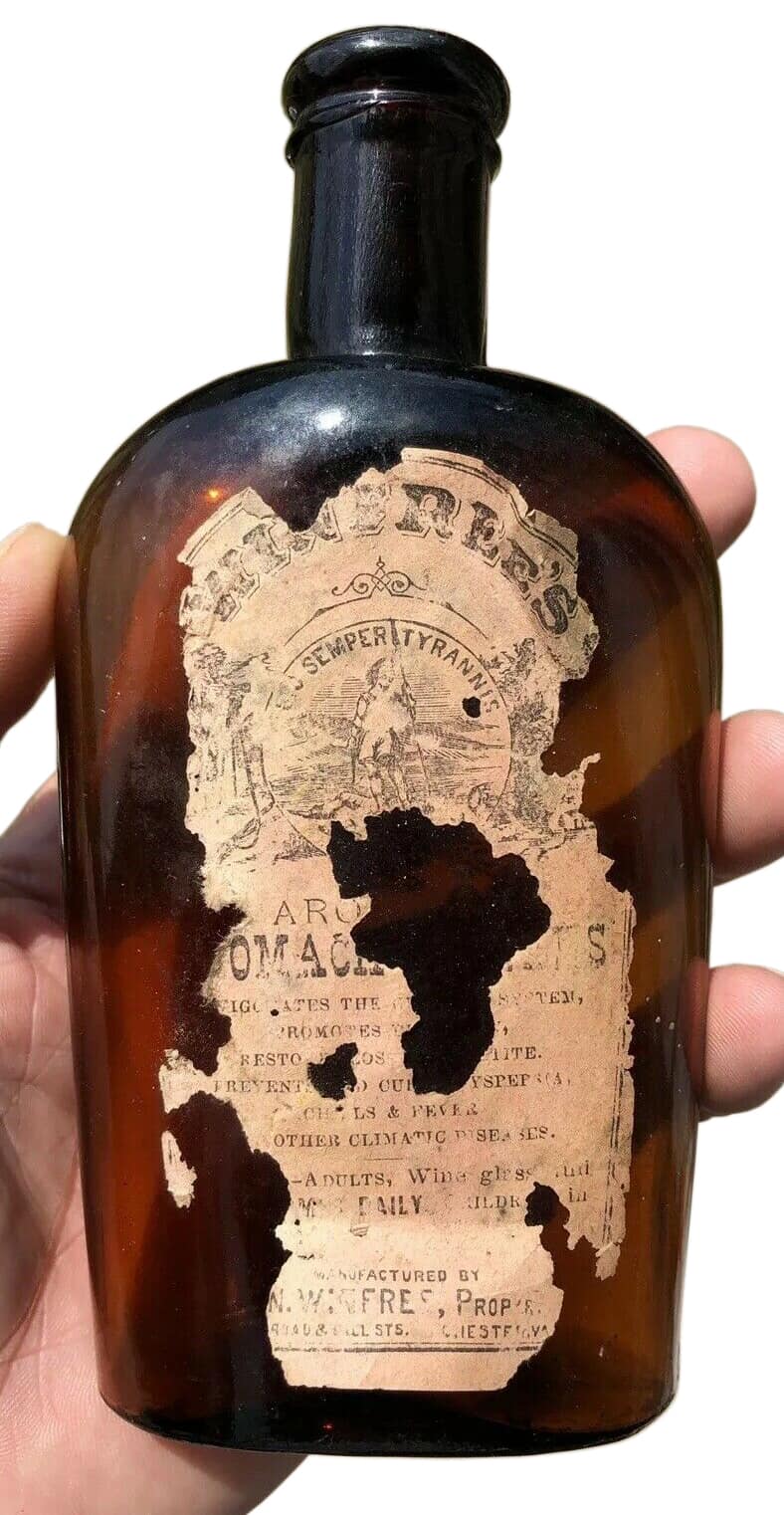 There is yet another unlisted Winfree's that I came across (see listing below) for Winfree's Tonic Anti-Spasmodic and Alterative Bitters from Richmond as noted in the 1879 Internal Revenue Record and Customs Journal. Note that it is listed with the Winfree's Aromatic Stomach Bitters.
My notes also say that Frank Bishop is aware of yet another, Winfree's Southern Bitters. I am tracking Frank down.
The Winfree's in Virginia
One story is that one group of the Huguenots was from the ship landing in 1733 in Georgia under the leadership of James Oglethorpe. Three Winfrey brothers (French origin) landed; John went north to Powhatan County, Virginia. William went north to Chesterfield County, Virginia, and the third (no name) went to western Virginia. Searchers in Georgia do not support any element of this story, which has many variations, depending upon who is telling it. But the lack in all versions of this story and all other stories on the French Huguenot Winfreys is the lack of named persons, places, and dates to give support to the stories. Searching the Genealogy of the WINFREY Family Tree – Robley E. Winfrey, 1987
"My Winfree progenitors were refugees from France after the St. Bartholomew Massacre of the Huguenots under the reign of Queen Catherine De Medici and settled in Bartholomew Springs in Powhatan County, Virginia, about thirty miles from the now historic city of Richmond, the storm center of the war between the States."
W.P. Winfree
Henry A. and Henry N. Winfree
Henry N. Winfree (H. N. Winfree is embossed on the W 135 & W 136 Chester bottles), born 1853, is our most likely suspect. His father was Henry A. Winfree who was one of the main founders and developers of Chester around 1857. I suspect Henry and James D'Alton (D'Alton name embossed on W 137 bottle, see below), both French Huguenots born in Ireland, had some type of business relationship. Who knows, maybe they came across on the same ship together. I can not find that H. N. Winfree was a physician or a druggist.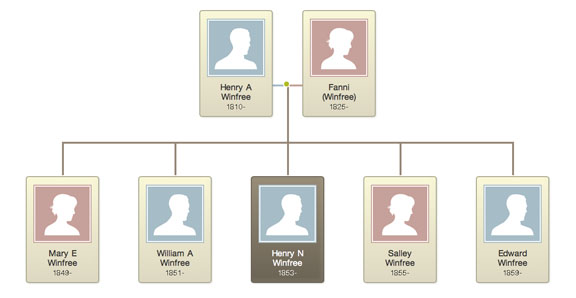 Yellow House
The Yellow House, so named because the color of its original paint figured in the Civil War engagement of the "Yellow House". This plantation once consisted of some 1,500 acres. Archer Bass owned the land in the early 19th century and left it to his daughter Lucy Winfree in 1822. She sold it to her son Henry A. Winfree in 1855, and he most likely built the present house. Winfree, along with Snead and Stebbins, was one of the main developers of Chester around 1857. Yellow House is one of the three oldest houses in Chester.
"It said that Alice and Laura Gill attended. While there, raids of Federal troops were frequent, and the two girls packed their most cherished belongings in a hair trunk and took them to nearby woods until the solders passed."
Castlewood
Built ca. 1817-1819 by Parke Poindexter. Poindexter was Clerk of the Court at Chesterfield County from 1812 until 1847, almost 35 years. The original landowner was Henry Winfree, who received the property as a land grant in 1754. County Clerk Mr. Poindexter purchased the 180-acre tract in 1816 and began his efforts to construct a new home. One of the three or four finest Federal period houses in the county, Castlewood features a formal five-part plan differing from any other recorded Virginia dwelling. The house most closely alike to Castlewood is Carrsbrook, ca. 1794-1812 in Albemarle County.
Following Mr. Poindexter's death, Castlewood passed through several owners until the Trinity Methodist Church acquired the house in 1860. For twelve years the house would serve as a parsonage for traveling ministers. Between 1872 and 1957 the property belonged to several different owners. The Gilmers purchased it in 1957 and restored it to its 1820 condition. In 1976 the Heritage Savings and Loan bank operated here and in 1980 Chesterfield County purchased the property. In 1998 the Chesterfield Historical Society of Virginia began operating here via cooperative agreement with the County.
D'Alton & Company – Petersburg, Virginia
James T. D'Alton (D'Alton & Company) was a prominent wholesale grocer in Petersburg, Virginia. Their name, as agents, is embossed on the amber W 137, Winfree's Bitters above. D'Alton was born in 1844 in Ireland and died on 06 April 1894 in Petersburg. His father was Henry D'Alton who was born in Dublin, Ireland in 1809. He died on January 16th, 1890. There are a few D'Alton patents that I came across including:
D'Alton & Co. (James T. D'Alton), wholesale grocers and com. 32 N. Sycamore – 1886 Petersburg, Virginia City Directory
D'Alton & Son (Henry, John and Frank M.D'Alton), Grocers, 161 Old – 1886 Petersburg, Virginia City Directory
D'Alton & Bain, bottlers, Petersburg, Virginia for Ginger Ale, Soda Water and Sarsaparilla. Patent 4734, February 16, 1887 – Annual Report of the Commissioner of Patents
D'Alton & Son, Petersburg, Virginia for Beer. Patent 4815, May 4, 1887 – Annual Report of the Commissioner of Patents
Sometimes, at the conclusion of these posts, I can only guess what was going on because the information lines run dry. I can only surmise that Henry N. Winfree and James T. D'Alton were in business together. Winfree was making the bitters and D'Alton was marketing and selling. Since the bottles are extremely rare, I would think that this was a short-lived venture. If I was a digger, I would follow that old train line from Richmond to Chester to Petersburg or look for the footprint of D'Alton grocery store.