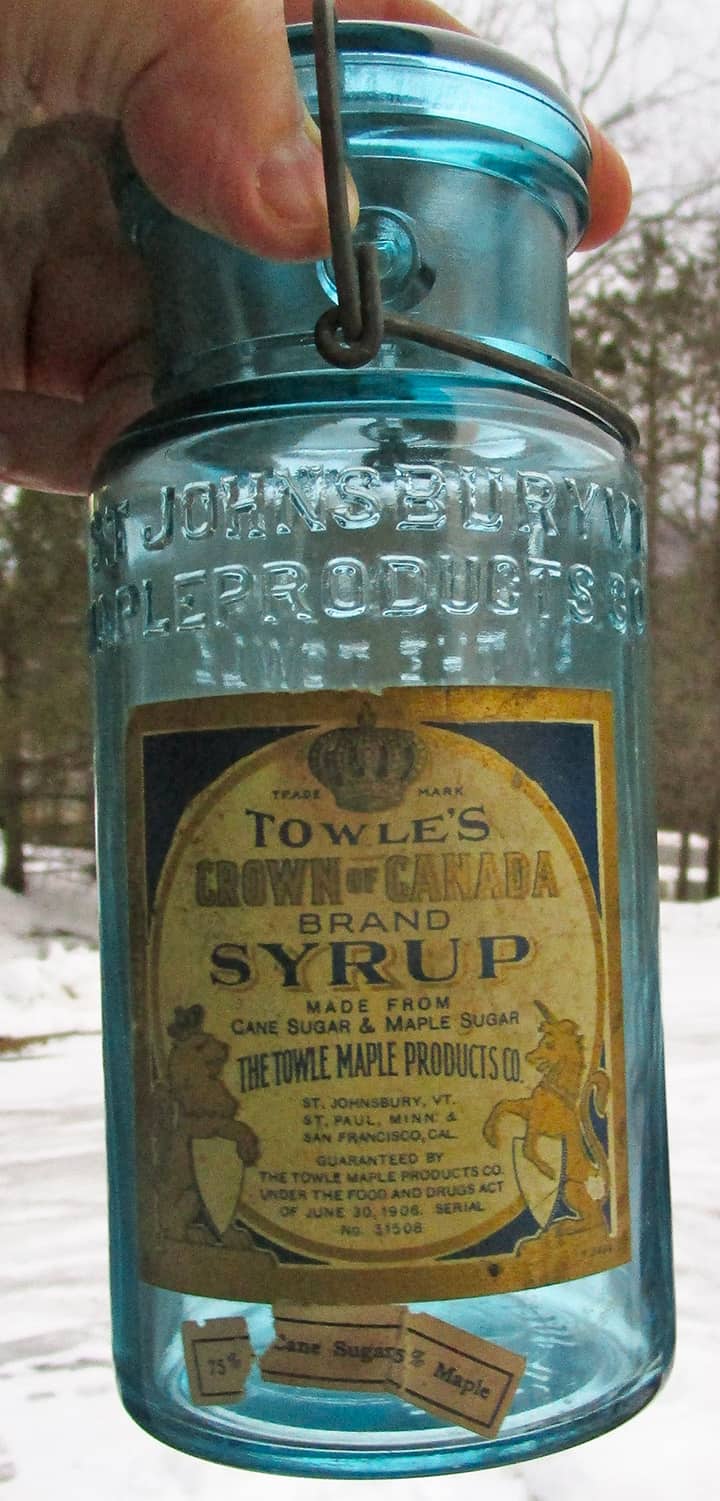 Labeled Towle's Crown of Canada Brand Syrup
07 January 2015

It never fails, I always seem to learn something when I see a piece of unfamiliar glass. In today's case, it was this fully labeled Towle's Crown of Canada Brand Syrup jar, circa 1906 or so. Pretty cool. Who would have thought that this brand was made by the same person who invented Log Cabin Syrup? The top picture and following e-mail is from John Antonez.
Ferdinand – Happy New Year ! I recently picked up this jar… Ball SURE SEAL PACKED BY THE TOWLE MAPLE PRODUCTS CO. ST. JOHNSBURY, VT. What is unusual about this jar ? It has the original label !! I checked with Greg Spurgeon and Tom Caniff and they said it was the 1st labeled example they had seen. All the best…. John Antonez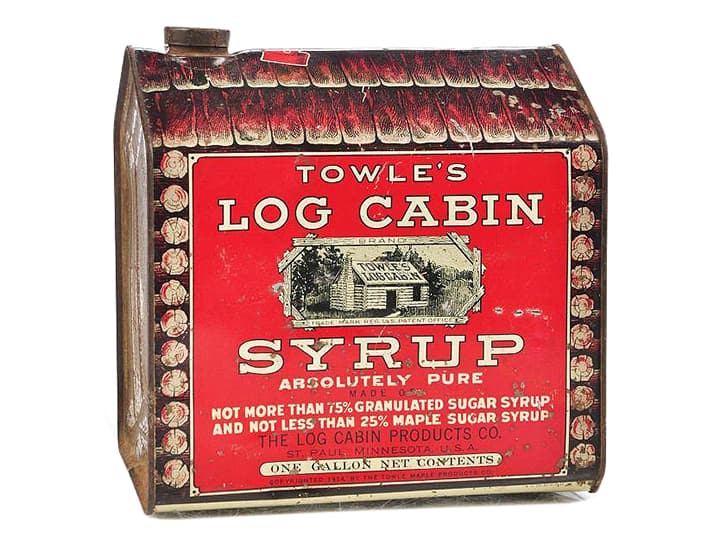 Towle Log Cabin Syrup was introduced in 1887 by a grocer named Patrick J. Towle who lived in the village of Forest Lake, near St. Paul, Minnesota. He named the syrup in honor of his childhood hero, President Abraham Lincoln, and Honest Abe's childhood spent in a log cabin. Apparently Towle had a disliking to the syrups offered for sale in his store so he decided to create his own. His red label Log Cabin Syrup formula used a maple flavor he felt his customers would enjoy. The syrup became an immediate success. By 1905 his firm was the largest manufacturer of maple syrup in United States.
An April 1917 Ladies Home Journal advertisement depicting Log Cabin Syrup products says that a one lb. tin is selling for 25 cents, a 2 lb. tin for 50 cents and 5 lb. going for $1.
The Towle brand was acquired by General Foods in 1927 and remained one of that company's major brands for decades. General Foods merged with Kraft in 1990, and Kraft sold Log Cabin to Aurora Foods in 1997. Pinnacle Foods acquired Aurora in 2003 after it went bankrupt. [Wikipedia]
Warm or Hot Maple Syrup?